Česká režisérka Barbora Chalupová debutuje tragikomickým dokumentom o ceste zákona, ktorý má vplyv na státisíce ľudí. Má zaistiť manželstvo všetkým bez ohľadu na ich sexuálnu orientáciu. Podporuje ho v tom väčšina občanov. Komu teda návrh vadí? Narozdiel od Česka na Slovensku nie sú legalizované ani len registrované partnerstvá. Slovenská republika tak patrí k posledným štátom EÚ, ktoré nemajú žiadnu právnu úpravu pre páry rovnakého pohlavia.
V slovenskom kontexte je preto posolstvo dokumentárneho filmu Zákon lásky ešte naliehavejším. Distribučná spoločnosť Film Expanded prináša výnimočnú novinkudo slovenských kín. Za účasti režisérky a producentky filmu Martiny Štrunc sa vo štvrtok 7. októbrauskutoční národná premiéra snímky Zákon lásky na Filmovom festivale inakosti aj s diskusiou po filme.Film je od tohto dňa zároveň nasadený v širokej kino distribúcii. Distribúciu a kampaň k filmu je možné podporiť cez Startlab.sk >> http://bit.ly/3tRGfhQ
Film vstúpi do slovenských kín v čase predkladania návrhu zákona v Parlamente Slovenskej republiky, ktorý pojednáva o životných partnerstvách a právne ošetruje spolužitie párov rovnakého pohlavia. Film Zákon lásky by mohol byť cenným príspevkom do vzniknutej celospoločenskej diskusie a napomôcť k dosiahnutiu spoločnéhocieľu priznania základných ľudských práv členom LGBTI+ menšiny.
"Zákon lásky sme sa rozhodli vziať do nášho distribučného katalógu len veľmi nedávno, a to najmä pre naliehavosťtémy zrovnoprávnenia queer manželstiev, ktorá v našej konzervatívnej
krajine rezonuje azda ešte viac, než v Česku. Premiérujeme nikde inde, než na FF inakosti a hneď na premiéru nadväzujeme celoslovenskou kino i alternatívnou distribúciou," povedal Matej Sotník, spoluzakladateľ a kreatívnyriaditeľ spoločnosti Film Expanded. "Film potrebuje široké nasadenie. Keď nás ľudia podporia cezcrowdfundingovú kampaň, je isté, že okrem toho, že film bude v mnohých slovenských kinách, bude mať ajzásadnejšiu rezonanciu vo verejnom priestore a uvidí a tým pádom ho uvídí viac ľudí. Budeme vďační všetkým tým, ktorí/é sa tak rozhodnú. Už teraz sme vďační kľúčovým inštitúciám, ktorí sa za film a kampaň postavili, ako súDúhový Pride Slovensko, platformy Tepláreň či Queer Slovakia a takisto Iniciatíva Inakosť," dodal Sotník.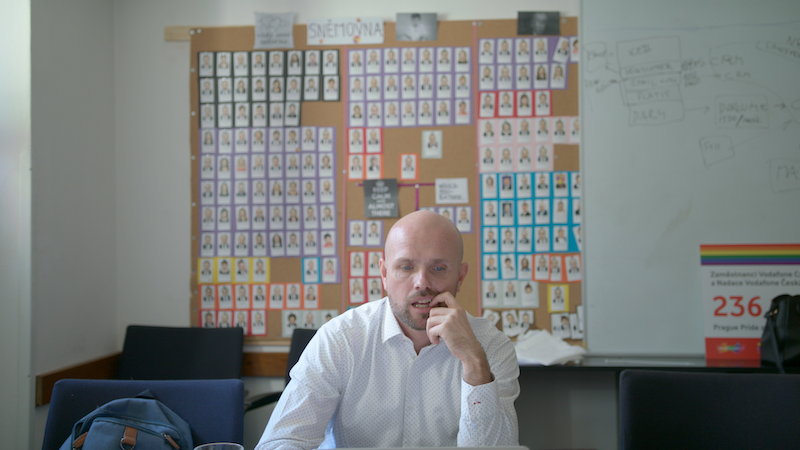 Synopsa filmu
Dokumentárna tragikomédia o ceste zákona, ktorý má vplyv na státisíce Čechov. "Zákon lásky" zaistí manželstvovšetkým bez ohľadu na ich sexuálnu orientáciu. Podporuje ho v tom väčšina občanov. Komu teda návrhvadí? A aký je rozdiel medzi manželstvom a registrovaným partnerstvom? S napätím sledujeme výpravu naprieč českou spoločnosťou, ktorá vedie od zberu podpisov petície, cez televízne hádky až po diskusie na pôdeparlamentu pred kľúčovým hlasovaním. Náraz progresívnych a konzervatívnych častí obyvateľstva je vidieť v exhbícii politikov. Nevzdelanosť, obavy, strach a neschopnosť urobiť akékoľvek rozhodnutie však nie sú to jediné, čo bráni prijatiu zákona. Sú Česi naozaj tak liberálni, ako sa prezentujú? A zvíťazí u nich nakoniec láska nad lžou a nenávisťou?
Producentom filmu je česká produkčná spoločnosť Silk Films a producentky Martina Štruncová a Pavla Klimešová. Koproducentom filmu je Česká televize a spoločnosť Magic Lab. Film vznikol s finančnou podporou Státního fondu kinematografie.
Facebook stránka distribútora: https://www.facebook.com/filmexpanded
Instagram stránkadistribútora: https://www.instagram.com/film.expanded/
Web stránka distribútora:https://www.filmexpanded.com
Aktuálny zoznam premietaní:
| | | |
| --- | --- | --- |
| 7.10. | 20:00 | Filmový festival inakosti |
| 7.10. | 17:00 | Kino Úsmev |
| 8.10. | 17:00 | Kino Úsmev |
| 9.10. | 19:00 | Kino Úsmev |
| 9.10. | 20:00 | Baník, Handlová |
| 11.10. | 20:00 | Kino Moskva, Martin |
| 13.10. | 19:00 | Kino Úsmev |
| 14.10. | 17:00 | Kino Úsmev |
| 14.10. | | Kino Lumiére |
| 15.10. | | Kino Lumiére |
| 16.10. | | Kino Lumiére |
| 17.10. | | Kino Lumiére |
| 19.10. | | Kino Lumiére |
| 27.10. | 18:00 | Kinoklub Nitra |
Zdroj: TS