Ešte pred pár týždňami sme väčšinu času trávili doma, von sme vychádzali len s rúškom na tvári. Dnes sa zdá, že Slovensko prešlo prvou vlnou ťažkej skúšky a preukázalo zodpovednosť, disciplínu, kultúrnosť, solidaritu a empatiu ľudí, ktorí v ňom žijú.
Rozhlas a televízia Slovenska a Slovenské národné divadlo pripravilo s podporou Národnej banky Slovenska výnimočný televízny projekt venovaný všetkým, ktorí nám pomáhajú prežiť náročné pandemické týždne a mesiace – Ďakujeme Slovensko. Záštitu nad podujatím prevzali prezidentka SR Zuzana Čaputová a Ministerstvo kultúry SR. Program odvysiela RTVS na Jednotke v piatok, 26. júna 2020 o 20:30.
Začiatkom júna sa v priestoroch historickej budovy Slovenského národného divadla v priebehu troch dní nakrúcali jednotlivé súčasti programu #dakujemeslovensko. Moderátorky a moderátori RTVS ďakovali vybraným skupinám "neviditeľných" hrdinov v prvej línii. Herečky a herci činohry, členovia opery a orchestra SND sa prihovorili so svojím vnímaním uplynulých dní. "Ďakujeme Slovensko," povedali aj hudobníci, športovci a významní predstavitelia Slovenskej republiky.
Bez publika. Pre všetkých.
"Prvý raz v živote bez publika, ale pre všetkých," povedal Milan Lasica o projekte, v ktorom viac ako sto významných osobností poďakuje za nás všetkých lekárom, sestričkám, policajtom, vojakom, opatrovateľkám, hasičom, dobrovoľníkom, predavačkám a predavačom, vodičom MHD a ŽSR, šoférom rozvážajúcim tovar, učiteľom, rodičom, novinárom, pracovníkom bánk, lekárnikom, a mnohým ďalším, za ich odvahu, nasadenie, obetavosť a nezištnosť.
Dramaturgiu programu Ďakujeme Slovensko pripravil Martin Valihora spolu s režisérom Antonom Šulíkom, ktorí si v čase karantény často volali a vymieňali si pocity z tejto situácie. "Je potrebné sa poďakovať, patrí sa to. Patrí sa nezabúdať. Všímavosť a empatia by sa mali stať našou výzbrojou. Preto tak činíme a takisto ďakujeme aj tým 120 ľuďom, ktorí do toho s nami nezištne išli," povedal A. Šulík. "Sme radi, že sme mohli vytvoriť takýto krásny program. Vážime si, že RTVS, SND a NBS prijali pozvanie do tohto projektu a mohli sme dať dokopy absolútne spektrum toho najlepšieho, čo naša krajina ponúka. Veľká vďaka patrí všetkým účinkujúcim a celému tvorivému tímu, ktorí prijali pozvanie," dodal M. Valihora.
Traja silní partneri, tri nezlomné prúty
Výnimočnosť projektu dokladá spojenie troch silných partnerov – Rozhlas a televízia Slovenska, Slovenské národné divadlo a Národná banka Slovenska. Peter Kováč, generálny riaditeľ SND povedal: "Tento program sme začali pripravovať ešte uprostred krízy. Uvedomili sme si, že na niektoré skupiny ľudí môže pôsobiť stresujúco. Vznikla idea, ktorá je veľmi dobrá a vznešená. Spojili sme sa, RTVS a SND, a rozhodli sme sa vytvoriť projekt, cez ktorý sa poďakujeme týmto skupinám obyvateľstva za to, čo podstúpili počas týchto troch-štyroch mesiacov. Verím, že to bude krásny program."
Projekt Ďakujeme Slovensko podporila Národná banka Slovenska. "Je to skvelý nápad a je fantastické dostať na jedno miesto ľudí, ktorí vedia pohnúť srdcami ďalších ľudí. Prichádzam zo sveta peňazí, kde sa emócie moc nenosia. No zažili sme dobu, ktorá pohla každým z nás a veci, ktoré boli samozrejmé, prestali byť samozrejmými," povedal guvernér NBS Peter Kažimír a dodal: "Ľudia, ktorí celý život rozdávajú radosť, pocit slasti a niekedy aj pocit zabudnutia, tieto pocity spolu s takým malým každodenným 'ďakujem' môžu teraz odovzdať všetkým tým, ktorí nám pomohli prežiť posledné týždne a mesiace. Bez peňazí to ale nejde. Ak sa stretli ľudia, ktorí toto chcú robiť, RTVS a SND sa rozhodli takíto program zorganizovať a my sme mali možnosť malým dielom prispieť, tak sme to radi urobili a vždy radi prispejeme."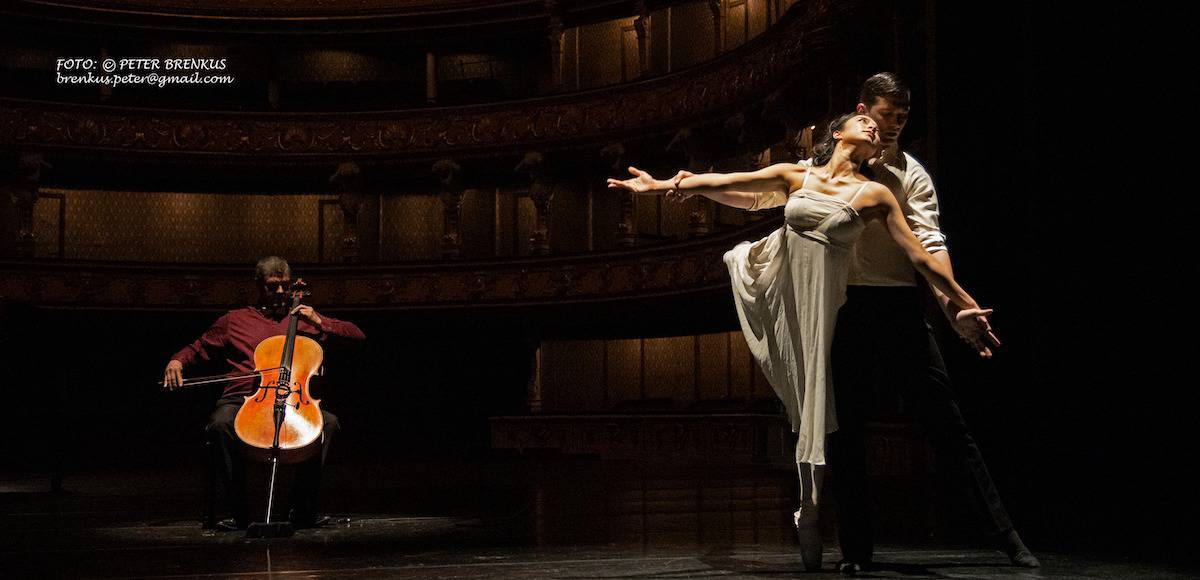 "RTVS ako spoločensky mimoriadne zodpovedná inštitúcia sa v spolupráci so Slovenským národným divadlom a Národnou bankou Slovenska chce týmto programom veľmi pekne poďakovať všetkým občanom Slovenska za ich mimoriadne zodpovedný prístup počas pandémie koronavírusu. Je to naše vyjadrenie vďaky za to, ako zodpovedne sa naši občania po celý čas správali. Verím, že sme všetkým dali signál, že Slovensko sa v ťažkých chvíľach, tak ako to v histórii vždy bolo, dokázalo aj tentokrát zomknúť," poznamenal generálny riaditeľ RTVS Jaroslav Rezník.
Charitatívna zbierka
Súčasťou programu je aj charitatívna zbierka pripravená v koordinácii s aktivitou #KtoPomozeSlovensku. Organizátori sa vo svetle vývoja situácie rozhodli ukončiť získavanie finančných prostriedkov na pomoc zdravotníkom a ľuďom v prvej línii a v týchto dňoch presmerovávajú pomoc k efektívnemu prepájaniu potrieb nielen zdravotníkov, ale aj ostatných zraniteľných skupín, komunít a pomáhajúcich organizácií s tými, ktorí pomôcť môžu a chcú. #KtoPomozeSlovensku viac ako dva mesiace denne pomáhalo zvládnuť koronakrízu a chrániť zdravotníkov a ľudí v prvej línii. "Aj takouto cestou sa chceme úprimne poďakovať celému tímu a všetkým darcom – firmám aj jednotlivcom, ktorí spoločne pomohli Slovensku. Je to dôkaz, že v krízovej situácii si vieme pomôcť, vytvoriť funkčný koncept založený na dôvere, spolupráci a spoločnom záujme," hovoria organizátori pomoci.
Všetky nevyčerpané finančné prostriedky vrátane tých, ktoré ešte v najbližších dňoch prídu, sa použijú na nákup germicídnych žiaričov, ktoré zabezpečujú dezinfekciu priestorov a z terénu boli veľmi žiadané. Hnutie #KtoPomozeSlovensku momentálne zastavuje svoju činnosť (koniec krízovej situácie na Slovensku) a preto ďalšie prostriedky sa budú zbierať pre tieto organizácie: OZ Cesta von, Človek v ohrození, Vagus a DePaul, ktoré pracujú s najviac ohrozenými skupinami.
Výnimoční ľudia pre výnimočných ľudí
V programe Ďakujeme Slovensko diváci uvidia moderátorov RTVS (Ľubomír Bajaník, Štefan Chrappa, Alena Heribanová, Soňa Müllerová, Marcel Merčiak, Iveta Malachovská, Miroslav Frindt, Katarína Brychtová, Janette Štefanková), herečky a hercov činohry SND (Tatiana Pauhofová, Alexander Bárta, Daniel Fischer, Dominika Kavaschová, Ján Koleník, Emil Horváth, František Kovár, Božidara Turzonovová, Richard Stanke, Luboš Kostelný, Emília Vášaryová a Martin Huba), členov baletu SND v choreografii Igora Holováča (Sakura Shojima, Sumire Shojima, Tatum Shoptaugh a Mergim Veselaj), členov opery a orchestra SND (Katarína Juhásová, Peter Mikuláš, Ľudovít Ludha, Ľubica Vargicová, Branko Ladič, Vladimír Harvan, Katarína Zajacová, Milan Adamec, Tamáš Cseh, Juraj Pivoluska, Klaudia Kosmeľová, Ján Pospíšil), Zbor opery SND a hudobníkov (spevák Marcel Palonder, skupina Billy Barman a dievčenská spevácka časť SĽUKu, Richard Müller so skupinou, Marián Čekovský, Ľubica Čekovská a Spectrum Quartet, Milan Lasica, Peter Lipa, Eugen Vizváry, Michal Bugala, Juraj Griglák, Martin Valihora a Bratislavský chlapčenský zbor pod vedením Magdalény Rovňákovej).
Z mobilov sa k týmto tváram pripoja so svojim poďakovaním aj Zuzana Kronerová, Daniel Pastirčák, Stanislav Zvolenský, Marek Ormandík, Michal Hvorecký, Ivan Štrpka, Dado Nagy , Jana Oľhová, Dalibor Karvay, Roman Patkoló, Pavol Šajgalík, Matej Tóth, Peter Sagan, Veronika Velez-Zuzuľová, Anastázia Kuzmina, Peter Bebjak, Jozef Ľupták, Miroslav Marcelli, Jana Kirschner, Dan Bárta, Stanislav Štepka, a záverečné poďakovanie a povzbudenie do ďalších dní vysloví aj prezidentka Slovenskej republiky Zuzana Čaputová.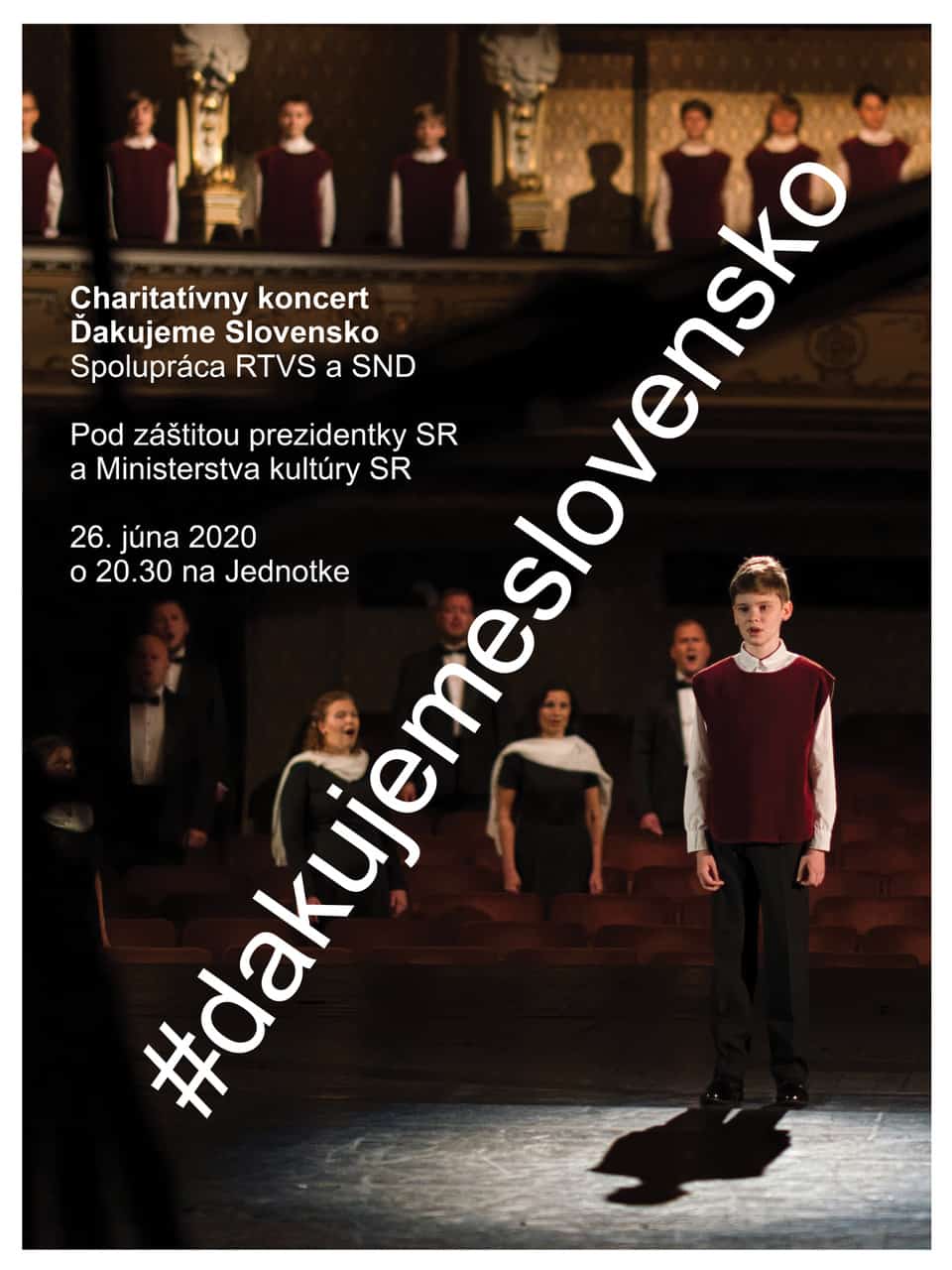 Zdroj: TS