Skupina Saténové ruky vydáva po štyroch rokoch nový album. Novinka je ich tretím albumom a zvukomalebné meno LOM dostala podľa miesta vzniku. Album bol totiž nahratý na chate v Lome nad Rimavicou. Jedenásť nových pesničiek Saténových rúk nahral a mixoval Erik Horák zo štúdia Lososound a vydáva ich vydavateľstvo Pavian Records.
LOM sa nahrával počas dvoch spoločných nahrávacích stretnutí kapely v januári a v júli 2019 v priestoroch horskej drevenice, čo sa jednoznačne podpísalo na jeho zvuku. Ten je oproti predchádzajúcim nahrávkam tvrdší a razantnejší. Okrem pesničiek Vivaldi a Zaklínač hadov Saténové ruky všetky ostatné nahrávali "live" spôsobom – kapela ich nahrala naraz, nie po jednotlivých nástrojových stopách, ako sa to zvyčajne robí.
Na albume sa prakticky nenachádzajú dve podobné pesničky. S trochou nadsázky by sa album dal označiť za kompiláciu, lebo jeho rozmanitosť pôsobí, akoby ho nahrávalo viacero kapiel. Jeden z členov kapely a zároveň spoluproducent albumu Marek Kasko Babušiak sa k tomuto fenoménu vyjadril nasledovne: "K LOMu mám vrúcny vzťah, spokojnosť po všetkých stránkach. Obal, mix, mastering a samotné pesničky sú top. Určite zvukovo aj štýlovo najpestrejší, úprimný, osobný, pravdivý a v istých momentoch trúfalý. Menej srandičiek, asi viac vážny a vyzretý a má strašné gule."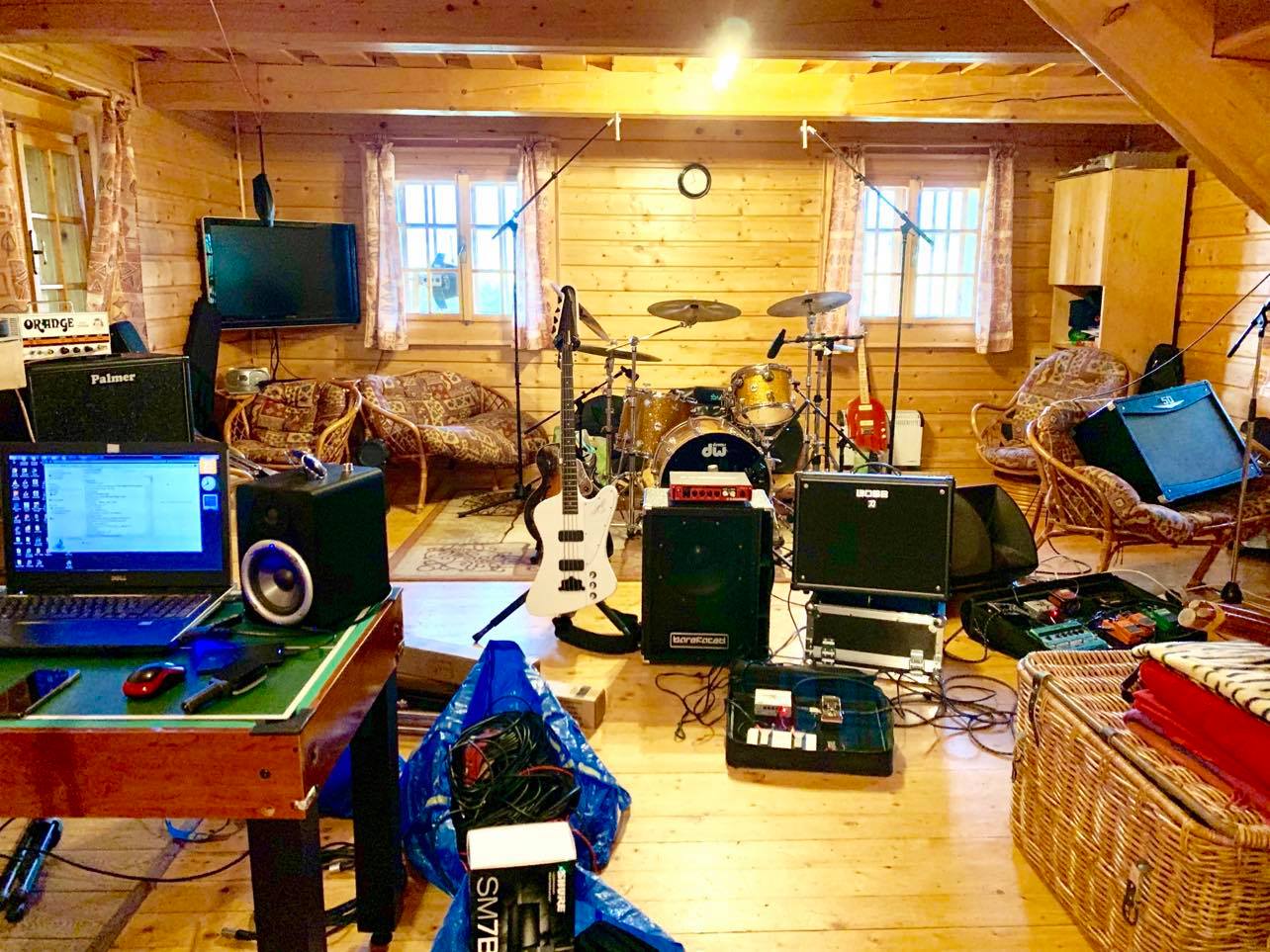 Autorom obalu a všetkých grafických prvkov albumu je známy výtvarník a dizajnér Palo Čejka. Na základe jednej z fotografií vytvoril smiešne pôsobiace papierové postavičky členov kapely. "Toto je môj tretí 'kus' pre Saténové ruky a vždy som sa snažil urobiť to úplne inak. Najprv linoryt na Bozkávam, digitálna koláž na singlovke Monštrum/Gravitácia a teraz som sa inšpiroval niečím, čo som robil nedávno predtým doma. Moja dcéra zbožňuje Achnatona, tak som jej toho šialeného faraona vyrobil z novín a lepidla. Je to srandovná technika, taká 'mexická'. Teraz sú chalani hore na skrini. Hudobne mi táto doska v niektorých momentoch pripomína najhutnejšiu hmotu, ktorú dokázali vymačkať 'šesťdesiatkové' kapely. To je najsilnejšie…," uzatvára Čejka.
Z každého rocku trošku
Album otvára pesnička ADHD. Odľahčená repetitívna skladba o poruche pozornosti obsahuje v hudobnej rovine drobný konceptuálny vtip – opakuje sa v nej totiž výlučne štvorica akordov A, D, H a D. "Braňo Bezák nahral vokály ešte v ten večer na chate, a nie až potom neskôr v štúdiu, na nahrávke je to počuť a je to tak dobre," hodnotí zvukovú stránku Kasko. V závere pesničky sa ku kapele dynamickou hrou na klavír pridáva hosť Roland Kánik.
Špeciálne postavenie má na albume LOM skladba Na plný plyn. Jej text napísal a odrecitoval Boris Ondreička zo skupiny Kosa Z Nosa. "Môj najobľúbenejší track z albumu, dokáže ma to dojať k slzám a mám z toho husiu kožu. Boris Ondreička ako slovenský mutant Gil Scott-Herona a Leonarda Cohena," vyjadril sa Kasko. Ide o jedinú pesničku na albume, v ktorej nehrá Vlado Janček. Producent predchádzajúcich albumov Saténových rúk a priateľ kapely Tomáš Sloboda obohacuje skladbu svojou hrou na gitare a nezvyčajnom indickom nástroji tampura. Na plný plyn sa fanúšikom čoskoro predstaví aj hraným videoklipom.
Album vznikal dva a pol roka. Preto sa na ňom nachádzajú aj single, ktoré kapela vydala samostatne v priebehu rokov 2019 a 2020. Na albume sa však objavujú v nových remastrovaných verziách. Skladba Vivaldi sa nezámerne stala lockdownovou hymnou a už navždy bude spojená s prvou vlnou pandémie. Aj keď jej text až mrazivo presne zapadol do vtedajšej ponurej nálady, nahrávala sa ešte pred začiatkom pandémie, koncom februára 2020. Ďalšou zo skladieb, ktoré kapela vydala ešte pred publikovaním albumu, je Gravitácia, zhudobnený facebookový status publicistu Sama Marca. Novinár Štefan Hríb ju po vypočutí zhodnotil takto: "Na prvé počutie sa mi to veľmi páči ako reakcia na súčasnosť hoaxov a národných blábolov." Poslednou skladbou zo série vopred vydaných singlov je predcovidový letný song 37 °C so surreálnym textom o nefungujúcich vzťahoch, žralokoch vo viedenskom akváriu či požiari v sexshope.
Po obľúbenej cover verzii Kde mám bundu? (Where´s Me Jumper) z debutového albumu prinášajú Saténové ruky na LOM novú prevzatú skladbu Zaklínač hadov. Pôvodne ju kapela pripravila ako poctu textárskemu umeniu Milana Lasicu na odovzdávaní hudobných cien Radio_Head Awards 2019. Práve pán Lasica, držiteľ RHA za celoživotný prínos do slovenskej hudby, je totiž autorom textu pesničky z repertoáru legendárnej kapely Prúdy.
Posledným významným hosťom albumu je tiež rádiohlavami ovenčená Katarína Máliková. V skladbe K oblohe znepokojivým šepotom a minimalistickým klavírnym rytmom podfarbuje rozorvaný spev Vlada Jančeka vo vari najtemnejšie znejúcej skladbe LOMu.
Skladba Elektrické mesto je síce dynamickejšia ako K oblohe, ale aj ona nesie v sebe temné existenciálne tóny. Podľa Kaskových slov: "Pôvodne do pesničky boli pridané elektrické ruchy elektrických výbojov, ale vyhodili sme ich, pretože atmosféra pesničky bola úplne elektrizujúca aj bez nich."
AHOY LOM!
Album vychádza 21. júna na všetkých online platformách a v digitálnej forme nájdu fanúšikovia aj jeden bonusový track: V kúte o 3 ráno Afterhours remix je novou verziou skladby z predošlého albumu.
Krst albumu sa uskutoční v piatok 25. júna pod holým nebom v Ahoy Café v Devíne. Krstným otcom bude Michal Kaščák. Ten na krste vystúpi aj s antišportovou punkovou formáciou Vydrapená Bužírka Punk System. Návštevníci si budú môcť na mieste kúpiť aj čerstvé vinyly, alebo CD albumu LOM. Kapacita je obmedzená a kto nestihne krst, bude môcť Saténové ruky počuť naživo na letných koncertoch na Slovensku:
Záhrada v Banskej Bystrici / 9. júl
Tužina Groove Festival / 23. júl
Žákovic Open / 31. júl
Coffee sheep Trenčín / 4. september
CREDITS:
Hudba: Saténové ruky (okrem Zaklínač hadov – Peter Saller, Pavol Hammel)
Texty: Saténové ruky, Boris Ondreička – Na plný plyn, Samo Marec – Gravitácia, Milan Lasica – Zaklínač hadov
Mix: Erik Horák / Lososound
Produkcia: Erik Horák a Marek Babušiak
Mastering: Ivo Sedláček
Vydavateľstvo: Ⓟ Pavián Records 2021
Artwork: Palo Čejka
WEB: www.satenoveruky.sk
ONLINE: https://li.sten.to/SatenoveRukyLom
KRST: http://bit.ly/krstLOM
PREDPREDAJ: http://bit.ly/KrstLOMvstupenky
Zdroj: TS