LYŽIARI A SNOWBOARDISTI SI POD TATRAMI UŽILI HROMADNÝ ZJAZD AKO ŽIADEN INÝ. AKO SA UMIESTNILI SVITKO, VRÁBLOVÁ ČI DUKÁTOVÁ?
Vyvrcholenie trojdielnej športovej série, v ktorej išlo predovšetkým o zábavu na svahu, prinieslo finiš, ako sa patrí. Preteky s názvom Red Bull Zjazd na doraz sa po dvoch predošlých tohoročných zastávkach napokon vrátili aj na miesto, kde sa pred 10 rokmi konali na Slovensku po prvý raz. Stovka nadšencov zimných športov – medzi nimi aj známe tváre z rôznych zimných aj letných športových disciplín – a v cieli pripravený diváci vytvorili atmosféru, aká na našich horách uplynulé sezóny chýbala.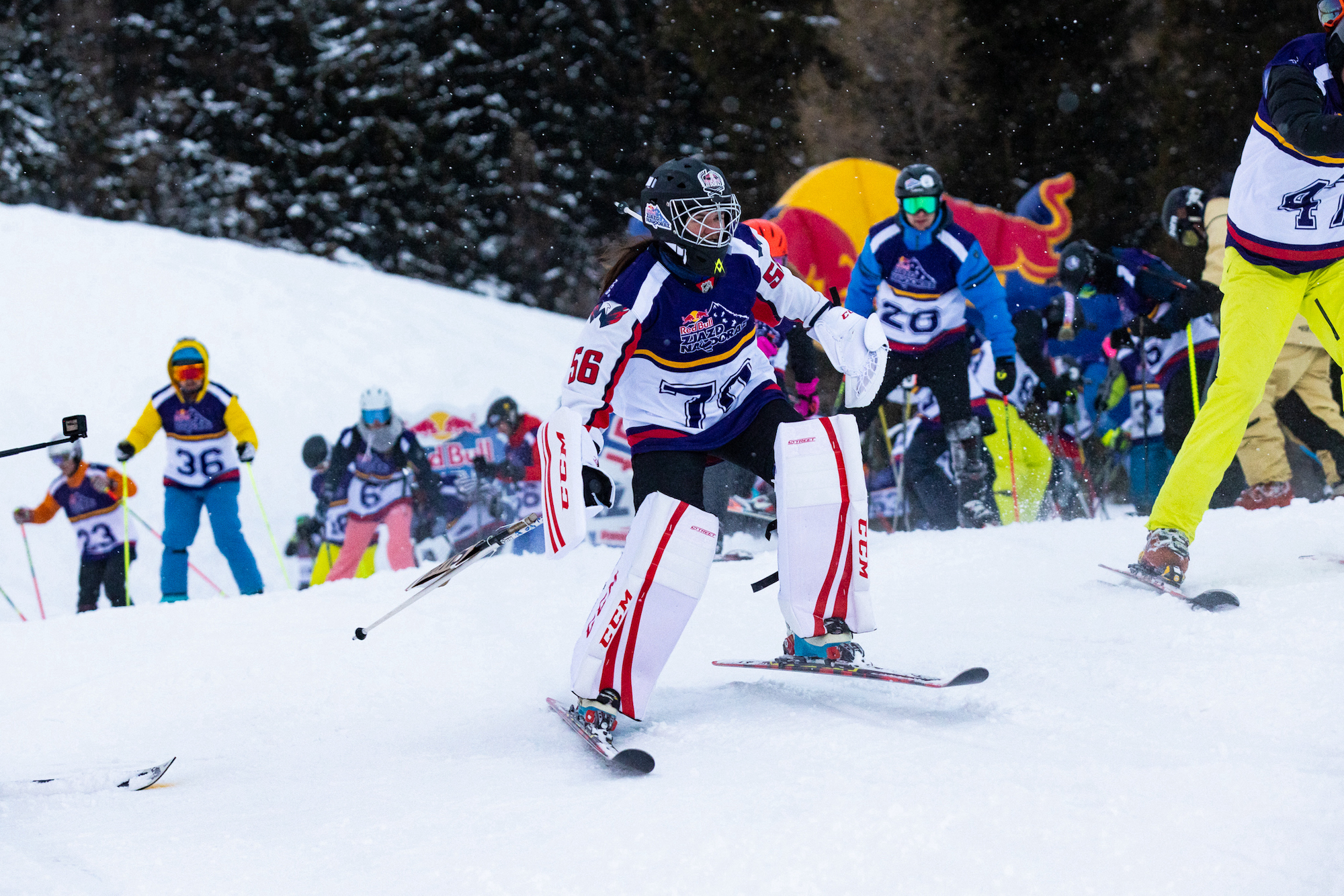 100-metrový šprint s hromadným štartom a následný takmer 3-kilometrový zjazd do cieľa najrýchlejšie zvládli medzi mužmi lyžiar Michal Bekeš a snowboardista Richard Mäsiar. Medzi ženami bola na doske jasná favoritka víťazka z predošlých dvoch edícií – Eva Hanicová, ktorá túto rolu aj potvrdila. Lyžiarkam dominovala Kristína Lubyová.
Evka Hanicová: "Pri týchto zjazdoch hralo rolu strašne veľa vecí. Najprv sa musíš dobre rozbehnúť, potom sa rýchlo zvládnuť obuť a čo najrýchlejšie zísť dole. Mne sa to podarilo na všetkých 3 zastávkach bez toho, aby som spadla, takže za to som veľmi rada."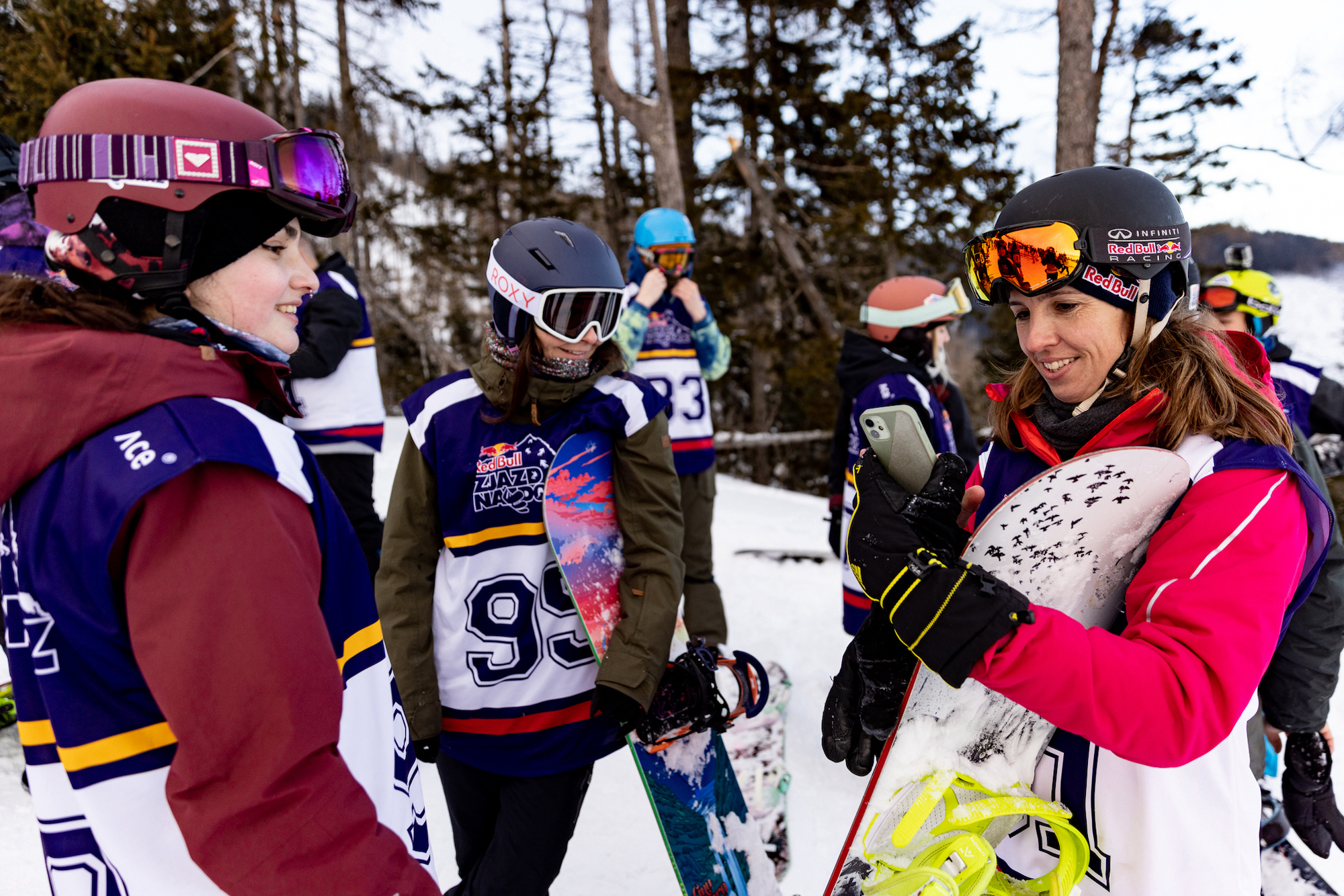 VŠETKU SLÁVU UKRADOL POŽIARNIK
Cenu však dostali nie len tí najrýchlejší. Ako to sme si už počas Red Bull Zjazdov na odraz zvykli – oslavuje aj ten najkreatívnejší spomedzi ľudí, ktorí popustili uzdu fantázie a na svah prišli prezlečení či už za svojho obľúbeného superhrdinu, zvieratko alebo zeleninu. Prísne oko porotcovského dua Miroslav Bača či Maťo "Vlad" Zedníček malo poriadne náročnú úlohu, ale napokon všetku slávu získal Požiarnik Sam.
Miro Bača: "Na začiatku som bol smutný, lebo som nevidel veľa masiek, ale keď sme vyšli hore, tam zrazu čakali vymakané kostýmy. Vybrať ten najlepší bolo ťažké, ale keď som videl toho hasiča, ako šiel dole svahom s hasiacim prístrojom, tak mi bolo jasné, že je to víťaz."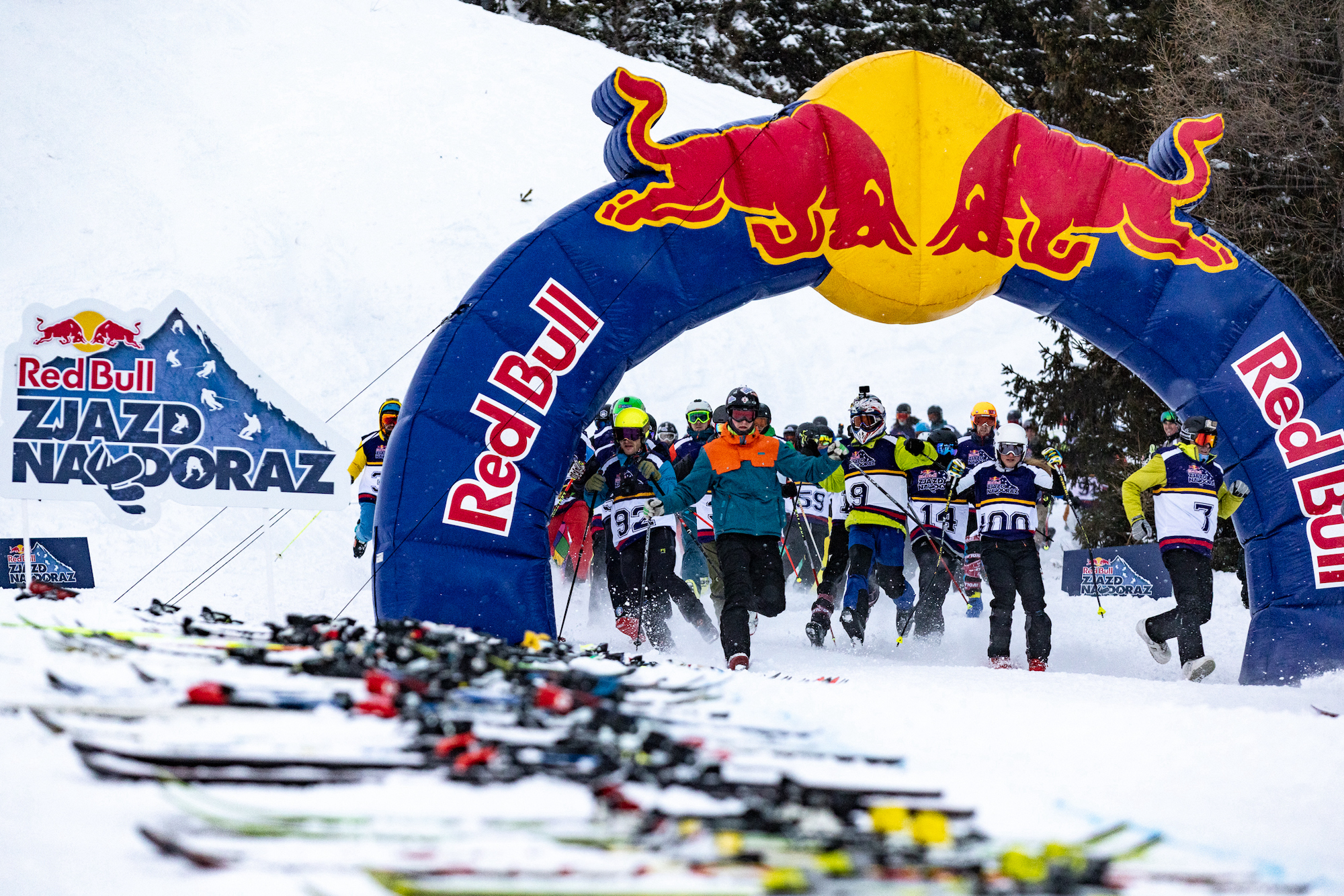 ZIMNÁ PRÍPRAVA PRE PROFESIONÁLOV
Športovci, ktorých hlavná sezóna je v letných mesiacoch, majú v zime často problém urobiť si svoj tréningový plán niečím zaujímavý. Red Bull Zjazdy na doraz preto poskytli viacerým našim reprezentantom výbornú príležitosť trochu sa odreagovať. Rely pretekár na motocykloch – Štefan Svitko, strieborný kajakár z olympiády v Tokiu – Jakub Grigar, majsterka sveta vo wakeskatingu – Zuzka Vráblová, či paraglajdista Juraj Koreň si počas tejto série zmerali svoje sily z expertami v odbore – freeskierom Michalom Oravcom, snowboardistkou Evou Hanicovou, skialpinistom Jakubom Šiarnikom či rýchlostným lyžiarom Michalom Bekešom. A treba dodať, že sa vôbec nenechali zahanbiť.
Svitko v Lomnici skončil medzi lyžiarmi 12. Janka Dukátová to celé brala viac zábavne ako súťažne a medzi snowboardistkami prišla na chvoste štartovky, ale Zuzana Vráblová si vyjazdila kvalitné 6. miesto.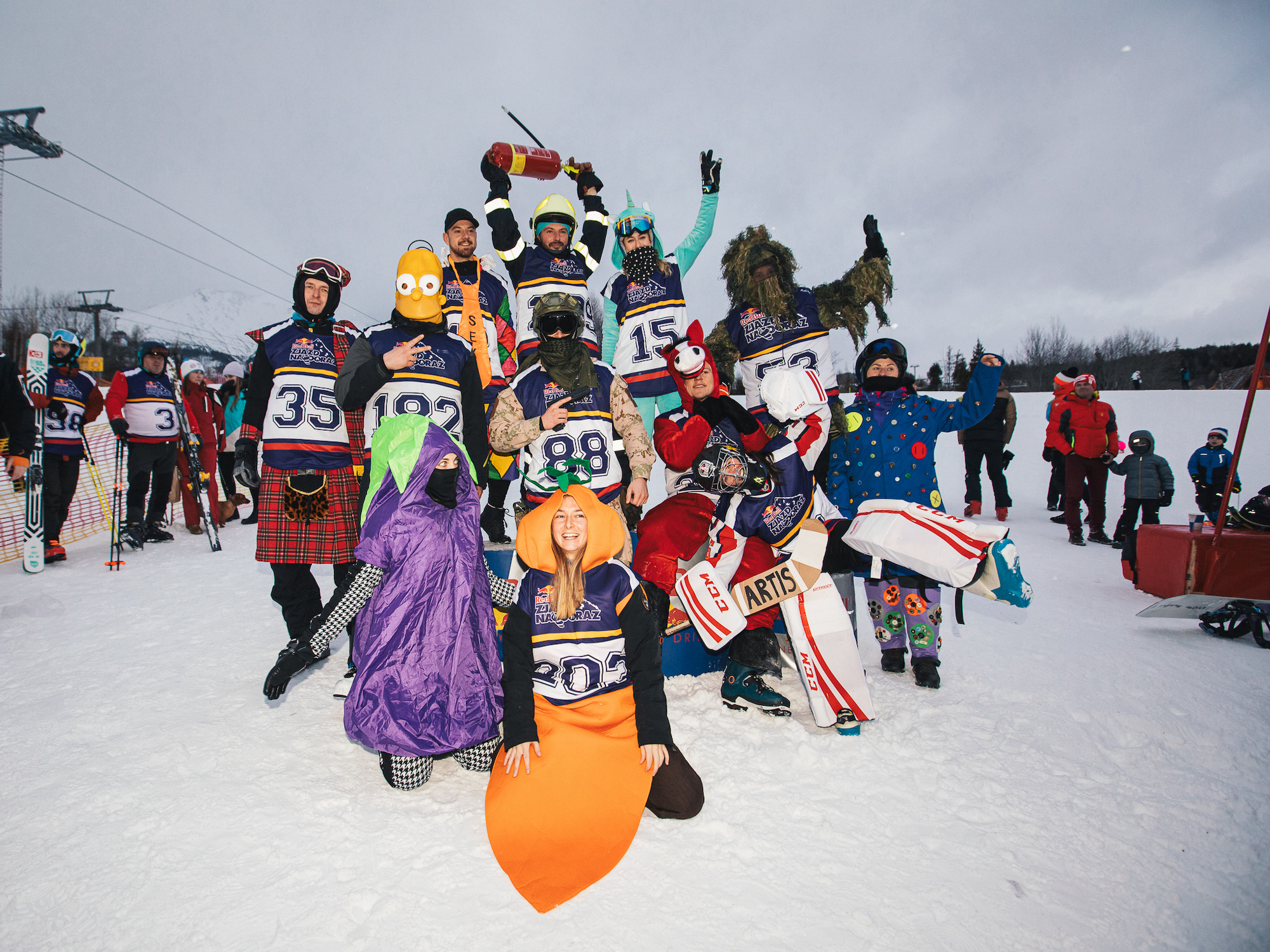 Zuzka Vráblová: "Extrémne som si to celé užila. Dnes boli navyše výborné podmienky, bolo tu oproti ostatným zastávkam aj viacero dobrých snowboardistiek, takže som spokojná. Po dlhej dobe som sa stretla s kamarátmi, napríklad aj s Jankou Dukátovou či Maťom Homolom, ktorý prišiel fandiť, takže super."
V rámci prípravy podujatie najlepšie zapadalo do tréningového plánu rýchlostnému lyžiarovi Michalovi Bekešovi, pre ktorého to bolo už neuveriteľné 16. víťazstvo z tejto akcie. Okrem Slovenska totiž pravidelne vyhráva po celej Európe vždy vtedy, keď sa práve náhodou nekoná nejaká zastávka Svetového pohára v speedksiingu. "Včera sme sa vrátili zo svetového pohára vo Francúzsku, takže mám za sebou 19 hodín cesty, ale na toto podujatie som sa veľmi tešil, pretože je to pre mňa niečo výnimočné. Navyše, je to pre mňa dobrý kondičný a rýchlostný tréning. V pondelok vyrážame aj s manželkou na svetový pohár do Fínska a neskôr ma čaká podujatie vo Francúzsku, kde sa bude prekonávať svetový rekord, takže budem dobre naladený," zhodnotil rodák zo Ždiaru.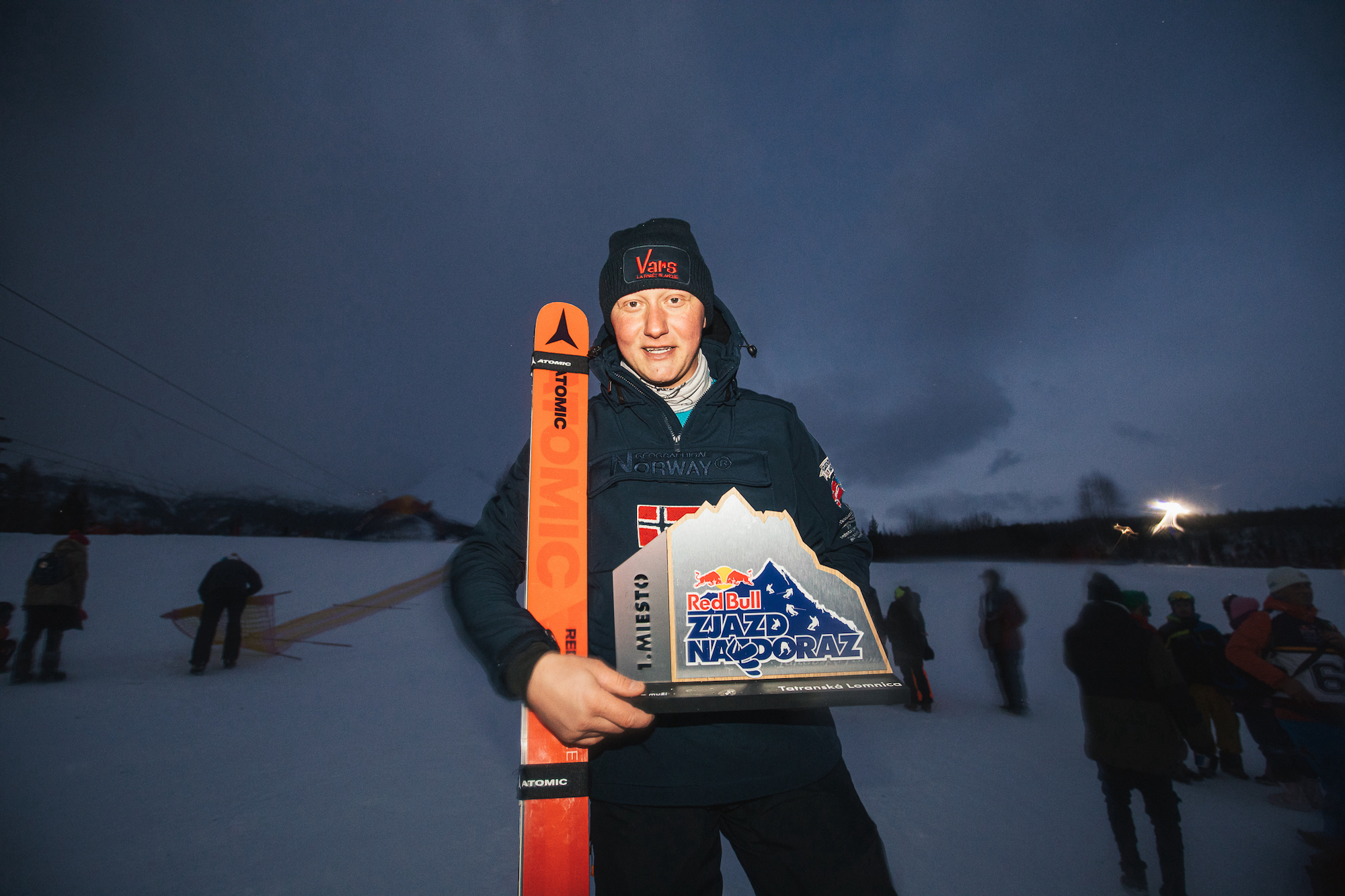 ROČNÍK 2022 ZA NAMI
Za sebou máme všetky tri tohoročné zastávky série Red Bull Zjazd na doraz, ktoré vyšli nad očakávania. Aj keď počasie miestami urobilo podmienky na trati dosť divoké, atmosféra v cieli bola zakaždým o to veselšia. Stačí si pozrieť výstupy z jednotlivých podujatí:
Všetky informácie, fotogalérie aj súhrnné video nájdete čoskoro na webe redbull.sk/zjazdnadoraz.
KOMPLETNÉ VÝSLEDKY Z TATRANSKEJ LOMNICE
Tu sú top 3 pretekári v každej kategórii. Celú výsledkovú listinu si môžete pozrieť TU.
Snowboard ženy:
Eva Hanicová (3:05:290), 2. Lenka Mandulová (3:17:490), 3. Sára Pitoňáková (3:24:480)
Snowboard muži:
Richard Mäsiar (2:54:100), 2. Juraj Jaško (3:14:060), 3. Kiko Čarný (3:16:290)
Lyže ženy:
Kika Lubyová (2:38:950), 2. Zuzana Kvašňovská (3:01:630), 3. Martina Staroňová (3:02:560)
Lyže muži:
Michal Bekeš (2:24:910), 2. Andrej Dobrík (2:28:670), 3. Adam Pirog (2:29:700)
Zdroj: Red Bull