Vo štvrtok 3. marca 2022 od 16:00 do 18:00 h bude na Mierovom námestí hrať Trenčín pre Ukrajinu. Vystúpia osobnosti slovenskej a trenčianskej jazzovej scény s hosťom Petrom Lipom, DJ Mezha (UA), B-complex, Bez ladu a skladu, Braňo Jobus a Martin Valášek a ďalší. Organizátori sa spoja s riaditeľom Ukrajinského inštitútu Volodymyrom Sheikom, ktorý je momentálne v Kyjeve. Podujatie otvorí primátor mesta Trenčín Richard Rybníček.
Po zotmení firma Kvant Lasers vysvieti starý železničný most národnými farbami Ukrajiny. Trenčín pre Ukrajinu môžu ľudia sledovať aj v live vysielaní na Facebooku.
Podujatie Trenčín pre Ukrajinu organizuje Trenčianska jazzová spoločnosť, Trenčín 2026 a školský časopis Veget. Bude to prvý z Koncertov pre Ukrajinu v siedmich mestách na Slovensku, ktoré skoordinovala Hudobná únia Slovenska. V nedeľu v 6. marca budú nasledovať koncerty v Prešove, Košiciach, Banskej Bystrici, Žiline, Trnave a Nitre.
"Cítime potrebu vyjadriť solidaritu s Ukrajinou a tiež ukázať, že aj to je úlohou kultúry – pomôcť nám v ťažkých časoch vyjadriť emócie, spolupatričnosť a empatiu," hovorí Lucia Dubačová, riaditeľka Trenčín 2026.
Podujatie obohatí premietanie kolekcie vizuálnych diel viac ako päťdesiatich umelkýň a umelcov (napríklad Lucia Tallová, Olja Triaška Štefanovič, Dorota Sadovská, Oto Hudec, Boris Vitázek, Boris Németh, Tomáš Rafa a ďalší). Zostavili ju riaditeľka Bielej noci Zuzana Pacáková a slovenská umelkyňa Ilona Németh. Kolekcia vznikla ako reakcia na útok ruských vojsk na Ukrajinu. Jej odkazom je odmietnutie násilia a vyjadrenie solidarity s Ukrajinou a jej obyvateľmi.
Na pódiu v Trenčíne zaznejú hlasy z Ukrajiny. Vystúpi DJ Mezha, ktorý pochádza z Krymu ale momentálne tri roky žije v Bratislave. Organizátori sa spoja s riaditeľom Ukrajinského inštitútu Volodymyrom Sheikom v Kyjeve. Vo videu z hlavného mesta Ukrajiny sa prihovorí aj ukrajinská fotografka Irina Dzhul.
Podujatie Trenčín pre Ukrajinu vzniklo spontánnym prepojením medzi Trenčianskou jazzovou spoločnosťou, tímom Trenčín 2026 a študentmi trenčianskych stredných škôl, ktorých koordinuje redakcia školského časopisu Veget Gymnázia Ľ.Štúra v Trenčíne.
Muzikantom z Trenčianskej jazzovej spoločnosti bolo od útoku Ruska na Ukrajinu jasné, že jazz na podporu Ukrajincom musí v Trenčíne zaznieť. Jazzman Ján Babič vysvetľuje: "Jazz je slobodná hudba. Prekonali sme obdobie jej útlaku – bolo obdobie, kedy sme žili za železnou oponou, kedy bol potláčaný kumšt, rozlet ľudského ducha a jeho hodnoty. Jazz bol aj v tomto období silou, ktorá hlásala slobodu. Nech splní svoje poslanie aj v tieto ťažké dni – jazz ako hlásnik a slobody a nádeje pre Ukrajinu!"
"Uverili sme, že žijeme v relatívne bezpečnom svete. Žijeme rozmaznaní európskymi štandardmi, za ktoré bojovali naši rodičia a starí rodičia – stáli na námestiach, tak ako my dnes – pokojne, svorne, s nádejou," zamýšľa sa Žofia Vladárová, študentka Gymnázia Ľ.Štúra a jedna zo šéfredaktoriek školského časopisu Veget a dodáva: "Vyslovujeme jasný nesúhlas s vojnou a chceme vyjadriť svoju podporu všetkým študentom Ukrajiny. Majú právo na život v slobodnej krajine! V týchto dňoch by mali sedieť v školských laviciach a nie utekať so svojimi rodinami z ich domovov!"
Organizátori budú s publikom zdieľať aj príklady, ako sa môžu ľudia zapojiť a pomôcť. Aj v Trenčíne sa zdvihla rozsiahla vlna pomoci. Mesto Trenčín vytvára databázu ľudí, ktorí môžu pomôcť materiálne, s ubytovaním alebo dobrovoľnícky. Môžu sa prihlásiť cez dotazník alebo linku pomoci 0903 113 047 (v pracovné dni v čase od 9:00 do 14:00). Rôzne trenčianske organizácie zbierajú potreby (napríklad chránená dielňa – Kaviareň Na ceste zbiera trvanlivé potraviny, bežné lieky, hygienické potreby).
Počas podujatia viacero prevádzok na námestí (Paddock, Omar café, Café Sládkovič) venuje výťažok alebo časť výťažku z predaja občerstvenia na pomoc pre Ukrajinu. Kaviareň Coffee sheep venuje celodenný výťažok zo štvrtka na humanitárnu pomoc Ukrajine a okrem toho kaviareň o 19:00 organizuje diskusiu s odborníkom o tom, čo prežívajú ľudia na úteku, ako sa k nim správať a o tom, ako my môžeme zvládať strach a obavy.
"Kultúra vytvára súdržnosť a zároveň podporuje rozmanitosť. Buduje mosty medzi komunitami. Pomáha nám spracovávať emócie z kolektívnej aj individuálnej traumy. Podporuje demokratické hodnoty. Dnes ňou chceme prispieť do kolektívnej sily ľudskej empatie a solidarity s našimi ukrajinskými susedmi a so všetkými, ktorí trpia touto nezmyselnou, autoritárskou vojnou. Ďakujeme všetkým, ktorí akokoľvek pomáhajú," uzatvára Lucia Dubačová.
Program podujatia Trenčín pre Ukrajinu:
16:00 – otvorenie moderátor Laco Oravec (Nadácia Milana Šimečku)
16:03 – primátor Trenčína Richard Rybníček – krátky príhovor
16:06 – Laco Oravec uvedie Jazzové zoskupenie a uvedie kolekciu vizuálnych umelcov, ktorá sa bude premietať počas celej doby koncertu
16:07 – 16:37 – Jazz pre Ukrajinu: Peter Lipa, Jan Babič, Dáša Libiaková, Kristína Bartošová, Janette Strhavská, Jozef Brisuda, Ondrej Botek, Ferko Báleš, Janko Babič, Ludvik Soukup, Samo Bánovec, Jarko Machač, Karol Repa V poradí:Peter Lipa, Dáša Libiaková, Dáška a Botek
16:38 – 16:44 – Laco Oravec a Lucia Dubačová uvedú riaditeľa Ukrajinského inštitútu Volodymyra Sheika
16:45 – 16:52 – Mezha (UA)
16:52 – 16:59 – Mišák Štramák
16:59 – 17:05 – Ukrajinská fotografka Irina Dzhul sa prihovorí vo videu aktuálne z Kyjeva
17:05 – 17:15 – Bez ladu a skladu
17:15 – 17:22 – B-complex
17:22 – 17:29 – Braňo Jobus a Martin Valášek
17:29 – 17:35 – Lola Bartošíková, violončelistka a študentka Jozefa Luptáka a Mateja Tkáča
17:35 – 17:40 – Príchod študentov so sviečkami a Matúš Oravec zo Small Things
Koniec moderovanej časti
17:40 – 18:00 – možné pokračovanie Jazz pre Ukrajinu
Po zotmení firma Kvant Lasers nasvieti starý železničný most farbami vlajky Ukrajiny.
Podujatie bude streamované: https://fb.me/e/2Qbd2T3MR
www.trenčín2026.eu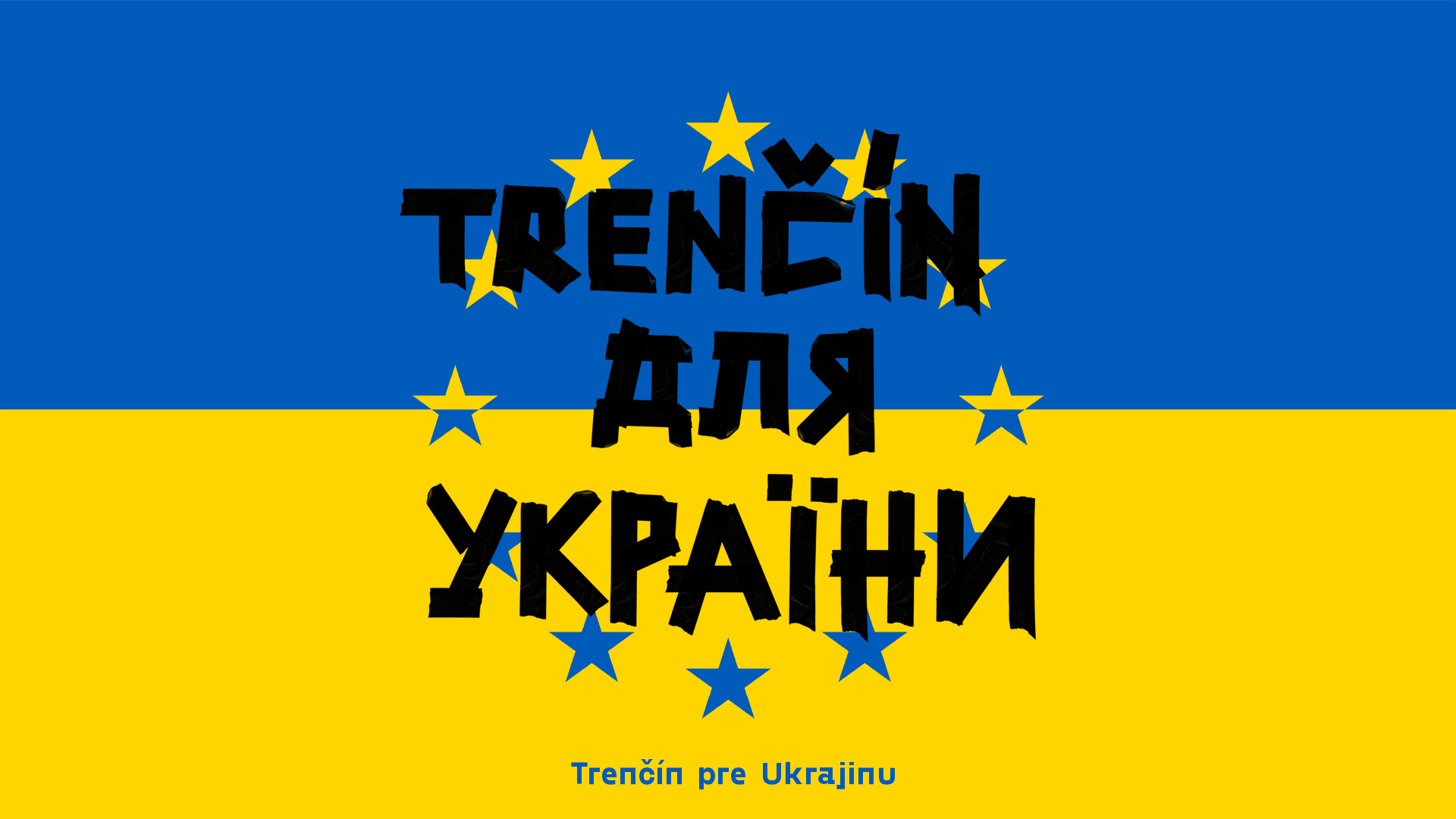 Zdroj: TS