Talian Stefano Fucili, ktorý dobyl talianske rádiá, ale aj naše hviezdne duo Drozďo & Demex, mladý talentovaný hudobník John Habbs, skvelá Mia Nikol a ďalších 15 hudobníkov! Projekt Dance Mania prináša to najlepšie z tanečnej hudby súčasnosti. Rytmické novinky nenechajú nikoho na pokoji. Electronic Dance Music si získava stále viac fanúšikov a teraz majú to najlepšie za ostatné mesiace pekne na jednom mieste.
20 tanečných vypaľovákov na jednom CD! Projekt Dance Mania je skutočným unikátom. Nájdete na ňom tanečné hity zahraničnej aj slovenskej proveniencie. Dokopy 20 coolových skladieb! Populárna dvojica Drozďo & Demex tam má novinku I need you.
"Skladba vznikala postupne. Najskôr sme vytvorili verziu bez vokálu, ktorá bola prevažne určená pre festivaly. Neskôr sme k nej vymysleli aj jemnejšie melódie, ktoré lepšie ladili s príjemným ženským hlasom. O ten sa následne postarala zahraničná speváčka. Nakoniec sme zladili jemnosť a energiu v jedno a vznikla z toho skladba I Need You," vraví Jakub Mišík známejší pod pseudonymom Demex.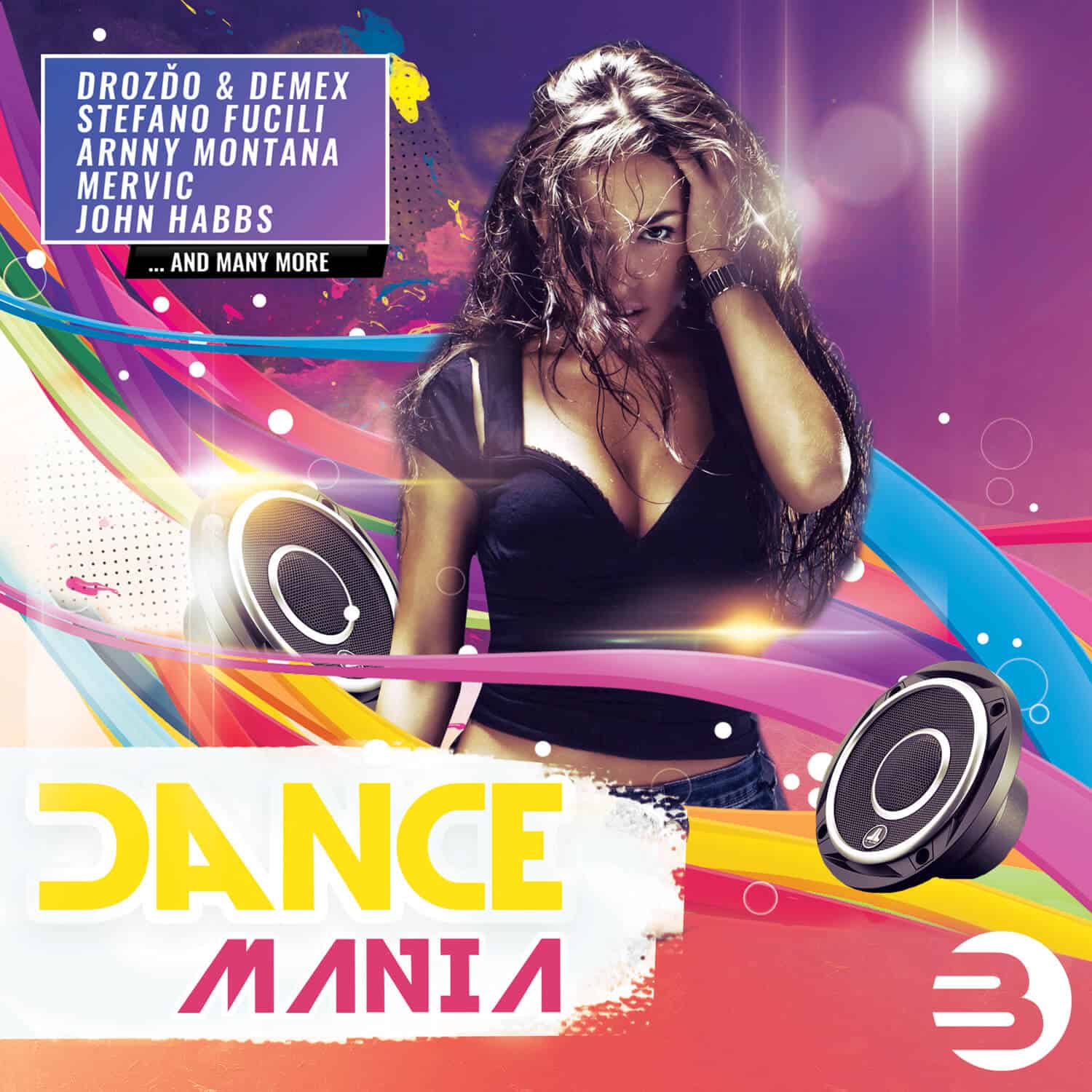 Táto populárna hudobná dvojica už má i vlastnú reláciu, kde dáva priestor novinkám žánru Electronic Dance Music. Na CD Dance Mania našli viacero kandidátov na budúci hit.
"Projekt Dance Mania vnímame veľmi pozitívne. Myslíme si, že zahraničné aj slovenské publikum, ktoré počúva Electronic Dance Music, je čoraz väčšie a preto sú aj takéto projekty tou správnou cestou. Na CD je veľa šikovných a talentovaných umelcov. Pre nás osobne je zaujímavý napríklad Mervic, ktorý je hudobným štýlom asi najbližšie k tomu nášmu a jeho skladba Taking Over je kvalitne vyprodukovaná," dodáva Demex.
Na CD-čku je väčšina skladieb zahraničných. Okrem Stefana Fucili-ho tam nájdete aj skladbu ďalšieho originálneho Taliana, jedného z najoceňovanejších DJ-ov Rafa Marchesiniho, či Španiela Marsala Venturu. Avšak aj slovenské skladby majú skvelý moderný sound. Napríklad mladý talentovaný slovenský hudobný producent John Habbs, vlastným menom Ján Habanik, sa tam ocitol so svojim debutom F.R.N.D.S..
"Pesnička vznikala asi rok a to kvôli tomu, že som ešte študoval a venoval som sa hudbe väčšinou po škole, vo voľnom čase. Keď som prišiel jedného dňa domov, tak som si sadol za počítač, otvoril môj hudobný program a začal som skladať melódiu. Vokál je požitý zo sample pack, to nie je žiadne tajomstvo. Je to taký dance štýl, ktorý sa hodí do rádií a ja verím, že si nájde svoje publikum," dodáva John Habbs.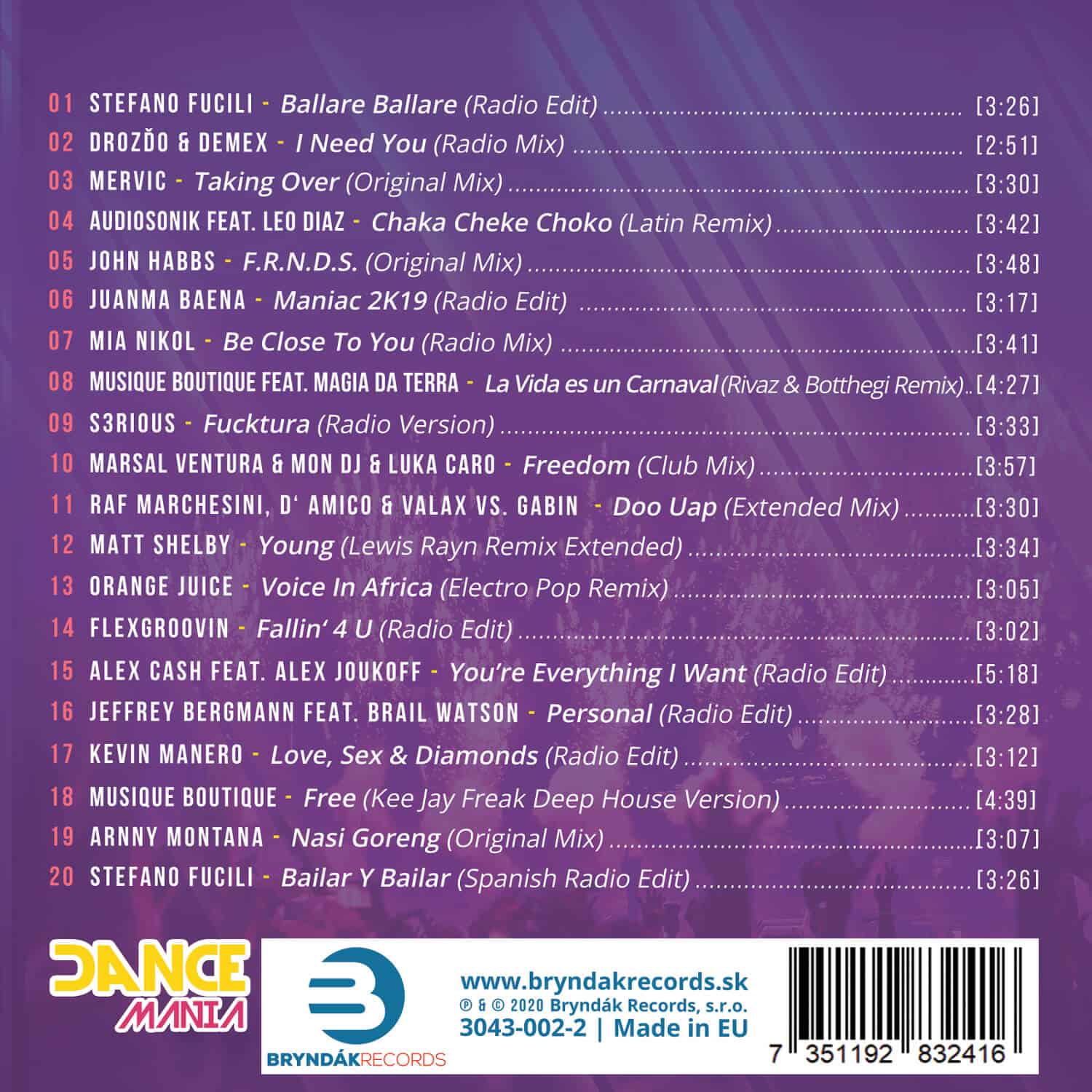 Talentovaná Mia Nikol na kompilácii spieva o láske. Málokto to vie zo seba vydať takto rytmicky!
"Nikto nevidí do duše človeka a niekedy je ťažké vysloviť to, čo cítime. Preto je hudba najlepším tlmočníkom. Skladba Be close to you je o tajomnej láske a túžbe správne vyjadriť svoje pocity. Melódia a text mi napadli v lete a bola to bleskovka. Hneď mi bolo jasné, o čom chcem spievať. Som rada, že som sa ocitla na CD Dance Mania. Je to skvelá vec. Hudba a snaha je to čo nás všetkých spája," uzatvára Miroslava Mikolajová, ktorá vystupuje pod umeleckým menom Mia Nikol.
Projekt Dance Mania vychádza vo vydavateľstve Bryndák Records, s.r.o.. Okrem CD-čiek je aj na streamovcích službách Spotify, Deezer, Apple Music, Beatsport, Amazon a Itunes. Viac informácií o projekte nájdete tu: https://www.bryndakrecords.sk/dance-mania/
Zdroj: TS