Metalová hudba mala na Dobrom festivale vždy svoje miesto. Po 9 ročníkoch, kedy na samostatnom pódiu vystupovali prevažne slovenské a české lokálne kapely, prehodnotil organizátor Miro Tásler stratégiu a začal sa ohliadať po väčších zahraničných menách. Na jubilejnom desiatom ročníku sme tak s veľkou odozvou videli naživo Sepulturu. Po ročnej pauze do Prešova zavítalo ďalšie kvalitné metalové zoskupenie. Fínsky Amorphis potvrdil povesť kapely, ktorá je na Slovensku vždy vítaná a naservírovala nekompromisnú zmes death metalu, melodiky a fínskej mystiky. Odohrali skvelý koncert so špičkovým zvukom, čo si pochvaľovali okrem fanúšikov aj samotní hudobníci.
Je sobota poobede a na Dobrom Festivale začína druhý deň podujatia. Hrajú všetky tri pódiá, areál sa pomaly zapĺňa a na Delni vidieť každou minútou čoraz viac fanúšikov metalu. Iria, Ensiferum, Sepultura, Slayer tvoria iba niekoľko nápisov na tričkách návštevníkov. Dnešný deň je pre podujatie špecifický. Svoju účasť potvrdila ruská pagan folk metalová kapela Grai, slovenská legenda Wayd a fínsky headliner Amorphis. Zatiaľ čo na pódiu Dobrá Hudba VÚB Banky má plno Adam Ďurica, v priestoroch pred Šariš Arénou sa schádzajú fanúšikovia tvrdej muziky. Pivkujú, rozprávajú sa o uplynulom ročníku Wackenu a rozoberajú, na ktoré festivaly počas leta ešte zavítajú.
Zahrali aj Black Winter Day
Na Dobrý festival prišli najmä kvôli Amorphisu, ktorí minulý rok vydali vysoko hodnotený album Queen of Time. Stretávam sa s kapelou v šatni necelú hodinu pred ich koncertom. "Bol to skvelý rok a čas rýchlo beží," hovorí mi gitarista Esa Holopainen. "Počas leta odohráme na koncertoch celý album, ale tu, keďže je to festivalový set, musíme vybrať päť či šesť skladieb. The Bee a Golden Elk nám dobre zapadajú do setlistu so skladbami z Tales From The Thousand Lakes či Skyforger."
Rozoberáme tvrdosť kapely v začiatkoch a nedalo nám nezastaviť sa pri melodickosti, ktorú do death metalu dávali už na debutovom albume. "Uvedomili sme si, že potrebujeme klávesáka. Bolo to veľmi dôležité pre náš zvuk. Ak máš klávesáka, ktorý je veľmi muzikálny, sú z toho samé benefity," hovorí Esa Holopainen.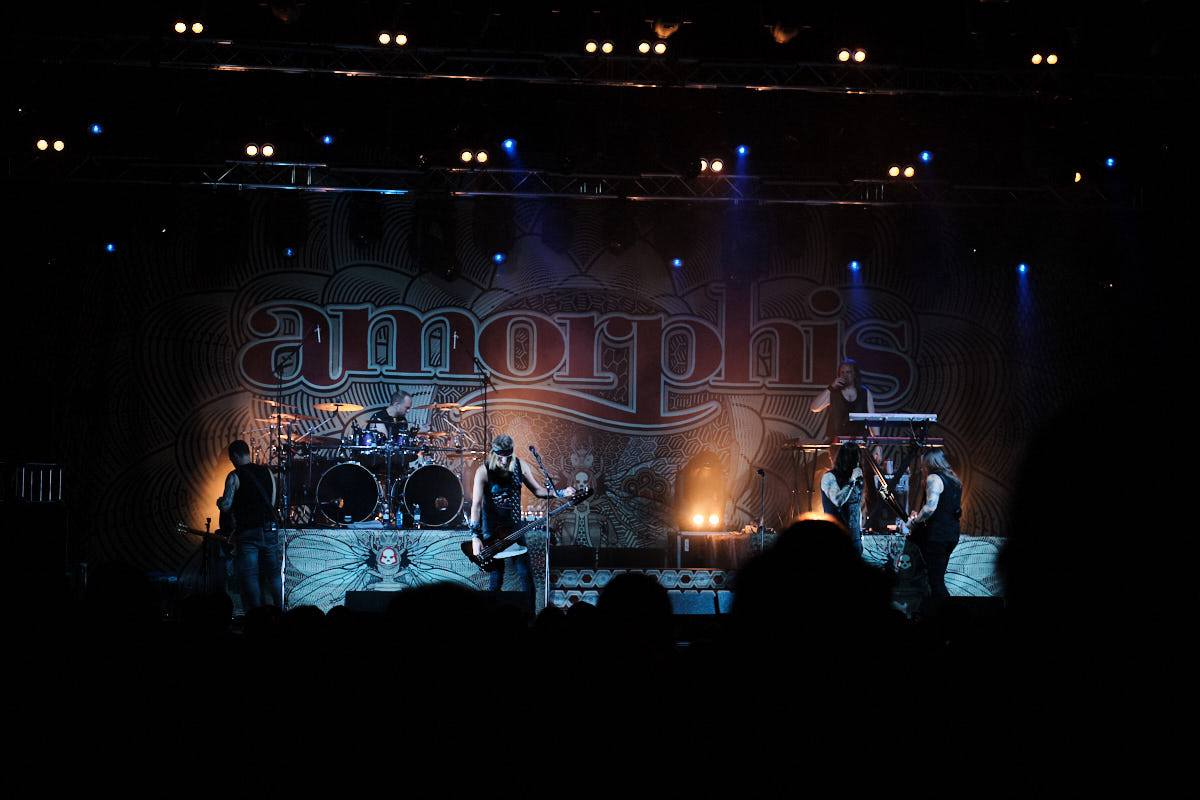 Producent ti v štúdiu otvorí oči
Ja zas vyzdvihujem prácu Jensa Bogrena a podpichujem, že by takého producenta možno uvítali viaceré československé kapely. Zastavujeme sa aj pri tom, že si Amorphis produkovali sami väčšinu albumov. "Jasné, že producent pomôže. Muzikanti si vo svojej hudbe často nevšimnú niektoré veci. Preto je dobré mať niekoho, kto vie priložiť ruku k dielu, pomôže s aranžmánmi, vokálmi a so zvukom."
Poobede som si bol pozrieť diskusiu o 30 rokoch slobodnej muziky medzi Petrom Migašom a Martinom Višňovským s Mirom Táslerom. Spomenul som si na to, že Fíni vlastne nežili za železnou oponou a zháňanie novej hudby pre nich muselo byť niečo ako dnešné nakupovanie v supermarkete. Teda, ak ste chceli novú Madonnu. Za našu československú scénu som vyzdvihol Krabathor, zdalo sa, že o nich nikdy nepočuli, tak som ich prirovnal k nemeckému Kreatoru. A ako to bolo s tým objavovaním novej tvrdej muziky?
Metalový robotník
Klávesák Santeri Kallio potvrdil, že to bolo asi ako všade na svete, keďže išlo výlučne o okrajovú záležitosť hudobného biznisu. "U nás existovali malé obchody s hudbou, ktoré dovážali nahrávky od malých vydavateľstiev a veľa nahrávok sme si vymieňali s priateľmi. Takisto sme mali veľa spriatelených kapiel, ktoré hrávali za hranicami a vždy niečo nové priniesli. Fungovali sme hlavne týmto štýlom."
Bavíme sa o časoch, kedy Nuclear Blast ešte len vznikal a vytváral si svoju distribučnú sieť. Podobne ako ďalšie metalové vydavateľstvá. Pri tom si spevák Tomi Joutsen spomenul na rôzne fanúšikovské magazíny, tzv. ziny, ktoré vychádzali v malých nákladoch, boli čiernobiele a rozmnožované kopírovaním, nie klasickou grafotlačou. "Takisto bola u nás veľmi dôležitá lokálna rádiová relácia Metalliliitto (metalový robotník, pozn. red.). To bolo ozaj niečo. A týpek, ktorý to viedol, púšťal veľmi extrémny metal. Nie počas celej relácie, ale vždy ich niekoľko pustil. Vďaka tomu som objavil mnoho skvelých kapiel, hlavne undergroundových. Aj v tých časoch bolo náročné nájsť kvalitnú undergroundovú a extrémne tvrdú muziku."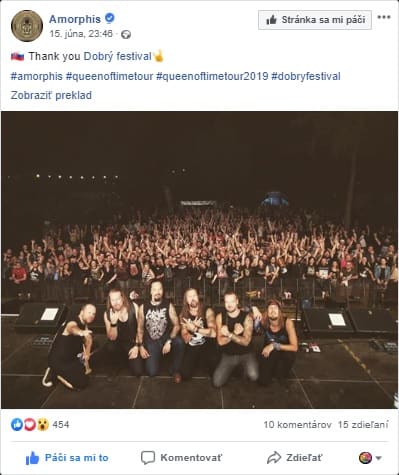 Hrať nielen na metalových akciách
Bubeník Jan Rechberger si paličkami vyklepkáva rytmy na stehnách, zatiaľ čo pokračujeme v rozhovore. Z diaľky počuť koncert IMT Smile. Hovorím, že to je naša najpopulárnejšia kapela. Pýtam sa, či zažili hranie na festivaloch, kde na jednom pódium počuť pop, rock, elektroniku a na druhom tvrdý metal. Spevák Tomi Joutsen je veľký fanúšik rôznorodej muziky, a tak sa chytá slova.
"Bolo by cool hrať viac takýchto festivalov. O niečom podobnom sme sa v kapele rozprávali už pred rokmi, pretože sa nedá stále hrať na Wackene, Graspop Metal Meetingu a pod. Bolo by skvelé hrať všade, pretože Európa je plná takýchto festivalov ako váš. Na druhej strane sme pre nich možno príliš tvrdí. Minulý týždeň sme hrali pre Harley-Davidson a v tomto je leto super, pretože na rozdiel od turné sa môžeš dostať na ozaj zaujímavé festivaly, na ktorých vieš nájsť veľa rozličnej hudby a to sa mi na tom páči."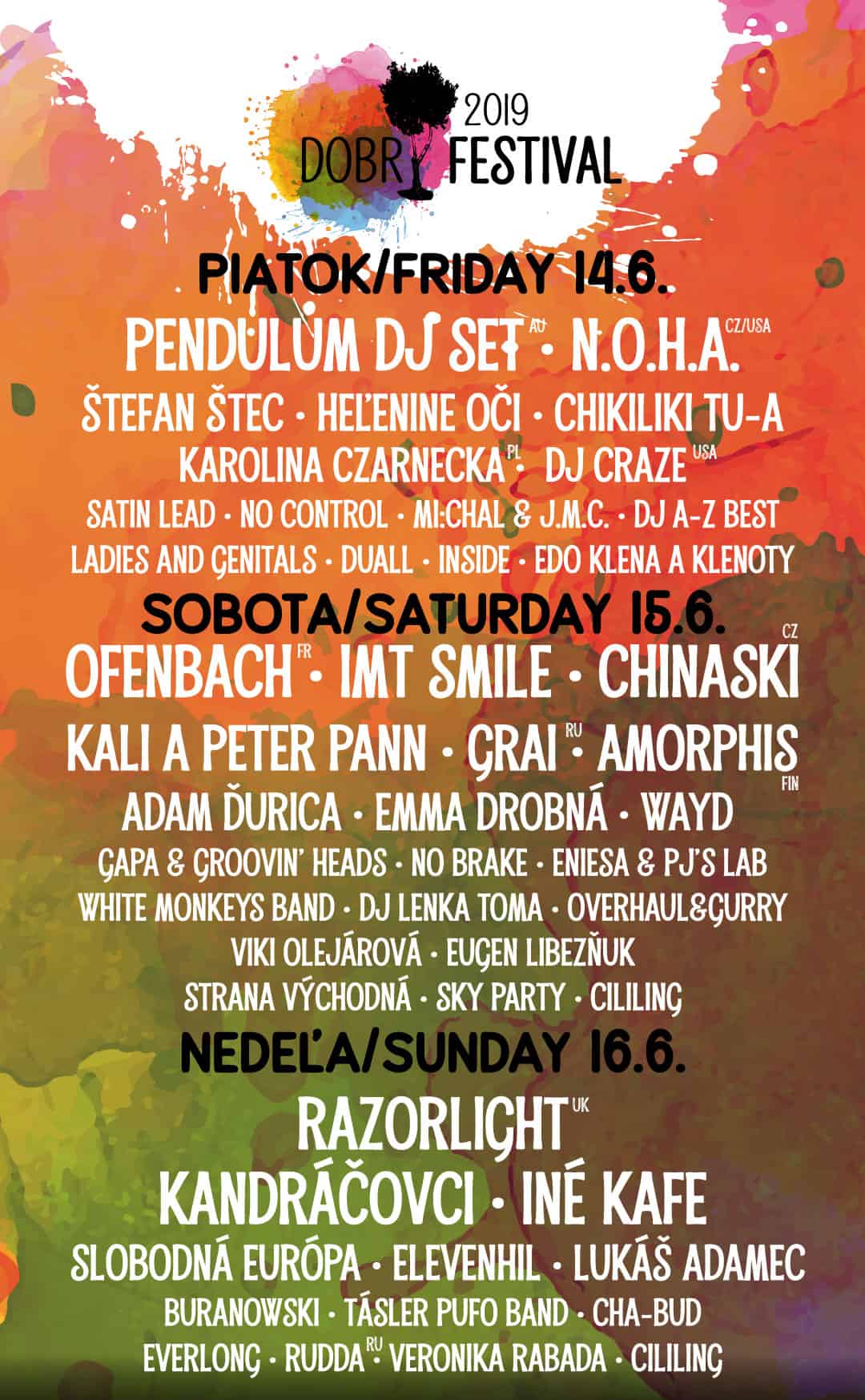 redakciu informoval Edo Kopček z organizačného tímu Dobrého Festivalu
foto: Peter Ivan, LR Media