Výrazní predstavitelia slovenskej aj svetovej world music scény už po ôsmykrát rozozvučia mestské a klubové priestory festivalu Hudba sveta Žilina. Smer Music Klub 7, Rosenfeldov palác a Mestské divadlo Žilina ožijú pestrými hudobnými náladami, farbami a rytmami od 12. – 14. októbra 2022.
V stredu 12. októbra v Mestskom divadle začne večer tradično-netradične v podobe koncertu slovenského zoskupenia Bashavel. Elitní hudobníci oscilujúci na pomedzí žánrov v rôznych projektoch sa spojili, aby svojou súčasnou hudobnou rečou nadviazali na ľudové tradície. Päticu známych hudobníkov tvoria Stano Palúch na husle, Robo Ragan na kontrabas, Marcel Comendant na cimbal (trojica z Pacora Trio a i.), Klaudius Kováč na klavír a Peter Solárik na bicie.
Namiešajú vám multižánrový šumivý koktail a pridajú ďalšie korenia, ktoré poznajú len oni. Do Žiliny prichádzajú skutočne veľmi cool ľudia z lotyšskej kapely Very Cool People. Pokračovanie stredajšieho večera odpália funky tanečnou zmesou skombinovanou s jazzom, surfom, klezmerom a soulom. Rozžiarili už pódiá na festivaloch od Estónska až po Južnú Kóreu a nevedia sa dočkať svojho slovenského publika.
Vo štvrtok 13. októbra si organizátori v priestoroch Rosenfedovho paláca pripravili exotiku v podobe vzdušného víru z Galície. Aire! čiže Vzduch!, tak sa volá album dua huslistky a speváčky Antíe Ameixeiras a hráčky na chromatický akordeón Sabely Caamaño, a nie je to náhodou. Tanečná súhra ich nástrojov sa rozrastá o melódie pochádzajúce najmä z Galície, ale inšpirácie čerpajú aj z rôznych iných kútov sveta. Príďte si vychutnať naživo dve milovníčky tradičnej a ľudovej hudby, nástrojov a tanca.
Piatok 14. októbra sa bude niesť v znamení tanečných rytmov, ale aj oživenia starých herných štýlov slovenskej a českej ľudovej hudby. Temperamentnú časť programu v podobe workshopového Tanečného domu budú mať pod taktovkou chalani z Rytmika.sk, s ktorými festival spolupracuje už niekoľko rokov.
Večerný program otvorí domáce zoskupenie HoŤaPo. Zoskupenie štyroch mladých hudobníkov a spevákov z okolia Žiliny bude prezentovať tradičnú hudbu z Kusúc a Horného považia. Česká kapela s úsmevným názvom RukyNaDudypochádza z Frenštátu pod Radhoštěm. Páni nie sú na scéne žiadni nováčikovia a od roku 2004 si už čo to odgajdovali a odpískali. Počas koncertu predvedú širokú škálu hudobných nástrojov ako koncovka, fujarka, pastierska píšťala, salašovka, ochlebky, gajdy či malý cimbal. Ich štýl hry sa pohybuje medzi pólmi archaickej rekonštrukcie a world music. Počas koncertu vás potešia známymi, menej známymi či novými piesňami inšpirovanými minulosťou a tradíciami.
Novinkou tohto ročníka bude Tanečný dom pod taktovkov Klubu autentického folklóru Hojana.
Záver festivalu bude patriť vychádzajúcej hviezde slovenskej ľudovej hudby, huslistovi Mišovi Nogovi a jeho kapele NOGA BAND. Momentálne žnú úspechy na domácich aj zahraničných festivaloch a súťažiach. V roku 2020 vydali debutový album Stopy, ktorý získal ocenenie Radio_Head Award ako nahrávka roka v žánrovej kategórii World Music/Folk a ako prvá slovenská skupina v histórii sa zaradili do prestížneho svetového rebríčka Transglobal World Music Charts. Slovami Michala Nogu: "Naším skromným cieľom bolo zaviesť poslucháča po stopách predchádzajúcich generácií do minulosti a možno vytvoriť aj vlastnú stopu v súčasnosti."
Vyberte sa v spoločnosti Miša Nogu a ďalších výnimočných slovenských a zahraničných hudobníkov po stopách slovenských aj svetových tradícií. Navštívte v októbri festival Hudba sveta Žilina.
Program
12. 10. 2022, 19:00, Mestské divadlo Žilina: Bashavel, Very Cool People,
13.10. 2022 19:00, Rosenfeldov Palác: Caamano & Ameixeiras – Aire!,
14.10 2022 10:00, ZŠ Karpatská ulica: Bubnovačka s Rytmika.sk
14.10 2022 19:30, Smer music Klub 77: HoŤaPo, Tanečný dom Hojana, RukyNaDudy, Noga Band
Podujatie z verejných zdrojov podporil Fond na podporu umenia. Partnerom festivalu je Mesto Žilina.
Web: https://hudbasvetazilina.sk/sk/
FB: https://www.facebook.com/hudbasvetazilina/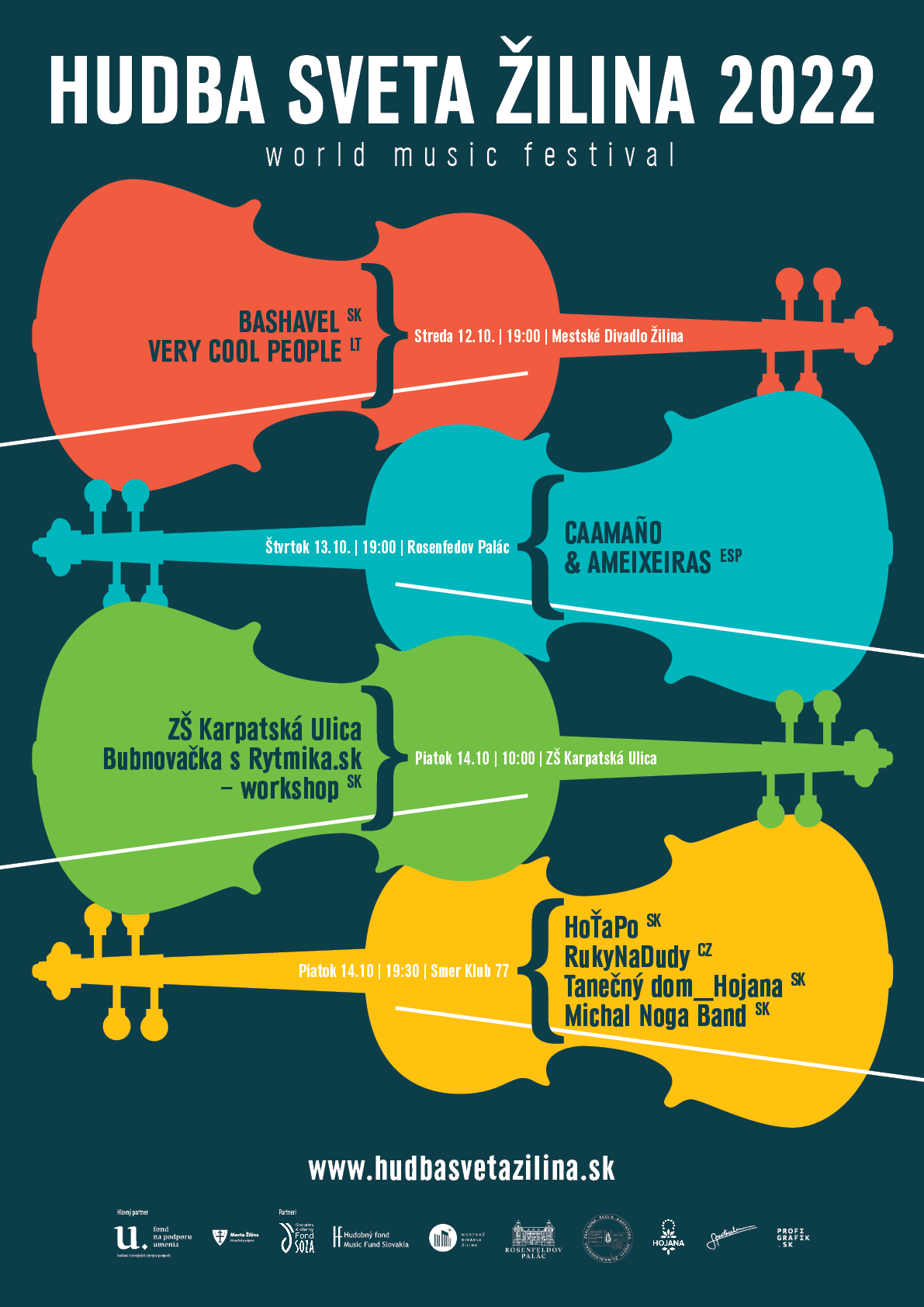 Zdroj: TS