Vlasy sú korunou krásy, oči oknom do duše…tieto zaužívané prirovnania dobre všetci poznáme. Ale čo taký úsmev? Nemusí byť len ten hollywoodský, niekedy stačí len úprimný úsmev a hneď je deň lepší! Aj to je jeden z dôvodov, prečo bude mať tohtoročná Miss Slovensko 2021 úplne novú kategóriu – súťaž o Miss Úsmev.
Napriek dlhoročnej tradícii súťaže Miss Slovensko je každý ročník obohatený o príjemnú novinku či sviežu zmenu. Tou tohtoročnou je rozšírenie súťažných kategórií o Miss Úsmev. "Úsmev je krásna a zároveň veľmi prirodzená súčasť výrazu tváre. Najmä úprimný úsmev je veľmi sympatický a určite by mal patriť aj k Miss Slovensko. Preto sme sa rozhodli obohatiť súťaž o túto kategóriu," vysvetlil riaditeľ súťaže Miss Slovensko Michael Kováčik. Odborným garantom tejto kategórie bude dentálna klinika Dr. Martin.
"Organizátori Miss Slovensko nás oslovili s ponukou stať sa garantom súťažnej kategórie Miss Úsmev, pretože naša klinika má veľmi dobré meno v spoločnosti a vynikajúce referencie, ktoré stoja na kvalite a odbornosti našich stomatológov a technikov. Hoci pôsobíme v Bratislave, naše služby vyhľadávajú ľudia z celého Slovenska a tešíme sa, že sa už čoskoro rozrastieme," dopĺňa Daniel Kodaj zo zubnej kliniky Dr. Martin. "Krása a úsmev idú ruka v ruke a keďže v súťaži ide rovnako ako v našej práci o prirodzenú krásu, na spolupráci sme sa dohodli v priebehu pár minút."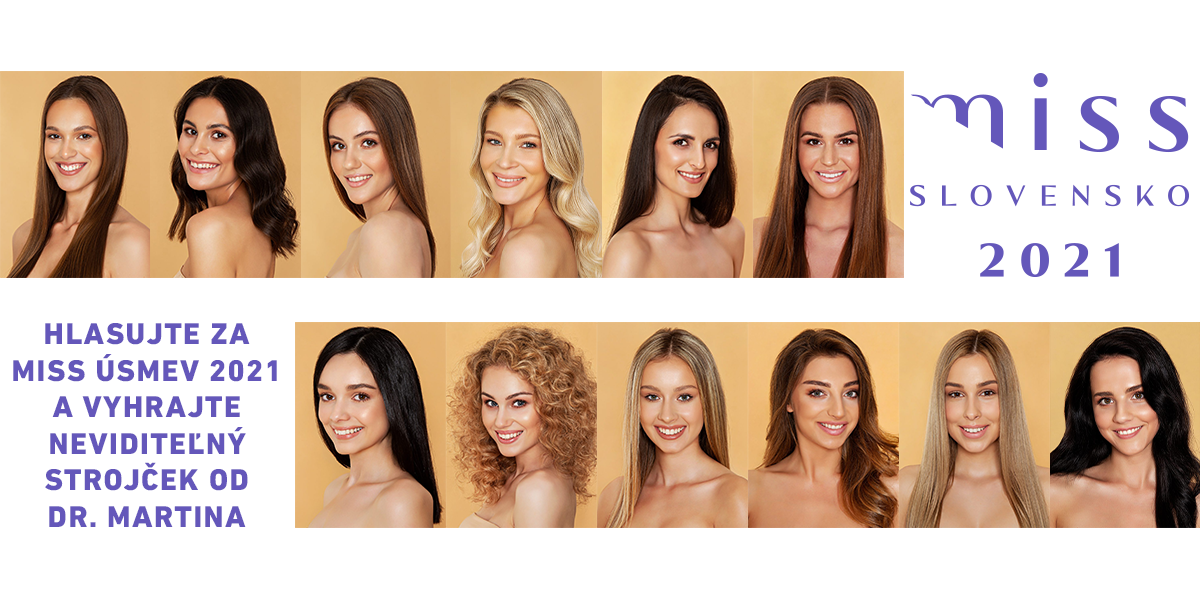 Prirodzený úsmev od srdca
Vraj keď muž povie žene, že má pekný úsmev, hovorí tým, že sa mu páči, keď sa usmieva práve na neho. Či je to naozaj pravda, alebo nie, úsmev je dôležitý komunikačný nástroj. Je dokázané, že úsmevy a smiech posilňujú imunitu, predávajú, liečia, priťahujú priateľov a predlžujú život.
Aký úsmev je však najkrajší? V súťaži Miss Slovensko o tom rozhodnú divácke hlasy spolu s hlasmi odbornej poroty. "Určite taký, ktorý je úprimný a ide od srdca. Ťažko sa to popisuje, ale každý hneď vidí, či ide o silený a nacvičený úsmev alebo sa kútiky úst vykrútia smerom hore prirodzene a pritom sa človeku rozžiari celá tvár," myslí si M. Kováčik.
Úsmev budúcej Miss Úsmev musí byť pekný a prirodzený zároveň. "Všetky dievčatá v súťaži spĺňajú podmienku, že ich chrup nesmie byť upravený fazetami alebo korunkami. Naši stomatológovia budú hodnotiť komplexný dojem z úsmevu – teda tvar zubov, ďasien, postavenie zubov a tiež celkový vzhľad s perami. Takže určite nepôjde iba o zuby," usmieva sa D. Kodaj z Dr. Martin.
19 druhov úsmevov, iba 6 šťastných
Vďaka úsmevu sa dokážeme neraz dohovoriť aj bez slov. Prípadne čítať z tváre bez toho, aby bolo niečo povedané. Vedci stále skúmajú, ako je možné, že dokážeme na prvý pohľad rozlíšiť úprimný úsmev od falošného, identifikovať, kedy sú kútiky úst zdvihnuté dohora v ironickom a kedy sladko-smutnom úsmeve. Čo už definitívne výskumami potvrdili, je to, že existuje až 19 rôznych druhov úsmevu, no iba 6 z nich vyjadruje šťastie. Úsmev môže o nás bez slov povedať, že sa cítime trápne, pohŕdame, tešíme sa z neúspechu druhého alebo triumfujeme. Rovnako tak špecifickým úsmevom prezradíme, že sme smutní, koketní, klameme alebo naopak máme problém niečomu uveriť.
Viac svalov v hre
Pokiaľ je úsmev šťastný alebo aspoň súvisí s pozitívnym prežívaním, okrem svalov líc sú doň zapojené aj svaly okolo očí a niekedy aj čelo. Všetky ostatné druhy úsmevu sú "chudobnejšie", na vyformovanie pier do úsmevu použijeme iba lícne svaly.
Budúca Miss Úsmev bude však mať veľa dôvodov na plnohodnotný šťastný úsmev. Veď Miss Úsmev aj Miss Slovensko získajú ročnú starostlivosť o zuby na klinike Dr. Martin. Šťastný a zdravý úsmev však neminie ani hlasujúcich, nakoľko každý kto sa zapojí do hlasovania získa od zubnej kliniky zvýhodnenú cenu na dentálnu hygienu! Dokonca jeden z hlasujúcich divákov v kategórii Miss Úsmev sa bude náramne usmievať, keď vyhrá neviditeľný strojček v hodnote 5 000 €. Usmievať a smiať by sme sa však mali všetci, aj keď sa na to práve necítime. Lebo aj navodený úsmev spúšťa v tele chemické reakcie, ktoré prispievajú k pocitom spokojnosti a radosti.
Zdroj: PR
Foto:Dr.Martin