Frederika Jobková je príjemným osviežením na slovenskej hudobnej scéne. Ba čo viac, už v začiatku kariéry sa jej podaril husársky kúsok. Hneď jej prvý singel Petrus z pripravovaného, debutového albumu, totiž zaujal ostrieľaného Majka Spirita natoľko, že jej ponúkol spoluprácu. A presne to bol ten moment, keď sa začali diať veci.
V závere minulého roka ste spolu s Majkom Spiritom nahrali skladbu Petrus. V jeho prípade nie je bežné, že poskytne priestor na featuring speváčke, ktorú publikum až tak dobre nepozná. A preto … kto je Frederika?
Máte pravdu. O to vďačnejšia som Majkovi za túto príležitosť. Každopádne, volám sa Frederika, pochádzam zo Stropkova, no už dlhší čas žijem v Košiciach. Práve tam som vyštudovala spev a začala inklinovať k umeniu. Verím, že spolupráca s Majkom je jedným z míľnikov, doposiaľ pre mňa určite tým najsilnejším, ktorý pomohol odštartovať moju hudobnú kariéru.
V hudbe ste nováčikom, no aká bola vaša cesta k nej?
Celé to začalo neplánovane a zaujímavo, konkrétne športom, ktorý ma veľmi bavil. No je pravda, že presne v tom čase som doslova odskakovala na hodiny spevu a klavíra, počas ktorých som zistila, že hudba je pre mňa pravdepodobne tou správnou cestou. Pamätám si, že na akciách a oslavách som si často zobrala mikrofón a spievala. Vtedy už možno aj blízke okolie tušilo, že by zo mňa mohlo niečo byť a tým pádom moje ďalšie kroky smerovali na ZUŠ. Tam moja učiteľka spozorovala, že mám talent a mala by som ho ďalej rozvíjať.
Vyštudovali ste konzervatórium. Bola to vaša voľba, alebo ste si podali prihlášku na niečí popud?
Motivovala ma hlavne spomínaná pani učiteľka, ktorá vo mňa verila. Paralelne s jej dôverou rástla i moja snaha robiť veci lepšie, venovať im viac času, energie. Podporovala ma aj moja rodina – o to viac, keď videli, s akým entuziazmom sa púšťam do hudby, a ako silno ju dokážem precítiť.
Keď sa vrátite späť do študentských čias. Napadne vám pochvala, ktorá vo vás rezonuje dodnes a výrazne vás popohnala ďalej?
Pozrela by som sa na to práveže opačne. Po jednom roku štúdia na ZUŠ-ke som prešla na konzervatórium. Ako študentka som sa tam cítila veľmi "maličká", čím chcem povedať, že som spočiatku dostávala viac kritiky než chvály. Rada spomínam na jedného profesora, ktorý dbal na to, aby som bola správne nastavená mysľou na to, čo idem robiť. Vravel mi, že správny postoj je smerodajný, v opačnom prípade moja snaha nebude mať zmysel. Tvrdšie slová ma odjakživa posúvali ďalej oveľa rýchlejšie.
Po ukončení štúdia ste však nezakotvili v hudobnej sfére. Čo vás priviedlo k iným cestám, než hudobným?
Počas dospievania som mala tendenciu robiť všetko a často meniť záľuby. Chcela som na sebe pracovať a zdokonaľovať sa v rôznych oblastiach, nie iba v speve. Ešte nebol ten správny čas. (úsmev) Preto som sa rozhodla odísť do zahraničia a nazbierať nové skúsenosti. Robila som práce, ktoré som viac-menej robiť musela, naučila sa samostatnosti a mnohým iným veciam, ktoré mi dali neopísateľne veľa do ďalšieho života.
Pracovali ste pre svetoznámu módnu značku, čo asi nebolo až také nasilu… (úsmev)?
Skôr som to myslela tak, že nebolo na výber. V Londýne som nemala možnosť robiť to, čo som vyštudovala, preto som robila čosi iné. V skutočnosti to ale bola krásna práca, oblasť módy ma fascinuje aj dnes. Navyše som zistila, že v mojom prípade sú práve takéto odbočky z ciest k vytýčenému cieľu veľmi podnetné a vedia mi obohatiť ďalší život.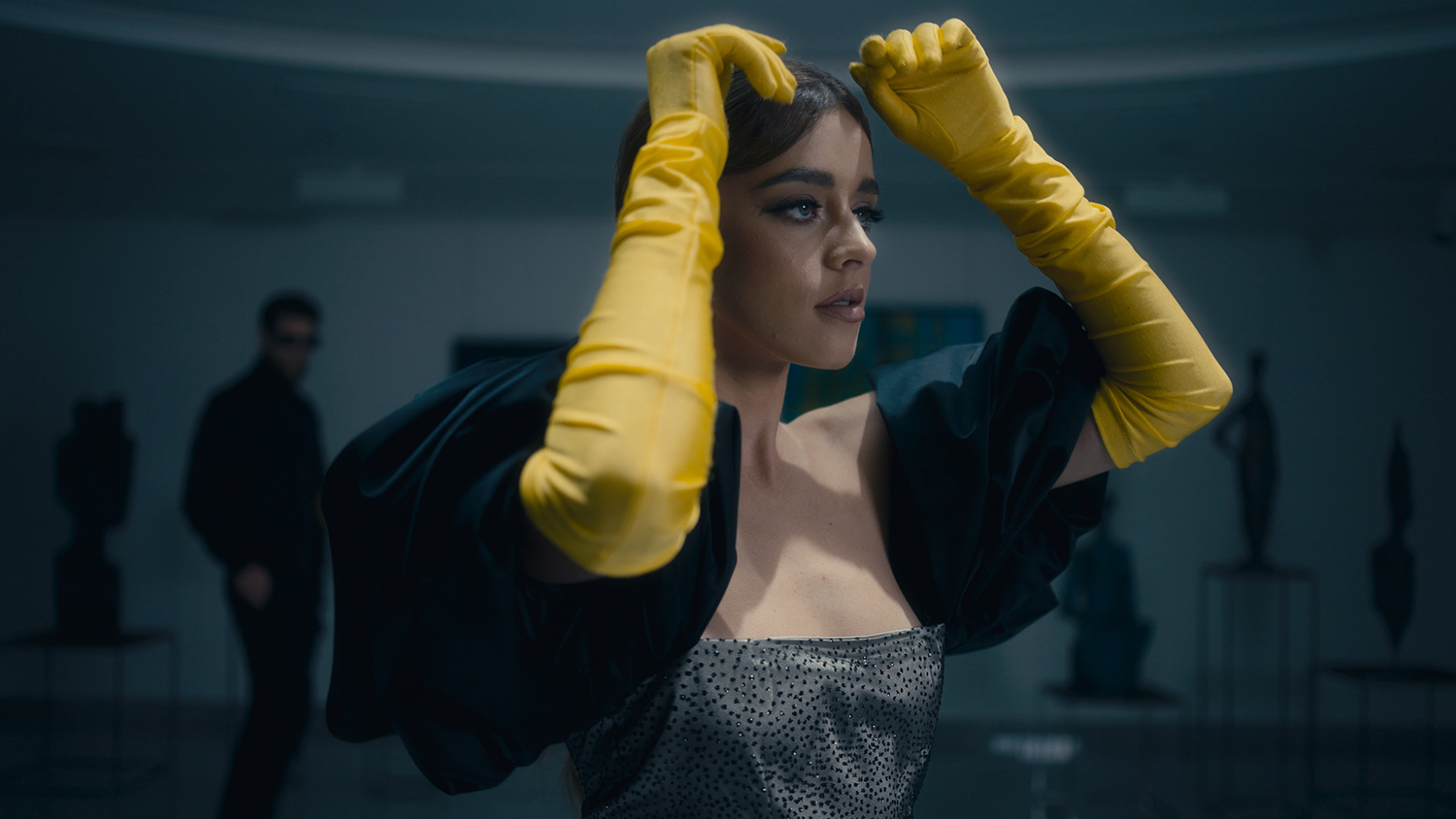 Bol váš zvýšený záujem o hudbu ovplyvnený aj pandémiou?
Jednoznačne. Nedalo sa cestovať, voľného času bolo zrazu viac, a tak som čoraz častejšie sedávala s myšlienkou na to, že netreba úplne zabúdať na to, čo nosím v srdci, keďže spev ma úprimne baví. Hrávala som na klavír, spievala si pesničky a v duchu si vravela, že síce neviem kedy, ale k hudbe sa raz vrátim. A prišlo to! U mňa isto platí, že krásne prekvapenia sa stále dejú a celé to koronavírusové obdobie bolo aj na niečo dobré.
Dá sa povedať, že vás ako talent objavil Eugen Botoš. Aký príbeh sa k tomu viaže?
S Eugenom sme sa stretli prvý raz kvôli inému projektu, na ktorom sme obaja spolupracovali, paradoxne v rámci úplne odlišných aktivít. No tým, že sme obaja umelci, rýchlo sme si sadli. Zhruba do mesiaca sme sa skontaktovali a rozprávali o možnej spolupráci. Strašne sa z toho teším, keďže Eugen je človek, ktorý ma dokáže navnímať a sme na jednej vlnovej dĺžke. On mi dokonca pomohol vrátiť sa na umeleckú cestu, z ktorej som sa na istý čas odklonila.
Pesnička Petrus bude súčasťou tvojho debutového albumu. Ako to aktuálne vyzerá s jeho vydaním?
Momentálne plánujem pustiť do sveta druhú skladbu, venovanú niekomu konkrétnemu, pričom ide o pomerne citlivú tému. Verím, že i táto pieseň si nájde svojich priaznivcov. Čo sa môjho debutového albumu týka, dúfam, že sa nám ho podarí dokončiť tento rok.
Ak je reč o Majkovi a skladbe Petrus. Kto sa spojil s kým? Ako prebiehala táto iniciatíva?
Eugen a Majk spolupracujú už dlhodobo. Keď mi Eugen ponúkol danú skladbu, nadšene som súhlasila. Mne sa tento typ muziky vždy páčil. Informácia o tom, že Majk by bol rád súčasťou skladby, bola pre mňa ako sen. Prečítala som si textovú správu od Eugena a neverila vlastným očiam. Majkov rap do nej zapasoval dokonale. Svoju časť spieva a venuje manželke, čo je pekné gesto.
Spolu sme sa však stretli až na nakrúcaní videoklipu a bol to veľmi pekne strávený čas. Majk mi ako profesionál mnohé poradil a do natáčacieho dňa priniesol veľa spontánnosti i zábavných momentov. Deň pred samotným natáčaním som si povedala, že sa musím dobre vyspať. Keď som sa potom postavila pred kameru, cítila som sa príjemne a režisér – Miško Nemtuda, bol presne ten človek, ktorého slová som potrebovala počuť, ak som aj na moment zaváhala. I keď to nebola moja prvá skúsenosť pred kamerou, pri natáčaní klipu som mala svoju premiéru. (úsmev)
Ako budú vyzerať vaše ďalšie kroky?
Určite k nim patrí nahrávanie albumu a plánujem pripravovať covery rôznych zahraničných spevákov, čím mienim zvýšiť dosah svojich sociálnych sietí. Ak to mám zhrnúť, moje najbližšie mesiace sa budú niesť hlavne v znamení hudby, pretože to je presne to, čomu sa chcem venovať…
Zdroj: TS