Dva roky po vydaní svojho albumového debutu Zmatená prichádza Tereza Mašková s druhým štúdiovým albumom. CD s názvom Svět je málo růžový sprevádza singel a videoklip Náš příběh. Jej nový album vás povzbudí, uteší, pohladí, rozosmeje, rozplače, dojme i pobaví.

Príbeh o tom, ako sa z jednej skladby neplánovane stal celý album…
Príbeh albumu Svět je málo růžový sa začal písať rok pred jeho vydaním – na jeseň 2021. "Stalo sa to v dobe, keď som cítila, že sa blíži čas na nový album," spomína Tereza. "Jedného dňa sa mi ozval mladý, iba 19-ročný český producent Václav Hoidekr s tým, že má pesničku, ktorá je ako stvorená pre mňa. Dali sme tomu šancu, stretli sme sa v štúdiu a stalo sa niečo, čo ani jeden z nás nečakal…" Umelecká chémia medzi Terezou a Václavom zafungovala tak dokonale, že namiesto jednej skladby ich napokon spoločne nahrali deväť, ktoré dnes, presne rok na to, Tereza vydáva na novom albume.
Tereza Mašková a jej autorská premiéra
Čerstvo vydaný album v sebe ukrýva veľký umelecký posun Terezy Maškovej – prvýkrát sa totiž spolupodieľala na skladaní prevažnej väčšiny piesní (až 8 z 10tich skladieb), čo dodáva celému CD o to osobnejšiu rovinu. "Povedala by som, že tento album je také hudobné zrkadlo, ktoré akoby odráža "dve tváre jednej Terezy". Polovica skladieb je konzervatívnejšia Tereza, spieva o vzťahoch a o vážnejších témach (Jenom ty a já, Náš příběh, Z tvých rtů, Budu při tobě stát) a druhá polovica pesničiek, to je taká "normálna Tereza", ktorá je občas aj trochu bláznivá a strelená a rada spieva aj takéto vtipné, odľahčené pesničky, ale aj do tých vždy rada vkladá dôležité posolstvá (Zpívám si dál, Všechno je tak, jak má být, Do jiný doby, Do blba se dívat)," vysvetľuje Tereza koncept albumu.
Samostatnou kapitolou na albume je skladba s názvom Scházíš. Terezina doposiaľ najintímnejšia hudobná spoveď je venovaná jej zosnulému otcovi. Keď príde reč k najsmutnejšej pasáži albumu, Tereza dokazuje, že názov Svět je málo růžový nedostal náhodou… Ako umelkyňa vo svojich skladbách dokazuje dar vidieť aj tie najnáročnejšie životné chvíle či ťaživé témy z tej svetlej stránky… "Scházíš je veľmi, veľmi osobná a smutná pesnička, no napriek tomu by som bola šťastná, keby bola vnímaná naopak – ako oslava života a odkaz ako veľmi dokážeme ľúbiť svojich najbližších, aj keď už tu nie sú s nami a ponechať si v srdci to najlepšie, čo nám do života priniesli."
Náš příběh
Vydanie abumu sprevádza singel Náš příběh, v ktorom hosťuje jeden z najpopulárnejších českých hercov súčasnosti Marek Lambora. Slovenskí diváci ho poznajú najmä vďaka jeho nedávnym úlohám vo filme Láska hory prenáša či v rozprávke Princezná zakliata v čase. Doma v Čechách zažiaril ako absolútny víťaz 6. série šou Tvoje tvář má známý hlas a veľkú priazeň si získal vďaka hlavnej úlohe v úspešnom seriáli Slunečná. Okrem toho si zahral v rozprávke Zakleté pírko, vo filmoch Ostravák Ostravski a Dvojníci či v seriáloch Ohnivý kuře, Černé vdovy a Přístav.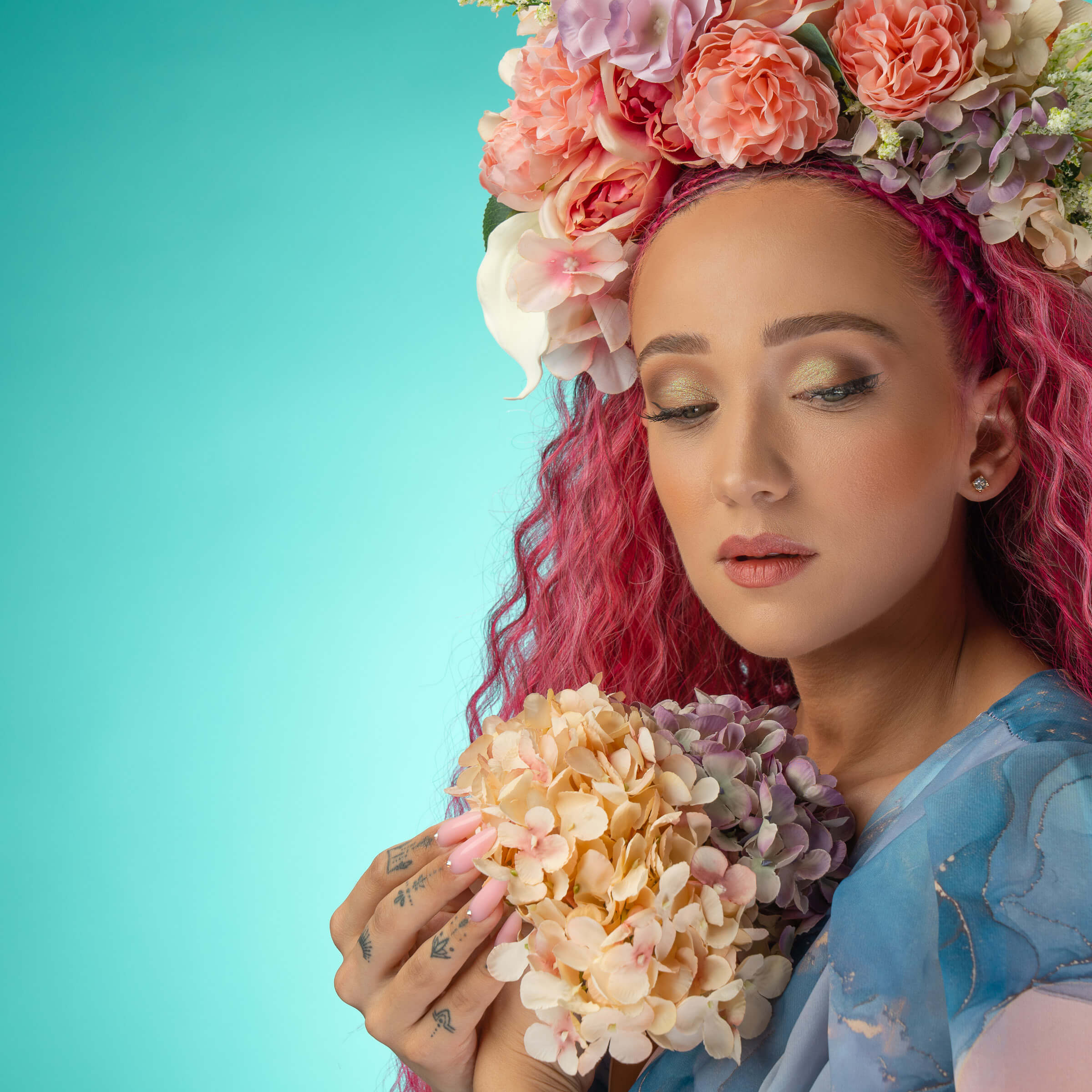 "Táto skladba je v podstate príbeh a rozhovor medzi mužom a ženou, preto mi prišlo prirodzené, že by to mal byť duet. Keď som premýšľala, koho osloviť, jediný, kto mi tam dokonale pasoval, bol Marek," spomína Tereza. "Terezka mi zavolala a "vybalila na mňa", že má takúto pesničku a že by bola rada, keby som to spieval s ňou. Prekvapilo ma to, pamätám si, že moja prvá reakcia bola otázka, či vie, že som v prvom rade herec, nie spevák (smiech); na čo ona odpovedala, že to samozrejme vie, ale trvala na svojom," dodáva Marek Lambora. "Marek napokon ponuku prijal, z čoho mám veľkú radosť, pretože okrem toho, že je herec, je aj veľmi dobrý spevák a výsledok našej spolupráce je presne taký, aký som si predstavovala," hodnotí Tereza.
Po vydarenej spolupráci v štúdiu sa dvojica stretla znova – tentokrát pred kamerami. K duetu nakrútili cinematický videoklip v réžii Jakuba Mahdala, ktorý už pre Terezu režíroval klipy Žár, New Me či Nahá. Vizuál je založený na scénickom tanci v choreografii Anny Sitnerovej a prostredníctvom pohybu rozpráva príbeh, akými si prechádzajú mnohé páry. "Naša choreografia je metaforou rozhovoru muža a ženy – je v nej dráma aj nežnosť, láska aj nenávisť – všetky tie dobré aj zlé veci, ktoré patria ku vzťahom," vysvetľuje Tereza, ktorá pred "ostrou" absolvovala s Marekom Lamborom niekoľko tanečných tréningov. "Bola to naozaj veľká výzva, pretože sme pretancovali doslova celú pesničku. Takže sme si to obaja poriadne odmakali. Ale keď vidím výsledok, tak som naozaj rada, že sme do toho išli. Všetky tie tréningy a príprava stáli za to. Chceli sme čo najvernejšie vykresliť reálne emócie a myslím, že sa nám to podarilo," hovorí Tereza na záver.
Digitálne služby: https://terezamaskova.lnk.to/SvetJeMaloRuzovy

Zdroj: TS