Areál FotbalParku v Pavlíkově u Rakovníka se dočká nevídané porce zábavy a smíchu. 21.8.2021 se tam uskuteční první STAND UP & MUSIC FEST.
Koncept prvního komediálního festivalu spočívá ve vystoupení předních tuzemských stand up komiků, ať už v roli bavičů, nebo zpěváků a populárních písničkářů. Někteří komici se totiž chopí nejen mikrofonu, ale i hudebního nástroje a naopak! Těšit se tak můžete na vtipy, ale i písně Tomáše Matonohy, doprovázeného písničkářem Alešem Petrželou, na vystoupení písničkáře Lásky, nebo krásné Pay May. Svými historkami vás bezesporu rozesmějí populární stand up komici Arnošt Frauenberg a Lukáš Pavlásek. To vše během jednoho večera a na jednom pódiu.
"Zjistila jsem, že Arnošt Frauenberg je folkový písničkář, Lukáš Pavlásek muzikant a tvůrce skvělých textů, Tomáš Matonoha zase kromě televizních soutěží, herecké kariéry a vtipných stand upů zvládá živá koncertní vystoupení s mým kamarádem Alešem Petrželou. Nabízí se tak spojit stand up vystoupení s hudbou a udělat si jeden báječný kytarový večer s pořádnou dávkou srandy. Návštěvníci si místo skotačení pod pódiem můžou sednout na deky, dát drink, dobré jídlo a pohodově se bavit. Bude to příjemná změna…" Uvedla Martina Jablanovská, pořadatelka akce.
Vstupenky : www.ticketstream.cz, nebo v areálu Fotbal Park Pavlíkov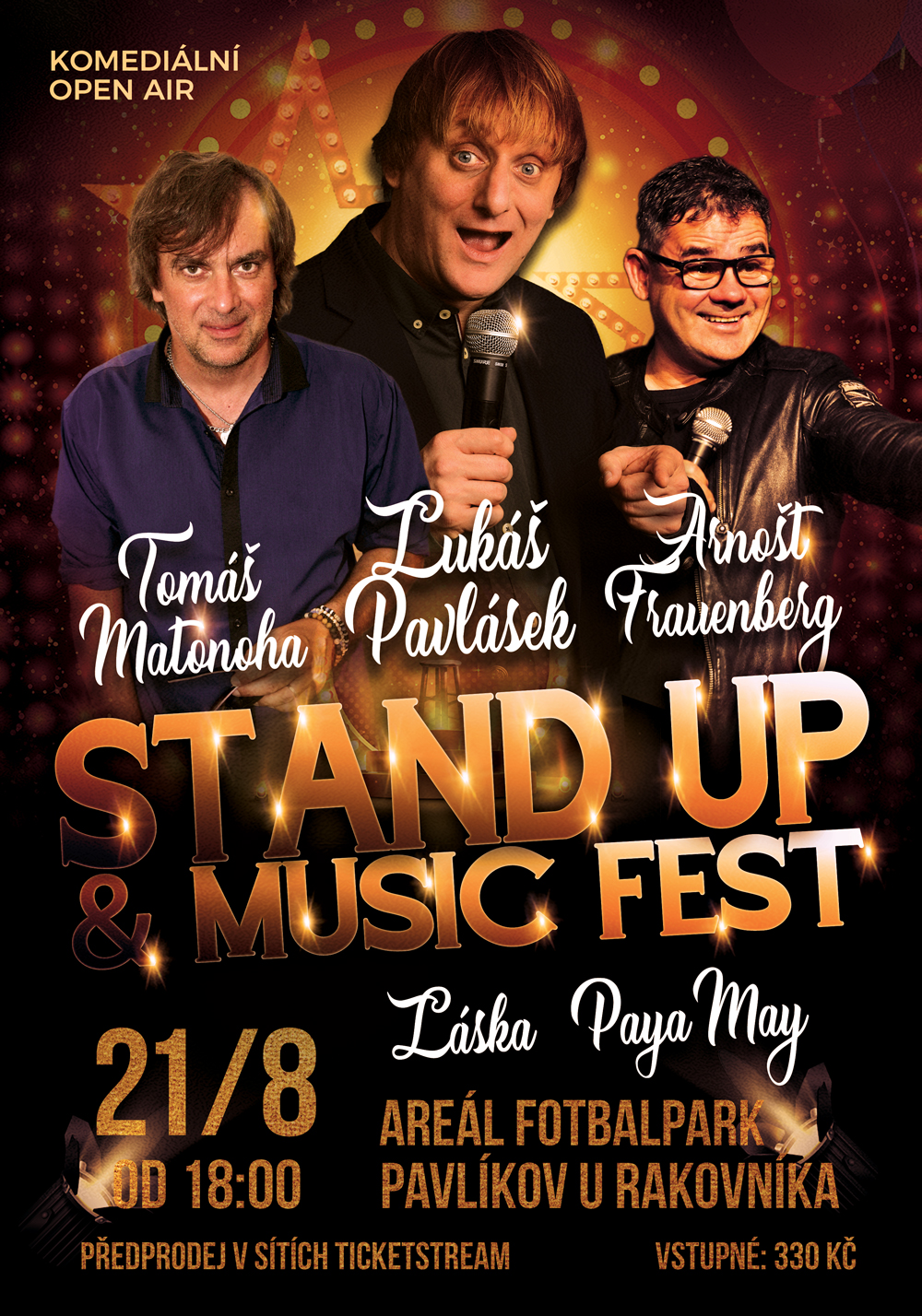 Zdroj: TS