Toto je naozaj skvelá správa pre návštevníkov trojkoncertu Traktor, Kreyson a Alkehol. Z dôvodu toho že je to v sobotu, že máme pomerne veľkorysú kapacitu miesta, nemusíme hrať len do desiatej a idú Vianoce a treba dať fanúšikom s posledným koncertom agentúry v roku 2022 darček, pridávame do trojboja českých hviezd jednu slovenskú legendu a príjemný "support band".
Ktože je tou legendou ? Punk-rockoví KONFLIKT !!!
Napriek 7 mesačnej prestávke a okresávaniu počtu koncertov pre rok 2023 sa táto stálica scény rozhodla, že sa zamieša do diania v Nitre a prispeje svojím špecifickým (vlastne) všetkým – a hudobne punk-rockom, k nádielke heavy a power metalu a hardrocku ! Tiež zaúčinkovalo aj to že v Nitre KONFLIKT dlho nehrali a teda dielo bude dokonané práve 10.12.2022. Fanúšikovia sa môžu tešiť na minimálne hodinový set z najznámejších a novinkových skladieb, vo veselom rytme ich punkových šlágrov.
Kapela má na punk – rockovom poli obrovské renomé nielen na Slovensku a okolitých krajinách. Rešpekt majú aj fanúšikovia vo zvyšku Európy a aj v zámorí ! Za svoju 33-ročnú kariéru skupina obišla svet a odohrala viac ako 2000 koncertov (mimo iného napríklad aj v Kolumbii)
Berme koncert v Nitre ako prvý z tých, ktoré budú oslavou ich (šialene úspešnej) 33-ročnej kariéry ! Hor sa na akciu – lístky kúpite v Ticketportali a cez pe@profievent.sk, alebo na tel. 0944 645643 a u kapely KONFLIKT.
TRAKTOR + KREYSON + ALKEHOL – 9+10.12.2022 Košice a Nitra
TRAKTOR, KREYSON, ALKEHOL, KONFLIKT, HDP – 10.12.2022 Nitra
FB Eventy: Košice: https://www.facebook.com/events/872185757113012
Nitra:https://www.facebook.com/events/913200372984297
Predpredaj: Ticketportal – https://www.ticketportal.sk/event/Traktor-Kreyson-a-Alkehol-Metal-Tour-roka-2022
Maxiticket – https://vstupenky.maxiticket.sk/vyhladavanie?query=kreyson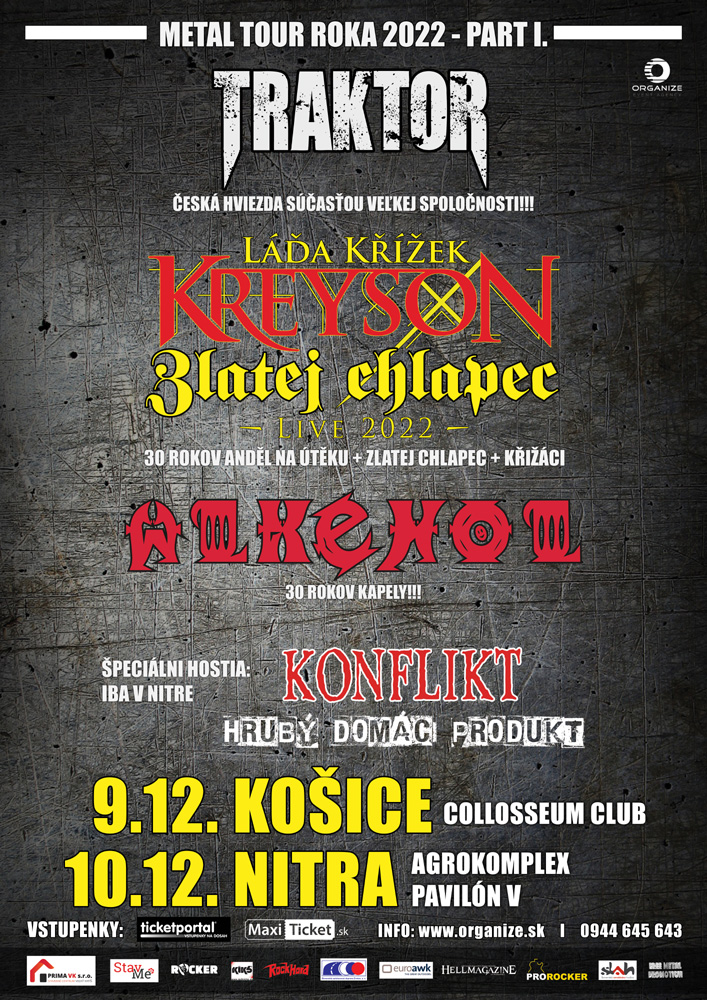 Zdroj: TS