ALKEHOL. Slovná hračka, ktorá ako v češtine, tak v slovenčine parafrázuje asi najobľúbenejšiu bežne povolenú "drogu" na svete. Už zabehnutá a v podstate legendárna a alkoholovým oparom zahalená skupina ALKEHOL spolu s mimoriadne populárnymi hard´n´heavy partou TRAKTOR a ďalšou už vlastne legendou tvrdého kovu, TÖRR, sa predstavia toto leto aj u nás.
ALKEHOL hrajú tzv. pivný metal. Zábavné, najmä alkoholické texty a ener-gické skladby sa už od vydania ich prvého albumu s eponymným názvom "Alkehol", stali kultovými a fanúšikovia poznajú ich texty slovo po slove.
V Českej republike, ale stále viac aj na Slovensku, je TRAKTOR stále väčším pojmom, v Čechách jednoznačne patrí medzi najpopulárnejšie kapely. Melodické hard-rockovo až heavymetalovo orientované skladby fungujú na mladšie aj staršie publikum, skupina má veľkú sledovanosť aj na kanáli Youtube. Preto príde svoju hudbu naživo ponúknuť aj fanúšikom na Slovensku.
Skupinu TÖRR netreba obzvlášť predstavovať. Fungujúca od roku 1977, populárna v Čechách aj na Slovensku, hrajúca temnejší metal, alebo ako dvaja predošlí aktéri, príde predstaviť svoj set, najznámejšie skladby, ako aj novinkový album z konca roka 2021 – Inkvizitörr. s albumami ako "Kladivo na čarodějnice", "Morituri te Salutant", alebo "Chcípni o kus dál" sa stali TÖRR pevnou súčasťou českej metalovej scény.
Slovensko dostalo exkluzívny termín 4.6.2022 a po odskúšaní kapelou OLYMPIC v minulom roku, aj naozaj skvelé miesto. Stane sa ním Zvolenská Slatina a miestom konania futbalové ihrisko. Keďže na toto miesto v tomto lete pribudnú aj ďalšie neuveriteľné mená a koncerty, začnite sledovať dianie a oznamy zo srdca Slovenska ! Ohľadom názvu Veľká Slatina, padla pri tvorbe plagátu aj otázka, prečo práve takýto názov. Obec Zvolenská Slatina mala prastarý názov Nagy Szalatna a to je v preklade Veľká Slatina. Mala svoj okres, vtedy župu a paralelne v tomto roku a neskôr, sa organizátori chcú priblížiť tomuto názvu formou kultúrnych podujatí. Ambíciou je, aby sa po tomto roku miesto kde hrali legendy aj svetovo známe mená, stalo zabehnutým a obľúbeným, a pre svoju výbornú polohu, atraktívnym pre fanúšikov z celého Slovenska a nielen z neho. Miesto, na ktorom sa toto leto bude hrávať, bolo označené ako "Futbalové ihrisko". Avšak nejde priamo o túto plochu a preto sa organizátori zamýšľali nad názvom, ktorý by sa zabehol všeobecne a aj v zahraničí, keďže väčšie mená plánované sem, budú mať aj zahraničnú fanúšikovskú účasť. Na počesť skupiny OLYMPIC, ktorá tu hrala, bude označované časom ako "OLYMPIC Fields". Znie to tak "svetovejšie"…
Aby bol deň vyplnený naozaj na maximum, k tejto veľkej trojke pribudnú ešte 3 mená z domácich (česko-slovenských) luhov a hájov, a v podstate plnohodnotné sety ALKEHOLU, TRAKTORU a TÖRRU doplnia na takmer celo-poobedňajšie popoludnie plné hudby.
Vstupné sa začína na 15€ pre prvých 500 najrýchlejších fanúšikov. Potom do polčasu predaja bude vstupenka stáť 17€ a do dňa koncertu 19€.
TRAKTOR – Letokruhy – https://www.youtube.com/watch?v=ubplAZiGoZE&ab_channel=TRAKTORTV
Defenestrace – https://www.youtube.com/watch?v=2HSvDP0QW-o
ALKEHOL – Buráky – https://www.youtube.com/watch?v=p-PCAWhFCoA&ab_channel=LukyCZ
Na Slamníku -https://www.youtube.com/watch?v=zzooVP5HvfM&ab_channel=lordxyxel
TÖRR – Poslední dny https://www.youtube.com/watch?v=2jcq4QhmSfk&ab_channel=TORRczTV
Hombre – https://www.youtube.com/watch?v=4RlSwHETVT8&ab_channel=TORRczTV
Chcípni o kus dál – https://www.youtube.com/watch?v=J_ybSfGyp-g&t=7s&ab_channel=Rockline75

Koncert vám prináša Organize. www.organize.sk Info: 0944 645 643
Predpredaj : Ticketportal – https://www.ticketportal.sk/event/Alkehol-Traktor-Torr-hostia?idpartner=475 a Čajovňa u Maňa Zvolenská Slatina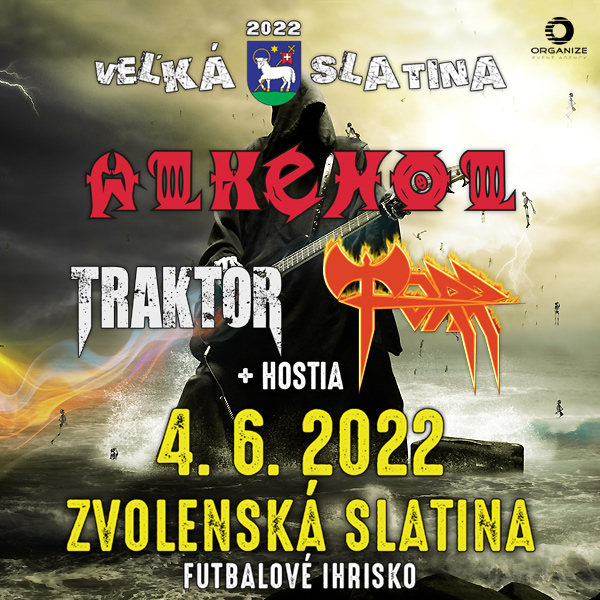 Zdroj: TS