Hard rock z minulého století? Space rock! Pro svou opulentní pompéznost HÄLLAS pro některé mohou být lehký bizár, ale ve Skandinávii způsobili poprask a jak se zdá, jejich věhlas se nebezpěčně šíří jak se to stalo poplašným zprávým o koronaviru, takže ať chcete či ne, HÄLLAS se nakonec dostanou i do vašeho přehrávače, protože až si přečtete řádky níže, zvědavost vám nedá vydechnout.
HÄLLAS jsou prapodivný, ale funkční kříženec hudby Iron Maiden, Deep Purple, Rainbow, Thin Lizzy a klidně Abby. Skutečně. A do toho vizuálně "přísná" stylizace 70. let. Hudební odkaz, z něhož dnes čerpají Ghost, Opeth, Kadavar, Lucifer či The Night Flight Orchestra je tu ale natolik autentický, až to vypadá, že švédský kvintet propadl časoprostorem z doby, kdy psychedelický opar v rockové muzice nahrazoval nastupující heavy metal. Nechytáte se? Napovíme. Soundtrack k neexistujícímu pokračovaní Flashe Gordona – adventure rock!
Silnou dvojku s Hällas budou tvořit HOT BREATH. I tihle rockeři ze Stockholmu jedou na sedmdesátkové (či dokonce šedesátkové?) vlně hard/garage rocku, takže i zde je nutno očekávat psychedelický odér a nakopávající adrenalin. Tahle tepající rocková čtveřice se zpěvačkou Jennifer Israelsson je jako intenzivní a hříšný polibek na afterparty, která ne a ne skončit.
Na trio účinkujících sestavu rozšiřují pražští šamani TRAHIR, jejichž stoner doom rovněž silně zapáchá odérem 70's hard rocku, který je zprudka osmažen čpavým stoner metalem, takže ve vás tahle psychedelická seance v doprovodu obézních riffů vyvolá chuť se ponořit do čmoudu pálících se bylin.
HÄLLAS, HOT BREATH, TRAHIR
14. 5. 2022 – Praha, 007
FB event: https://facebook.com/events/1745699115561001
e-TICKET: https://obscure.cz/cs/tickets/detail/id/331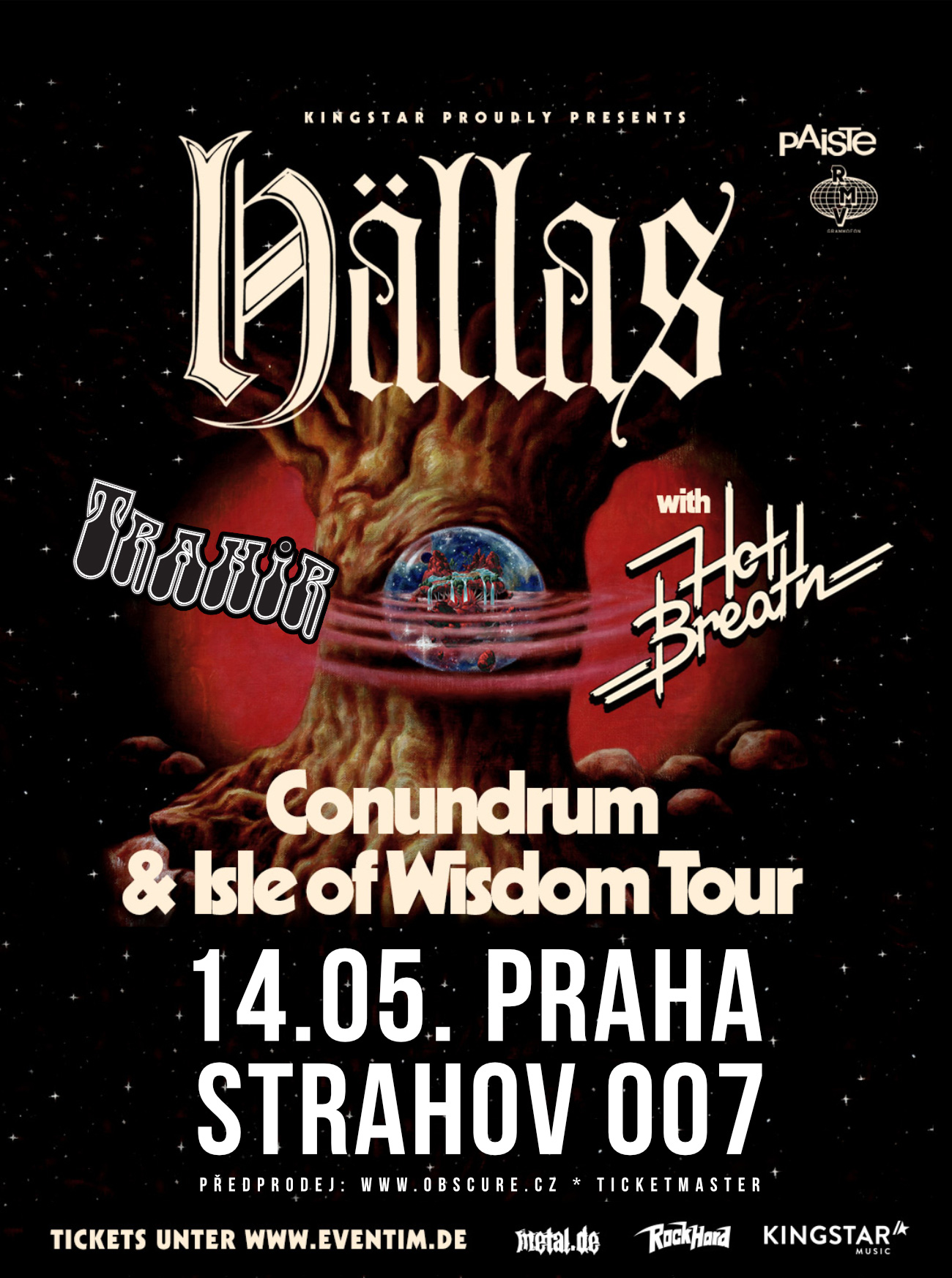 Zdroj: TS