Každá cítia a vnímajúca bytosť má prirodzene vnútorné nastavenie proti konfliktom, násilnostiam a činom proti humánnosti, ktoré vedú k deštrukcii života. Preto aj hudobná obec má silnú potrebu zareagovať na aktuálnu situáciu v spoločnosti a symbolicky za zvukov hudobných nástrojov odsúdiť násilie páchané na ľuďoch. Koncertné podujatie s príznačným názvom "Sound of Peace" sa tak stane manifestom hudobníkov na ceste proti násiliu v mene humanizmu a tolerancie.
Benefičný hudobný večer sa uskutoční vo štvrtok, 24.marca, v priestoroch divadla Astorka Korzo '90. Podujatie zastreší promotérska skupina okolo agentúry Music Gallery, ktorá organizuje One Day Jazz Festival, v spolupráci s Martinom Valihorom. "Hudobná obec cíti, že je potrebné sa tejto téme venovať a že je dôležité patrične zareagovať. My nepoužívame zbrane, našim nástrojom je hudba, ktorou chceme zabojovať za to aby naša spoločnosť mohla fungovať humánnym spôsobom komunikácie. Cielene a systémovo sa chceme pridať k pomoci ľuďom v životnej núdzi, ktorí boli zasiahnutí vojnovým konfliktom na Ukrajine. Snažíme sa tiež v spolupráci s MZV zosieťovať všetky zahraničné slovenské inštitúty aby sa naše myšlienky v mene humanizmu a tolerancie šírili čo najviac do sveta." Gala koncert organizátori plánujú streamovať live na web stránke a sociálnych sieťach One Day Jazz festivalu, stránkach mediálnych partnerov a do 8 krajín Európy a do USA. Podujatie bude možné podporiť kúpou vstupenky cez Ticketportal a Predpredaj.sk v štyroch kategóriách. Bronzová, strieborná, zlatá a platinová.
Účasť na podujatí prisľúbili slovenskí hudobníci a hostia ako Ján Berky Mrenica jr., Robert Balzar, Matúš Jakabčic, Luboš Šrámek, Štefan Pišta Bartuš, Richard Csino, Michal Bugala, Nikolaj Nikitin, Štefan Bugala, Marián Ševčík, a mnohí ďalší.
Po krátkych vystúpeniach slovenskej jazzovej špičky vystúpia hviezdni zahraniční hostia, ktorí k nám pricestujú priamo z Ameriky s projektom Matthew Stevens / Walter Smith III IN COMMON. Ide o kapelu výnimočného kanadského gitaristu Matthewa Stevensa, ktorý po vyštudovaní Berklee College of Music, spolupracoval s hudobníkmi ako Christian Scott, Terri Lyne Carrington či Esperanza Spalding. Spolu s americkým saxofonistom Waltrom Smithom III., ktorí momentálne vedie katedru dychových nástrojov na Berklee College of Music, je členom Ambrose Akinmusire Quintet či zoskupenia Voyager amerického bubeníka Erica Harlanda, prinesú do Bratislavy projekt, ktorý sa vo svojej podstate opiera o estetiku voľnej improvizácie a je uznaním a poďakovaním velikánom jazzu McCoyovi Tynerovi, Wallaceovi Roneymu, Chickovi Coreovi, Jimmymu Healthovi a Ellisovi Marsalisovi. Kapelu doplnia hviezdni americký hráči basgitarista Harish Raghavan a bubeník Jonathan Barber. Na druhý deň, v piatok 25.3.2022, organizátori naplánovali pre študentov hudby, odbornú verejnosť a všetkých záujemcov výnimočný MASTER WORKCLASS v spoločnosti spomínaných amerických hostí v .klube pod lampou. Po workshope bude nasledovať Jam session.
Peniaze zo vstupného poputujú na transparentný účet a budú ďalej distribuované organizáciám a nadáciám, ktoré pomáhajú vojnou postihnutej Ukrajine. Finančná zbierka bude pokračovať ešte dva týždne po galakoncerte. Organizátori ďakujú za poskytnutie priestorov a pomoci divadlu Astorka Korzo '90, v ktorého priestoroch podujatie prebehne a všetkým svojim stálym partnerom, podporovateľom a Fondu na podporu umenia.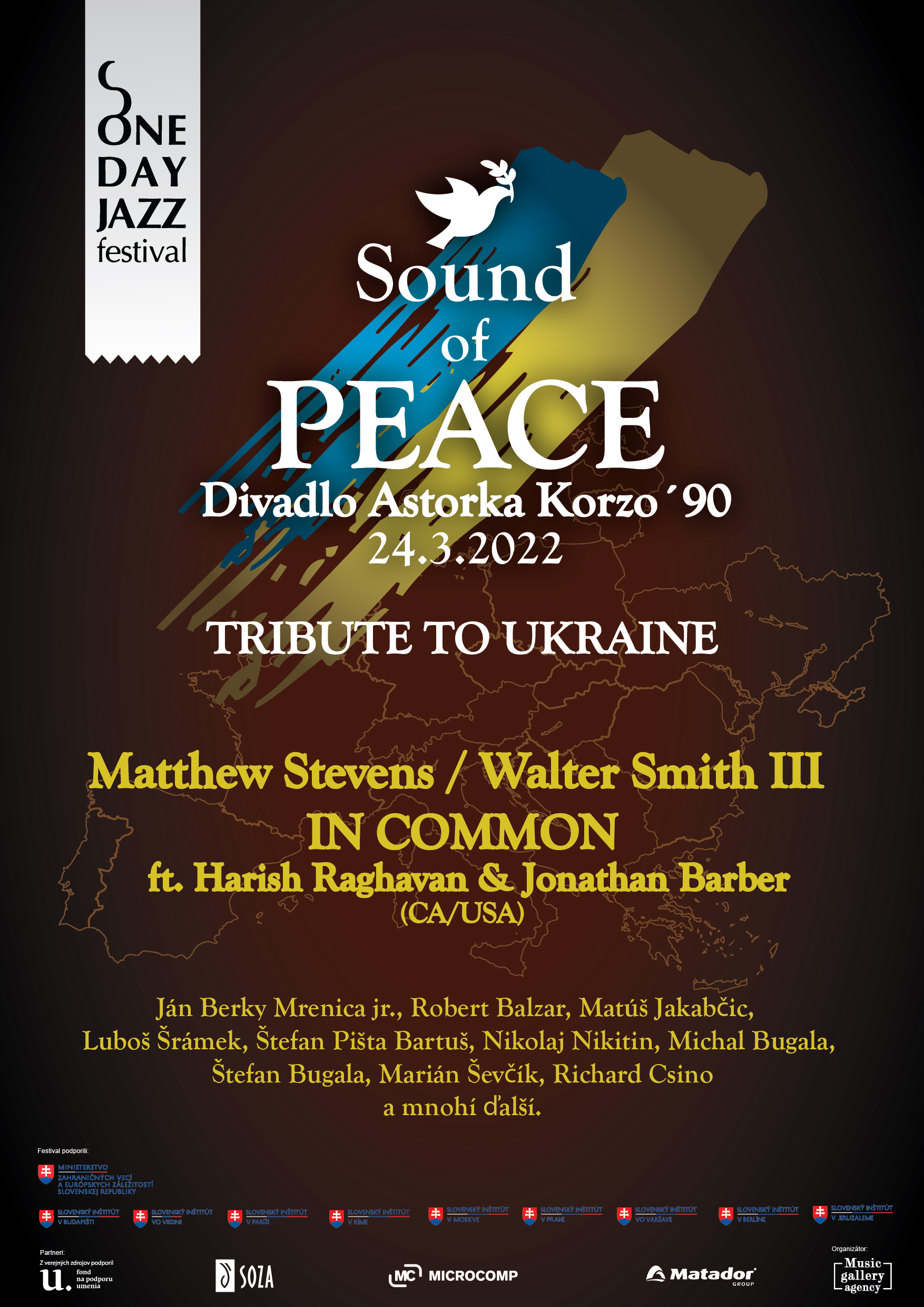 Zdroj: TS