O Služobníkoch sa veľa popísalo, ale len málo divákov ich mohlo vzhliadnuť na kino plátne. Nový film Ivana Ostrochovského však po znovuotvorení kín mieri nanovo za divákmi. Tvorcovia a herci filmu sa od 16. júna 2021 vydajú na špeciálne filmové turné do 13 slovenských miest, kde osobne uvedú snímku, ktorá žne medzinárodný úspech, ale pre lockdown sa v slovenských kinách po svojej premiére ocitla len krátky čas.
Príbeh mladých kňazov z totalitného Československa, ktorí sa musia rozhodnúť medzi cestou svedomia alebo cestou kolaborácie, si za osobnej prítomnosti delegácie budú môcť vychutnať diváci až do konca júla na premietaniach v Leviciach, v Žiline, Prešove, Poprade, Košiciach, Trnave, Banskej Bystrici, Humennom, Čadci, Bratislave, Ružomberku, Dolnom Kubíne a v Trenčíne.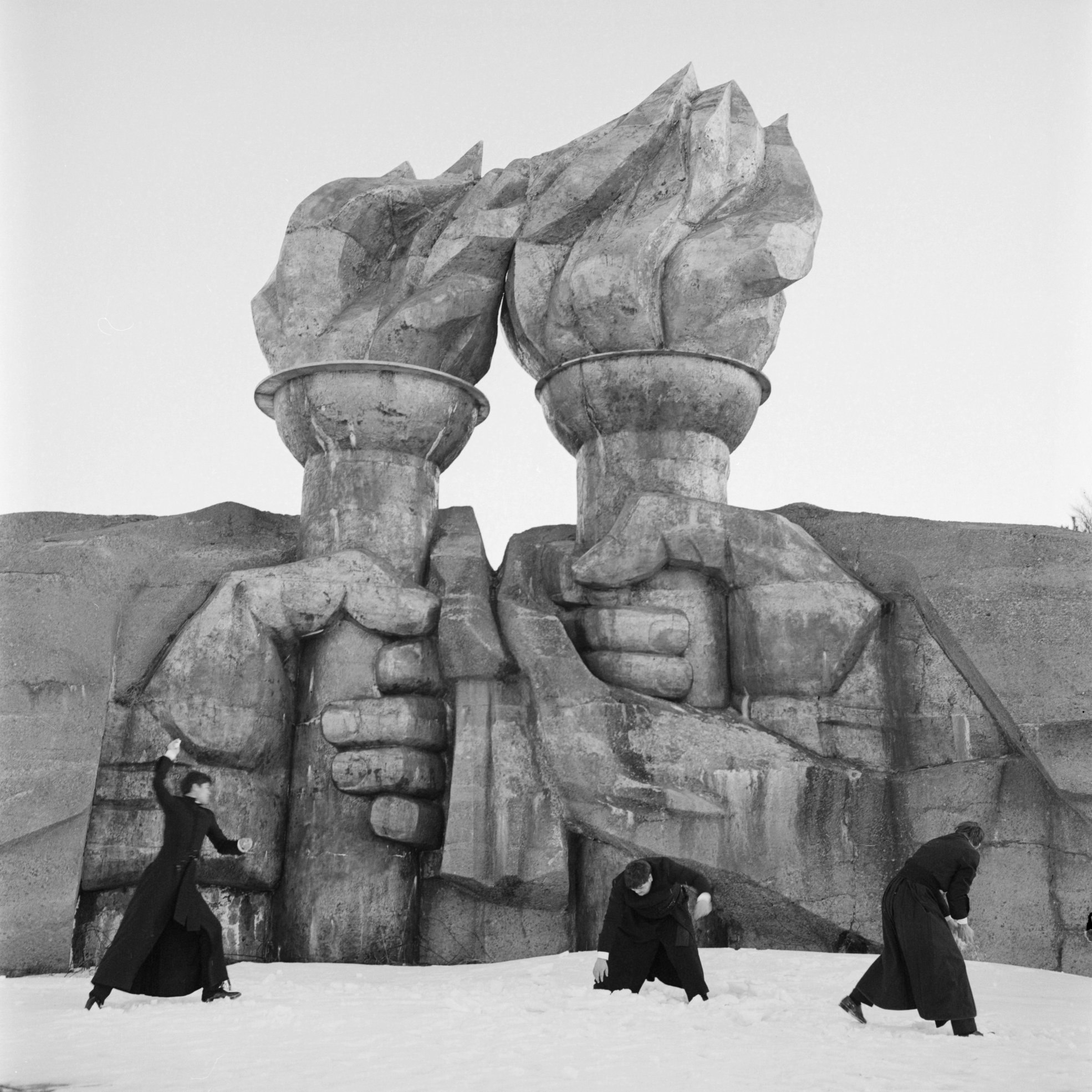 "Počas veľmi krátkej distribúcii filmu Služobníci počas minulého roka sme stihli snímku uviesť aj s účasťou tvorcov v Kine Lumière v Bratislave, vo Filmovom klube pri Múzeu SNP v Banskej Bystrici, v Kine Iskra v Kežmarku a týždeň pred znovu zatvorením kín sme zavítali aj do košického Kina Úsmev. Rozhodli sme sa pokračovať v letnom turné a navštíviť miesta, kde si film, veríme, nájde svojich divákov nielen z radov cinefilov. Intenzívne spolupracujeme s miestnymi farnosťami a premietania pripravujeme, vzhľadom na tému filmu, aj pre veriace publikum," vysvetľuje riaditeľka distribučnej spoločnosti Filmtopia Silvia Učňová Kapustová.
Letné filmové turné Služobníkov s 13 zastávkami po Slovensku odštartuje 16. júna 2021 v Kine Junior v Leviciach, na žilinskú Stanicu-Zárečie zavíta delegácia na čele s režisérom Ivanom Ostrochovským 22. júna, o deň neskôr, 23. júna sa tvorcovia zastavia v prešovskom Kine Pocity – Záhradnom kine za Scalou. Júlovú časť turné začnú Služobníci 3. júla v popradskom Kine Tatran, nasledovať budú uvedenia pod holým nebom – 4. júla v košickom Amfiteátri, 6. júla v trnavskom amfiteátri, 7. júla v banskobystrickom Kine v bazéne, 8. júla si film budú môcť pozrieť diváci v Kine Fajn v Humennom, 10. júla v Kine Palárik v Čadci, v Bratislave bude tvorcov a hercov filmu hostiť Nová Cvernovka 14. júla, o deň neskôr 15. júla sa zastavia v Kine Kultúra v Ružomberku, Dolnokubínčania sa na projekciu spojenú s diskusiou môžu tešiť 22. júla v Mestskom kultúrnom stredisku a filmové turné sa zavŕši 31. júla outdoorovou projekciou na trenčianskom Mierovom námestí.
Čierno-biela dráma s úspechom putuje hneď od svojej svetovej premiéry na zahraničných festivaloch. Za sebou má vyše 30 festivalových premiér v Kanade, USA, Austrálii, Belgicku, Luxembursku, Turecku, Egypte, Izraeli alebo v Číne. A tým sa jej medzinárodná púť zďaleka nekončí. Film vstupuje do distribúcie do kín v 12 krajinách, vrátane Francúzska, Španielska, Veľkej Británie, Švédska, Švajčiarska aj Spojených štátov amerických, čo je pre slovenskú kinematografiu priam historický úspech.
Služobníci sa v svetovej premiére predstavili na prestížnom festivale Berlinale v roku 2020, krátko pred vypuknutím pandémie, domáce publikum si však na tento výnimočný nový slovenský film muselo počkať až desať mesiacov. Dve plánované slovenské premiéry však tiež prerušila korona kríza a po minuloročnej decembrovej premiére sa film ocitol v kinách len na dva týždne pred niekoľkomesačným lockdownom.
"Hoci sú Služobníci zasadení do roku 1980, do obdobia komunistického Československa počas éry studenej vojny, Ostrochovského zákerne štipľavý, vrcholne sebavedomý, mrazivo štýlový, druhý celovečerný film prináša príbeh, ktorý je nanajvýš platný a aktuálny aj pre dnešok," napísal v jednej z prvých recenzií po svetovej premiére na Berlinale o filme známy filmový portál Screen International.Služobníci si vyslúžil kladné ohlasy aj v ďalších uznávaných svetových médiách ako Variety, The Hollywood Reporter, Financial Times či The Guardian.
ŠPECIÁLNE LETNÉ TURNÉ za osobnej účasti tvorcov, hercov a predstaviteľom cirkvi
16.6. | Levice | Kino Junior
22.6. | Žilina | Stanica – Zárečie
23.6. | Prešov | Kino Pocity – Záhradné kino za Scalou
3.7. | Poprad | Kino Tatran
4.7. | Košice | Amfiteáter
6.7. | Trnava | Amfiteáter
7.7. | Banská Bystrica | Kino v bazéne
8.7. | Humenné | Kino Fajn
10.7. | Čadca | Kino Palárik
14.7. | Bratislava | Nová Cvernovka
15.7. | Ružomberok | Kino Kultúra
22.7. | Dolný Kubín | Mestské kultúrne stredisko
31.7. | Trenčín | Mierové námestie
http://www.filmtopia.sk/filmy/40/17/sluzobnici/
https://www.facebook.com/servantsfilm
Zdroj: TS