Kapela Saténové ruky sa začiatkom nového roka zatvorila na chalupe v Lome nad Rimavicou a nahrala jedinečné songy. Silné výpovede, dobré riffy a prítulný groove – to všetko sa dá očakávať od kapely, ktorá nespí a bude krstiť svoj nový vinyl 13. apríla počas Record Store Day.
"Všetci sme odišli do krásnej, snehom zasypanej drevenice, vzali sme so sebou aj zvukového majstra Erika Lososa Horáka a plán bol niečo nahrať. Keď sme sa rozložili a zapojili, zistili sme, že zvuk, ktorý z tej miestnosti liezol, bol podmanivý a konkrétny. Rozhodli sme sa nahrávať všetko spolu, a nie po stopách ako sme to vo väčšine prípadov predtým robili. Páčil sa nám surový, ale hutný zvuk nahratých podkladov. Tento pobyt si ešte raz zopakujeme a druhú časť albumu nahráme podobným spôsobom na tom istom mieste. Navyše Braňo celej kapele každý deň vyváral neskutočné dobroty," spomína Marek Kasko Babušiak.
Saténové ruky nahrali pesničky, ktoré stoja za vypočutie. Mimo civilizácie sa im podarilo skoro zapáliť chatu: "Na chate, kde sa nahrávalo, sme kúrili drevom v krbe. Jedno ráno sme sa zobudili a zistili, že sme len kúsok od toho, aby sme na tej chate zhoreli. Dokonca aj káble tak napáchli dymom, že boli cítiť ešte týždne po tom, čo sme sa vrátili," so smiechom hovorí Kasko.
Erik Losos Horák si na nahrávanie spomína takto: "Saténové ruky dospeli. Na rozdiel od práce na prvých dvoch platniach, tentoraz si začínajú veriť a trúfajú si vystačiť sami bez producenta, ktorý by zásadnejšie dotváral aranže. Cieľom nahrávania bolo predstaviť kapelu v čo najpravdivejšej podobe. Preto sa nahrávalo všetko naraz, naživo a veľmi minimalisticky. Stále však zostáva mimoriadny dôraz na texty a výpoveď, čo dokazuje aj zhudobnený status Sama Marca v songu Gravitácia."
Vinyl je 7" a nachádzajú sa tam dva songy – Gravitácia a Monštrum. Gravitácia je unikát, prvýkrát chalani zhudobnili FB status a dotkol sa ich natoľko, až vznikla pesnička. Autorom statusu je Samo Marec. "Nikdy predtým sme nezhudobnili žiaden FB status a nezaoberali sa politikou a spoločenskou situáciou na Slovensku," hovorí Kasko.
"Hlavná idea klipu je vtipne poukázať na nezmyselnosť konšpirácií a dezinformácií, ktoré sú v súčasnej spoločnosti všadeprítomné a ovplyvňujú množstvo ľudí", zhodnotil bubeník a súčasne režisér klipu Jozef Lipa. Ústrednou postavou klipu je "diktátor", ktorého stvárňuje Braňo Bezák a výsledok si môžete pozrieť tu.
"Vizuálne sme si tiež pomohli strihovou kolážou rôznych známych i menej známych záberov, ktoré "názory" pána diktátora ilustrujú a podporujú. Celý obraz sme sa snažili "ušiť na mieru" tomuto ironickému statusu," doplnil Jozef Lipa.
Pesnička Monštrum je počúvanie pre náročnejších o nadčasovej téme, ktorou sú vzťahy. Nemé, vypovedané, podarené, aj tie menej. Monštrum je tvrdé a Saténové ruky založili nový žáner – saténový skorometal.
Originálny "double – A" vinyl s jedinečným vizuálom od Pala Čejku si budete môcť kúpiť a vypočuť 13. apríla počas Record Store Day na Release Party v Nu Spirit Bare. Na čo sa môžu fanúšikovia tešiť?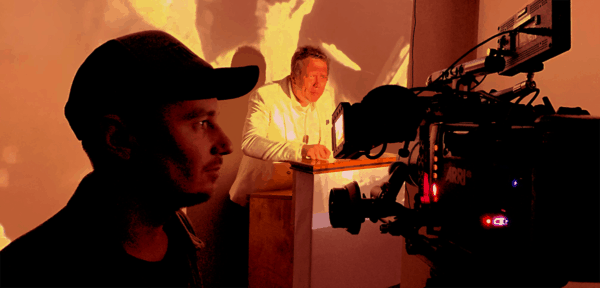 "Budú sa púšťať pesničky z vinylu, budeme podpisovať single, bude tam pop-up shop, kde bude možnosť získať naše CDs, LPs a tričká. Budú sa premietať videoklipy, urobíme aj súťaž o singel a naše platne. Bude sa tancovať na hudbu, ktorú budú do rána púšťať DJ Magálová, Galaprogram a Nowhereman," pozýva Kasko.
CREDITS / KLIP GRAVITÁCIA
Námet a scenár: Jozef Lipa
Réžia: Jozef Lipa
Kamera: Róbert Ludrovský
Diktátor: Braňo (BEBE) Bezák
Strih: Jozef Elšík, Robert Ludrovský
Filmová technika: Jumpcat – Slavomír Jasaň
Produkcia: EALLIN NOMAD Slovakia s.r.o.
CREDITS / VINYL
Gravitácia
Hudba: Saténové Ruky
Text: Samo Marec
Monštrum:
Hudba a Text: Saténové ruky
Mix: Erik Horák
Artwork: Palo Čejka
Zdroj: Alexandra Punová