V priestoroch nádvoria Neogotického kaštieľa v Galante sa 26. mája uskutočnilo benefičné podujatie Chyťme sa za ruky už po desiaty raz. Pripravilo ho občianske združenie Milana Štefánika pre mentálne a fyzicky postihnutých z Trnavského kraja a pre ich kamarátov z Galanty.
Organizátori ponúkli bohatý hudobno-tanečný program v podaní zumby Sonnyes & Mily, tanečného dua Lea & Veja, speváčok Simy, Celeste Buckingham a skupín Polemic a Ventil. Na návštevníkov čakal aj sprievodný program ako maľovanie na telo a tvár, skákanie v nafukovacom hrade, maľovanie horúcim voskom, či maľovanie obrázkov na plátno a sadrové odliatky.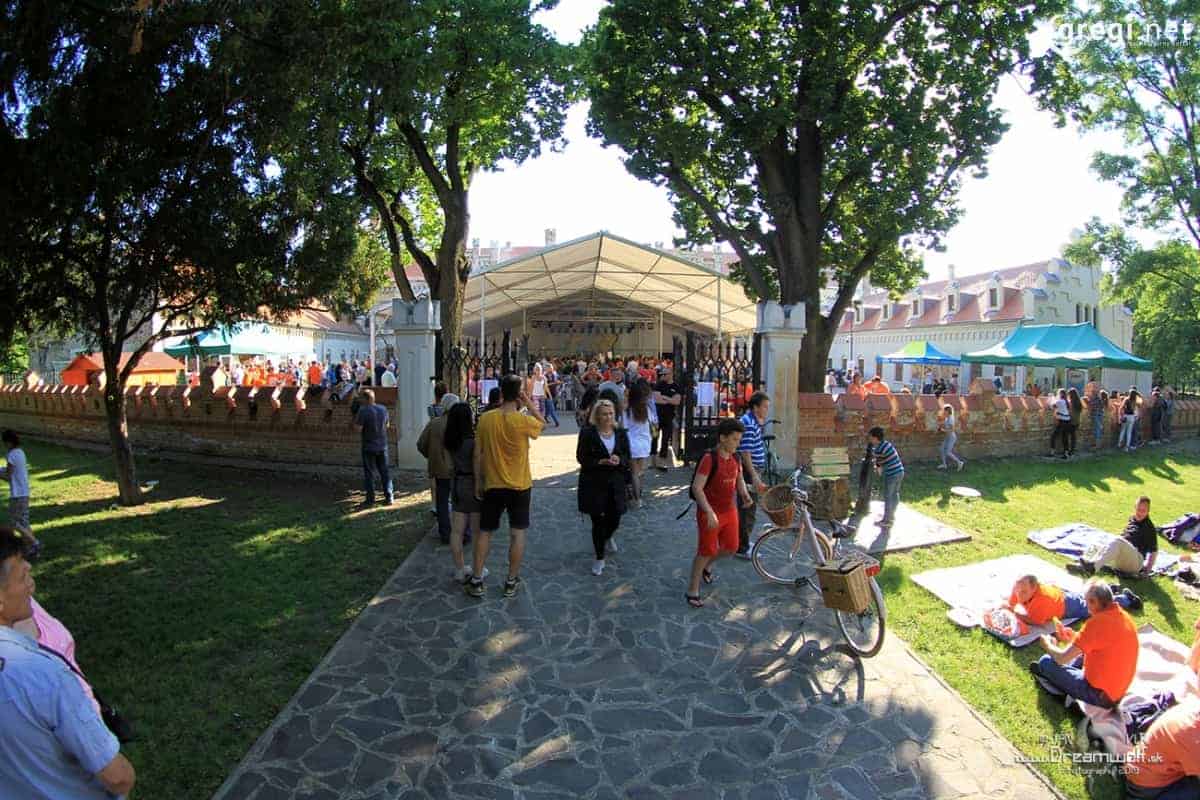 Svet radosti a pohody
Už pri vstupe do areálu bolo počuť lahodné tóny, ktoré sa všade rozliehali a unášali návštevníkov do čarovného sveta radosti, pohody a dobrej nálady. O nej hovorí aj moderátor Marián Miezga. "Táto akcia ma veľmi baví. Čo sa týka týchto detí, chcem im odkázať, že či sme zdraví alebo máme nejaký postih treba si každý jeden deň užívať, ako aj každú jednu minútu a sekundu, lebo život je nádherný."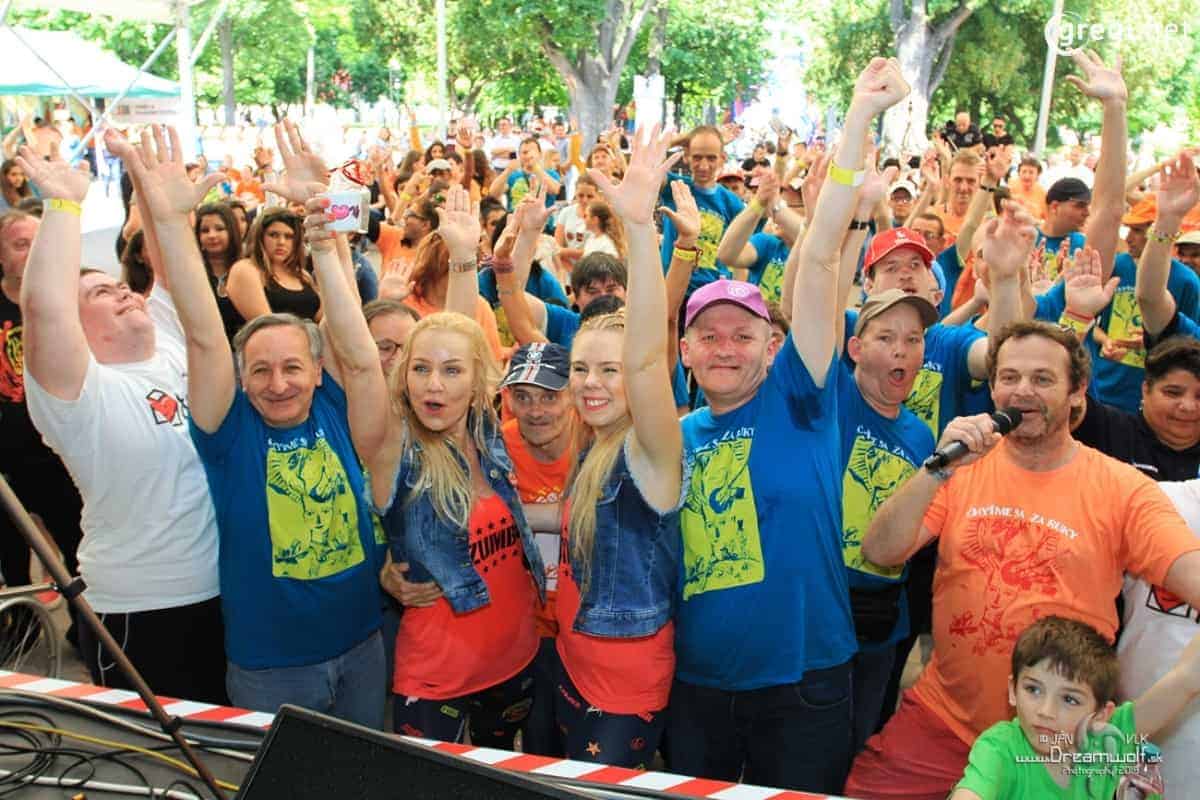 Svoju radosť neskrývali ani dievčatá zo Zumba Sonnyes & Mily. "Cvičiť pre nich je iné, ale je to krásne, je to také čisté. Sú to vďačné a veselé deti. Pre mňa osobne je to ďalší krásny zážitok do môjho života. Som veľmi rada, že sme tu mohli byť spolu. Vzájomne si pomáhame a užívame si spoločne život. Vidíme, že nie je jednoduchý, ale vieme si ho takto pekne skrášliť."
Na túto akciu sa tešila aj speváčka Celeste Buckingham. "Vždy sa teším z takýchto akcií a hrávame ich veľa. Tu sme ešte nehrali. Každý rok sme to nejakým spôsobom časovo nestihli. Vždy sme niečo mali alebo som bola odcestovaná. Preto som veľmi rada, že tento rok sa to konečne podarilo a mohli sme aj s kapelou prísť." Deti s mentálnym a fyzickým postihnutím poukázali na inú stránku života a svojou radosťou a čistotou vnášali svetlo a teplo do sŕdc. Vie o tom aj Celeste Buckingham, ktorá mala bratanca, ktorý bol ťažko postihnutý a má kamarátov a známych, ktorý podľa jej slov žijú inak. Ako sama o tomto publiku hovorí: "Je to iné publikom. Sú nimi detičky, ktoré patria medzi tých najvďačnejších ľudí. Vedia najlepšie vyjadriť svoju vďaku a šťastie. Tešia sa z toho viac ako niektorí ľudia, ktorí si za podujatie zaplatia lístky. To je skvelé vedieť pre umelca."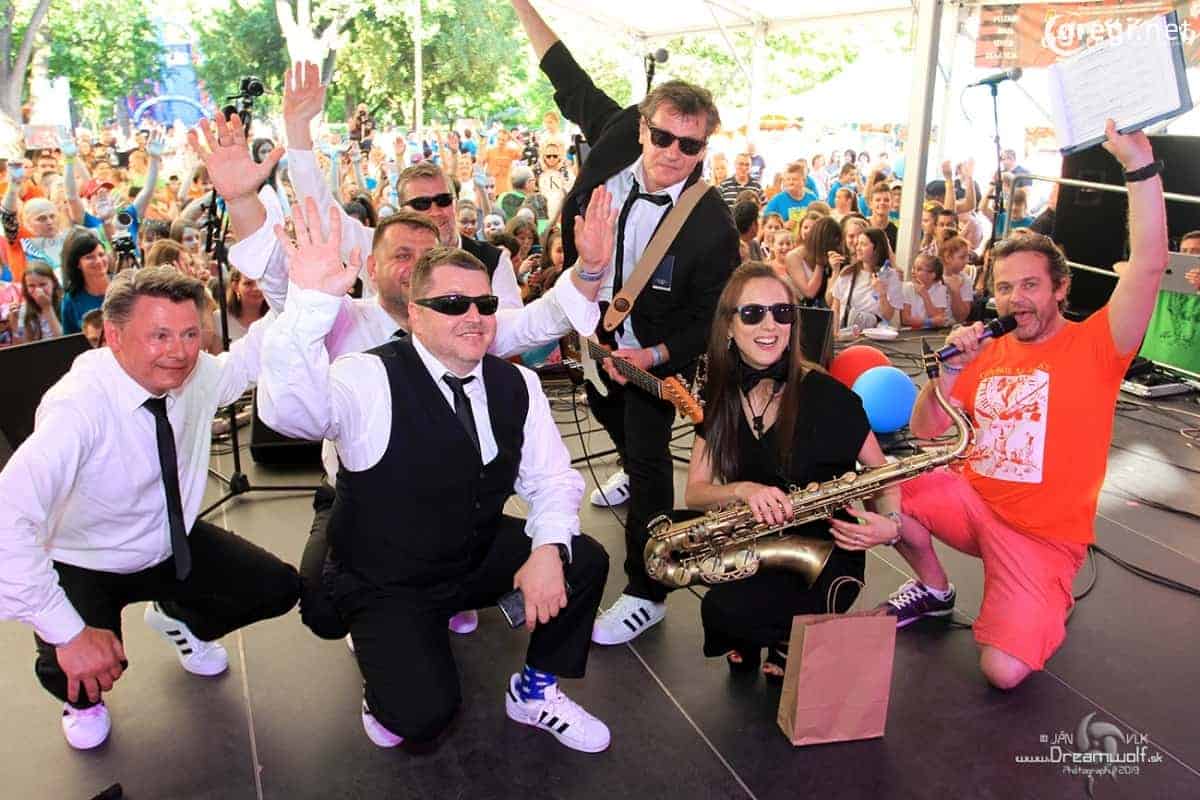 Slušnosť a odvaha
Svojimi slovami ju dopĺňa aj Milan Tomčala zo skupiny Ventil. "Títo ľudia sa tešia tak úprimne! Pre nich je to fakt výborné, nové a nejaká zmena. Každý zdravý, ktorý si myslí, že sa mu nič nemôže stať, žije vo veľkom omyle. Čas medzitým, že sme zdraví, a že sa nám niečo môže stať je jedna sekunda. Preto sa správajme slušne k sebe aj k ľuďom ktorí nie sú úplne zdraví."
Na neho nadväzuje aj Braňo Bajza zo skupiny Polemic. "Človek si neuvedomuje, že zajtra môže byť chorý a nepoužiteľný. A títo ľudia napriek tomu, že majú rôzne hendikepy a často krát už od narodenia sa s nimi, naučili žiť. Bol som nadšený, keď som videl pod pódiom dievčinu, čo je na vozíčku a vedela všetky naše texty. Polovicu koncertu nepresedela vo vozíčku, ale prestála na svojich nohách, ktoré jej normálne asi neslúžia. Zvládla to vďaka emočnému vypätiu a nadšeniu. Postavila sa na nohy, opierala sa o stage a užívala si koncert. Normálne by sa asi neodvážila na takýto krok."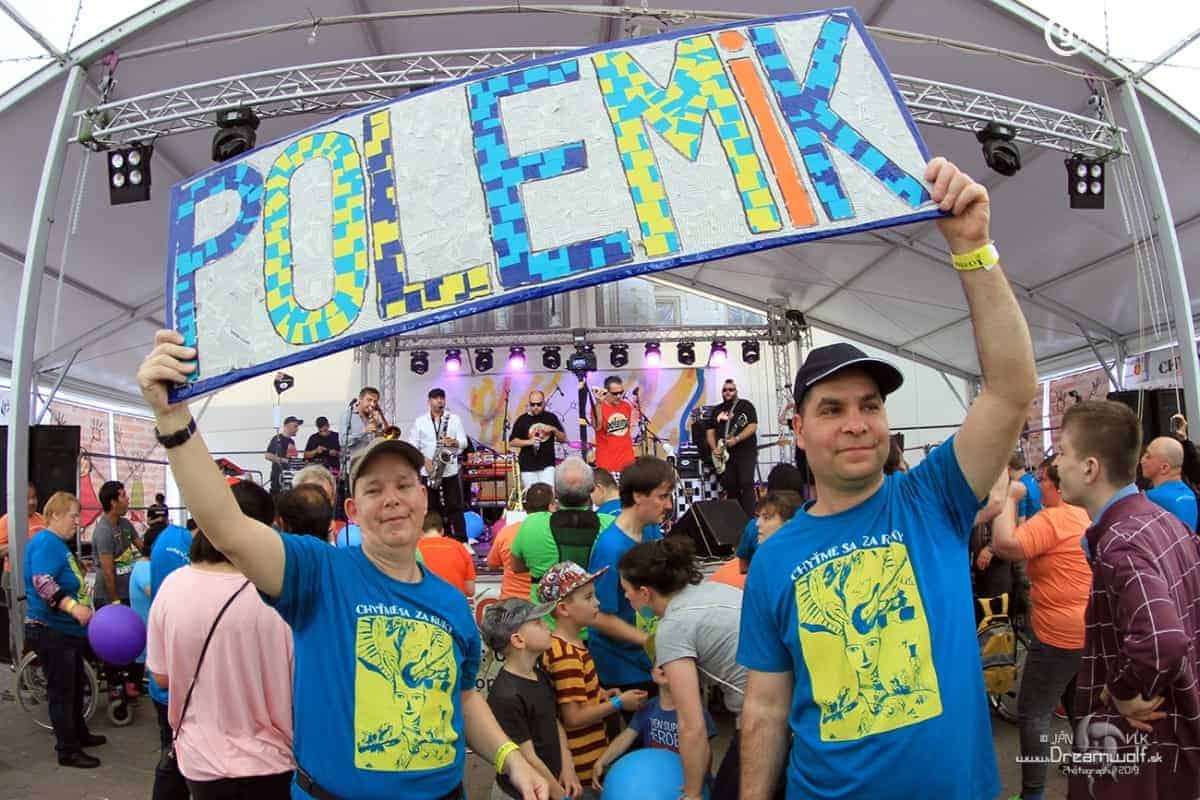 Želania
Ak by mal Milan Tomčala čarovný prútik a mohol by pre nich niečo spraviť, vrátil by im zdravie. Poznamenal výstižne "Zdravý má tisíc prianí, chorý len jedno."
Podobne to vidí aj Braňo Bajza tiež si uvedomuje, že zdravý človek považuje zdravie za automatické, až pokiaľ ho nestratí. Bol by rád, keby sa ich zdravotný stav aspoň o niečo zlepšil. Vyliečenie z jedného dňa na druhý by mohlo byť pre nich ale náročné. "Keby sa úplne vyliečili z jedného dňa na druhý asi by to bol pre nich dosť veľký šok. Ale určite by každému jednému z týchto decák pomohlo, keby sa im o 20 alebo 30 percent zlepšil ich zdravotný stav. Mali by z toho veľmi veľkú radosť. Často je to iba v rovine zázraku." Ak by sa im zdravotný srav nezlepšil, želal by im, keby si každý ďalší deň užívali s úsmevom na tvári a mali naplnené dni tak ako tomto koncerte. Každý človek potrebuje mať zážitky. Nestačí len zážitok vecného charakteru, keď si človek niečo kúpi, ale aj emočné zážitky. Z nich sa dokáže oveľa dhšie tešiť.
Celeste Buckingham s úsmevom dodáva svetový mier. "Svetový mier by bol fajn. Každý by povedal, nech sú zdraví, aby nemuseli viac chodiť na liečbu, nemuseli chodiť k lekárom a psychológom. Želala by som im, aby im lepšie rozumeli rodičia, a zároveň, aby sme im aj my ako spoločnosť viac rozumeli."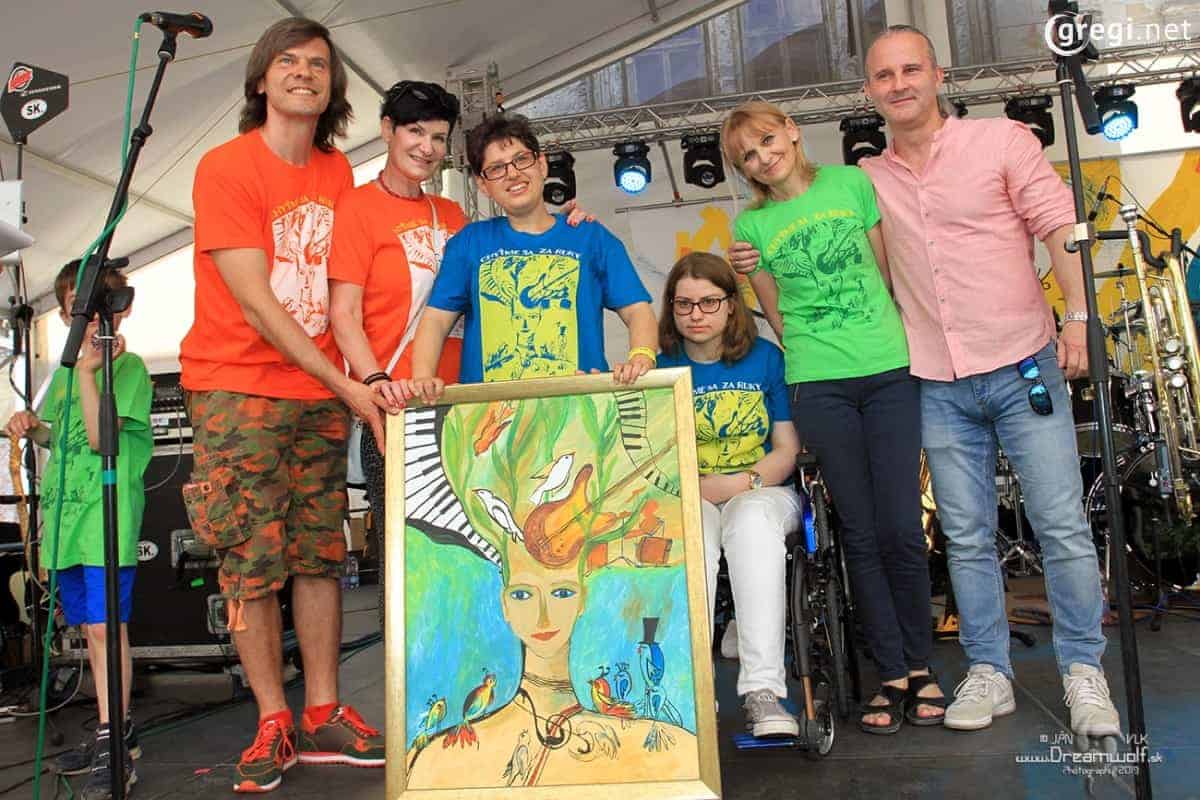 Chyťme sa za ruky
Mottom celého podujatia je Chyťme sa za ruky. Ruky podľa speváka Braňa Bajzu sú úžasným nástrojom, ktorý človek má a líši sa nimi od zvierat. "Človek má horné končatiny, ktoré sú uspôsobené na prácu a na jemnú motoriku. Keď sa za ne chytíme, dávame si tým gesto, že si vzájomne pomáhame."
Celeste Buckingham si pod týmto mottom predstaví podporu a integráciu. "Myslím si že je potrebné registrovať, že človek je nejakým spôsobom znevýhodnený, ale z druhej strany to neznamená, že je menej cenný, alebo že nemá čo ponúknuť spoločnosti. Ak im istým spôsobom podáme ruku či už symbolicky alebo fyzicky, podporíme ich. Pomôžeme im a vedia sa stať podľa mňa zázraky."
Milan Tomčla zo skupiny Ventil si zaspomínal na svoju históriu. "Už dieťa ma chytá za ruky, keď mu chcem pomôcť prejsť cez cestu alebo ho vediem životom. Keď sa muž zoznámi so ženou tiež sa vodia za ruky. Chyťme sa za ruky by nás malo v tom najlepšom sprevádzať po celý život."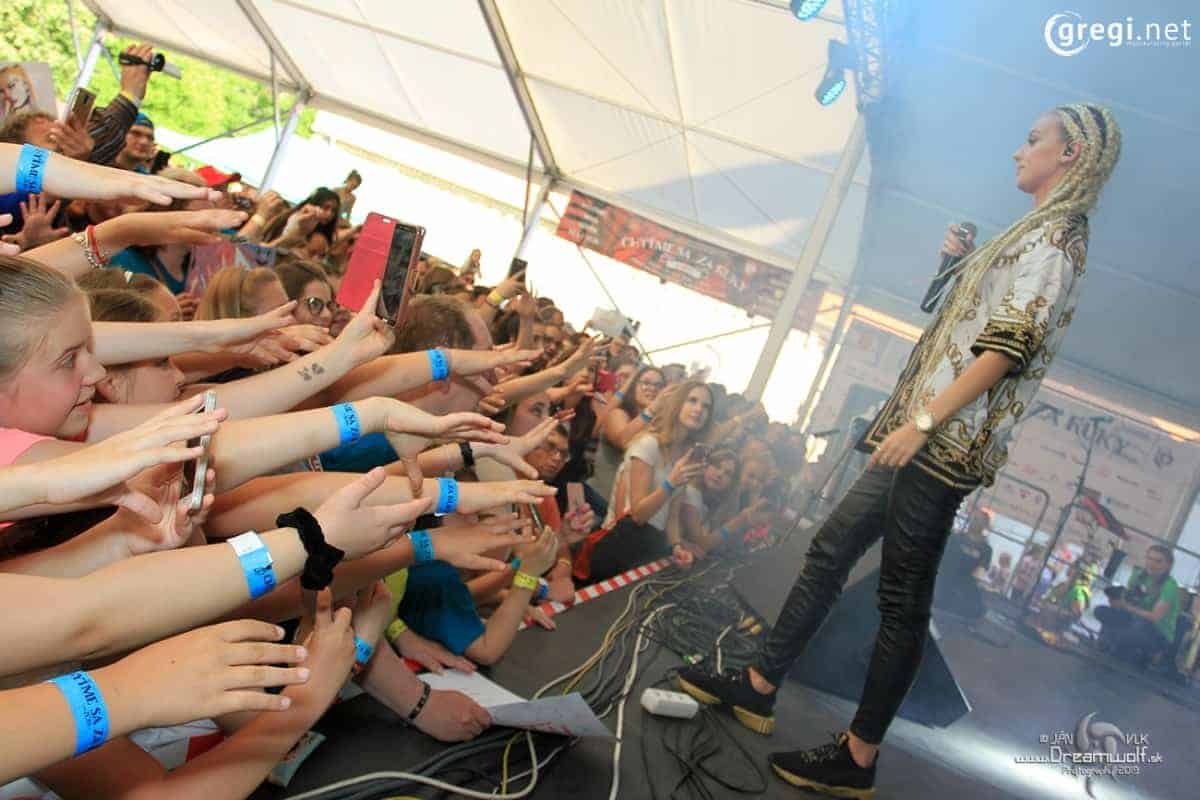 Ľudská tolerancia
Tento ročník na svetlo vyniesol pojem ľudskej tolerancie. Braňo Bajza poukázal na jej dôležitosť medzi nami. "Všetci ľudia na celom svete sme si veľmi podobný. Dokonca aj tí, čo analyzujú rozdiely medzi rasami a hendikepmi. Geneticky sme viac – menej úplne rovnaký. Všetci ľudia by si mali pomáhať, pretože sa blížia rôzne klimatické zmeny a človek človeka bude potrebovať. Preto je tolerantnosť dôležitá."
Tolerantnosť chýba v spoločnosti aj podľa Milana Tomčalu a Celeste Buckingham. Ľudská tolerancia je jedna z najdôležitejších vlastností, stretávame sa s ňou počas celého života. Podobne to vníma aj Milan Tomčala. "Tolerancia nás sprevádza vo vzťahu medzi mužom a ženou, rodičmi a deťmi. Je to tá istá tolerantnosť, a to je úžasné. Pravdou je, že niekedy to s ňou preženieme a má mať isté hranice. Tolerantnosť je napríklad vo vzťahu aj to, že vydrží medzi ženou a mužom najdlhšie, keď sa krása unaví. Tolerantnosť by sa nemala unaviť nikdy."
Celeste Buckingham na to pozerá ešte hlbšie. Máme na to byť viac tolerantní, ale tolerancia sama o sebe nie je dostatočná. "Nestačí byť len tolerantní. Ale treba pristúpiť skoro ku každému človeku, kým sa dá s láskou a úctou. Nie je to len to, že tolerujeme alebo akceptujeme človeka ako správnu voľbu alebo správnu vec, ale musíme ísť trošku ďalej. Musíme žiadať viac od seba a od svojich kolegov a známych, ale súhlasím s Braňom aj Milanom."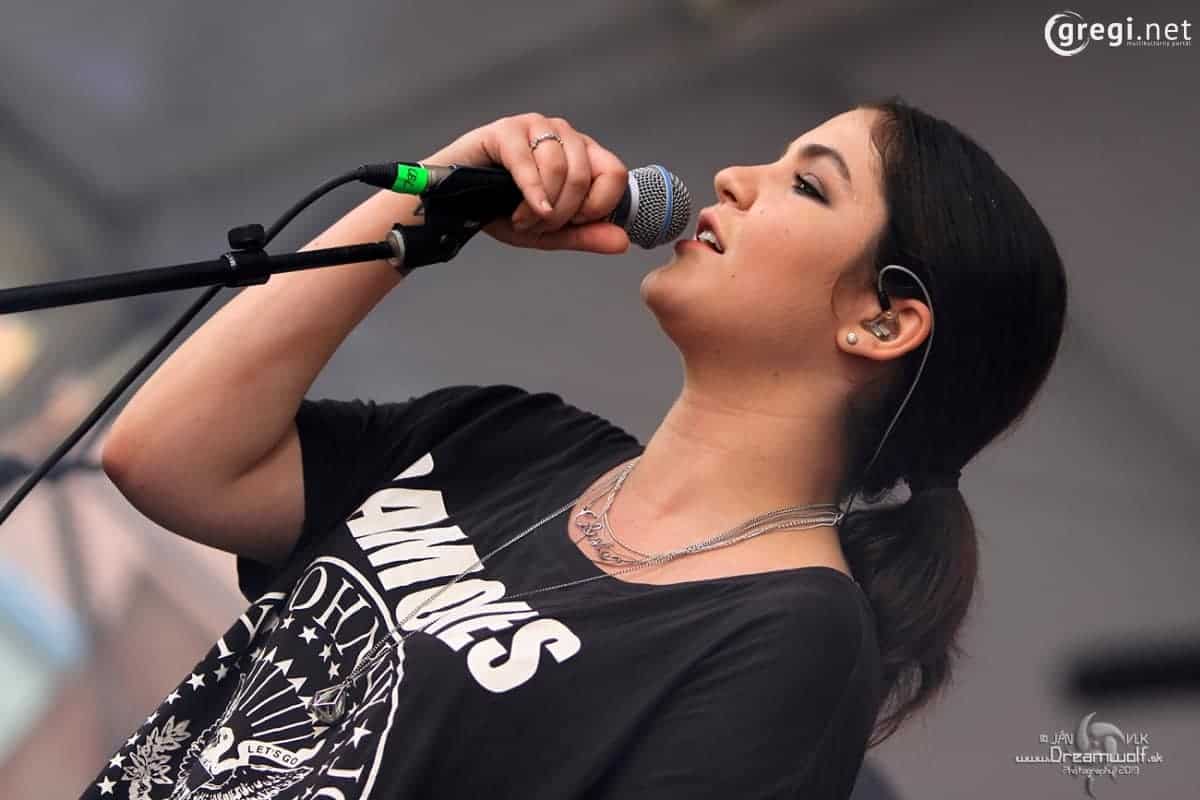 Vďačnosť
Deti s mentálnym a fyzickým postihnutím sú veľmi vďačné a vážia si, čo pre nich organizátori a účinkujúci spravili. Preto pre nich spolu s vychovávateľmi a rodičmi pripravili aj drobné darčeky ako poďakovanie.
Viacero darčekov si odniesla speváčka Sima za svoje hip-hopové vystúpenie. Neprehliadnuteľnou zaujímavosťou bol skvost, ktorý si odniesla skupina Polemic. "Jeden z návštevníkov tam mal jednu figurku vo veľkosti ľudského tela oblečenú v obleku, saku, klobúku. Pripadalo mi to, ako jeho druhé alter ego, ktoré si zobral so sebou a pritom to možno týždeň robil pre nás. Smiali sme sa, že ideme na budúci týždeň na galavečer hrať a máme tam prísť všetci slušne oblečený. Bavili sme sa, kto si čo oblečie, a ak by si nemal niekto čo obliecť, môže využiť sako z tejto figuríny. Som z toho nadšený, že si dal niekto námahu spraviť figurínu, zdobiť jej tvár, obliecť ju. Dostali sme ju ako darček, ktorý sme si hneď dali do štúdia. Stráži ho, a keď niekto príde a otvorí dvere, vidí tam túto fiktívnu postavu od tohto fantastického fanúšika. Touto cestou mu veľmi pekne ďakujeme."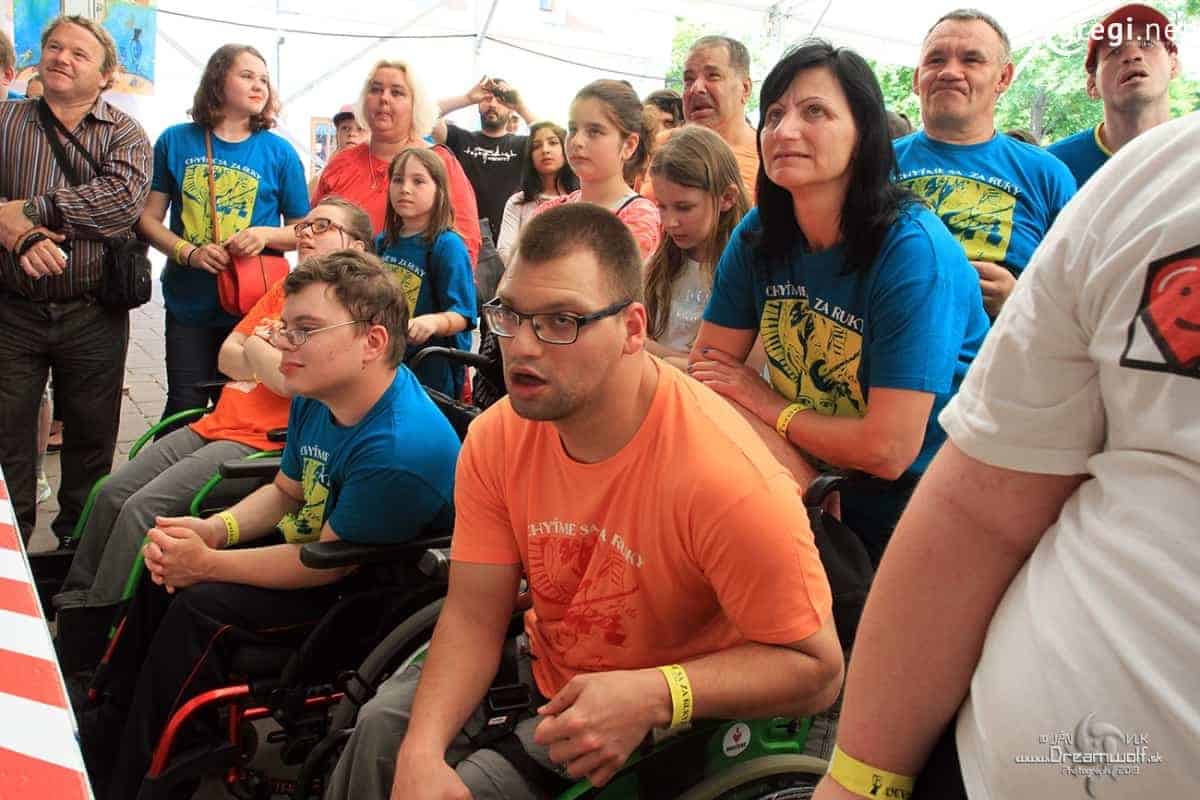 Tento ročník nám okrem zábavy priniesol aj zamyslenie sa. Otvoril nám aspoň na chvíľu oči, a ukázal, že spoločnými silami všetko zvládneme. Stačí sa chytiť za ruky a byť k sebe tolerantnejší. Dnešné podujatie hodnotí aj usporiadateľ Milan Štefánik vynikajúco. "Slnko sa na nás usmialo. Veľa ľudí prišlo. Tancovali a bavili sa na vynikajúci program. Obrovská spokojnosť." Desiaty ročník podujatia Chyťme sa za ruky síce skončil, ale zostáva v nás plno radosti aj myšlienok. Už teraz sa môžeme tešiť na ten ďalší. Usporiadateľ má v zálohe speváčky, ktoré tu za desať rokov ešte nevystupovali a deti si ich žiadajú. "Znova zavoláme aj tanečné skupiny a budeme miešať rôzne rytmy, druhy žánrov, aby to bolo pestré," dodal na záver Milan Štefánik.
Ďakujeme, že podujatie sa zrealizovalo s finančnou podporou mesta Galanta a partnerov.
Napísala: Lenka Meravá
Foto: Ján Vlk – Dreamwolf
Video: Igor Kolesár