Etablovaný medzinárodný festival harmoniky Eufonija v srbskom Novom Sade, ktorého ôsmy ročník sa v uplynulých dňoch ukončil, mal česť prvýkrát privítať umelcov zo Slovenska. Keďže harmonika (alebo akordeón) je súčasťou aj žánru world music, usporiadateľ siahol práve do tohto súdka. Pozvanie s potešením prijala etablovaná skupina v žánri klezmer zo Slovenska – Preßburger Klezmer Band, ktorú so Srbskom spája nielen to, že občas interpretuje hudbu z Balkánu, ale aj to, že v svojich radoch má naturalizovanú Srbku, akordeonistku Snežanu Jović – Werner, absolventku bratislavskej Vysokej školy múzických umení, ale aj strednej hudobnej školy práve v Novom Sade.
Preßburger Klezmer Band je dlhodobo známym menom na európskej scéne židovskej hudby a world music. Kapela vznikla ešte v roku 1995 a pomaly, ale isto, sa blíži k oslave svojich tridsiatych narodenín. Viac ako tisícka koncertov, deväť CD albumov, dve vinylové platne, koncerty v dvadsiatich európskych krajinách a aj v zámorí, domáce ocenenie Radio_head Award, popredné umiestnenia vo World Music Charts Europe a množstvo divadelných a televíznych spoluprác. Aj to je Preßburger Klezmer Band.
Bratislavské zoskupenie nevystupuje v Srbsku prvýkrát, práve naopak. Prvýkrát vystúpilo na prestížnom koncerte pri príležitosti Európskeho dňa židovskej kultúry v srbskom hlavnom meste Belehrade v priestoroch národného divadla (kde sa mimochodom natáčal známy Kusturicov Underground) ešte v roku 2007. Nasledovali vystúpenia v nádhernej subotickej synagóge a opäť koncert v Belehrade.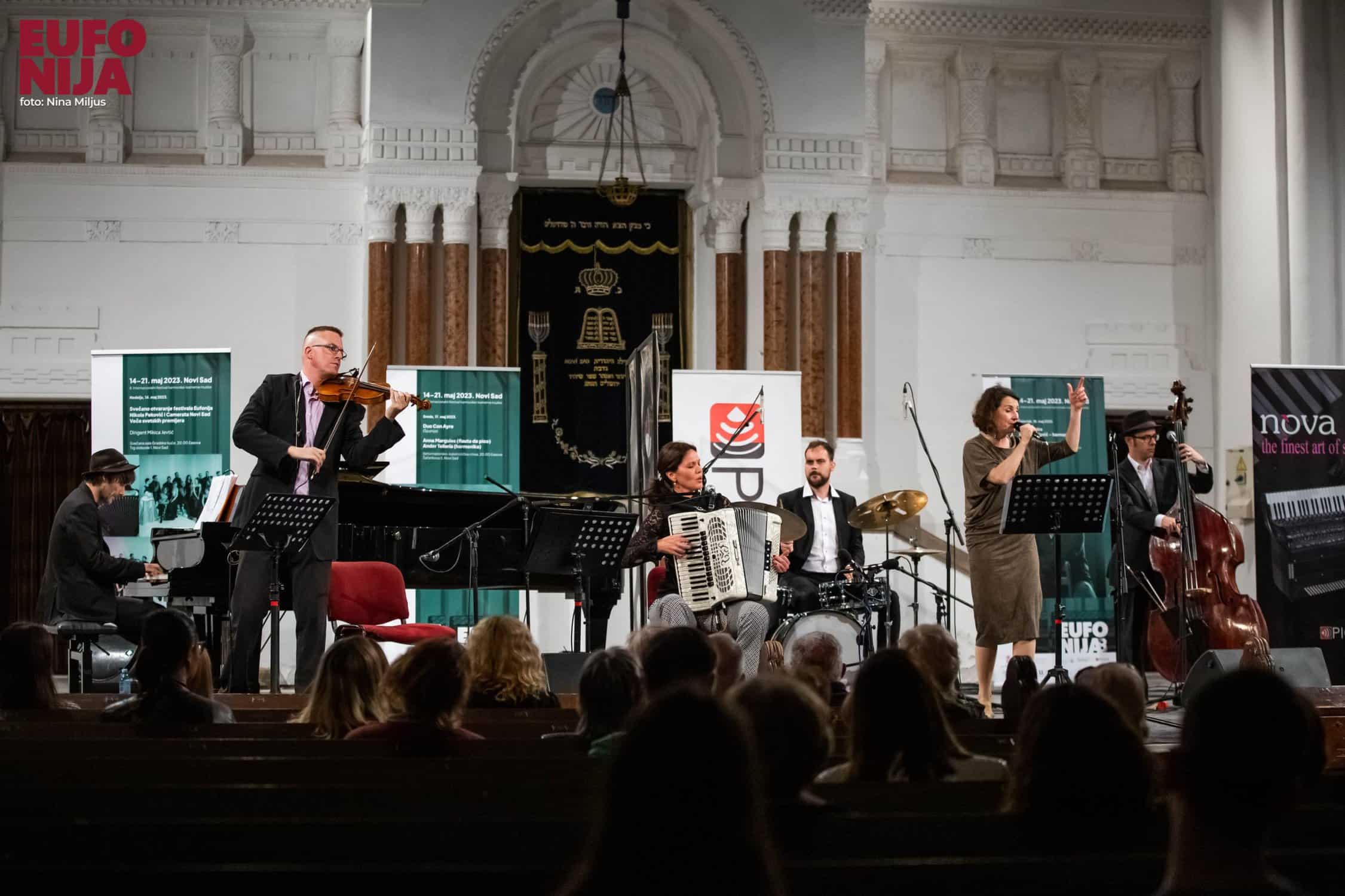 Pre Novi Sad, metropolu srbskej autonómnej oblasti Vojvodiny, je príznačná národnostná a náboženská tolerancia, čo napokon vyplýva z trojjazyčného pomenovania mesta v srbčine, maďarčine (Újvidék) a slovenčine (Nový Sad). Podobne ako trojjazyčná Bratislava, cez ktorú tiež tečie Dunaj, nad ktorým sa vypína hrad. V uplynulom roku Novi Sad hostil prestížne podujatie pod názvom Európske hlavné mesto kultúry.
Preßburger Klezmer Band sa dostalo cti vystúpiť na záverečnom koncerte festivalu, a to naviac na mieste pre židovskú hudbu mimoriadne blízkom – v novosadskej synagóge, ktorá je jedným z popredných pódií pre umelcov vystupujúcich v Novom Sade. Synagógu spája so Slovenskom aj osoba jej architekta Lipóta (alebo Leopolda) Baumhorna, ktorý postavil podobné monumentálne secesné synagógy aj v Lučenci a Nitre a podieľal sa tiež na rekonštrukcii synagógy v Liptovskom Mikuláši.
Prešporskí klezmeri (alebo "klezmeráci", ako ich fanúšikovia familiárne volajú) sa 21. mája na záverečnom koncerte festivalu predstavili s repertoárom reprezentujúcim najmä výber piesní v jazyku jidiš a klezmerovými inštrumentálnymi skladbami, ktoré publikum prijalo s nadšením. A to nebolo všetko. Okrem členov skupiny na koncerte ako hosť vystúpil domáci akordeonista Dragan Mirković, ktorý so skupinou ako aranžér spolupracoval hlavne na posledných dvoch albumoch vydaných vo vydavateľstve Real Music House – Baladen (ktorý vysoko ohodnotila zahraničná kritika) a Korene / Roots, ktorý bol nominovaný na domáce ocenenie Radio_head Awards a umiestnil sa v TOP20 prestížneho rebríčku World Music Charts Europe.
Skutočnou lahôdkou bolo predvedenie skladby Kraj tanana šadrvana, tzv. sevdalinky, piesne, ktorú si spievali Srbi, moslimovia a Židia z Bosny, v ktorej jej aranžér Mirković s bravúrou prezval aj akordeónový part. Srbský text tejto na Balkáne známej piesne z pera domáceho poeta Aleksu Šantića je však prekladom pôvodnej básne svetoznámeho básnika Heinricha Heineho pod názvom Der Asra. Iba skutoční znalci Heineho však vedia, že jeho predkovia sú pochovaní na bratislavskom židovskom cintoríne.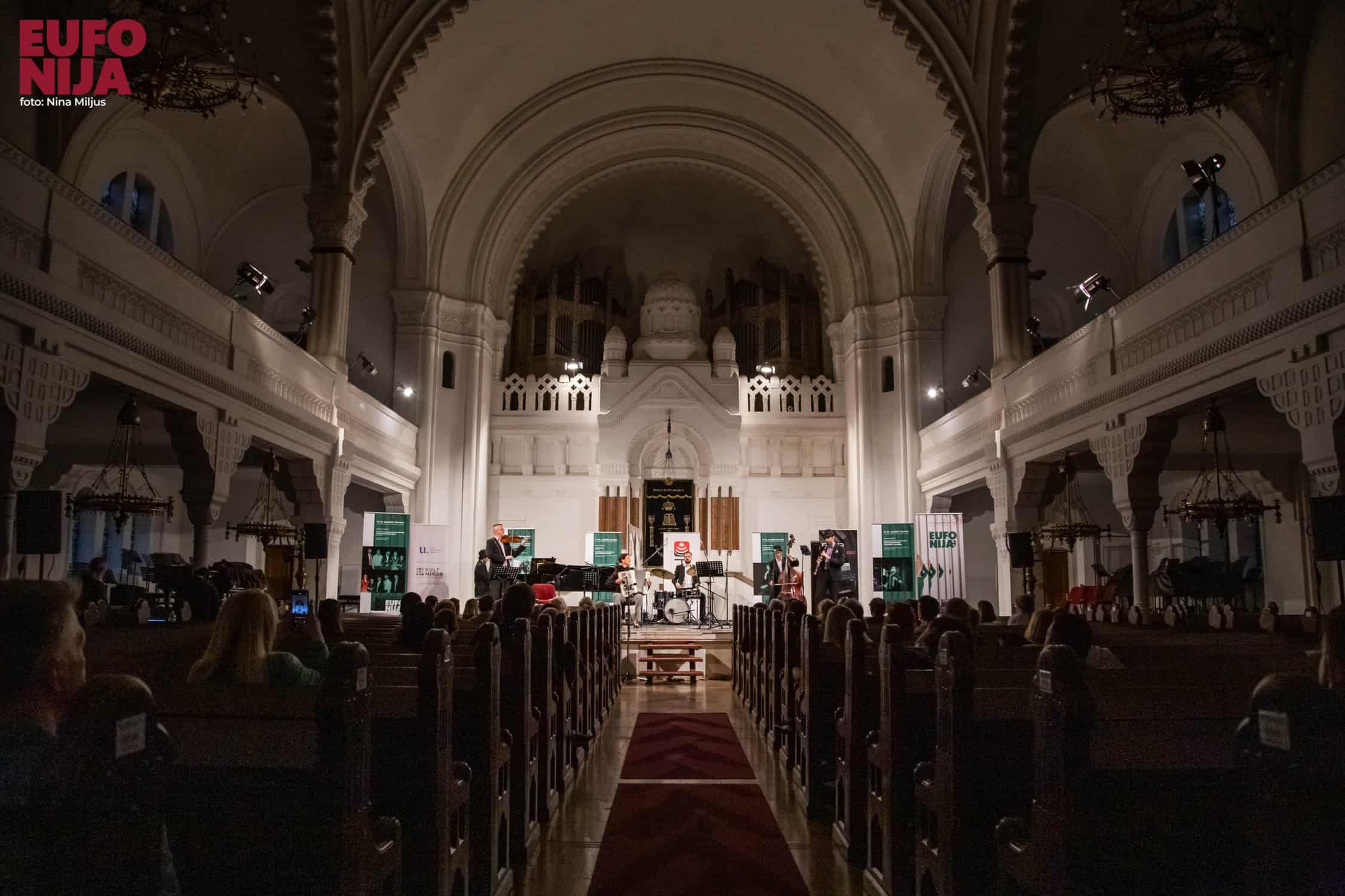 Nadšení diváci si vytlieskali aj niekoľko prídavkov, z ktorých možno spomenúť predovšetkým známu Tumbalalajku, ktorú kapela previedla so slovenským prekladom z pera Ľubomíra Feldeka, čo ocenila najmä slovensky hovoriaca časť publika.
Čo povedať na záver? Nedeje sa to prvýkrát a naopak deje sa tak často, keď bratislavskí klezmeri skvele reprezentujú Slovensko a jeho hlavné mesto, ktoré nosia v názve. Ansámbl, ktorého počet koncertov v zahraničí možno počítať v stovkách, si tentokrát získal srdce Nového Sadu.
Koncert z verejných zdrojov podporil Fond na podporu umenia.
Zdroj: REAL MUSIC HOUSE
Foto: Nina Miljuš