Na Pohode 2019 vystúpi aj britská soulová speváčka Lianne La Havas. Lianne získala za svoj debut Is Your Love Big Enough? ocenenie iTunes Album of The Year a nomináciu na Mercury Prize. Okrem toho bola štyrikrát nominovaná na MOBO Awards či na ocenenia BBC Sound of Brit Awards a Grammy. Vybrnkávaná gitara a špičkový hlasový prejav s unikátnou farbou, ktorou táto znamenitá speváčka okamžite oslovila osobnosti ako Prince, Alicia Keys či Justine Vernon (Bon Iver).
Počas turné s Bon Iver ju americké médiá označili za najpozoruhodnejší hlas od Adele. Koncert Lianne La Havas v rámci NPR Music Tiny Desk Concert patrí medzi päť najpozeranejších v histórii tejto obľúbenej série (v tesnom závese za ňou je práve Adele). Minulé leto sme jej sólo vystúpenie videli naživo na hlavnom pódiu na Szigete a sme veľmi radi, že jej dych vyrážajúci hlas zaznie aj na letisku Trenčín.
Dcéra gréckeho otca a jamajskej mamy sa narodila na sklonku osemdesiatych rokov v Londýne. K hudbe ju viedli odmalička rodičia s mimoriadne pestrofarebným hudobným záberom. Lianne spievala od siedmich rokov a skladala od jedenástich. Základy hry na klavíry a na gitare získala od otca. Práve výborná hra na gitare v súčasnosti zdobí, spolu s očarujúcim hlasom, jej vystúpenia. Poctivo sa ale hre na gitaru začala venovať až ako 18-ročná. S profesionálnou kariérou začínala ako sprievodná speváčka Palomy Faith. Jej vlastné veci zaujali agentov na MySpace, no ubehli ďalšie tri roky kým vydala prvé EP Lost & Found.
Na prvej piesni "No Room For Doubt" hosťoval Willy Mason. V deň vydania albumu vystúpila na BBC v šou Later… with Jools Holland, pričom v tej istej relácii zahrali aj Bon Iver. Justine Vernon (spevák) bol tak fascinovaný jej vystúpením, že jej hneď na druhý deň zavolal a požiadal ju, aby sa k nim pripojila na severoamerickom turné. Pieseň Lost & Found sa stala aj prvým singlom z jej debutu Is Your Love Big Enough?. PopMatters dal albumu hodnotenie 9 z desiatich s poznámkou, že nebýva zvykom, aby dostali ľudia naraz tak veľa od tak mladej umelkyne. Vychválil ju Los Angeles a New Your Times, Boston Globe či britské magazíny Q a Clash. Album sa dostal na 4-té miesto britskej hitparády, i Tunes ho označil za album roka a získal nominácie na Mercury Prize a Ivor Novello Awards.
Krátko nato si zahrala pred Aliciou Keys v rámci MTV 'Crashes' Manchester a na festivaloch Glastonbury a Isle of Wight. Ďalšou z hviezd, ktoré zaujala v úvode kariéry bol Prince. Prizval ju k spolupráci na albume Art Official Age a vystúpil aj v jej obývačke v Londýne. Lianne sa objavila aj na albume Alt-J v piesni "Warm Foothills" a spolupracovala aj s Aqualungom na piesni "Eggshells". V lete 2015 vydala druhý album inšpirovaný jej koreňmi s názvom Blood. Na ňom rozšírila svoj žánrový záber na neo soul, jazz a R&B, pričom ju prirovnávali k Lauren Hill a Jill Scott. Pochádzajú z neho nádherné piesne ako "Unstoppable", "Green & Gold", "What You Don't Do" či "Wonderful". Album sa dostal na vrchol rebríčka v Holandsku, na druhé miesto v predajnosti v Británii a Lianne získala za neho nomináciu na Grammy. V roku 2017 naspievala cover piesne "Starry Starry Night" od Dona McLeana k animovanému filmu Loving Vincent o Vincentovi van Goghovi. Ďalší jej skvelý cover piesne "Say a Little Prayer" od Arethy Franklin sa nedávno objavil v seriáli This Is Us. Lianne aktuálne pracuje na nových skladbách. O niečo vyše sto dní sa táto famózna speváčka so zamatovým hlasom predstaví v intímnej, a pritom neuveriteľne silnej sólo verzii aj na Pohode 2019.
Potvrdení umelci Pohody 2019: Liam Gallagher, Lykke Li, The Roots, Skepta, The 1975, Charlotte Gainsbourg, Mac DeMarco, Lianne La Havas, Mura Masa, Michael Kiwanuka, Jeff Mills, Lola Marsh, Amadou & Mariam and Blind boys of Alabama, Vitalic LIVE, Sofi Tukker, Calypso Rose, Sudan Archives, Dimension, IC3PEAK, Viagra Boys, Korben Dallas, Gleb a mnohí ďalší (www.pohodafestival.sk/sk/artists).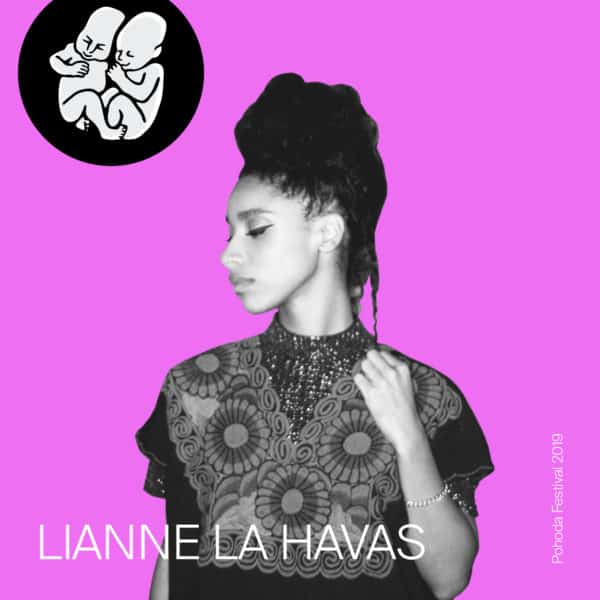 Zdroj: Pohoda