Akú dobu by ste chceli zažiť, ak by ste mali túto možnosť? Pred touto otázkou stojí Viktor, keď od svojho syna dostane darčekovú poukážku agentúry Time Travelers. Francúzsku komédiu Zažiť to znovu (La Belle Époque) s výborným hereckým obsadením prináša do kín Asociácia slovenských filmových klubov a diváci ju môžu vidieť od 13. februára 2020.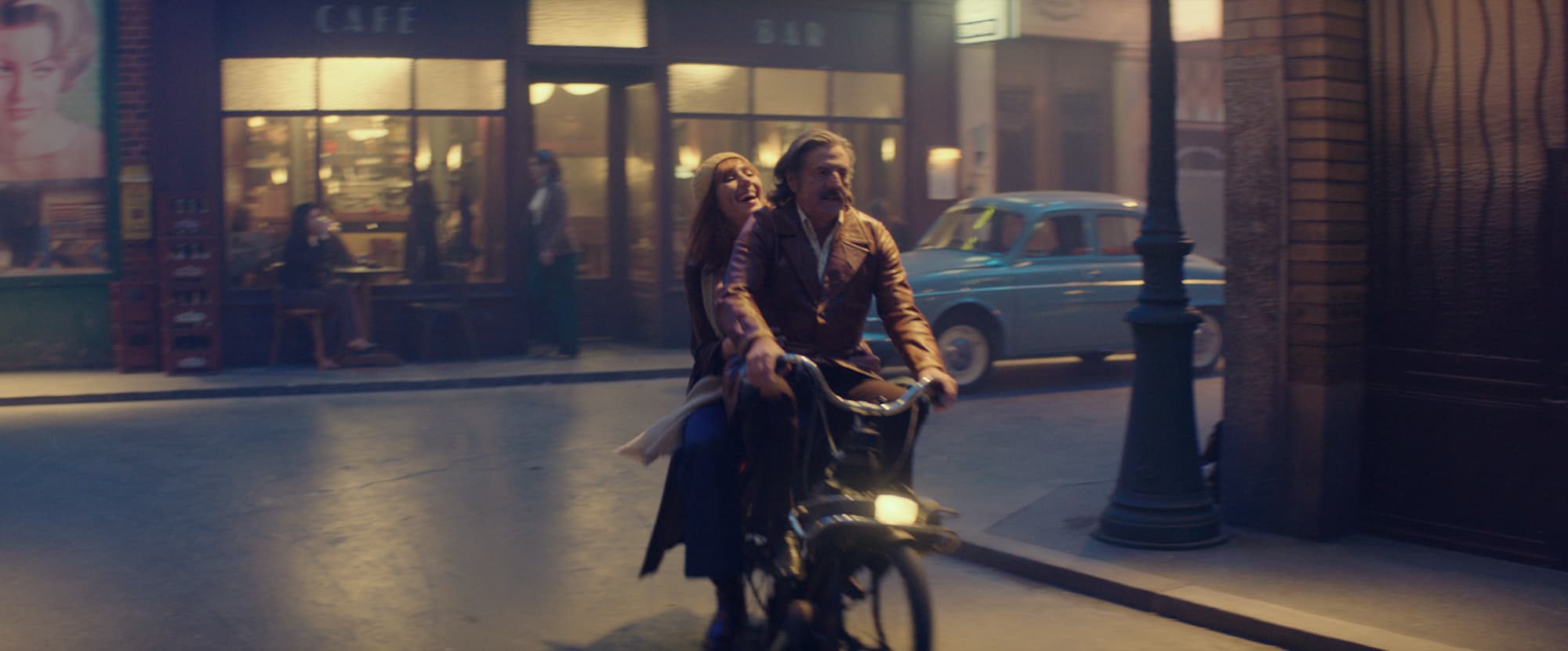 Najnovší film režiséra Nicolasa Bedosa je romantickou komédiou, ktorá rozpráva príbeh manželského páru, ktorému už spolužitie neprináša takú radosť a vášeň, ako kedysi. Všetko sa zmení, keď šesťdesiatnik Viktor dostane poukážku na cestovanie v čase. V Agentúre Time Travelers dokážu pomocou filmových kulís a hercov zinscenovať akúkoľvek epochu a sprostredkovať svojim klientom stretnutie so slávnymi osobnosťami dejín podľa ich želania. Zatiaľ čo sa chcú iní zákazníci pozrieť na dvor Ľudovíta XVI alebo sa vydávať za ríšskeho kancelára, Viktor sa túži vrátiť do nespútaných sedemdesiatych rokov a ešte raz prežiť rande so svojou ženou – obdobie, keď v ňom dokázala vidieť viac ako len nudného starca v pruhovanom pyžame. Poučná a zábavná love story rozpráva o tom, čo by sa stalo, ak by sme mohli zopakovať tie najkrajšie okamihy. Je to potrebné k tomu, aby sme sa opäť zamilovali? Akú dobu by ste chceli zažiť, ak by ste mali túto možnosť?
Zažiť to znovu je originálna romantická komédia s výborným hereckým obsadením a dialógmi, aké dokážu napísať len Francúzi. Film o tom, čo by sa mohlo stať, ak sme si mohli zopakovať tie najkrajšie chvíle nášho života. Režiséra Nicolasa Bedosa inšpiroval jeho vlastný rodinný príbeh. Podľa jeho slov robí filmy, ktoré by sám rád videl. V tomto filme popisuje reflexiu a psychoanalýzu svojho okolia a blízkych. V príbehu chcel zaznamenať závrat, ktorý občas okolo seba cíti. Obraz muža, ktorý sa stráca v súčasnosti a nachádza úkryt v dobe, ktorej symboly ho upokojujú a chránia. Tento obraz v sebe ukrýva nielen kinematografický potenciál, ale aj veľa priestoru pre satiru. "V hlave som mal obraz, alebo skôr situáciu, ktorá bola smutná a súčasne komická: Predstavoval som si muža, ktorý sa doma háda s manželkou. Tá ho kritizuje za to, že nechce chodiť do spoločnosti, že nejde s dobou, nesleduje technológie, Macrona, nevychádza s deťmi a podobne. Ten muž vyjde z kuchyne, prejde halou a vojde do malej izby, kde ho všetko – od výzdoby interiéru, cez LP až po staré VHS-ky – vráti späť do 70. rokov. Je to taká jeho ochranná bublina, ktorú si vytvoril pre seba, kde sa môže vrátiť späť v čase. Predstavoval som si ho, ako si zapaľuje galoásku, očami vyzlieka moderátorku talk-show v starom televízore v drevenej skrinke a s úľavou si vydýchne."
Film Zažiť to znovu má na Slovensku premiéru 13. februára a do kín ho prináša Asociácia slovenských filmových klubov. Strihom pripomína štýl pompéznych blockbusterov z produkcie Netflixu, a aj preto je táto komédia dielom, ktoré si nesmiete nechať ujsť.
Spolufinancované z programu Európskej únie Kreatívna Európa
Zdroj: TS