Po dvoch rokoch pandémie ešte viac milujú publikum, ešte viac si vážia, že sa mohli vrátiť k práci, ktorú majú radi a ktorá napĺňa celý ich život. Aj to spája patrónov 17. ročníka divadelného festivalu Dotyky a spojenia, členku Činohry Slovenského národného divadla Božidaru Turzonovovú a člena umeleckého súboru Divadla Alexandra Duchnoviča v Prešove Jevgenija Libezňuka. Festival sa bude konať od 20. do 25. júna 2022 v Martine, na programe je 36 divadelných inscenácií, päť koncertov, dva workshopy, deväť tvorivých dielní pre deti a 22 diskusií o divadle.
Dotyky a spojenia sú výberovou, nesúťažnou prehliadkou inscenácií slovenských divadiel, hlavným organizátorom je Slovenské komorné divadlo Martin. Festival z verejných zdrojov podporil Fond na podporu umenia.
"Po pandémii sa pre mňa osobne veľa zmenilo, začala som ešte viac milovať publikum. Je mimoriadne bolestné hrať, pokloniť sa, zdvihnúť zrak a vedieť, že v hľadisku nikto nie je. Divadlá teraz zažívajú veľkú renesanciu, máme plné hľadisko a cítim, ako sú ľudia lační za divadlom," povedala herečka Božidara Turzonovová, ktorá pred pár dňami oslávila svoje okrúhle narodeniny. "Je to trošku divný pocit – zdá sa, že všetko je tak, ako bolo pred dvomi rokmi, ale zrazu na divákoch pociťuješ, že ti veľmi neveria, skúmajú ťa, je to zaujímavé – musíš viac bojovať. No konečne môžem robiť svoju prácu, to, čo mám rád a čím sa živím celý svoj život. Áno, veľmi si cením, že môžem zase byť priamo s divákmi a mať spätnú väzbu, tá nám chýbala dva roky," doplnil svoje skúsenosti Jevgenij Libezňuk. Festival Dotyky a spojenia sa po období pandémie vracia k svojmu tradičnému termínu, ktorým symbolicky uzatvára divadelnú sezónu na Slovensku. Obaja patróni ho spolu otvoria 21. júna večer.
Otázkou dnešných dní v divadle však nie sú len úvahy a emócie hercov a herečiek, v prvom rade zostáva – a zrejme viac ako kedykoľvek pred tým – publikum. "Myslím si, že by sme mali urobiť všetko, aby ľudia chceli chodiť do divadla. Potom nech sa oni rozhodnú, či prídu alebo neprídu," odpovedal Jevgenij Libezňuk. Pri téme, či ľudia chodia alebo či by mali chodiť do divadla, je Božidara Turzonovová optimistickejšia. "Ľudia chodia do divadla, sú presýtení televíziou a seriálmi. Som veľmi šťastná, že na naše predstavenia chodia mladí diváci. Ten pocit v divadle, tu a teraz, keď divadlo naozaj na diváka účinkuje – ten účinok sa dá poznať podľa toho, že spôsobí zážitok, a to teraz cítime, chvála pánubohu."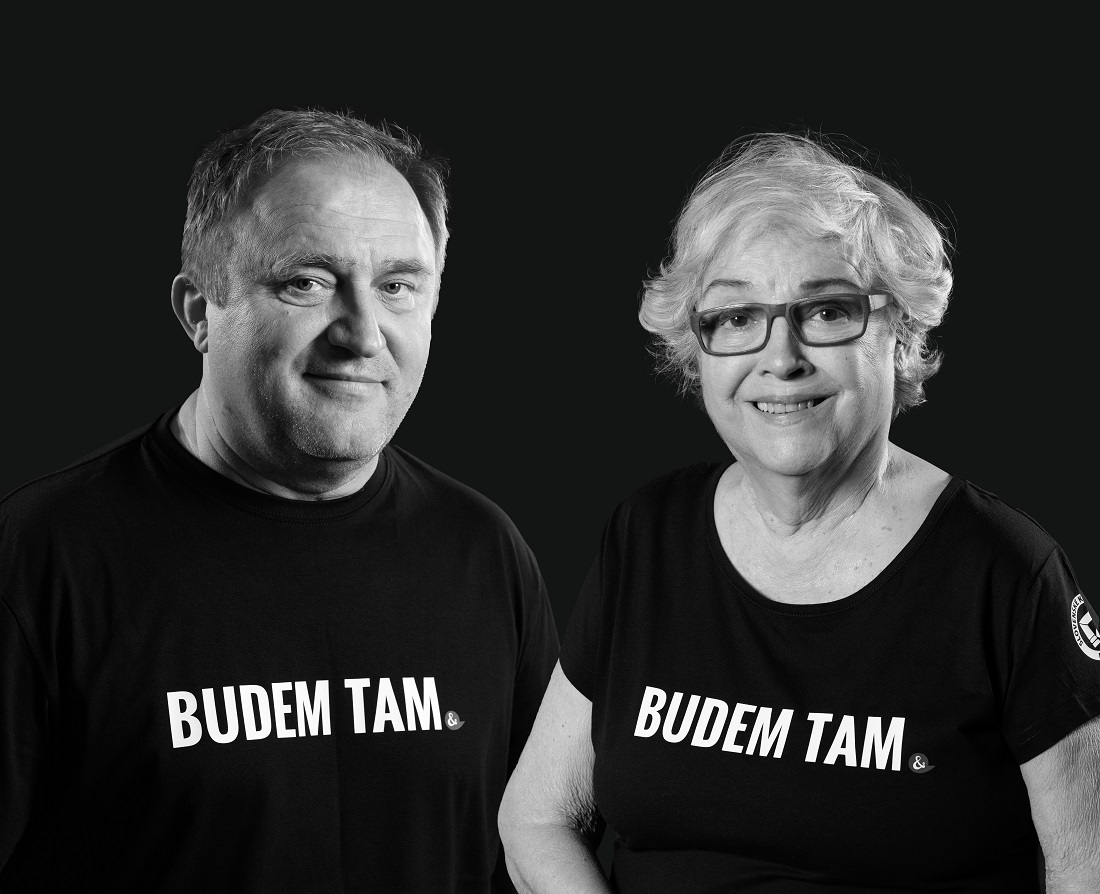 Obaja herci si dobre pamätajú časy, kedy boli divadelné festivaly súčasťou sezóny či divadelných prázdnin. "Divadelných festivalov som zažila dosť a boli to nádherné dni. Zišli sa všetky súbory z Československa a bolo skvelé, že sme sa mohli zísť a pozrieť si predstavenia. Vnímala som festivaly a kolegov, ako keby sme boli jeden súbor, pozerali sme si inscenácie, inšpirovali sme sa vzájomne, bolo to skvelé a povzbudzujúce. S väčšou chuťou sme pracovali a vždy sme sa tešili na ďalší festival," povedala Božidara Turzonovová. Podobne si zaspomínal aj Jevgenij Libezňuk: "Ja si ešte pamätám festivaly, kam sme prišli na dlhšiu dobu, stihli sme sa stretnúť s kolegami z iných divadiel, teraz je to asi kvôli finančným možnostiam len na jeden deň a myslím si, že je to málo, nie je čas na kontakt a komunikáciu s kolegami. Na festivaloch chýba možnosť sadnúť si, porozprávať sa. Keby bolo viac peňazí, aby mohli byť všetci na celom festivale, to by bolo."
Dramaturgická rada festivalu sa zamerala na inscenácie, ktoré mali premiéru v období od apríla 2021 do apríla 2022, ako povedala programová riaditeľka festivalu Monika Michnová, prevládajú citlivé a intímne témy, ako aj hľadanie identity. Každoročne je ťažiskom festivalu Hlavný program, figuruje v ňom desať inscenácií, pričom ich skladba je vyvážená z pohľadu zriaďovateľa aj miesta pôsobnosti. Päť inscenácií vzniklo v zriaďovaných a päť v nezriaďovaných divadlách, šesť vzniklo v divadlách v Bratislave, štyri mimo hlavného mesta.
▪ Dezorzovo lútkové divadlo – Dukla, údolie smrti
▪ Divadlo ASTORKA Korzo '90 – Jeden nemecký život
▪ Divadlo Jozefa Gregora Tajovského vo Zvolene – Čepiec
▪ Divadlo NUDE – Roľa
▪ Divadlo Petra Mankoveckého – Prevádzači
▪ Divadlo Thália Színház Košice – Otec, mama, chľast
▪ Nezávislé divadelné zoskupenie Odivo – Vnorená
▪ Slovenské komorné divadlo Martin – D1 (pracovný názov)
▪ Slovenské národné divadlo – Špina
▪ Uhol_92 – Ponížení a krvilační
Okrem Hlavného programu podlieha výberu aj program Pre mladé publikum, tvoria ho inscenácie určené pre deti a násťročné diváčky a divákov. Program Junior zas prezentuje tvorbu študentiek a študentov vysokých umeleckých škôl. Festival prináša program aj do ulíc mesta a iných nedivadelných priestorov. Počas festivalu čaká návštevníkov a návštevníčky aj otvorenie výstavy fotografií herca Jána Dobríka, člena umeleckého súboru martinského divadla a krst jeho knihy Ilúzie. Krstným otcom bude herec, člen Činohry SND, Alexander Bárta. Na programe je až 22 diskusií rôzneho formátu. Organizátori pripravili program aj pre ukrajinské publikum.
Aktuálne je už spustený predaj vstupeniek na všetky predstavenia Hlavného programu, programu Pre mladé publikum a na niektoré Bonusy. Vstupenky je možné zakúpiť online prostredníctvom webovej stránky festivalu www.dotykyaspojenia.sk alebo osobne v pokladnici SKD Martin.
Vlani sa festival pre pandémiu konal netradične v septembri a z pohľadu dramaturgie spojil dve sezóny (2019/2020 a 2020/2021), čo sa udialo po prvý raz v jeho histórii. Napriek pandémii prebehol festival veľmi úspešne a organizátori nemuseli zrušiť ani jedno naplánované predstavenie.
Festival Dotyky a spojenia je najväčšou prehliadkou inscenácií uplynulej divadelnej sezóny. Mesto Martin sa tak vždy na konci sezóny stáva hlavným mestom divadla na Slovensku.
Zdroj: TS