Nejedna žena sa vo svojom vzťahu stretla s neverou a speváčka Stefi nie je výnimkou. V jej novej pesničke sa lúči s ťažkou minulosťou a vyjadruje, že nikdy nie je neskoro posunúť sa ďalej. Názov "Budeš iba tmou" presne vystihuje celú podstatu pesničky a dokazuje, že aj cez to ťažké, čo sa vo vzťahoch deje, sa dá preniesť. Piesňou chce podporiť všetky ženy, ktoré sa vo vzťahu stretli s neverou, apeluje na posun vpred a snaží sa formou príbehu zdôrazniť celý proces – od lásky po samotu.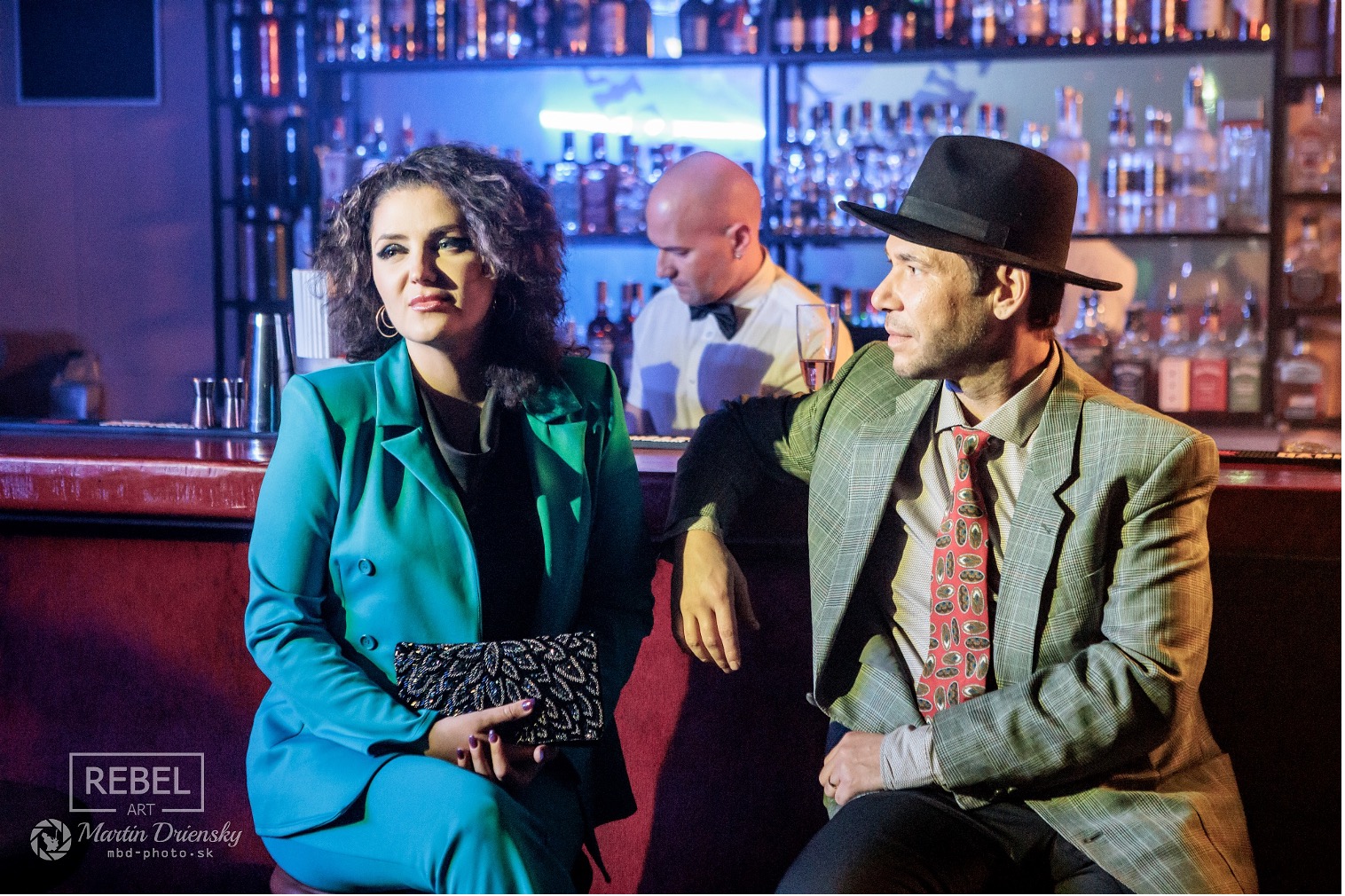 U Stefi sme zvyknutí na veselé klipy plné energie a elánu, avšak o niektorých témach sa takto spievať nedá. Klipom chcela zdôrazniť vážnosť tejto témy. Celý
videoklip a príbeh sa odohráva v Luna Bare, ktorej priestory sú doslova ako z retro filmu a spolu s hotelom Kyjev dodáva klipu nostalgický nádych. O minulosti v šate minulosti. Chýbať nesmelo ani retro autíčko – originálna "Škodula" doplnená hlavným antagonistom – mestským mafiánom, ktorý má pod palcom nielen mesto, ale aj miestnu políciu. Čo myslíte ako to pre mafiána dopadlo?
Čo prezradila Stefi o albume?
Všimli sme si, že sa sústreďuješ na hudbu zameranú na self-healing. Ako ti pomáha prepracovanie svojich pocitov do hudby?
S: Ak zo seba dostanem emócie na papier a do hudby, lepšie im viem porozumieť a pracovať s nimi. Na sociálnych sieťach o tom rozprávam, prípadne natáčam nejaké krátke videá z môjho hudobného "zákulisia". Mnoho ľudí mi už písalo, že sa v tom taktiež našli a ja som rada, že im môžem pomôcť so spracovaním vlastných emócií. Je to taká vzájomná pomoc.
Teraz niečo o natáčaní a backstage. V meste sa nachádza viacero retro klubov, prečo práve Luna Bar? A ako sa ti v nej páčilo?
S: Luna poskytuje skvelé priestory a natáčali sme v taký deň a hodinu, aby sme neobmedzovali ich dennú prevádzku. Najviac sa mi páčili okrúhle boxy, ktoré vyzerali doslova ako vystrihnuté z pravého old school videoklipu. A samozrejme aj bar – zrkadlová stena plná fliaš bola dokonalým detailom. Aj samotný vstup bol do klipu vhodný, nakoľko sa v pozadí vyskytuje Hotel Kyjev. Všetko nám fungovalo ako hodinky a záberov máme taktiež dostatok, takže bolo z čoho vyberať!
Text pesničky je veľmi osobný, bola si rozhodnutá rozpovedať svoj príbeh publiku?
S: Pri tvorbe albumu som ponúkla svoj nápad o nešťastnej láske v kombinácii s retro videoklipom Djovi a producentovi Astonovi Erickovi, ani na chvíľu nezaváhal a začal tvoriť. Za túto výbornú hudbu a text vďačím práve jemu. Celý nápad na túto pesničku som nosila v hlave už dlhšie, avšak teraz mám najkrajšie obdobie svojho života, v ktorom som úprimne milovaná a zdravá, a to ako po psychickej, tak aj fyzickej stránke. Potrebovala som svoje emócie nejako pretvoriť, a tak som ich začala využívať ako motiváciu k písaniu pesničiek. Niektoré sú také, ako ma poznáte – veselé, plné energie, ale všetko má aj druhú stránku. Chcem svojim fanúšikom dovoliť nazrieť aj do môjho vnútra, čo ma trápi alebo trápilo.
Hudobnú scénu uzrel nedávno aj tvoj prvý debutový album, aké máš z toho pocity?
S: Som nesmierne šťastná, že sa nám to podarilo zrealizovať. Boli to mesiace príprav, ale s celým tímom sme to zvládli a môj prvý vysnívaný album si už našiel domov aj u mojich fanúšikoch. Momentálne už pracujeme na ďalšom, nakoľko mám veľmi tvorivé obdobie, takže sa môžete tešiť na pokračovanie!
Chcela by si niečo odkázať fanúšikom?
S: Je v poriadku ak si prechádzate ťažkým obdobím, aj také musia v živote byť. Sú to tie obdobia kedy sa stávame silnejšími a lepšími verziami samých seba. Všetkých pozdravujem a ďakujem, že ma sprevádzate na mojej ceste.
VIDEOKLIP: https://www.youtube.com/watch?v=xuY1yWAYspI
INSTAGRAM: @stefi.official
FACEBOOK: https://www.facebook.com/StefiOfficial
YOUTUBE: https://www.youtube.com/@stefi.official
WEB: www.stefimusic.com
Zdroj: TS