Filmárka Zuzana Piussi, ktorá roky sleduje situáciu v slovenskej justícii, sa vrátila k svojmu rozpracovanému dokumentu s pracovným názvom V hmle, film dokončila a OČISTA bude mať svetovú premiéru 29. októbra 2021 na prestížnom Medzinárodnom festivale dokumentárnych filmov Ji.hlava. Dokument sleduje zblízka príbeh snahy o očistu justície a započatie jej reformy, ktorá by mala viesť k naplneniu spravodlivosti. Film sa bližšie venuje aj dvom šokujúcim prípadom, pri ktorých sa ukazuje, že korupcia v justícii nie je len abstraktný pojem, tretia moc môže spôsobiť aj ničenie ľudských životov, šikanu alebo krytie obrovských majetkových transferov. Najväčší medzinárodný festival venovaný autorskému dokumentárnemu filmu v strednej a východnej Európe uvedie OČISTU v súťažnej sekcii Česká radosť.
"Právo reprezentuje pevnú štruktúru spoločenských vzťahov. Keď je tento systém práva spochybnený, spoločnosť sa ocitá v hmle. V hmle bol pôvodný názov filmu, ktorý ukazoval v čom sa justícia ocitla po harabinovskej ére. Po voľbách sa rozbehla očista justície. Rozhodla som sa pokračovať v natáčaniu a zachytiť tento proces očisty cez sudcov, ale aj obyčajných ľudí ktorí chodia na pojednávania. Zo začiatku to vyzeralo nádejne, no po dvoch rokoch sa dá skonštatovať, že spoločnosť je rozdelená a prebieha mocenský boj v inštitúciách. Napriek tomu verím, že film ponúkne ľuďom okrem intenzívneho zážitku aj hlbšie pochopenie fungovania justície a jej problémov, a aj v tom je istá nádej," povedala Zuzana Piussi.
Jednou z hlavných postáv a iniciátorkou prvého aj druhého dokumentu o súdnictve je sudkyňa Katarína Javorčíková, ktorá odišla ešte pred zverejnením Kočnerovej Threemy z justície. Pred svojím odchodom napísala text "Dôvody prečo nebyť sudcom", v ktorom opísala stav slovenskej justície, najmä nevymožiteľnosť práva a odoslala ho ako vysvetlenie svojho odchodu Súdnej rade SR a všetkým sudcom. "To bol dôvod, prečo som sa začala venovať opäť tejto téme. Po voľbách nastala zmena, Katarína Javorčíková sa stala členkou Súdnej rady a zapojila sa do procesu reforiem," doplnila Zuzana Piussi.
Filmárka sa problémami bezprávia v právnom štáte zaoberala už v roku 2011 v dokumente Nemoc tretej moci, ale ani po uplynutí desiatich rokov nedošlo vo vnútri justície k zásadným zmenám a to sa týka aj vnímania jej dôveryhodnosti a nezávislosti verejnosťou.
Zuzana Piussi sleduje časozberný prípad obyčajnej ženy, ktorá je žalovaná o 300.000 eur za to, že údajne poškodila dobré meno privatizéra fabriky, v ktorej robila celý život. V druhom prípade bol diabolskou hrou zdiskreditovaný najvyššie postavený Slovák v NATO. A to všetko po rokoch, keď väčšina sudcov o problémoch v justícii mlčala a mnohí sa aj podieľali na jej zlyhávaní. Zmena politických pomerov priniesla nádej na zlepšenie a očistu justície. No nič nie je čiernobiele a dráma zápasu nie je vopred rozhodnutá.
Film Očista vznikol v koprodukcii s RTVS a s finančnou podporou Audiovizuálneho fondu (SK) a Státního fondu kinematografie (CZ), film podporil aj Rudolf Lukačka. Do slovenských kín ho prinesie spoločnosť Filmtopia.
Zuzana Piussi svojou tvorbou prináša odvážny a originálny pohľad na javy a dianie v spoločnosti; okrem iných sú to filmy: Nemoc tretej moci (2011), Krehká identita (2012) a filmy z ostatného obdobia: Obliehanie mesta (2019), ktorý na kremnickom prípade tematizuje všeobecné aspekty zápasu komunít s veľkými ťažobnými zámery a Univerzity a sloboda (2019) o patológiách v priestore univerzít v čase masifikácie a komercionalizácie vzdelania (dokument uvádza tohtoročný bratislavský festival Jeden svet), posledné dva vytvorila spolu s Vítom Janečkom. Predvlani odpremiérovala aj film Ukradnutý štát, ktorý sa snaží odkývať mechanizmy, ktoré vytvárajú kauzy a posuny informácií.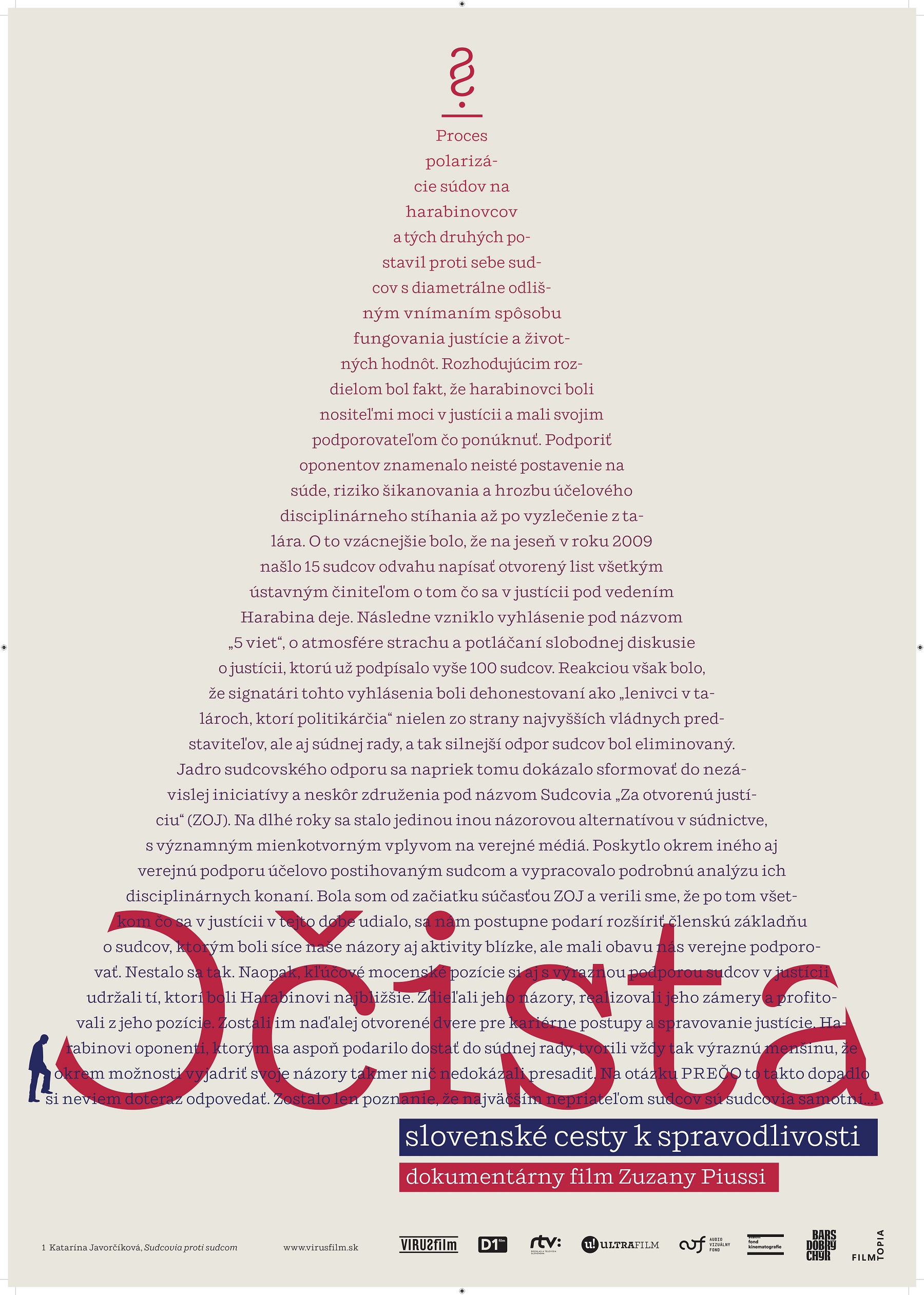 Zdroj: Zuzana Golianová, PR manažérka filmu OČISTA