Balaton Sound, jeden z najväčších a najpestrejších open-air elektronických plážových festivalov v Európe, sa v roku 2022 vráti s veľkým úspechom s najväčšími umelcami a DJ-mi v popovom a elektronickom svete. Od 29. júna do 2. júla rozžiaria idylické pobrežie Balatonu svojimi top hitmi ti najväčší headlineri ako Martin Garrix, Marshmello, Alesso, Becky Hill a ďalší.
Balaton Sound, ktorý sa nachádza na malebnom jazere Balaton v Maďarsku, sa vracia v roku 2022 a ponúka bezkonkurenčne luxusný VIP zážitok s niektorými z najväčších svetových umelcov elektronickej hudby. Balaton Sound bude hostiť top favoritov hudobných rebríčkov vrátane Alesso a Becky Hill, ako aj ocenený Martin Garrix. A čo viac, Marshmello, Jonas Blue a Robin Schulz patria medzi špičku DJov pridaných do prvého lineupu talentov, vďaka ktorej sa Balaton Sound stane najväčšou plážovou hudobnou oslavou elektronickej hudby v Európe.
Headliner festivalu Martin Garrix si na svoje ostatné vystúpenie na Balaton Sounde takto spomína: "Stále mám zimomriavky, keď si spomeniem, ako som tam naposledy hral v roku 2018, energia z davu bola úžasná. Nemôžem sa dočkať, až sa vrátim na slnečné jazero Balaton a zopakujem si to znova.
Balaton Sound, 2019
Tohtoročný festival predstaví štyri nové a jedinečné VIP priestory, všetky umiestnené pozdĺž trblietavého 50 míľ dlhého jazera, ktoré ponúka vodné radovánky pre všetkých, ktorí hľadajú luxusné vzrušenie. Oblasť jazera Balaton je rajom jedla a vína a je obklopená najlepšími maďarskými vinohradmi. Balaton Sound sa pýši tým, že získava iba najkvalitnejšie produkty práve z tohto regiónu. Na všetkých úžasných VIP miestach na festivale sa návštevníci budú cítiť ako králi vďaka neprekonateľným výhľadom, eklektickým melódiám a aktivitám, ktoré sú pre vás pripravené. Každá VIP zóna sa postará o akékoľvek vaš želanie, od masáží a make-up salónika až po čerstvé nápoje pri príchode, ako aj exkluzívne večierky a prekvapenia, ktoré si nesmiete nechať ujsť.
Nielenže môžete zažiť párty na súši, ale môžete sa aj plaviť po nádhernom jazere Balaton a stráviť pár hodín nezabudnuteľnej zábavy, ku ktorej sa pridajú priatelia, návštevníci festivalu a samozrejme jedny z najlepších svetových umelcov.
Tohtoročný festival predstaví štyri nové jedinečné a úžasné VIP miesta vrátane obnoveného VIP na hlavnom pódiu, kde sa hostia môžu baviť priamo pri headlinerovi v akcii, a VIP Pobrežie, ktoré prichádza s neprekonateľnými výhľadmi a epickými melódiami… a ešte omnoho viac!
Lost Frequencies (Felix De Laet) : "Som tak nadšený, že som konečne späť! Balaton Sound patrí ku klasike. Je to tiež jeden z prvých veľkých festivalov, ktoré som si odškrtol zo svojho zoznamu, a preto bude mať vždy špeciálne miesto v mojom srdci. Nemôžem sa dočkať, až znova zacítim tú atmosféru!" Ďalší umelci budú oznámení v najbližších mesiacoch.
Lineup v abecednom poradí A-Z
Alesso
Alok
Becky Hill
Carnage
Dimitri Vegas & Like Mike
Dillon Francis
Jonas Blue
Imanbek
Lost Frequencies
Martin Garrix
Marshmello
Malaa
Modestep live
Moksi
Nervo
Paul Kalkbrenner
Paul Van Dyk
Sikdope
Timmy Trumpet and Robin Schulz
Vini Vici
Blastoyz
Yellow Claw
Balaton Sound 2022 sa bude konať na jazere Balaton v Maďarsku od 29. júna do 2. júla. Viac informácií nájdete na www.balatonsound.com/sk
29. Jún – 2. Júl 2022,
Jazero Balaton, Maďarsko
Vstupenky v predaji od 17. februára na balatonsound.com/sk
Cena vstupeniek:
K dispozícii iba nasledujúcich 72 hodín do 20.2. 12:00
4 Dňová vstupenka za 190 €
3 Dňová vstupenka za 165 €
VIP vstupenky a upgrady budú v predaji od 24. februára
www.balatonsound.com/sk
www.facebook.com/balatonsoundslovakia
www.instagram.com/balatonsound_slovakia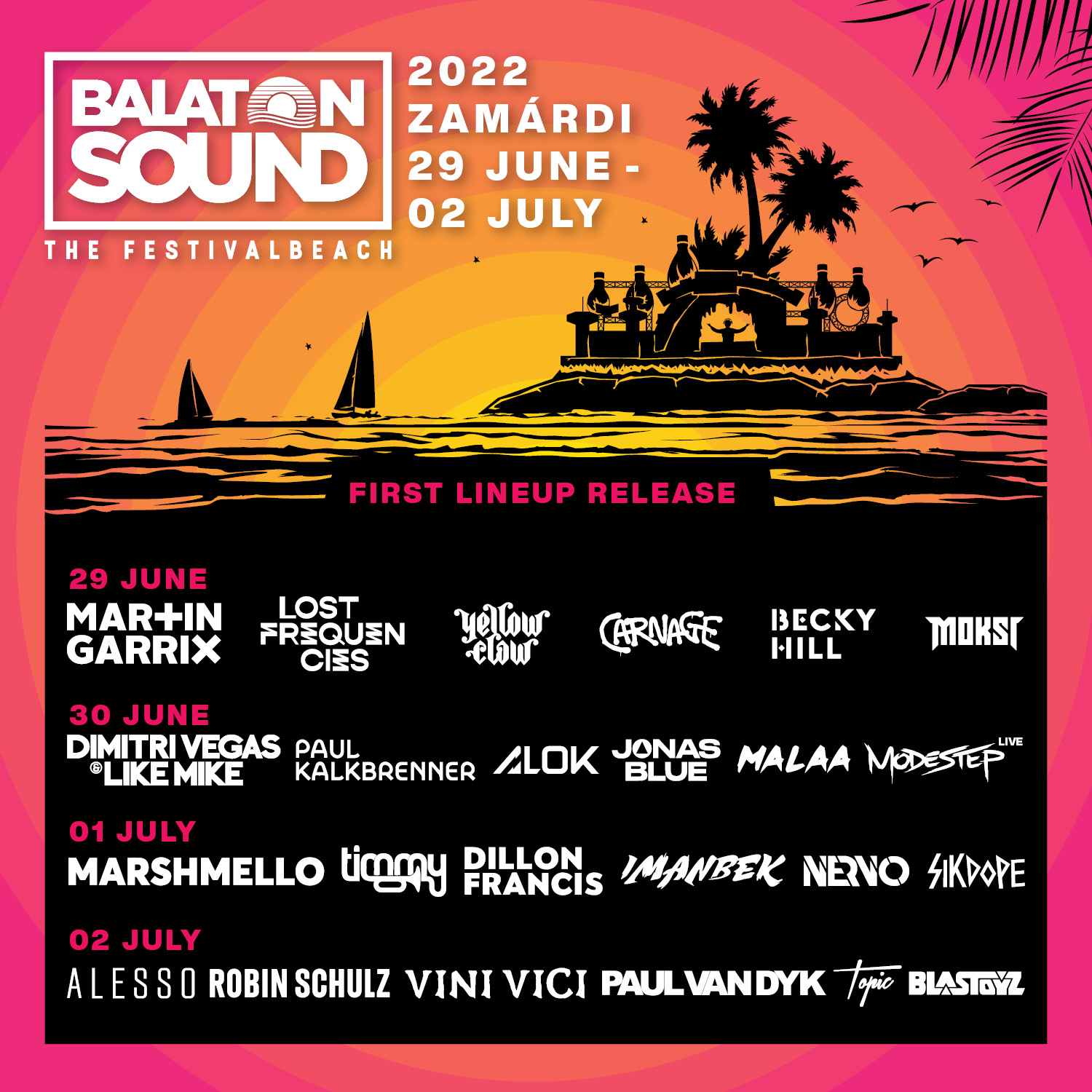 Zdroj: Baloton Sound