Vůbec prvním festivalem na světě, který bude vodíkem pohánět jednu ze scén, se stane nadcházející Rock for People Hope. Postará se o to vodíkový generátor H2BASE. Za vývojem této čisté ekologické technologie stojí čeští inženýři ze společnosti DEVINN. Festival se v novém a přívětivějším areálu na letišti v Hradci Králové odehraje 13. – 14. srpna 2021.
Příznačně bude H2BASE pohánět O CO2 JDE stage, powered by H2BASE, na níž se během dvou dnů vystřídají zhruba dvě desítky špičkových umělců, řečníků a dalších kreativních osobností. Propojuje je důraz na inovace, posouvání hranic oborů, v nichž působí, nebo zájem o životní prostředí. Mezi chystaná témata patří i obnovitelné energie a energetická soběstačnost, k níž vodíkové pohony jako H2BASE zásadně přispívají. O filmové projekce se postará tým Aerofilms, hudební produkci zajistí kapely PSH a Vanessa.
"Jsme nadšeni tím, že se tým DEVINN rozhodl H2BASE uvést do oficiálního provozu právě na Rock for People Hope. Pro náš festival i další hudební, kulturní a společenské akce se tím otevírá zcela nová kapitola. Tento český patent má oprávněně světové ambice. Ostatně, přístup festivalů k obnovitelným energiím a dalším klimatickým opatřením řeší stále více managementů kapel. Často se rozhodují právě na základě těchto aspektů," říká Michal Thomes, ředitel Rock for People.
Zapojení vodíkového generátoru do provozu festivalu je hlavní letošní aktivitou dokládající zodpovědný přístup Rock for People k životnímu prostředí i většímu komfortu návštěvníků. Zařízení, za kterým stojí česká vývojářská firma DEVINN, totiž díky palivovému článku přeměňuje vodík při sloučení s kyslíkem na vodu za vzniku velkého množství elektrické i tepelné energie. Jediným odpadem této reakce je destilovaná voda.
Elektřina z vodíkového generátoru byla využita v rámci několika akcí – brněnskou konferencí architektů počínaje, oblastmi jižní Moravy zasaženými tornádem konče. Své uplatnění si zařízení nachází jako primární zdroj energie pro kulturní eventy, ale i jako záložní zdroj v případě výpadků energie ze sítě. Hudební festival ale bude zařízení napájet poprvé – a jde o premiéru nejen pro H2BASE, ale i pro celý svět.
"Rock for People je prvním festivalem na světě, který bude napájet vodík a pro nás je přesně toto směr, kterým by se v kultuře mělo jít. O obrovském potenciálu vodíku nejsme přesvědčeni jen my – sází na něj řada světových automobilek, ale i velké státy jako Německo či Japonsko. Ty staví vodíkové čerpací stanice po desítkách za rok. Česko má teď šanci být součástí světového trhu vodíkové energetiky – anebo zaspíme celosvětový trend a vodíkové technologie budeme draze nakupovat ze Západu. Právě tomu se chceme v DEVINN vyhnout, a proto to celé děláme," popisuje zakladatel a CEO společnosti DEVINN Luboš Hajský.
Po svém prvním uvedení se vodíkový generátor H2BASE stane nedílnou součástí produkce Rock for People. Doprovázet bude tým i na zahraniční konference a setkání s promotéry a pořadateli. "V dalších letech by tak mohlo mít Česko své zastoupení na nejvýznamnějších evropských a snad i světových festivalech," doplňuje Michal Thomes, který společně s vývojáři DEVINN představí inovační technologii zástupcům města, kraje a dalších organizací. Atraktivně pojaté exkurse jsou v plánu i pro návštěvníky Rock for People Hope.
Zmíněná O CO2 JDE stage, powered by H2BASE nabídne prémiový program, v němž se kultura propojuje se společenskými obory, vědou a technologiemi. Panelové diskuse a moderované rozhovory doplní taneční vystoupení nebo stand-up comedy. K nejvýraznějším hostům budou patřit hudebník a tanečník Ben Cristovao, vědec a zastánce obnovitelných energií Paul Schurink, bývalý ministr životního prostředí Martin Bursík, přední novinář a komentátor Jindřich Šídlo, Jakub Zamouřil z platformy Faktaoklimatu.cz nebo Jan Freidinger z Greenpeace.
Program doplní i prezentace aktivity DofE zaměření na kvalitní volnočasové aktivity mladých lidé nebo nezisková organizace LOONO úspěšně upozorňující na nutnost prevence zhoubných onemocnění.
Na festival se vrací i zóna vyhrazená pro aktivní sdružení a spolky z oblasti lidských práv a ochrany přírody. V roce 2011 oslavilo Greenpeace právě na festivalu RFP 20 let svého působení v Česku. Letos, při příležitosti 30. výročí, se vrací. Součástí jejich stánku bude i solární zmrzlina, nabíjení mobilů z obnovitelných zdrojů, workshopy v recyklační dílně nebo fotokoutek taktéž poháněný obnovitelnými zdroji.
Samotný festival letos investoval do rozšíření ekologického programu. Ten se týká designu z recyklovaných materiálů, zálohování PET lahví a kelímků, rozšíření sběrných míst na 13 druhů odpadu nebo zapojení solárních panelů. V prodeji budou i festivalové lahve na točenou vodu. Příjemným bonusem jsou nově zbudované hmyzí hotely.
Zodpovědný přístup se propsal i do gastro zóny, ve které návštěvníci najdou mnohem silnější zastoupení rostlinných potravin. Naopak se již nesetkají s palmovým olejem nebo mořskými rybami, které nahradily tuzemské alternativy od dodavatelů z Královéhradeckého kraje. V tomto ohledu Rock for People aplikuje ve spolupráci s lokálními partnery, jako jsou Hradecké služby, i prvky cirkulární ekonomiky.
Dvoudenní vstupenky na Rock for People Hope zakoupíte v prodejní síti GoOut za 1490 Kč, držitelům je garantováno 100% vrácení vstupného v případě zrušení akce.
Odkazy:
www.rockforpeople.cz
www.facebook.com/rockforpeople.czechrepublic/
www.youtube.com/user/rockforpeopleTV/featured
www.h2base.eu/cs/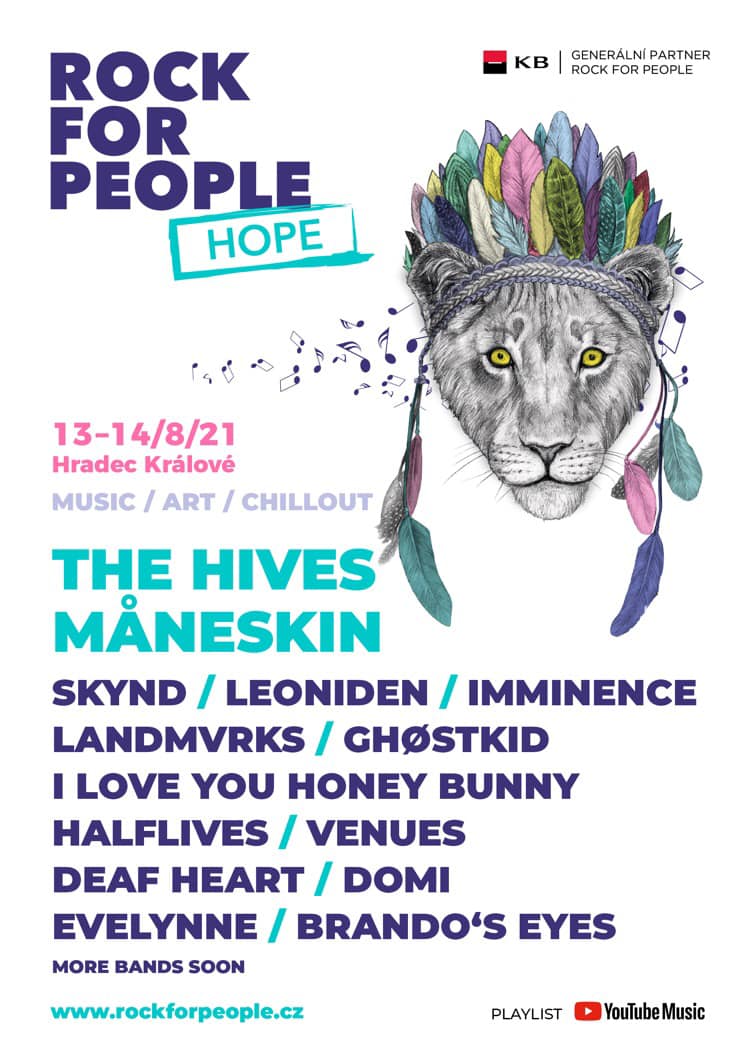 Zdroj: TS