Kreativita tímu, bizarné kostýmy, znamenitý výkon a samotný skok do bazéna. Presne také budú hodnotiace kritéria poroty Red Bull Jump & Freeze, jedného z najbláznivejších zimných podujatí, ktoré sa uskutoční už 1. apríla 2023 v Jasnej. Na svahu sa predstaví až 25 bláznivých tímov, a vedzte, že porota to nebude mať na deň D počas hodnotenia vôbec ľahké!
Bude vašim favoritom tím so sánkami v tvare lietajúceho psa Falca, alebo si vás získajú dinosaury z Jurského parku, či vo vás chuť na povzbudzovanie vyvolá tím chutných hrianok? Úprimne, pri toľkej kreativite a toľkých bláznoch to ťažké nebude mať len porota, ale aj fanúšikovia. Poďte si spolu s nami vybrať svojho favorita!
Viac informácií o Red Bull Jump & Freeze nájdete na tomto odkaze.

POROTA ZASADLA A ROZHODLA
Porota v zložení Selassie, Zitron, Jakub Grigar, Andreas Žampa a Becca to vôbec nebude mať jednoduché! Počas uplynulého týždňa sa časť tejto prísnej posádky spoločne s moderátormi Red Bull Jump & Freeze Oliverom Oswaldom a Samom Procházkom stretla v Refresher štúdiu, kde bola ich úloha jasná. Z desiatok vychytaných konceptov vybrať najbláznivejších 25, ktoré sa budú môcť už čoskoro predviesť v Jasnej. Red Bull Jump & Freeze nebude len životnou jazdou súťažiacich, ale aj zážitkom na celý život pre všetkých divákov.
Všetkých 25 tímov môžete spoznať na tomto odkaze
No dobre, nech už máte fantáziu akúkoľvek, pod niektorými názvami tímov je ťažké niečo vizualizovať. Ak teda nechcete čakať až do 1. apríla, klikajte na odkaz a zistite, čo si pre vás pripraví napríklad HAD S VAMI, či bude v tíme TITANIC bude aj Rose a príbeh zo života vám predstaví aj KÓD HNEDÁ.
Pri výbere tímov porota mala čo robiť, aby si aspoň nachvíľu zachovali vážnu tvár. "Na túto akciu sa už nesmierne teším, bude to pre mňa niečo nové. Ak by som sa aj sám mal stať členom jedného z tímov, určite by to boli HRIANEČKY, ktorí ma fakt prekvapili svojou kreativitou a originalitou. Istotne ma ale dostanú aj iné tímy a nebude ťažké ma ohromiť. Milujem zábavu a humor, takže najviac bodov poputuje tým najbláznivejším!", vyjadril sa k tímom stand-up komik Jakub Zitron Ťapák.
"Všetky tímy vyzerajú skvele, no ak by bolo treba zaskočiť nejakého súťažiaceho, rád sa pridám ku tímu KOLOTOČARI! Ak ešte niekto váha, či prísť či neprísť na 1. apríla do Jasnej, nie je o čom! Táto akcia nesmie ujsť žiadnemu milovníkovi zábavy,"doplnil Zitrona youtuber Selassie.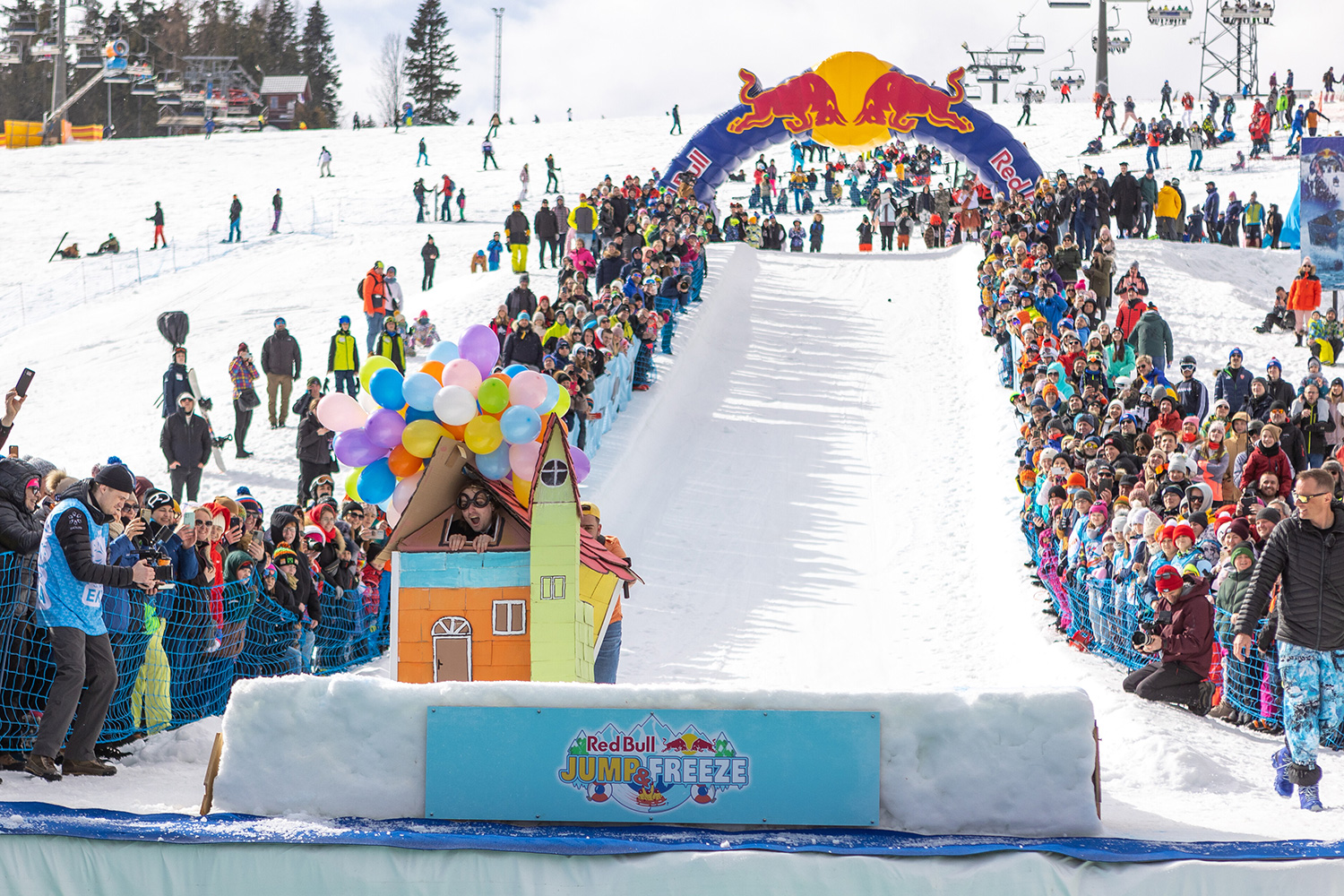 A ako vidia Jump & Freeze jeho moderátori? "Na celom koncepte sa mi najviac páči samotná zábava. Celý deň bude jedná veľká sranda! Kto nepríde, bude neskôr určite ľutovať", okomentoval Oliver Oswald, ktorý divákov aj súťažiacich prevedie celým eventom spoločne aj so Samom Procházkom. Ten si na podujatí najviac cení kreativitu tímov a celkovú spolupatričnosť. "Do súťaže by som sa v momente zapojil a zatiahol do toho aj všetkých mojich kamošov. Milujem uletených ľudí, ktorí si zo seba vedia spraviť srandu a presne o tom to aj bude. Zážitky sú to, na čom záleží, preto si to istotne nenechajte ujsť!"
Zážitky však nebudú jediné, čo si domov odnesú najlepšie tímy. Víťazov podujatia istotne poteší finančná odmena vo výške 2 000 €, tím na druhom mieste si domov odnesie 1000 € a v poradí tretí tím získa 500 €. Najhodnotnejšou výhrou však istotne bude zážitok na celý život, trofej, ktorou by sa chcel pochváliť každý, a vecné ceny od partnerov. Tomu sa hovorí druhé Vianoce!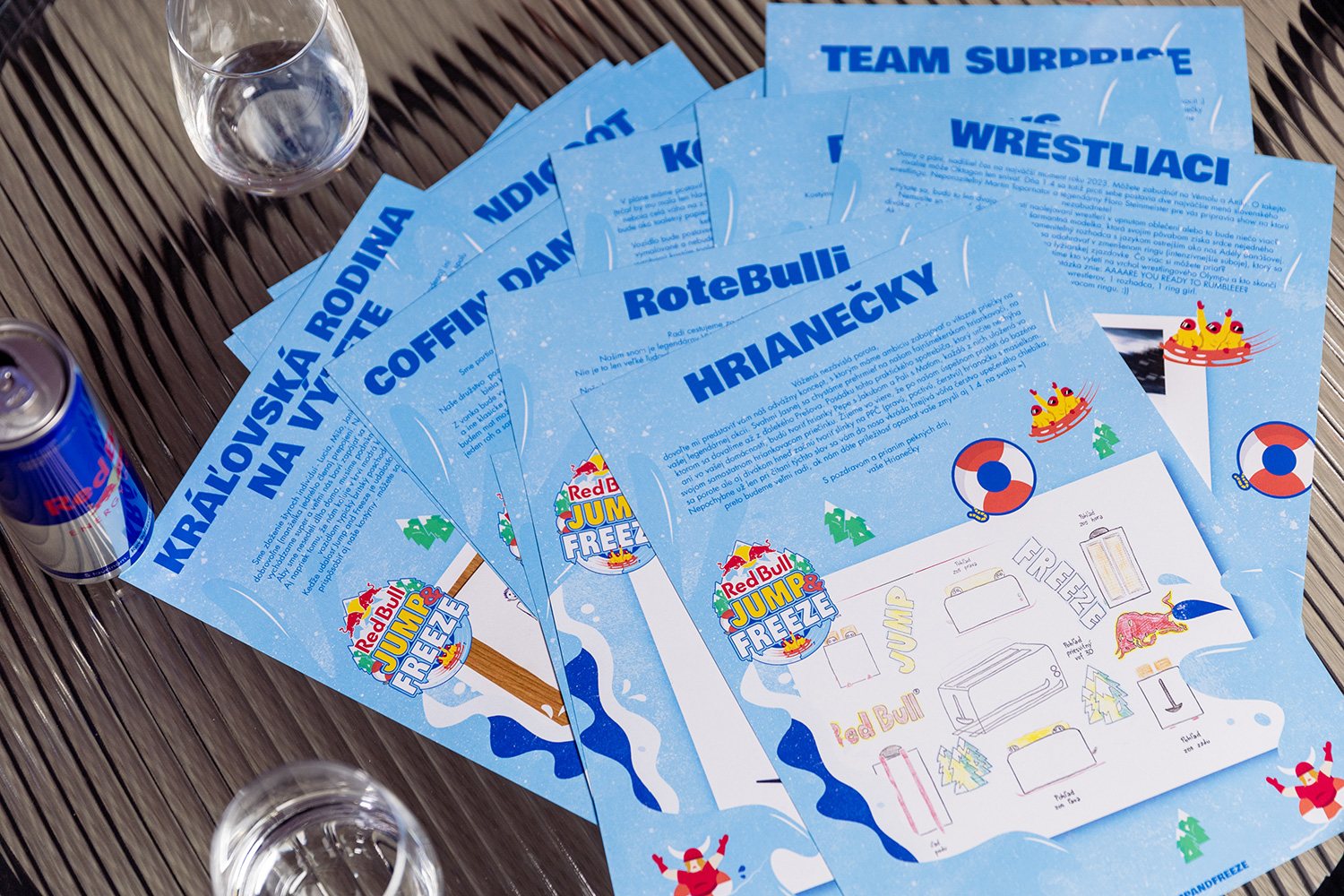 Na prázdno ale neodídu ani fanúšikovia! Všetkých totiž čaká veľká apre-ski párty, na ktorej DJ EKG všetkých roztancuje hneď po skončení súťaže. Nebude chýbať ani večerná afterka v klube Happy End, kde DJ-a EKG doplní Gleb. Tak, s kým sa vidíme?
Pre čo najčerstvejšie informácie nie len o Red Bull Jump & Freeze sledujte @redbullsk na Instagrame a TikToku.
Zdroj: Red Bull