Wu-Tang Clan patrí k najvplyvnejším hip-hopovým formáciam celej histórie. Táto partička amerických raperov a producentov pripravuje tento rok veľkolepé oslavy 30 rokov vzniku kapely a vydania debutového albumu. Parádny koncert budú mať aj na EXIT festivale, na ktorom budú koncertovať aj The Prodigy, Skrillex, Alesso, Dimitri Vegas & Like Mike, Viagra Boys, Keinemusik, Chase & Status, Claptone, Sofi Tukker, CamelPhat, Indira Paganotto, Hot Since 82 a Vintage Culture. EXIT sa koná od 6. do 9. júla 2023 v srbskom Novom Sade, kam sa dá zo Slovenska dostať pohodlne aj autobusom a napr. z Bratislavy je to len 500 km. Bližšie info o festivale sú na www.exitfest.org/en.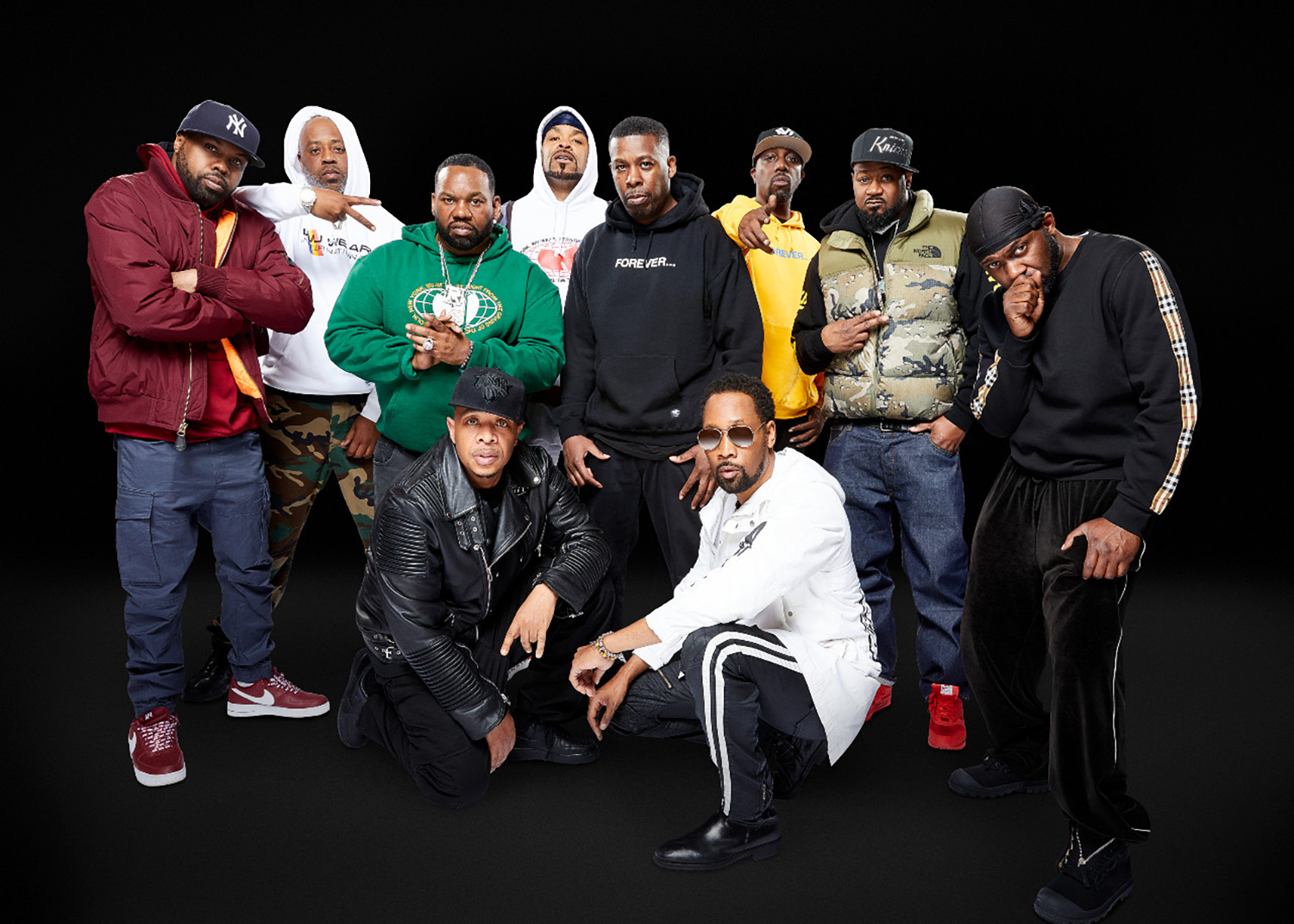 Gods of rap, ako sa tiež nazývajú Wu-Tang Clan, budú headlinerom veľkolepej oslavy 50 rokov hip hopu na festivale EXIT! Ich debutový album Enter the Wu-Tang (36 Chambers), ktorý tento rok oslávi 30 rokov od vydania, je považovaný za jeden najvplyvnejších albumov hudobnej histórie.
Najvplyvnejšia elektro-punková kapela všetkých čias, The Prodigy, sa po viacročnej prestávke vracia ako headliner na najvýznamnejšie európske festivaly vrátane EXITu! Kapela so svojimi hitmi ako Firestarter, Breathe, Smack My Bitch Up, Voodoo People, No Good (Start The Dance), Out Of Space a Everybody In The Place a mnohými ďalšími spôsobila celosvetové šialenstvo a sú neoddeliteľnou súčasťou hudobnej histórie už 30 rokov.
"Sme hrdí na to, že súčasťou tohtoročného lineupu EXITu sú The Prodigy, ktorý definovali electro-punk a Wu-Tang Clan, najväčšia rapová formácia všetkých čias. Spolu s Skrillexom, Keinemusic, CamelPhat, Indirou Paganotto a mnohými prekvapeniami, ktoré ešte zverejníme, bude EXIT jedným z najdôležitejších festivalových bodov tohto leta," povedal zakladateľ a generálny riaditeľ EXIT Festivalu Dušan Kovačević.
Na EXITe vystúpia aj drum´n´bassové ikony Chase & Status. Patria medzi najznámejších umelcov na scéne a ich búrlivá živá šou, legendárne hranie na Ibize a nadčasový album RTRN II JUNGLE z nich urobili svetové hviezdy. Na EXITe sa fanúšikovia môžu tešiť aj na štokholmského producenta a DJa Alessa, ktorý sa preslávil už svojím druhým singlom "Calling (Losing My Mind)" s One Republic a Swedish House Mafia dosiahol na vrchol rebríčka Billboard´s Hot Dance Club Songs.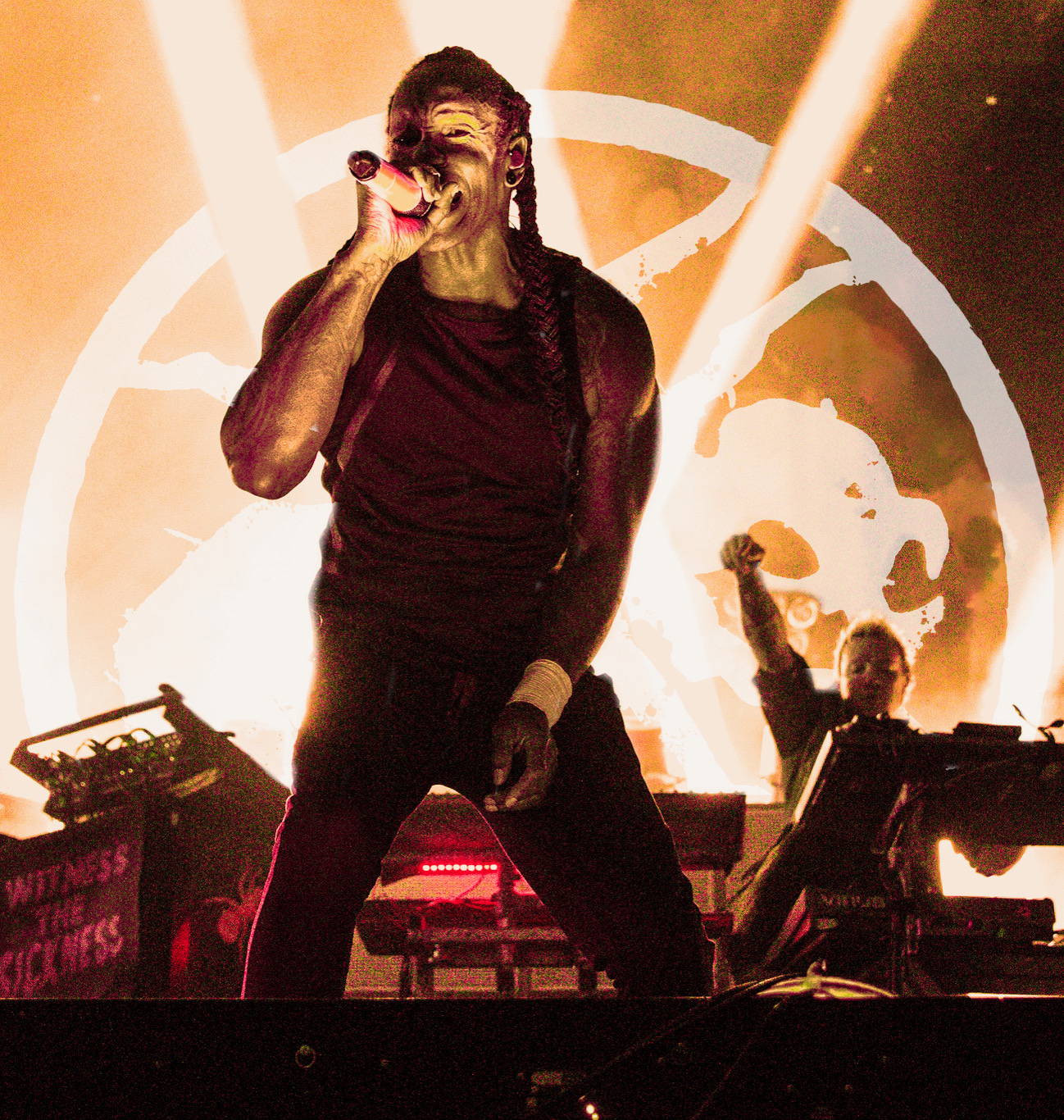 Dvojnásobní šampióni najprestížnejšej hitparády najlepších DJov sveta – DJ Mag Top 100, Dimitri Vegas & Like Mike, oslávia na EXITe dve dekády absolútnej dominancie na elektronickej scéne. Na pódiu ich vystrieda Claptone, maskovaný kúzelník, ktorý mieša uhrančivé zvuky, je umelcom labelu Sony a zakladateľom kultových akcií Masquerade. Na festivale vystúpi aj jungle-popové duo Sofi Tukker, ktoré je známe svojimi energickými živými vystúpeniami, vďaka, ktorým sa dostali na festivaly ako Coachella, Lollapalooza a Glastonbury.
Festivalová permanentka je v predaji za cenu od 87 € na www.exitfest.org/en/, čoskoro pribudne aj možnosť kúpi jednodňových vstupeniek.
EXIT je kritikmi oceňovaný srbský hudobný festival, niekoľkonásobný víťaz European Festival Awards. Domovom festivalu je Nový Sad a nádherná Petrovaradínska pevnosť zo 17. storočia, ktorá je všeobecne považovaná za jeden z najlepších festivalových areálov na svete. Vo svojej bohatej dvadsaťročnej tradícii hostil EXIT mnoho obrovských hudobných legiend ako napr. The Cure, The Prodigy, Guns N'Roses, David Guetta, Sex Pistols, Grace Jones, Arctic Monkeys, The Killers, Carl Cox, Avicii, Nina Kraviz a mnoho ďalších. V súčasnej dobe je EXIT jednou z najväčších nezávisle vlastnených festivalových organizácií na svete a rok 2022 bol z pohľadu návštevnosti rekordný – na 26 akcií v 10 krajinách si našlo cestu približne pol milióna ľudí, čo je najviac v histórii.
Doteraz oznámený line-up podľa dní (20. 2. 2023):
DEŇ 1:
THE PRODIGY
CHASE & STATUS DJ SET
INDIRA PAGANOTTO – VIAGRA BOYS
BORE BALBOA – CHARLIE TEE – GRŠE – IGNITE – MIMI MERCEDEZ – WOLFBRIGADE
MORTAL KOMBAT – SARASVATI DRUNA BEND
DEŇ 2:
SKRILLEX
CAMELPHAT
BURAK YETER – HUMAN RIAS – LF SYSTEM
CRNI CERAK & LACKU – DINO BLUNT – KENDI – KENE BERI & SPEJS NOKSI – MIDNIGHT – MIRROR – RUŽNO PAČE – SUR AUSTRU – TTM – YUNG BUDE
ZOE KIDA
DEŇ 3:
ALESSO
CLAPTONE – HOT SINCE 82 – SOFI TUKKER – VINTAGE CULTURE
2xŠIHTA – 30ZONA – COCKNEY REJECTS – HILJSON MANDELA – OGNJEN – PODOČNJACI – THE BAR STOOL PREACHERS – SUZI MOON – Z++
DEŇ 4:
WU-TANG CLAN
DIMITRI VEGAS & LIKE MIKE
KEINEMUSIK
BOLESNA BRAĆA – FOX & SURREAL – MACHA RAVEL – MICKA LIFA – PRTI BEE GEE – SACRED REICH – SMOKE MARDELJANO & AJS NIGRUTIN – TAM THE TOASTERS
BEGE FANK – NJEZZ – PHAT PHILLIE – THICC BOI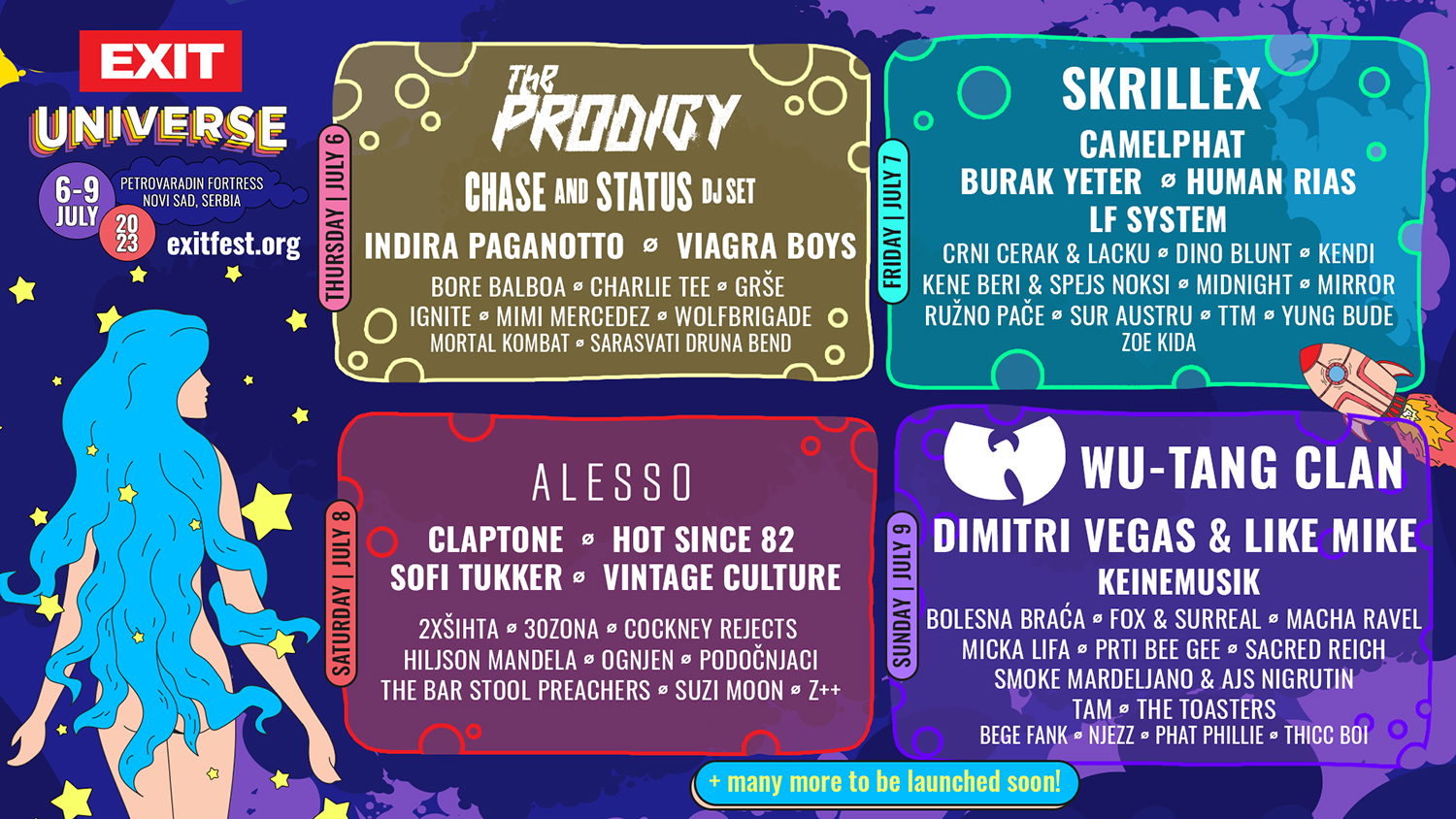 Zdroj: Exit