Úspešná britská speváčka Ellie Goulding rozžiari letné Colours of Ostrava a stane sa ďalšou hviezdou tohto medzinárodného hudobného festivalu spolu s kapelou OneRepublic, raperom Macklemorom a nigérijským spevákom Burna Boyom.
Je jednou z najúspešnejších britských hudobníčok posledného desaťročia, ktorá sa dostala na vrcholy hitparád s hitmi ako Burn, Holding on for Life, Figure 8, Starry Eyed, Lights a Power. Získala dve ceny Brit Awards, BMI London Awards a nominácie na Grammy a Zlatý glóbus. Predala osemnásť miliónov albumov a jej počty streamov dosahujú desať miliárd. Naspievala ústrednú pieseň k filmu Päťdesiat odtieňov sivej, Love Me Like You Do. Hitom soundtracku k filmu Dieťa Bridget Jonesovej bola pieseň Still Falling For You, ktorú napísala spolu s Tove Lo. Spievala v Bielom dome aj na svadbe princa Williama a Kate. Na Colours of Ostrava príde so svojím úplne novým albumom Higher Than Heaven, ktorý vyjde 24. marca. Ellie Goulding je popri svojej hudobnej kariére aj významnou environmentálnou aktivistkou a filantropkou, ktorá svoju hviezdnu kariéru využíva na pomoc iným.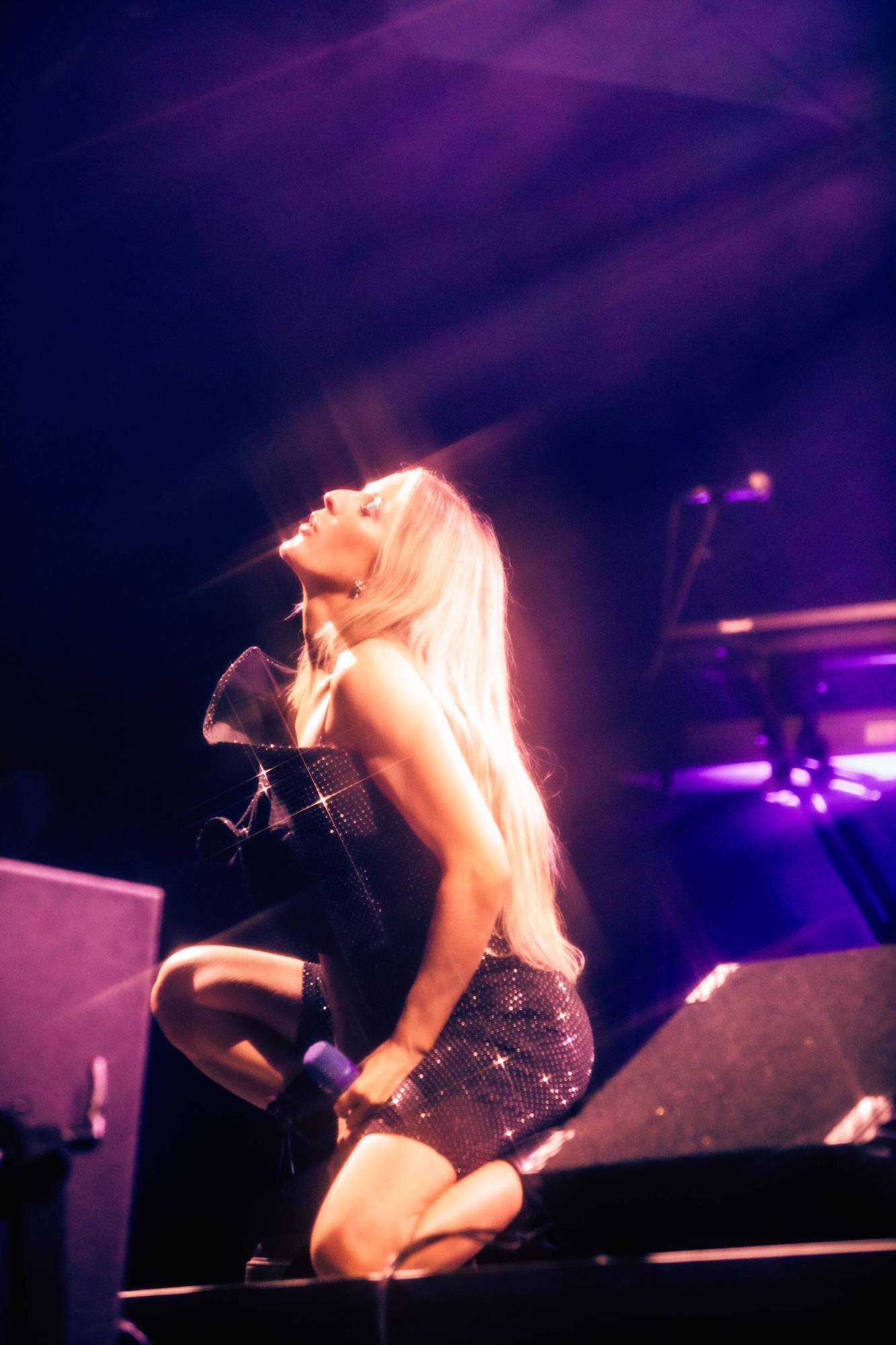 "Ellie Goulding bude ozdobou tohto ročníka, jej koncerty predchádza skvelá povesť. Ostatné novo potvrdené mená predstavujú popri popu širokú škálu žánrov – to najzaujímavejšie, čo sme na našich cestách po svete videli," hovorí na úvod riaditeľka Colours of Ostrava Zlata Holušová. "Ako je naším zvykom, africká hudba bude opäť bohato a predovšetkým veľmi rozmanito zastúpená. Nielen zo samotného kontinentu, ale aj z konžskej diaspóry v Kanade," vysvetľuje Holušová.
Do programu Colours of Ostrava pribudli francúzsky synthwave priekopník Kavinsky, berlínske producentské trio Gheist a francúzsky glitch jungle bassový skladateľ a producent CloZee. Africkú hudbu v Ostrave toto leto predstaví nigérijský skladateľ, saxofonista a klávesista Seun Kuti, najmladší syn vynálezcu afrobeatu Felu Kutiho, po ktorom Seun prevzal legendárnu skupinu Egypt 80 a nadviazal na revolučný odkaz svojho otca. Afro-futuristický, basový, elektro-funky zvuk z podzemia africkej diaspóry v Montreale prinesie do Ostravy Moonshine a spevák a raper Pierre Kwenders. Francúzsko-alžírska skupina Al-Qasar ukáže, ako znie svieži punk-rockový arabský grunge. Medzi ďalšie novinky v programe patrí šesťčlenná skupina Holy Moly & The Crackers z Newcastlu, ktorá roztancuje publikum zmesou folk-rocku, punku, blues a soulu, alebo hviezda kanadskej hip-hopovej scény Haviah Mighty, prvá černošská raperka, ktorá získala prestížnu kanadskú cenu Polaris Prize.
Potvrdené zahraničné mená pre Colours of Ostrava 2023 sú zatiaľ: OneRepublic (USA), Macklemore (USA), Burna Boy (Nigéria), Ellie Goulding (Spojené kráľovstvo), Niall Horan (Írsko), Jacob Collier (Spojené kráľovstvo), Gilberto Gil & Family (Brazília), Kavinsky (Francúzsko), Sleaford Mods (UK), Tom Grennan (UK), Al-Qasar (Francúzsko/Alžírsko), CloZee (Francúzsko), Garden City Movement (Izrael), Gheist (Nemecko), Hania Rani(Poľsko), Haviah Mighty (Kanada), Holy Moly & The Crackers (Veľká Británia), Imed Alibi & Khalil EPI (Tunisko), LaBrassBanda (Nemecko), Lubomyr Melnyk (Kanada / Ukrajina), Lala Tamar (Izrael), Luke Howard (Austrália), Moonshine (Kanada), Pierre Kwenders (Kanada/Demokratická republika Kongo), Seun Kuti & Egypt 80 (Nigéria), Son Rompe Pera (Mexiko), Tarante Groove Machine (Izrael), The Comet is Coming (UK), The Longest Johns(UK), The Teskey Brothers (Austrália), Trad.Útok! (Estónsko).
Celkovo ponúkne festival Colours of Ostrava od 19. do 22. júla 2023 program plný veľkých hviezd, strhujúcich kapiel všetkých žánrov z celého sveta na desiatich hudobných scénach v unikátnom industriálnom areáli ostravských Dolných Vítkovíc a výnimočný nehudobný program vrátane medzinárodného fóra Meltingpot, divadiel, filmov, workshopov a umeleckých aktivít na mnohých ďalších scénach.
Štvordňové a jednodňové vstupenky sú v predaji na www.colours.cz a v sieti GoOut.
Viac informácií o www.colours.cz.
Zdroj: Zdenko Hanout, Colours of Ostrava