Ona je úspešná speváčka žijúca v Anglicku. On úspešný herec v Slovenskom národnom divadle. Nikdy predtým sa osobne nestretli, ale napriek tomu si navzájom vždy fandili. On sa do nej platonicky zamiloval a ona sa počas nakrúcania videoklipu nechala viesť jeho nespútanou energiou. Mali len 48 hodín a nikto neveril, že to stihnú. Vypočujte si Lovestory – titulný song k novému slovenskému filmu Čierne na bielom koni, ktorý naspievala Jana Kirschner s Milanom Ondríkom.
Koncom augusta oslovil režisér Rasťo Boroš Janu Kirschner s prosbou o nahratie titulnej piesne k jeho novému filmu. V danom období speváčka nemala vôbec čas, avšak v polovici septembra sa s kapelou náhle ocitla v nahrávacom štúdiu, kde pieseň hneď aj nahrala. Nikto však nevedel, aký bude mať pesnička ďalší vývoj.
"Príbeh filmu i jeho hrdinov som poznala veľmi dobre, keďže môj partner Eddie Stevens do neho pol roka komponoval hudbu. V texte som sa snažila vyzdvihnúť okamihy a emócie, ktoré vo mne z filmu najviac zarezonovali. Popritom som stále rozmýšľala nad tým, kto by mohol pieseň spolu so mnou naspievať. Nakoniec som si vybrala Milana Ondríka, ktorý je aj hlavným hrdinom filmu Čierne na bielom koni. Vybrala som si ho preto, lebo som si myslela, že by naše hlasy a charaktery mohli medzi sebou správne ladiť a fungovať. Od prvého momentu nášho stretnutia bolo všetkým hneď jasné, že to bolo dobré rozhodnutie," teší sa z novej spolupráce Jana Kirschner.
"Bol som šokovaný, keď mi zavolal režisér a scenárista filmu Rasťo Boroš a povedal mi, že by bola Janka rada, keby som s ňou pieseň naspieval ja. Šokovaný som bol aj preto, že do Janky som dlhodobo platonicky zamilovaný. Mám ju rád a baví ma energia, ktorá z nej ide, preto som hneď súhlasil – s Jankou kedykoľvek."
Najnáročnejšie pri vzniku piesne bolo zladiť kalendáre oboch hlavných predstaviteľov Lovestory. Z počiatku ani režisér filmu neveril, že sa Jane podarí s Milanom pieseň nahrať a tobôž natočiť k nej aj videoklip.
"Keď som povedala režisérovi, že chcem, aby to spieval Milan Ondrík, s ktorým plánujem natočiť aj videoklip, tak sa len zasmial a povedal, že sa nám to v žiadnom prípade nepodarí. Našťastie, nám priala šťastena a Milanovi sa náhodou uvoľnili dva dni v kalendári, ktoré sme okamžite využili. Bolo to síce všetko za behu, ale zvládli sme to. Milan je veľký profesionál a som rada, že na Slovensku pribudol ďalší spevák so skvelým hlasom," vyjadrila sa Jana Kirschner.
"Keď malo prísť samotné nahrávanie, začínal som pociťovať stres, pretože nie som typ človeka, čo po prvom vypočutí vie pesničku okamžite aj zaspievať. Musím sa to najskôr naučiť. Preto som Janke hneď v úvode povedal – Ahoj Janka, mám strach z toho ako to nahrám, ale som do teba, takže sa to posnažím spraviť, čo najlepšie. Aj som si v štúdiu, v rámci uvoľnenia sa, trochu pokričal i zanadával. Napokon sa však moje obavy rozplynuli, pretože Janka ma skvelo odkoučovala a pomohla mi nájsť správnu farbu môjho hlasu, za čo jej ďakujem," teší sa z piesne Milan Ondrík.
Videoklip k piesni sa nakrúcal skoré sobotné ráno v obci Dlhá, ktorá sa nachádza neďaleko Trnavy. Autorom videoklipu je režisér filmu Čierne na bielom koni Rasťo Boroš.
"Pri nakrúcaní videoklipu bol Milan absolútne vo svojom živle. Bolo to šialené, ale zároveň to bolo veľmi oslobodzujúce a pekné. Režisér vycítil chémiu medzi nami a rozhodol sa do toho príliš nezasahovať. Jeden deň som potiahla ja Milana, druhý deň potiahol Milan mňa. Musím povedať, že to je naozaj kráľovský zážitok sledovať Ondríka ako šoféruje, popritom fajčí cigaretu, spieva pesničku a ja na zadnom sedadle rozhadzujem kvety. Na túto našu Lovestory nikdy nezabudnem, pretože to bol veľmi intenzívny zážitok, hoc trval celý len 48 hodín. Niekedy je fajn si pripomenúť, že z tých spontánnych vecí vznikajú najväčšie radosti, ktoré v človeku navždy zostanú," poznamenala Jana Kirschner.
"S Jankou sme sa smiali a doberali, že ona ma koučovala v štúdiu a ja ju v Cadillacu, ale nebola to pravda, pretože, keď sme si pustili našu pieseň vo filmovacom aute, to auto si ju hneď tak zamilovalo, že v ňom nebolo treba vytvárať žiadnu atmosféru. Bolo to celé super. Keď sme skončili a všetci sa rozutekali domov, zostalo mi normálne smutno. Občas sa mi to stane, väčšinou keď točím s partiou intenzívne dva mesiace v kuse, ale tu mi zostalo smutno po dvoch dňoch, čo bol pre mňa jasný signál, že mi s Jankou bolo dobre," prezradil Milan Ondrík.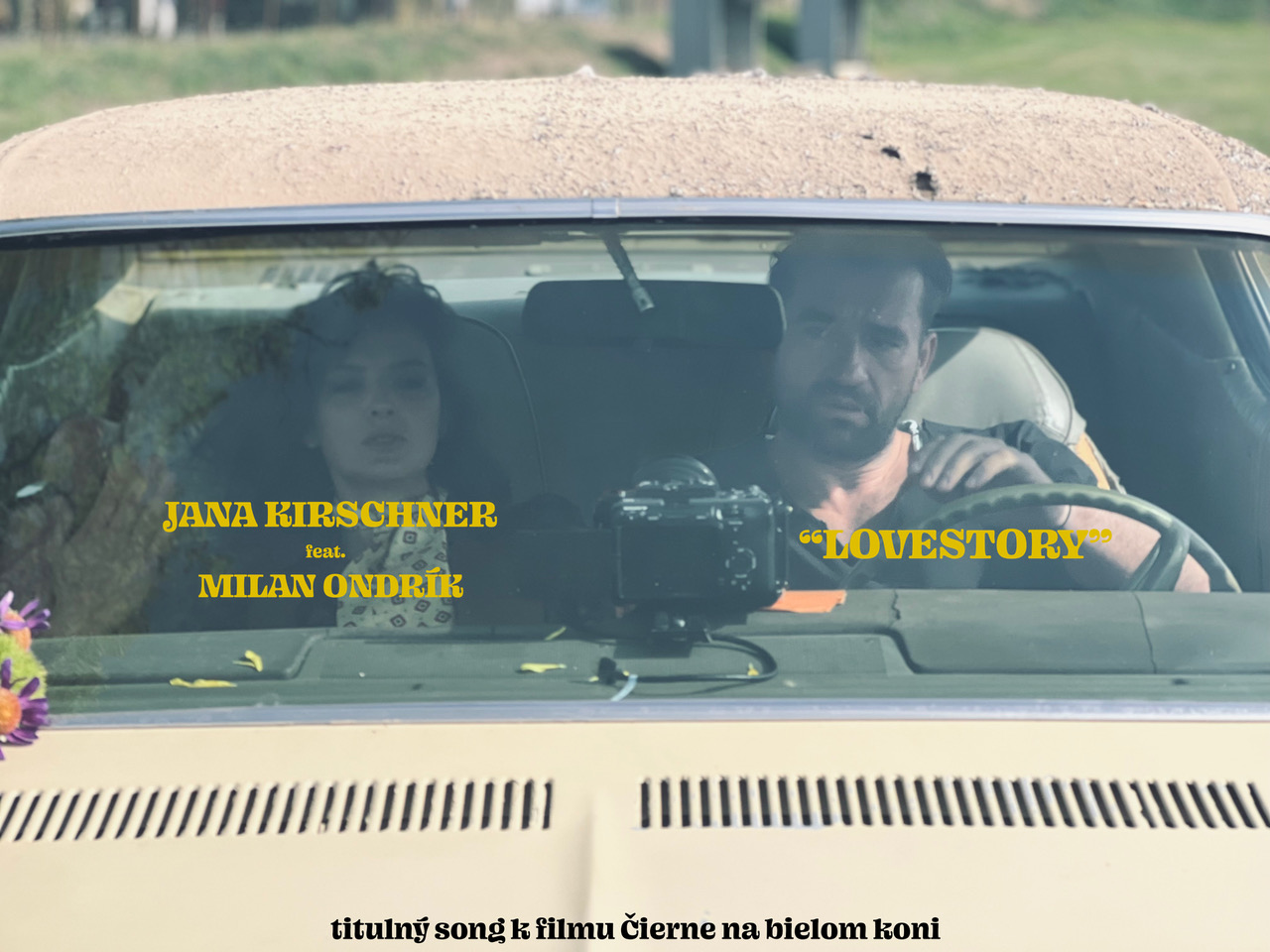 "Milan šoféroval a vozil Janku, spievali a ja som šoféroval iné auto a poletoval okolo nich, aby kameraman – vystrčený z okna – natočil skvelý záber. Bolo to strašne spontánne, autentické a najkrajšie bolo, že som mal pocit, že sme kamoši, ktorí sa hrajú," teší sa z titulnej piesne a videoklipu režisér, scenárista a producent filmu Rasťo Boroš.
Film Čierne na bielom koni, ktorého titulnú pieseň naspievala Jana Kirschner a Milan Ondrík, je romantická gangsterka z osobitého kraja na periférii Slovenska, zabudnutého v čase kdesi na hranici dvoch krajín. V slovensko-maďarskom národnostne zmiešanom prostredí film rozpráva tri komediálne príbehové linky v ôsmich kapitolách. Okrem Milana Ondríka sa vo filme predstaví Rebeka Poláková, Attila Mokos, Tomáš Mischura, Jana Kovalčiková, Petr Vaněk, Tomáš Jeřábek a Zoltán Mucsi. Do slovenských kín vstúpi film 13. októbra pod krídlami distribučnej spoločnosti Continental Film.
Zdroj: TS