Planéta Mars, tím astronautov odoberá vzorky na výskum, keď sa priženie nečakane silná prašná búrka, ktorá prinúti výskumníkov opustiť planétu. Pri úniku pred búrkou sa stratí v neprehľadnej situácii jeden astronaut Mark Watney (Matt Damon), ktorého členovia zachráneného tímu považujú za mŕtveho, nakoľko sa nehlásil do vysielačky a ani iné veci nenasvedčujú tomu, že by mohol byť na žive.
Druhý deň po búrke sa Mark Watney preberá zahalený prachom z omráčenia, ktoré mu privodilo silný náraz ulomeného objektu, je zranení, je sám na neprebádanej planéte, kontakt s akoukoľvek záchranou je v nedohľadne, zásoby na prežitie má na niekoľko desiatok dní, začína jeho boj o život, pokiaľ to má vlastne ešte nejaký význam…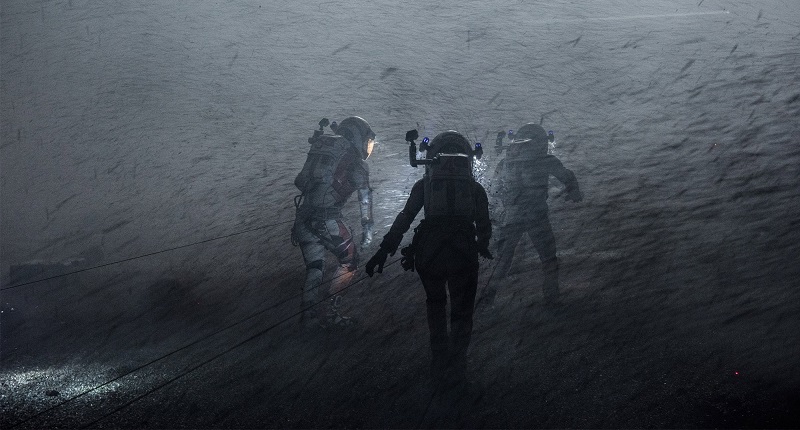 Režisér Ridley Scott sa nešetrí ani v pokročilom veku a točí jeden výborný film za druhým a aktuálne len potvrdzuje že mu sci-fi žáner sedí, nakoľko je jeho meno späté s už uznávanými a kultovými filmami ako Votrelec (Alien, 1979) alebo Blade Runner (1982), prípadne aj nezaslúžene opovrhovaným predpríbehom k votrelcovi Prometheusom (2012).
Teraz sa v dobrom svetle ukazuje práve z jeho Marťanom, treba uznať že zas milo prekvapuje, nakoľko jeho novinka už prekonala v komerčnom merítku doterajšie rekordy, ktoré držal s filmom Gladiátor(2000) vďaka ktorému sa v  dobe na prelome nového milénia dostal opätovne do hviezdnej spoločnosti najvýraznejších režisérov a odvtedy nám ponúka jeden vizuálny skvost za druhým. Bezkonkurenčne sa dá povedať, že v novom tisícročí by ste len ťažko hľadali režiséra, ktorý by viac dominoval na poli historických filmov (Gladiátor, Kráľovstvo nebeské, Robin Hood, Exodus) a aktuálne sa zviditeľňuje v žánri, ktorý rozbiehal jeho kariéru teda sci-fi, aj keď teraz po jeho temnejších projektoch atmosférou zjemnil.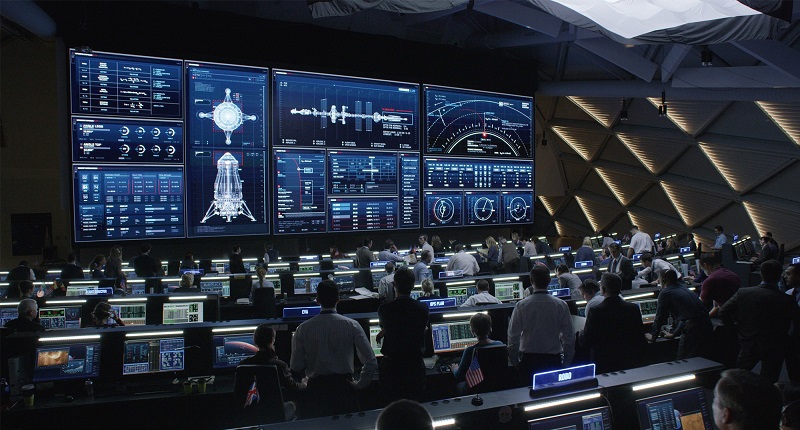 Blíži sa obdobie nominácií na prestížne ceny a tak bude určite zaujímavé ako si jeho film bude počínať pri nomináciách na Zlatý Glóbus alebo aj Oscara! Nakoľko sme tu mali v roku 2013 podobný žánrový film Gravitácia, ktorá mala veľký úspech po komerčnej stránke ale aj ohľadne získavanie významných cien, keď ukoristila až 7 Oscarov! A Ridley Scott by si už veru zaslúžil získať významné ocenenie po troch nepremenených nomináciách na Oscara za réžiu.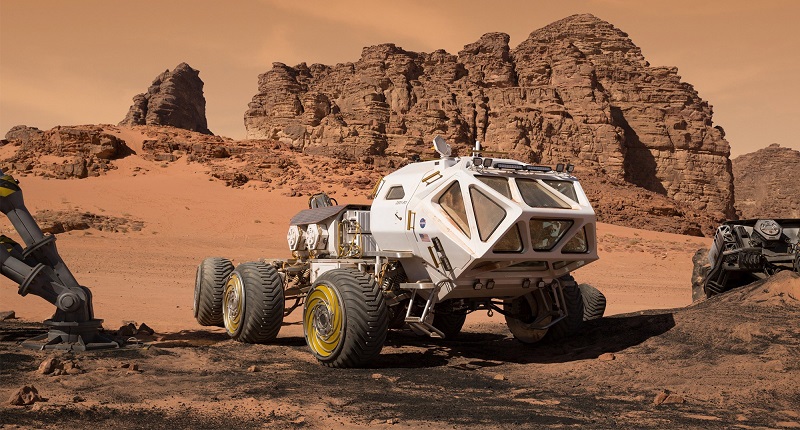 Film Marťan je nadmieru zručne natočení, má dobre vystavaní dramaticky dej, čím dokáže zaujať široké publikum, čo sa premietlo na výbornom komerčnom úspechu a za celý rok ide o film ktorý najpomalšie klesá v rebríčku Box Office, v siedmom týždni pôsobenia v kinách sa stále drží na pôde USA v Top 5, čo sa nepodarilo ani Jurskému Svetu. Vráťme sa k príbehu, kde nájdeme mix všetkého potrebného ako drámy, napätia, bádateľskej hravosti a nápaditosti, NASA nám urobí prehľad ich všemožných technických výdobytkov a vrátime sa aj do minulosti, keď nám tu predstavia prvé výskumné moduly čo pristáli na Marse, toto všetko je pekne zakomponované do deja. Svoje tu urobia aj príjemne odľahčené scénky, ktoré vyčarujú úsmev na tvári a robia u kus lepší pôžitok z tohto vesmírneho dobrodružstva. Všetko to je zabalené v úžasnom vizuály, čo je u Scotta brilantná technická práca, ktorá zdobí všetky jeho filmy a konkurenčne by ste asi ťažko hľadali nejakého režiséra, ktorý by si dal z vizuálnou stránkou viac námahy, takže scény pôsobia veľkolepo, strhujúco, epicky, čo len zvýrazní efektné 3D.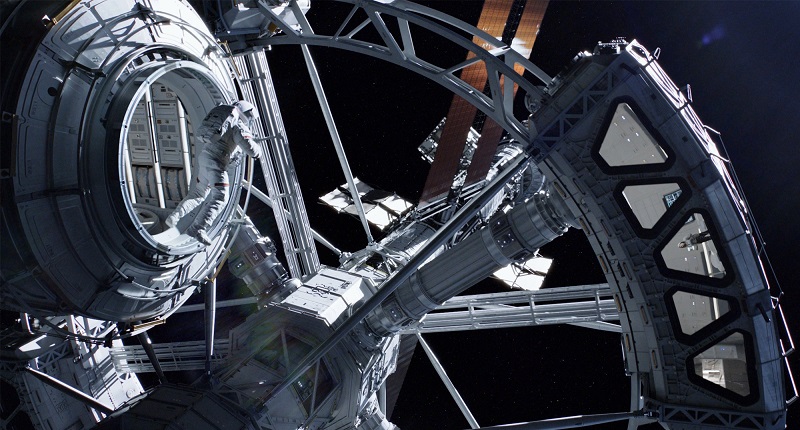 Ozdobou filmu je aj výborne hrajúce osadenstvo, bohatý menoslov si tu zastane svojho mená a každý part tu má nejaký význam. Hlavní ťahúň ale ostáva Matt Damon, ten po menej vydarenom pôsobení v sci-fi Interstellar, kde jeho postava pôsobila dosť otravne, práve tu vyniká, aj keď v podstate išlo v obidvoch prípadoch o veľmi podobní tip úlohy. Vo filme je určite aj zaujímavé na to ako poukazuje ako kvôli jednému ľudskému životu v ďalekom vesmíre sa ide obetovať toľko vecí, financií, času, či dokonca iných ľudských životov a popri tom to tu na našej planéte všetko zadŕha v neustálych medzi ľudských konfliktoch a nesúdržnosti.
Ridley Scott len potvrdil, že za skromnejší rozpočet dokáže natočiť dva krát pôsobivejší film, než by sa na prvý krát zdalo že bolo investované, čo už potvrdil niekoľkokrát. Pri jeho filmoch je badateľná prepracovanosť ohľadom výpravnosti, takže počítačová animácia tu až tak zbytočne nevytŕča.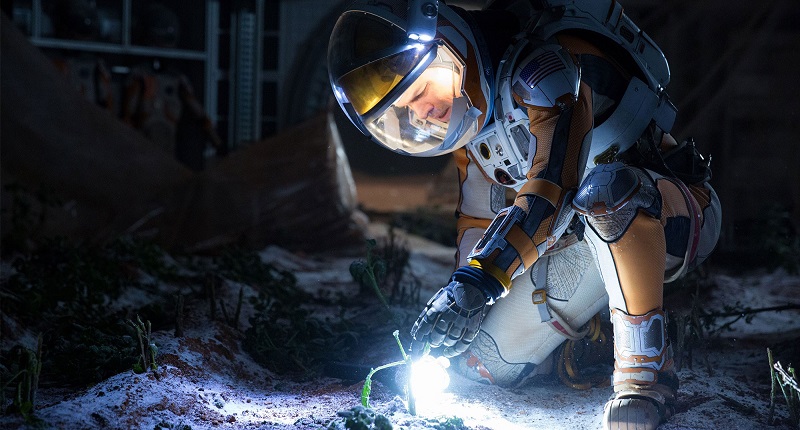 Hodnotenie filmu: 95%
Komerčný ohlas filmu Marťan (k 15.11.2015):
Originálny názov: The Martian
Rozpočet: $108 miliónov
Otvárací víkend v USA: $54,308,575
Tržby v USA: $207,394,787
Tržby mimo USA: $270,960,020
Tržby Celosvetovo: $478,354,807
V Slovenských kinách od: 01.10.2015

Napísal: Matúš Gajdošech