Legenda česko-slovenskej hudobnej scény 90. rokov, ktorá získala titul Skupina roka, niekoľko Platinových a Zlatých platní a tiež ocenenia ako Skladba roka či Album roka, vyráža aj s doprovodnou kapelou na koncertnú šnúru do 10 miest Slovenska. Ide o prípravu na veľkolepú Party Roku, ktorá sa uskutoční 22. septembra v bratislavskej NTC aréne. V rámci tohto prípravného turné predstaví Maduar naživo svoje najväčšie hity ako Hafanana, Do It, Anjel či One Way Ticket, doplnené o ďalšie známe skladby z doterajších 7 albumov. Celý program bude sprevádzať na mieru šitá videoprojekcia na veľkoplošnej LED stene. Návštevníkov čaká neopakovateľný koncertný večer plný nostalgie a známych refrénov, počas ktorého si budú môcť zaspomínať na staré časy a pripomenúť si elektrizujúcu atmosféru 90. rokov.
"Tento rok je pre nás výnimočný. Spustili sme aktivitu s hashtagom #ShowHowMadUAr (v preklade Ukáž Aký Si Bláznivý), ktorá je slovnou hračkou nášho názvu a jej cieľom je priniesť naším fanúšikom niečo pozitívne. Má ich povzbudiť k tomu, aby si plnili svoje sny, nech sú akokoľvek bláznivé. A my im v tomto chceme ísť príkladom. Aj preto sme sa rozhodli v najbližších 2 rokoch splniť všetky naše hudobné sny a sme mimoriadne radi, že prvé z nich sa nám už aj plnia. Či už je to nová skladba, ktorú pripravujeme s najlepším slovenským producentom Robertom Burianom a budú v nej účinkovať viaceré zahraničné hviezdy, alebo pripravovaná Party Roku v NTC aréne, na ktorej čaká našich fanúšikov množstvo prekvapení a ktorého predzvesťou je aj aktuálne turné. A to ešte stále nie je všetko, keď príde čas, budeme o tom informovať. V každom prípade sa teraz sústredíme na blížiacu sa koncertnú šnúru a veľmi sa tešíme, že sa budeme môcť predstaviť v miestach, kde sme ešte doteraz nekoncertovali. A keďže veľké mestá máme za predchádzajúce roky obehané skrz naskrz, tak s výnimkou Žiaru, kde nás čaká koncert spojený s Video Oldies Party, sme sa cielene nasmerovali do menších miest a obcí, v ktorých majú sály s dostatočnou kapacitou a mimoriadne vďačné a žičlivé publikum ," prezradili Ladislav a Juraj z Maduaru.
Ako vidno, Maduar si tento rok skutočne mieni plniť svoje sny a vy môžete byť už v najbližších dňoch pri tom v niektorom z 10 miest turné .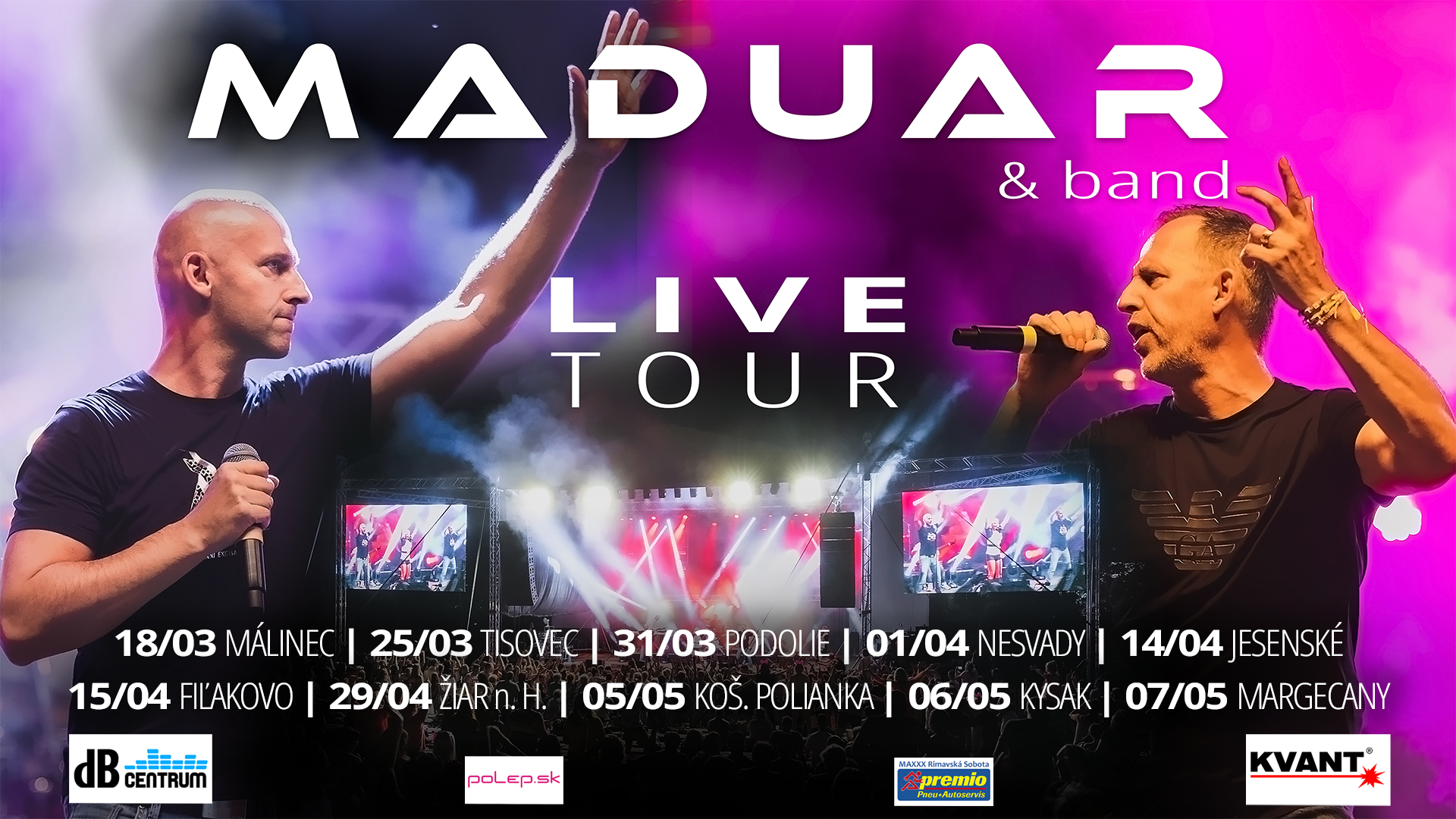 MADUAR & band – Live Tour 2023
18.03. 2023 – Málinec
25.03. 2023 – Tisovec
31.03. 2023 – Podolie
01.04. 2023 – Nesvady
14.04. 2023 – Jesenské
15.04. 2023 – Fiľakovo
29.04. 2023 – Žiar nad Hronom
05.05. 2023 – Košická Polianka
06.05. 2023 – Kysak
07.05. 2023 – Margecany
Kompletné informácie o turné nájdete na tomto odkaze – https://www.maduar.com/maduar–band—live-tour.html
Zdroj: Maduar