Zoskupenie Libertatem Ensemble predstavuje klip k skladbe Jeruzalem z albumu Hiawatha. Stojí za ním autorská dvojica Braňo Špaček a Marek Kučera, ako aj deväť dievčat z Noir Dance Company. Takmer desať minútová skladba poskytla tvorcom priestor na krátky film, ktorému dominuje intenzívna atmosféra spájajúca hudbu, neznámy otvorený priestor a pohyb. Na konci augusta navyše vyráža formácia okolo hudobníkov Roberta Pospiša a Martina Sillaya na turné a to v kompletnom, medzinárodnom zložení: 28. augusta 2021 budú v Liptovskom Mikuláši, na druhý deň v Prešove a tretí koncert sa uskutoční 30. augusta v Bratislave.
"Zdal sa mi sen o superhrdinovi, ktorý je temný a smutný, pretože niektoré misie nikdy nesplní. Atmosféra hudby je pre mňa samozrejmým vodítkom. Príbeh je téma z môjho momentálneho života. Strata dvoch priateľov v krátkom čase, ktorí tiež svoje misie nesplnili," povedal Braňo Špaček, ktorý sa ako autor námetu podpísal pod réžiu, kameru a strih. "Keď som počul "Jeruzalem" prvý raz, prišla mi na myseľ spomienka, keď náš synček prišiel zo školy, že ukážem vám tanec, čo sme sa učili. Volá sa Jerusalema a je toho plný YouTube. Napadlo mi, že tú choreografiu, keby tancovali štyri dievčatá v čiernom, pomaly, do rytmu pesničky Jeruzalem, bolo by to super k tej atmosfére," dodal.
V klipe účinkuje Marek Kučera, ako čierna ľudská, bližšie neidentifikovateľná bytosť, ktorá prechádza neznámou krajinou, akýmsi univerzom. V rovnakom priestore sa objavuje deväť konkrétnych dievčat, ktorým vidíme do tváre, ide o tanečnice z Noir Dance Company, ktorá sa zameriava na moderný a súčasný tanec. Autorkou jednej choreografie je Dominika Malenovská, ktorá súbor vedie. Druhou použitou choreografiou je vo svete populárny tanec k piesni Jerusalema, ktorý autori v postprodukcii spomalili.
"Nebolo to jednoduché nakrúcanie. Točili sme tri dni na rôznych miestach na Záhorí. Zakaždým sme museli vstávať o tretej ráno, aby sme stihli svitanie. Niektoré dievčatá z Noir Dance Company, aby nezaspali, nešli radšej ani spať. Všetky však boli bravúrne a aj vďaka nim atmosféra piesne, klipu a jednotlivých jeho obrazov do seba dokonale zapadli. Niektoré sekvencie klipu, obzvlášť tie, kde sú detaily tvárí dievčat, pôsobia priam mysteriózne ako keby boli vyňaté z nejakého škandinávskeho filmu," spresnil kreatívny producent a účinkujúci Marek Kučera.
Obe strany vyjadrili spokojnosť so spoluprácou a najmä s výsledným klipom. "Skladba Jeruzalem bola pre nás jasnou voľbou. Už po jej dokončení sme o nej uvažovali ako o mimoriadne netradičnom singli. Má desať minút a pre každého filmára je to teda veľká výzva. S výsledkom sme nadmieru spokojní. Špako (Braňo Špaček) dokázal zachytiť veľmi špecifickú atmosféru. S každým pozretím sa nám ten videoklip zdá lepší a hlbší. Tešíme sa z neho. Veľmi,"povedal Robert Pospiš.
Pri tvorbe albumu Hiawatha sa hudobníci inšpirovali indiánskou mytológiou, pričom vytvárali svoj vlastný svet, ktorý spája hudbu so slovami. Debut s ôsmimi pôvodnými skladbami napĺňajú fascinácia prírodou, nadprirodzené sily a fenomén snívania. Špičkoví hudobníci z regiónu V4, ktorí sa v tomto zložení stretli po prvý raz, vytvorili skladby na hranici jazzu, ambientu, pesničkárstva a vážnej hudby. Album vyšiel tohto roku vo vydavateľstve Real Music House.
Zoskupenie Libertatem Ensemble tvoria: spevák Robert Pospiš, gitarista Martin Sillay, trubkár Kornél Fekete-Kovács, saxofonista Nikolaj Nikitin, basgitarista Nenad Vasilić, klavirista Jancsi Rigó Jr. a bubeník Marián Ševčík. Presne v takejto zostave sa na konci mesiaca vydávajú na svoje turné.
"Považujeme za veľké šťastie, že sa na pódiách stretneme v kompletnej zostave. Libertatem Ensemble tvoria hudobníci z rôznych žánrov a krajín, ktorí sú aj napriek pandémie pracovne mimoriadne vyťažení. Album sme však chceli odohrať v "originálnom" zvuku. Preto sme trvali na autentickej zostave. Mimoriadne sa na to tešíme. Veríme, že to bude rovnaký zážitok aj pre divákov. Odohráme všetky skladby z albumu Hiawatha. Navyše v našich obľúbených slovenských mestách. Všetkých srdečne pozývame," povedal Martin Sillay.
Prvou zastávkou bude 28. augusta 2021 Mikulášsky jazzový festival v Liptovskom Mikuláši, na druhý deň sa Libertatem Ensemble predstaví v Prešove, v centre nezávislej kultúry Wave a tretí koncert sa uskutoční 30. augusta v Bratislave, v Pistoriho paláci.
Album HIAWATHA sa nahrával, mixoval a mastroval v bratislavskom štúdiu Real Music House. Za produkciou nahrávky stojí dvojica Robert Pospiš & Martin Sillay. Vydavateľstvo je na slovenskej hudobnej scéne už 11 rokov, za tú dobu sa podieľalo na vzniku viac ako 115 albumov. Vytvára samostatný priestor, ktorý udáva náročná dramaturgia postavená na kvalite a výnimočných spoluprácach.
Album Libertatem Ensemble – Hiawatha si môžete vypočuť prostredníctvom nasledujúcich streamingových služieb:
Spotify: http://open.spotify.com/album/3KXNcS3nwynPAzXq90RSGH…
Bandcamp: https://libertatemensemble.bandcamp.com/album/hiawatha
Tidal: https://tidal.com/browse/album/181327241
Deezer: https://www.deezer.com/en/album/224241162
Apple Music: https://music.apple.com/sk/album/hiawatha/1563990744?l=sk
CD Libertatem Ensemble – Hiawatha si môžete objednať na nasledujúcom odkaze: https://www.realmusichouse.sk/obchod/hudba/libertatem-ensemble-hiawatha/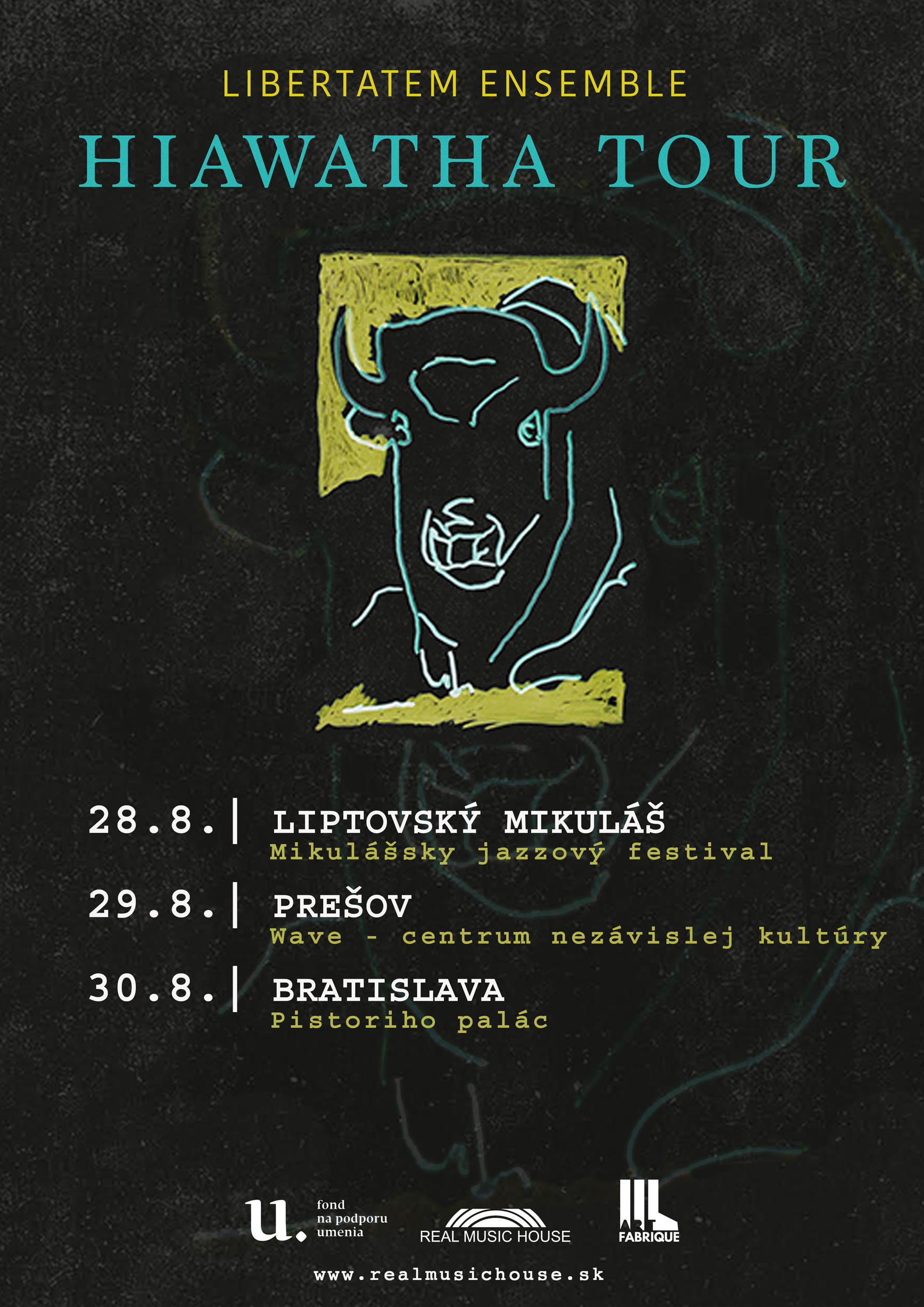 Zdroj: Zuzana Golianová, Mediálna podpora vydavateľstva Real Music House