Už 7. a 8. júna 2019 pozývame všetkých nadšencov extrémnych športov a kvalitnej hudby na II. ročník festivalového a športového podujatia Letný Big Air v meste.
Kremnica: Párty na kúpalisku, snowboardisti v bazéne
Dobrá hudba a adrenalínové športy. Nenechajte si ujsť toto spojenie a príďte sa presvedčiť na vlastné oči, ako táto kombinácia dokonale funguje v Kremnici.
Počas dvoch dní na hudobnom pódiu vo vypustenom bazéne na kúpalisku Katarína vystúpia kapely Billy Barman, Para, Slobodná Európa, Chiki Liki Tu-a, Ultrazvku, Noisecut, Hudba z Marsu, DJ EKG a ďalší skvelí hudobníci a dídžeji.
Permanentky si môžete kúpiť za výhodné ceny v predpredaji.
Snowboarding a freeskiing už nepatria len na hory
A ako sa dá snowboarding a freeskiing praktizovať bez snehu a navyše na letnom kúpalisku? To, že tento šport už dávno nepatrí len na hory, predvedú snowboardisti a lyžiari počas dvoch dní v tréningových i kvalifikačných jazdách, ale najmä v súťažnom finále, ktoré sa bude konať v sobotu 8. júna o 19:00.
"Registrácia do súťaže je pre jazdcov otvorená do piatka 7. júna. Prihlásiť sa musia cez formulár na našej webovej stránke," upresnil organizátor podujatia Ondrej Horváth.
Tak neváhajte, príďte podporiť jazdcov a užiť si otvorenie festivalovej sezóny v Kremnici. Druhý ročník Letného Big Airu v meste organizujú a tešia sa na vás občianske združenie FRST Crew Kremnica, Šafy Production.
Official Video Letný BAVM 2017
Vodné športy aj exkluzívna BAVM výstava
Okrem adrenalínových zážitkov sa diváci a návštevníci počas dvoch dní budú môcť zabaviť napríklad aj športovými aktivitami, ktoré si môžu vyskúšať. V rámci sprievodného programu bude exhibícia na wakebordoch, súťaž pre divákov na stand-up paddle boardoch a možnosť vyskúšať si skimboarding.
"Poodhalíme tiež históriu podujatia Big Air v meste, ktoré má za sebou úspešných 11 zimných ročníkov. Bude to prostredníctvom výstavy fotografií a grafických vizuálov, vrátane tých nikdy nerealizovaných, ukrytých len v šuplíkoch umelcov," doplnil Horváth.
Pre kreatívcov pripravujeme rozšírenú workshopovú zónu v najmenšom bazéne v spolupráci s módnou značkou Primát. A aby ste mohli prísť pokojne s celou rodinou, pre deti bude vyhradená špeciálna Matel KIDS zóna.
Pre viac informácií o lístkoch, programe a ubytovaní sledujte náš Instagram, Facebook a webovú stránku BAVM / www.bavm.sk.
Ako to celé začalo?
Ešte v roku 2006 partia náruživých snowboardistov a freeskierov z Kremnice a okolia zorganizovala akciu s názvom "Prvý Big Air v meste".
"Bez rozpočtu, svojpomocne, len vďaka poriadnej snehovej nádielke sme si postavili skok priamo v historickom centre mesta na Štefánikovom námestí," upresnil Ondrej Horváth.
Chalani si zavolali kamošov a bez veľkého marketingu spravili súťaž, kto predvedie najlepší skok a trik.
Officiálne video – posledný zimný BAVM 2018
Od roku 2006 zorganizovala skupina dobrovoľníkov, dnes združená v občianskom združení FRST Crew ďalších 10 zimných ročníkov a v roku 2017 aj prvú letnú edíciu spojenú s hudobným festivalom. Tejto súťaže v unikátnom prostredí sa zúčastnili desiatky jazdcov z celej Európy a povzbudiť ich prišli tisícky divákov, ktorí si toto podujatie za tie roky obľúbili.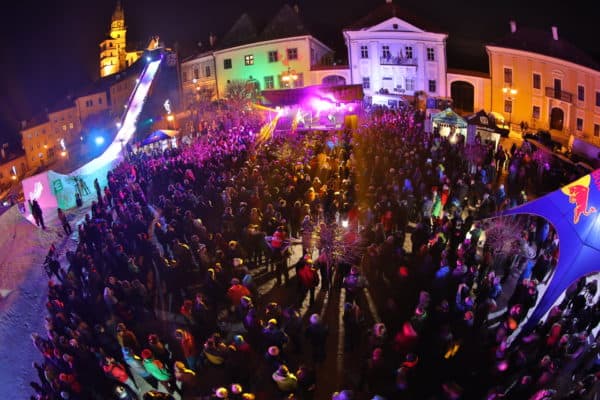 —-
"Big Air" je oficiálne pomenovanie disciplíny a aj samotného skoku, ktorý je parametrami špecifický pre snowboarding a freeskiing.
V zime v Kremnici zasnežujú historické námestie, v lete napúšťajú 50-metrový plavecký bazén.
V lete sa jazdci rozbiehajú z dvanásť metrov vysokého nájazdu a skáču do bazéna, v zime skáču priamo na námestí v historickom centre.
Big Air v meste je športovo-zábavná netradičná šou, ktorá spája profesionálne športové preteky s hudobným festivalom, a to všetko prináša čo najbližšie k ľuďom priamo v meste.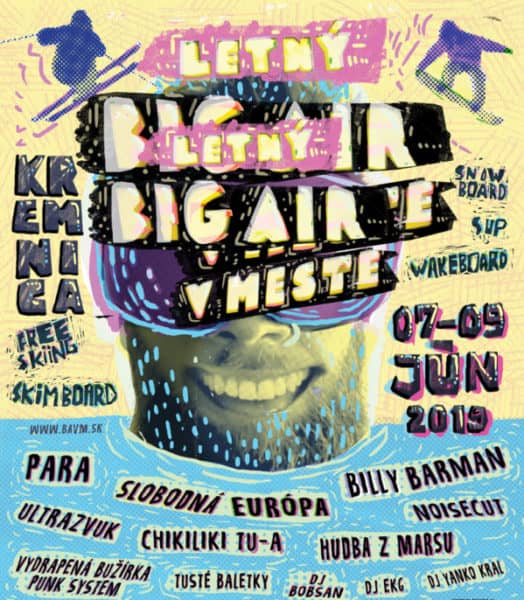 Zdroj: Organizátor