Uvedenie nového albumu ako sa patrí – s veľkou oslavou s pozvanými hudobnými hosťami. Večer 2. júna na lodi Pink Whale otvorí svojimi selekciami DJ Matthew, po ňom príde bubnová show v podaní Drumstas a uvedie na pódium Balkansambel s Geišbergovcami. Po nich príde na rad La3no, a okrem skladieb z nového albumu vás čaká exkluzívna premiéra Ukáž hu! spolu s Vecom, Škrupom a Ninou Rosa + malé Atmo Rytmo prekvapenie.
Od vydania debutového albumu Rodina ubehlo 10 rokov a jeho názov bol v niečom prorocký. Za ten čas sa v kapele narodilo 15 detí a reči kritikov o plodnom albume boli rozhodne na mieste. Nový album La3no Deluxe vyšiel ako vianočný darček 23.12.2021. Teraz oblúkom, kedy za chvíľku letné festivaly, sa bude krstiť! A to 2.6.2022_La3no Deluxe_krst albumu.
Čo nám La3no Deluxe ponúka?
Nový zvuk, experimentálne fúzie a zaujímaví hostia. La3no Cubano sa od debutu presunulo aj k elektronike. Akustickým nástrojom však ostali chalani verní aj naďalej. Okrem svojej klasickej výbavy, ktorú ste mohli vidieť na koncertoch, obohatili nové skladby o didgeridoo, handpan, kaval, šalmaj alebo talking drum, vďaka prizvaným muzikantom. Vokálne im prispeli aj Štefan Štec, Simona Hulejová, Samuel Hošek, Lara Abou Hamdan, Nina Rosa, rapperi Boy Wonder a Vec. Je to akoby hudobná cesta okolo sveta – v Chlapcovi Vandrovnom dýcha slovenský folklór, Gamelan Glow nás zavedie na ďaleký východ, v Sa to tu natrása cítiť Istanbul, v My sme tu pre zmenu blízky východ a v skladbe Paleo zas Afriku. Šamanizácia je ovplyvnená šamanskými kultúrami, ktoré nás prevedú pralesom. V Zajtrajšej sa stretáva cumbia s balkánom, zatiaľ čo Fragmentz predstavuje koncept hudobnej koláže/dadaizmu. Ukáž Hu! Je vtipná svadoná balkánska pesnička.
Párty bude na lodi Pink Whale a lístky sa dajú zakúpiť aj v predpredaji cez gooout.net. Iba na akcii budete môcť kúpiť aj CD za cenu 10 €. Kto chce skôr, môže si ho objednať cez https://deluxe.rytmika.sk/ v digitálnej alebo fyzickej forme (13 €)
FB Event: https://www.facebook.com/events/4654377091333430/?ref=newsfeed)
2.6.2022_La3no Deluxe_krst albumu
Line up:
18:00 – DJ Matthew
19:45 – Drumstas show
20:00 – 20,50 Balkansambel a Geišbergovci
21:30 – 23:00 La3no Deluxe show
after DJ Matthew
Túto akciu podporil z verejných zdrojov Fond na podporu umenia.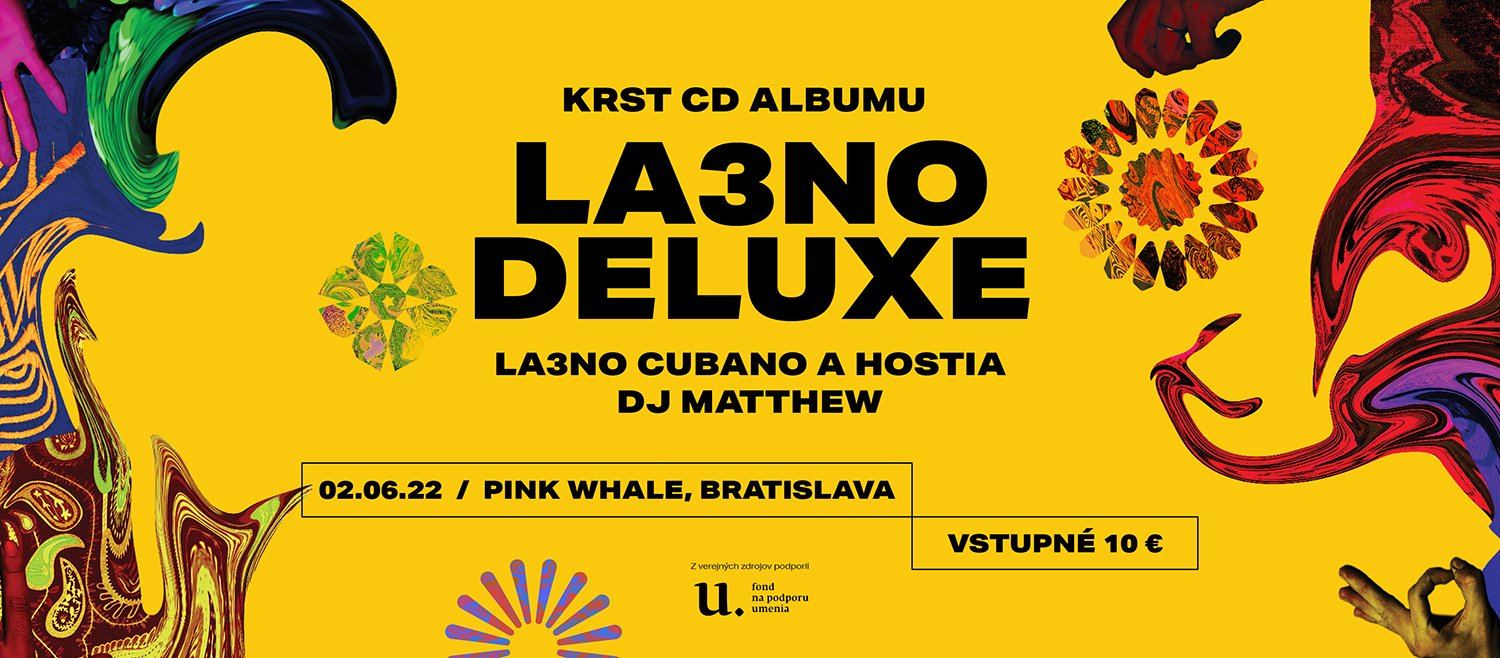 Zdroj: TS