Skupina Kiss My Ex! opäť boduje v prestížnej celosvetovej súťaži. So skladbou Dance With Me postúpila do semifinále celosvetovej súťaže International Songwriting Competition 2022. Z celkového počtu 15.000 prihlásených skladieb si ju zástupcovia organizátorov a svetových vydavateľstiev vybrali do semifinálovej stovky v prominentnej kategórii POP/TOP 40. International Songwriting Competition (ISC) je súťaž pre nových, ale aj etablovaných hudobníkov s najprestížnejšou porotou zo všetkých hudobných súťaží na svete. Mená ako Coldplay, Dua Lipa, Adele, Acraze, Mariah Carey, Tom Waits a zástupcovia veľkých svetových vydavateľstiev jej dávajú záruku vysokej kvality a prestíže. Medzi víťazov ISC patria napríklad: Tones and I, Bastille, Passenger, Gotye, Kimbra, či Dean Lewis.
Momentálne prebieha proces výberu finálovej pätnástky, z ktorej potom vo finále porota vyberie víťazov jednotlivých kategórií. Tento postup oznámili organizátori skupine mailom, v ktorom im okrem iného zapriali veľa šťastia v súťaži. Skupina Kiss My Ex! teraz v napätí očakáva ďalší mail s verdiktom výberovej semifinálovej poroty a verí, že bude pozitívny.
"Dance With Me je príbeh mladej dámy, ktorá sa chce uvoľniť, zabaviť, byť pritom sama sebou a užiť si večer so svojími kamarátkami na párty. Cíti sa ako femme fatale a všetko je super až do momentu, keď sa stane stredobodom pozornosti, čo na ňu má presne opačný efekt. Nepáči sa jej pózerstvo a silácke reči na jej adresu. Miluje prirodzenosť, uvoľnenosť a neznáša pretvárku a faloš. Zistili sme, že tak ako ja, aj veľa ľudí z nášho okolia sa s nami v tom dokáže identifikovať," hovorí o skladbe speváčka Popa.
"Naši fanúšikovia mohli spolu s nami naživo na sociálnych sieťach sledovať vznik a produkciu Dance With Me od úplného začiatku. Mali sme 15 minútový limit na vymyslenie a nahratie zaujímavého motívu, ktorý by nás roztancoval. Ten sme nasamplovali, teda rozdelili na kratšie úseky a pospájali do nového celku, z čoho vznikol základ skladby, ktorú sme potom nahrali, naspievali a zmixovali a nadšene púšťali našim najbližším. Keď si to vypočul náš kamarát PR manažér a hudobný publicista Rado Mešša, povedal, že pesnička je super, len jej chýba refrén. A boli sme zas na začiatku. Celú cestu z Bratislavy do Košíc sme rozmýšľali, ako by sme jej ten refrén mohli dať. Myslím, že sa nám to podarilo, keďže si porota túto našu pesničku vybrala z takého množstva skladieb," opisuje vznik skladby klávesák Lezlee.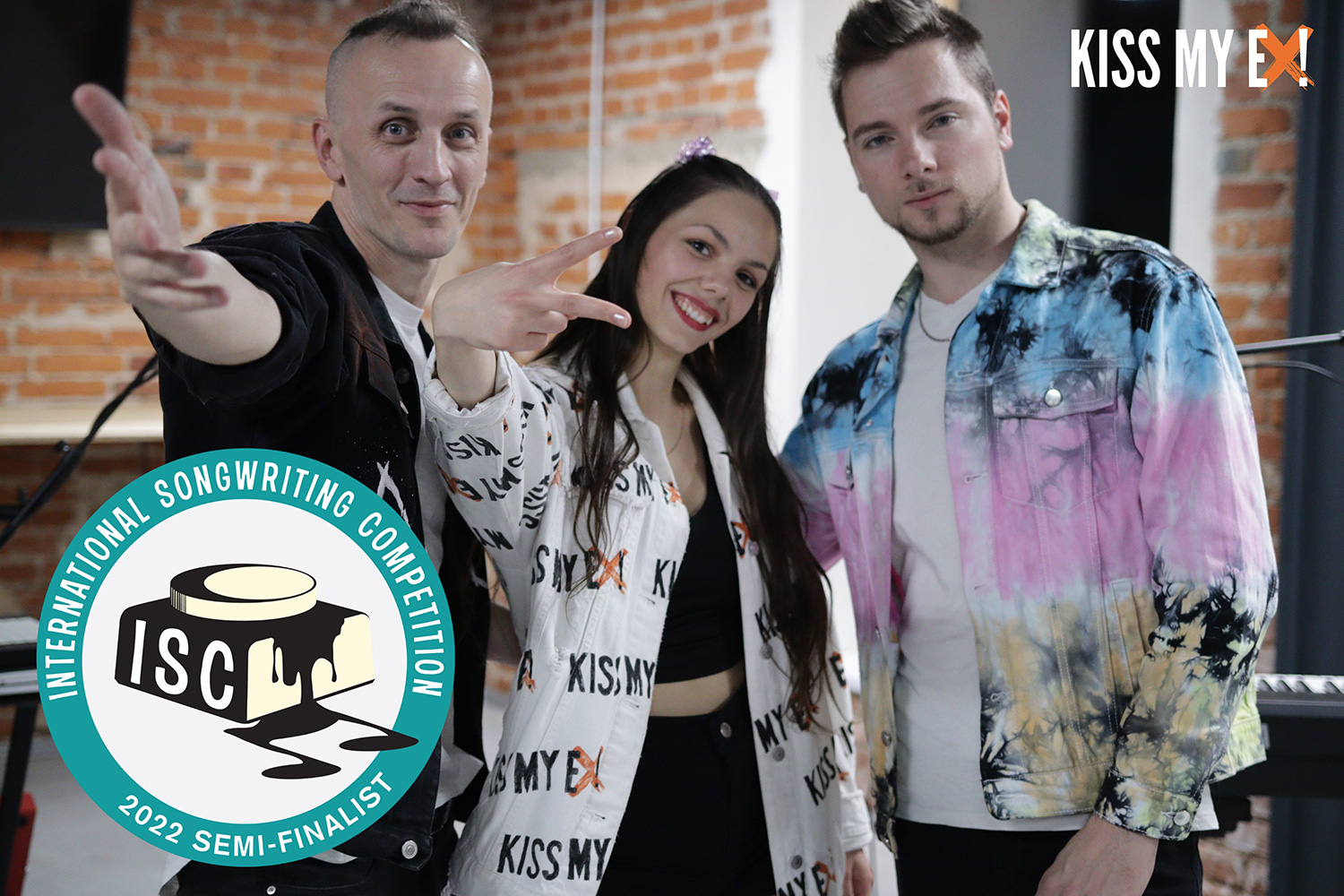 "Po úspechu debutového singla Waves, sme chceli konfrontovať našu produkciu v konkurencii hudobníkov z celého sveta. Nakoniec si aktuálny singel Dance With Me vybrala porota do semifinálovej stovky z celkového počtu 15.000 skladieb. Tak, ako sa vyvíja hudba, tak aj my na sebe stále pracujeme a táto súťaž je skvelý prostriedok na to, aby sme zistili, ako na tom sme v porovnaní so svetom. Hudbu milujeme a robiť ju je náš životný štýl. Táto porota nemá mantinely, ktoré majú napríklad hudobní dramaturgovia rádií. Hodnotí sa tam kreativita, originalita, text, melódia, aranžmány a celkový dojem zo skladby," hovorí gitarista Peter.
Skupinu Kiss My Ex! tvorí speváčka Iveta Popa Karičková a hudobníci a producenti Ladislav Lezlee Znám a Peter Klema. V slovenských rádiach rotujú ich single Waves a Dance With Me. Ich debutový album je naplánovaný na začiatok leta 2023.
https://www.instagram.com/kissmyexofficial/
https://www.facebook.com/kissmyexofficial
https://www.youtube.com/channel/UCVNDfojDpHf2XySa73fIkOw/featured
Zdroj: pro:messa