Jeden z najočakávanejších koncertov tohto roka sa blíži! 21. marca 2020 zavíta do bratislavskej Incheba Expo Arény unikátny hologramový koncert Whitney Houston. Organizátori hlásia takmer vypredané. Do predaja uvoľnili poslednú várku približne 300 vstupeniek.
Predaj vstupeniek na podujatie: https://citysounds.sk/whitney-houston/
Marcový koncert An Evening with Whitney Houston je predo dvermi. V predaji je posledných pár vstupeniek a organizátori krôčik po krôčiku zverejňujú stále viac informácií o podujatí, o ktorom sa začína šepkať ako o "koncerte roka". Práve bratislavská zastávka hologramového turné Whitney Houston bude totiž exkluzívnou premiérou hologramovej hudobnej šou v Strednej a Východnej Európe.
Ako sa zdá, rok 2020 bude rokom Whitney Houston. Dôkazom toho, že titul kráľovnej popu nosí právom, je zapísanie jej mena do Rock´n´rollovej siene slávy hneď v úvode roka po boku kultových Depeche Mode.
Svetové hologramové turné ani nemôže prísť v lepšom čase. Kolegovia z hudobného priemyslu a fanúšikovia prostredníctvom neho spoločne symbolicky vzdajú hold a uctia si pamiatku jednej z najmilovanejších umelkýň všetkých čias. Turné An Evening with Whitney Houston sa stane oslavou nezabudnuteľného hudobného dedičstva, ktoré Whitney Houston vytvorila a zanechala tu po sebe. Tento rok sa tak jej hudobný odkaz stane doslova nesmrteľným.
Aj sedem rokov po smrti Whitney stále kraľuje hudobným rebríčkom. Jedným z najúspešnejších hitov je aktuálne singel Kygo & Whitney Houston: Higher Love. Práve touto aktuálnou tanečnou smršťou, ktorá dnes pripomína Whitney jej fanúšikom v rádiách po celom svete, by mala celá hologramová megašou odštartovať. Tvorcovia len pred pár dňami zverejnili setlist, ktorý by mal byť finálnou zostavou skladieb koncertu. Okrem kultového soundtracku z filmu Osobný strážca I Will Always Love You a ďalších starších hitov I Have Nothing či tanečnej hymny I Wanna Dance With Somebody sa na zoznam dostali tiež piesne z neskoršieho obdobia Step By Step či My Love Is Your Love a It´s Not Right But It´s Okay.
Tvorcovia šou z americkej spoločnosti BASE Hologram držia detaily dlhoočakávaného turné v tajnosti. Fanúšikom umožnili nahliadnuť za oponu prípravy šou v dychberúcom videu, ktoré odkrýva pár sekúnd hologramu Whitney Houston s nádhernými iskrivými ohňostrojmi na šatách: www.facebook.com/csfestival/videos/2598045943621094/
"Celkovo trval proces tvorby hologramovej šou Whitney Houston jeden rok. Na tomto projekte pracoval viac ako 100-členný tím," prezrádza v tejto súvislosti Marty Tudor zo spoločnosti BASE Hologram. Ako dodáva, jedným z "veľkých mien", pracujúcich na dlhoočakávanej šou, je Fatima Robinson. Uznávaná choreografka má na konte hviezdnych klientov ako Rihanna či Kanye West a môže sa popýšiť tým, že bola jednou z blízkych spolupracovníkov Whitney Houston ešte počas jej veľkolepej kariéry. S Whitney Houston pracovala na videoklipe k jej hitu I´m Every Woman. Práve Fatime Robinson organizátori zverili réžiu a choreografiu hologramovej šou Whitney Houston. V týchto dňoch zverejnili zákulisné video z konkurzov na tanečníkov, ktorí budú súčasťou koncertu.
"Hľadali sme tých najlepších tanečníkov, ktorí nám pomôžu pripomenúť úžasnú energiu a atmosféru hudby a odkazu, ktoré nám tu Whitney zanechala," hovorí Fatima Robinson. "Nehľadali sme iba talent. Dôležitým faktorom bolo pre nás aj, aby vybraní tanečníci do choreografie vložili aj svoju vášeň," dodáva pomocný choreograf Adrian Wiltshire. Okrem celej plejády tých najlepších tanečníkov na javisku nebude chýbať živá kapela a vokalisti.
Koncert An Evening with Whitney Houston je dielom spoločnosti BASE Hologram, ktorá tvorí tiež hologramové koncerty Marie Callas či Roya Orbisona. Svetové hologramové turné Whitney Huston sa začne 25. februára vo Veľkej Británii a po Európe sa na jeseň presunie do USA. Do Bratislavy koncert prináša festival CITY SOUNDS, ktorý pravidelne organizuje na Slovensku koncerty hviezd ako Macy Gray, Gregory Porter, Marcus Miller, José James, Jamie Woon, Neneh Cherry či Dianne Reeves a iných.
Exkluzívnym mediálnym partnerom koncertu sa stala Televízia JOJ. Hlavným mediálnym partnerom koncertu je Rádio Expres. Mediálnymi partnermi sú Denník N, portál Startitup.sk, Webnoviny.sk a Hudba.sk.
Hologramové vystúpenie Christiny Aguilera a Whitney Houston: www.youtube.com/watch?v=7usC6CuJrC4
https://citysounds.sk/whitney-houston/
www.facebook.com/events/2800360806650120/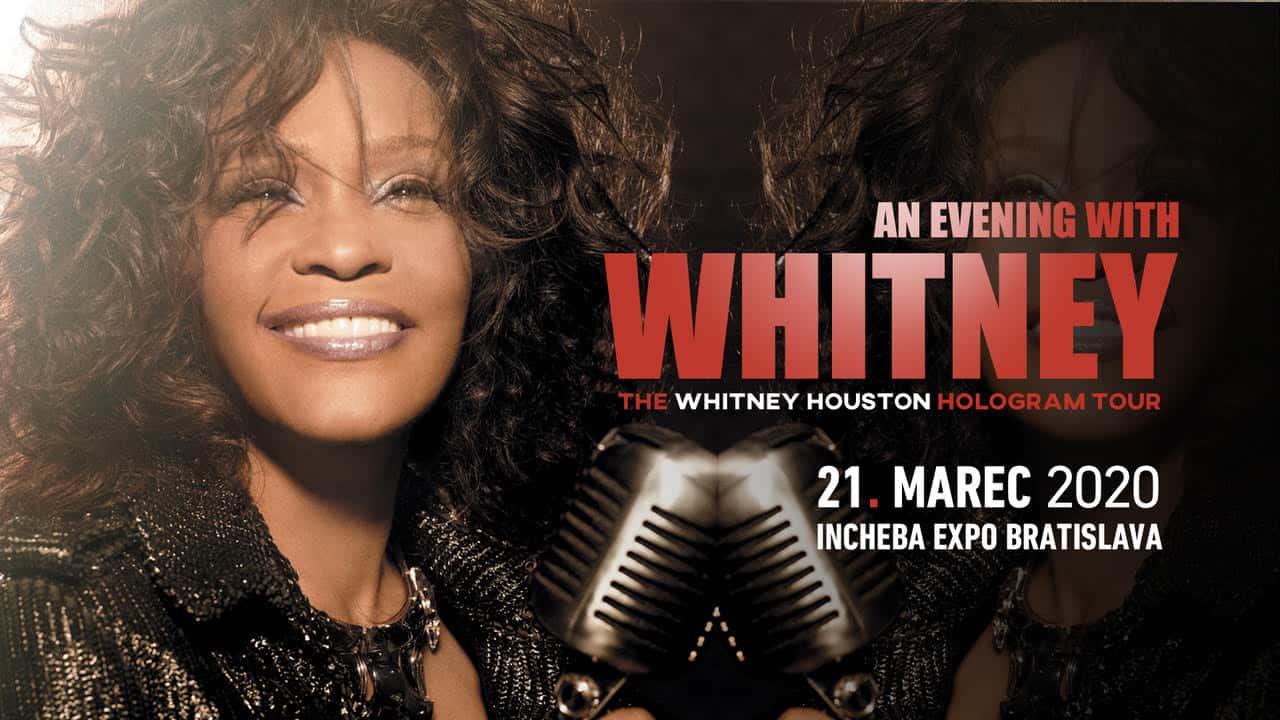 Zdroj: SOUL FOR SHOW