Norského autora Karla Oveho Knausgårda kritici označují za showmana, průkopníka literární selfie, zakladatele literární reality show nebo za geniálního fabulátora. Adaptaci prvního dílu jeho románu Můj boj nyní přináší Divadlo MeetFactory v režii Petry Tejnorové. Hrají Saša Rašilov a jeho bratr Václav Rašilov. Druhá premiéra proběhne přesně rok po premiéře první – 12. září 2021.
Románová autobiografická hexalogie Můj boj se na téměř čtyřech tisících stranách zabývá jediným tématem, a tím je Knausgård sám – jeho život, přítomný i minulý. Hlavním rysem Mého boje je až obsedantní detailnost, s níž se Knausgård vyžívá v popisu těch nejbanálnějších a zcela nedramatických událostí a lidských činností, jako je například úklid. Za tuto verzi "pátrání po ztraceném čase" si Karl Ove vysloužil přirovnání k novodobému Marcelu Proustovi.
Režisérka adaptace Petra Tejnorová se aktuálně zabývá fenoménem tzv. vyprávěného divadla. Proč jí přijde přitažlivé převést první díl Mého boje na jeviště, popisuje takto: "Knausgårdův proud vyprávění je fascinující, neustále vás strhává dovnitř svého života a zase vně, komentuje, je autorem, vypravěčem a postavou v jednom. Karl Ove se až psychoterapeuticky analyzuje, aniž by chtěl cokoli o sobě a ostatních zmírnit či ospravedlnit. To vyvolává otázky – co je povoleno literatuře – a za jakou cenu? Dostává se k člověku blíže, než jsme obvykle v literatuře zvyklí. Dokážeme toto v divadle?" První díl Mého boje je jí blízký také kvůli vztahu k otci, jehož smrt dala první části jméno.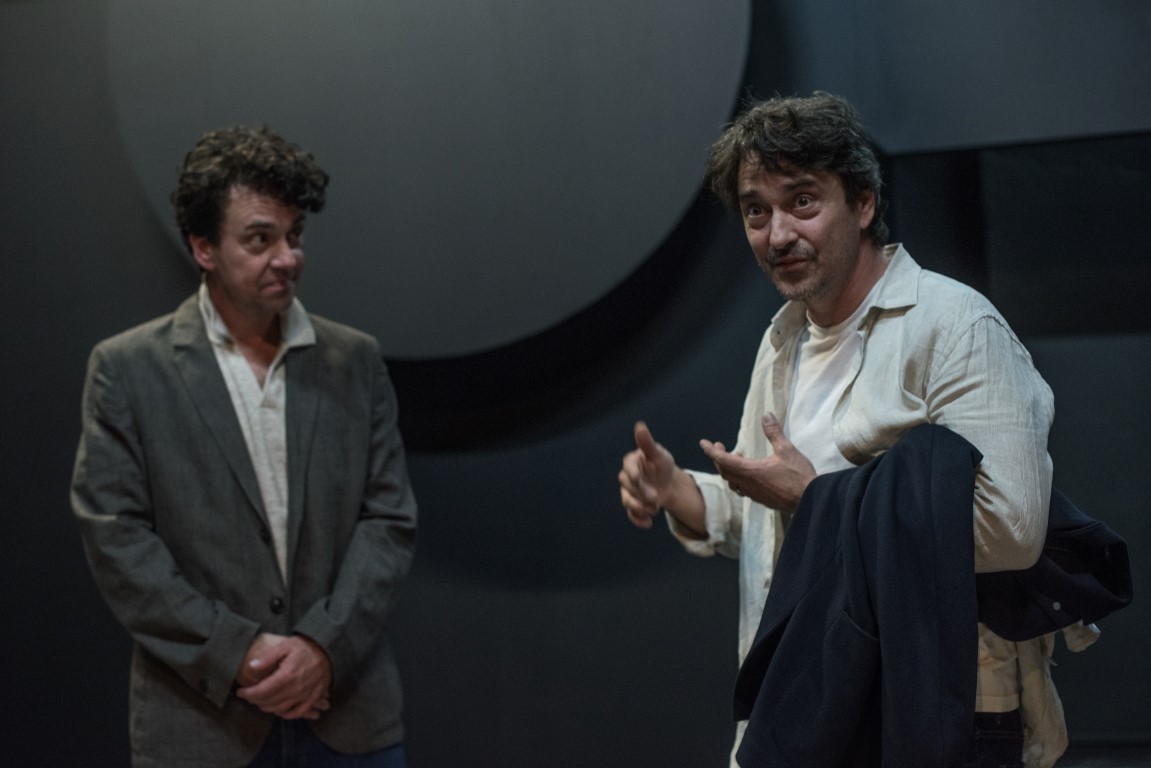 Dva bratři se po smrti otce vydávají na cestu do jeho posledního bydliště, aby se společně postarali o pohřeb. Na půdorysu těchto okolností se rozehrává řetězec úvah, reminiscencí, myšlenek, ale i mikrodramat – neefektních, přesto však bolestivých natolik, že je máme tendenci sami před sebou mnohdy zamlčovat. Může být jejich vyslovení očistné? Nebo posloužit aspoň jako důkaz, že na určité úrovni člověk může držet svůj život na moment ve vlastních rukou? Mluvím, tedy jsem.
V Mém boji, o kterém Knausgård tvrdí, že ho musel buď napsat, nebo se zabít, se nevyhýbá pojmenování žádného ze svých pocitů. "Fascinovala mě autorova upřímnost, popisy selhání a neschopností, ale také skutečnost, že ačkoliv je Můj boj otisk autobiografií někoho cizího, přesto je to i můj boj, můj život. Také mě fascinovala autorova práce s časem, která se pro mě stala předmětem zkoumání. Podstatnou součástí naší inscenační práce je hledání způsobu, jak komponovat zážitek pro diváka," přibližuje režisérka Petra Tejnorová. Adaptace si neklade za cíl složité a velkolepé Knausgårdovo dílo dramatizovat do podoby divadelní hry; opírá se o specifickou autorovu vypravěčskou flow, využívá prostředky vyprávěného divadla a formátu mixed reality performance, zážitku založeném na vnímání reality autentické versus zprostředkované a veřejné versus soukromé.
Inscenace je stejně jako kniha Můj boj 1 – Smrt v rodině rozdělena do dvou částí. Dvě různé formy, jedna perspektiva. První část obdrží diváci po zakoupení vstupenky na svou emailovou adresu. Druhá část začíná ve 20 hodin v Divadelním sále MeetFactory.
Více:
"Knausgårdovo odmítnutí literární fikce a stylizace je zároveň odmítnutím literatury jako vyprávění o výjimečných životních osudech. Přiklání se k východisku, že každý (jakkoli banální) život je pro subjekt, který ho prožívá, zcela výjimečnou událostí. A svými knihami dokáže tento prožitek nenapodobitelně zpřítomnit." – Jan Bělíček, A2
"V Mém boji přistupuje Knausgård k člověku blíže, než jsme obvykle v literatuře zvyklí. Na svou hlavní postavu i veškeré okolnosti nahlíží nemilosrdným, otevřeným pohledem. Skutečnost, že autor se tak zjevně silně otiskuje ve své vlastní biografii, dává románu spíše obecný, než osobní ráz." – stanovisko poroty při předání ceny Brageprisen
"Jedním z důvodů přitažlivosti je fakt, že nechal mnoho jmen a detailů nezměněných; když si zadáte některé postavy do vyhledávače obrázků, spatříte ty, o nichž čtete. Tato přitažlivost ale nespočívá jen v prostém pomlouvání. Knausgård díky své upřímnosti a otevřenosti udělal z vlastních vzpomínek společný majetek. Podněcuje tak čtenáře, aby se podívali dovnitř a našli jejich vlastního Karla Oveho. Nebo naopak: Nastavuje zrcadlo vlastnímu životu, vy se do něj podíváte a uvidíte sebe." – Joshua Rothman, Newyorker
Překlad: Klára Winklerová
Úprava: Petra Tejnorová, Matěj Samec
Režie: Petra Tejnorová
Dramaturgie: Matěj Samec
Scéna: Richard Loskot
Kostýmy: Adriana Černá
Video-technická spolupráce: Dominik Žižka
Zvuková spolupráce: Tomáš Novotný
Produkce: Magda Juránková
Hrají: Saša Rašilov, Václav Rašilov
Premiéra: 12. září 2020
Druhá premiéra: 12. září 2021
Zdroj: MeetFactory