Šesť slovenských miest, autentickosť, talent a ženský pôvab podporený silnou mužskou energiou spoluhráčov. Aj tak by sa dalo popísať jesenné koncertné turné k aktuálnemu CD Manuša, mladej speváčky Júlie Kozákovej. Spoločne pocestujú naprieč slovenskými mestami už v prvej polovici októbra.
Krst CD prebehne v Bratislave, 6.10.2022 o 19:30, v jedinečných priestoroch Teatro Colorato v centre hlavného mesta. Pozvanie uviesť album do života prijala aj vzácna hostka, známa speváčka a zbormajsterka Ida Kelarová.
Jesenné turné v rámci uvedenia CD Manuša bude pokračovať do ďalších zaujímavých kultúrnych priestorov. Deň po krste sa kapela presunie do Nitry, o pár dní na to do Piešťan, Banskej Bystrice, Prešova či Liptovského Mikuláša
Talentovaná hudobníčka Júlia Kozáková predstaví publiku počas živých koncertov svoj nedávno vydaný debut Manuša, ktorý sleduje tradičné staré rómske piesne a ich príbehy zo Slovenska a strednej Európy. Jej hlas bude doprevádzať tradičná cimbalovka v zložení z jedných z najuznávanejších rómskych hudobníkov zo Slovenska. Piesne z albumu sú kľúčovou súčasťou Rómov a ich kultúrnej identity. Júlia je world music speváčka a nedávno dokončila štúdium hudby na SOAS University of London. Spolupracuje s Rómami na Slovensku, aby v rámci tejto tradície rozvíjala autentický hlas. Jej vokálny štýl možno opísať ako pohlcujúci a empatický a jej výkon ako skutočne autentický. Mužskú posilu v kapele budú tvoriť Viliam Didiáš na husle, Ľubomír Gašpar na cimbal, violista Vojtech "Bélu" Botoš a kontrabasista Ján Rigo. Počas krstu CD v Bratislave a koncertu v Piešťanoch zostavu hudobníkov obohatí Zsolt Varady na gitaru.
Slovami Julky Kozákovej: "Manuša znamená v rómskom jazyku ľudia. Ľudia, predkovia Rómov, nám zanechali piesne na vytvorenie tohto albumu. Napísané životom a potvrdené mnohými generáciami. Poklad. Ľudia sme aj my všetci bez ohľadu na pôvod, či farbu pleti. Žijeme spolu na jednej zemi a máme mnoho inakostí a zvláštností, ktorými sa môžeme vzájomne obohacovať. A tak sa stalo aj mne, človeku bez rómskych koreňov, že ma na mojej ceste obohacujú rómske tradičné piesne."
Krst a koncerty CD Manuša z verejných zdrojov podporil KULT MINOR – Fond na podporu kultúry národnostných menšín.
Manuša | Julia Kozáková
TOUR Jeseň 2022
06.10. Bratislava, Teatro Colorato – Krst CD Manuša
07.10. Nitra, Trafačka
12.10. Piešťany, Elektrárňa
13.10. Banská Bystrica, Robotnícky dom
14.10. Prešov, Wave
15.10. Liptovský Mikuláš, KASSA
FB udalosť Krst CD v Bratislave: https://fb.me/e/2MHu9MMWq
Predpredaj vstupeniek na koncerty v BA, NR, PN, PU
Web: https://www.juliakozakova.com/manusa
Viac informácií o predpredaji vstupeniek na všetky koncerty na fb organizátora: https://www.facebook.com/spectaculumvia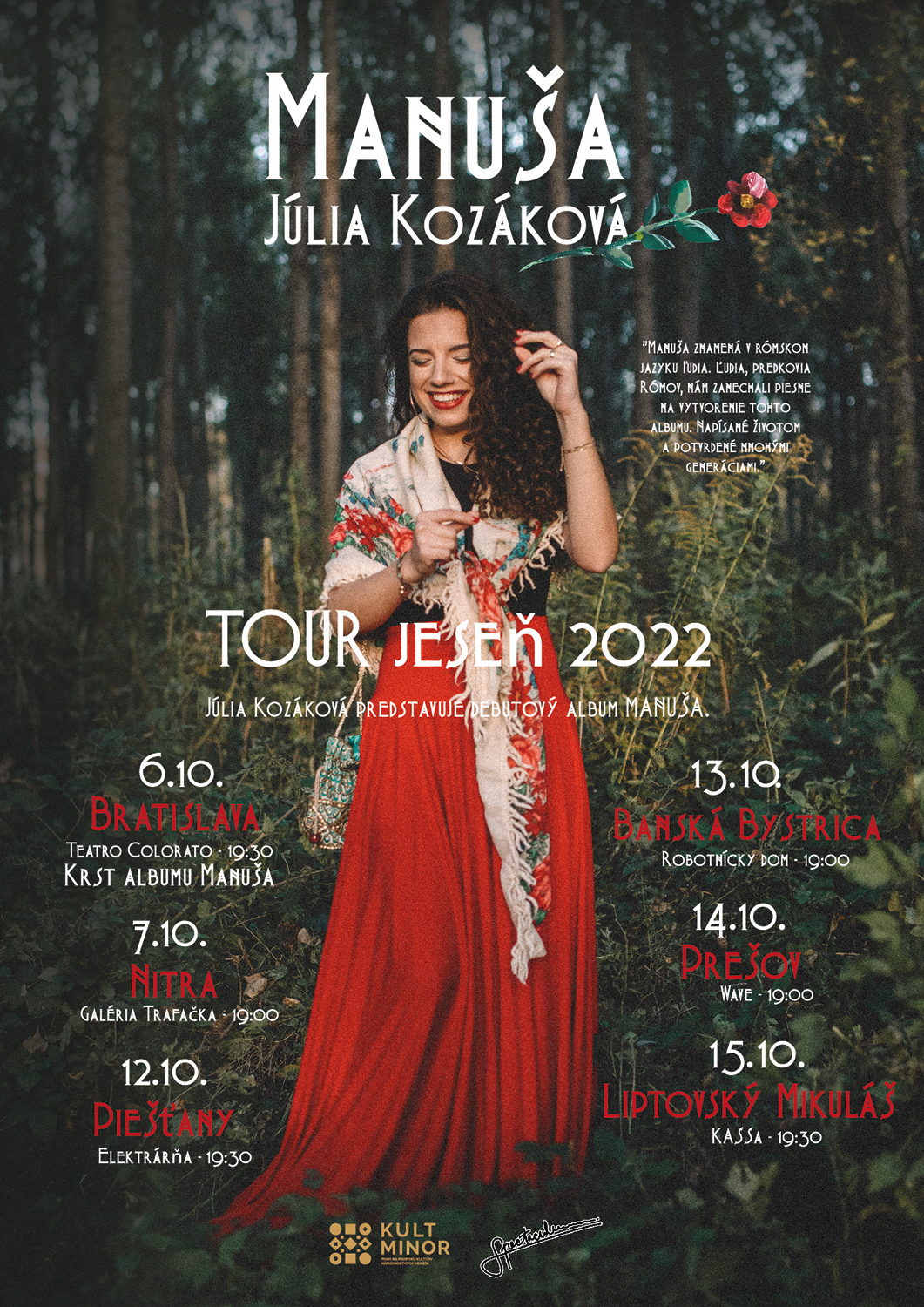 Zdroj: TS