Legend

árna britsk

á

skupina

LEVEL 42

s fenomenálnym a jedinečným basgitaristom a spevákom Markom Kingomprí

de op

äť na Slovensko. Ich veľk

é

hity Running in the Family, Hot Water, Something About You, Lessons in Love a ďalš

ie si div

áci môžu naplno vychutnať na koncerte, ktorý sa uskutoční 11. mája 2023 v bratislavskej NTC Ar

é

ne. LEVEL 42

sa na Slovensko vracia po úspešných koncertoch v rokoch 2004 a 2012 v zostave

: Mark King

– basgitara, spev, Mike Lindup – klávesy, spev,

Nathan King

– gitary,

Pete Ray Biggin

– bicie,

Sean Freeman

– saxof

ón,

Nichol Thompson

– trombón a Dan Carpenter – trúbka.

Vstupenky v predaji na: https://ticketmedia.sk/performance/1206/LEVEL-42
Frontman a basgitarista LEVEL 42, Mark King si od roku 1981 spolu so zakladajúcim členom Mikeom Lindupompostupne vytvorili vlastný, nezameniteľný zvuk a štýl, ktorý je stále veľmi úspešný a oceňovaný nielen fanúšikmi, ale aj kolegami z branže. Doteraz vydali 14 štúdiových a 7 živých albumov, EP Sirens a 6 kompilácií. S osemnástimi singlami dostali do Top 40 a skladby Lessons in Love, Something About You, Leaving Me Now, Running in the Family a Hot Water uspeli v Top 10 a Top 5 hitparád na celom svete. Počas kariéry 21-krát vypredali Wembley Arénu, predali viac ako 30 miliónov albumov a sú jednou z najúspešnejších britských kapiel. Legendou, ktorá definuje štýl British Jazz Funk.
Mark King, hudobník, ktorého ruky majú hodnotu niekoľko miliónov dolárov sa so skupinou LEVEL 42 opäť vracia na Slovensko s energickou šou a teší sa na priazeň všetkých fanúšikov dobrej a rokmi overenej hudby už 11.mája 2023 v NTC Aréne v Bratislave. Organizátori koncertu veria, že podobne, ako pred rokmi, aj na tomto koncerte skupinyLEVEL 42 vytvoria diváci skvelú atmosféru, ktorá ho zaradí medzi najlepšie koncertné udalosti roka 2023.
https://www.facebook.com/events/1715070942341160
https://www.facebook.com/ticketmedia.sk
www.ticketmedia.sk
https://ticketmedia.sk/performance/1206/LEVEL-42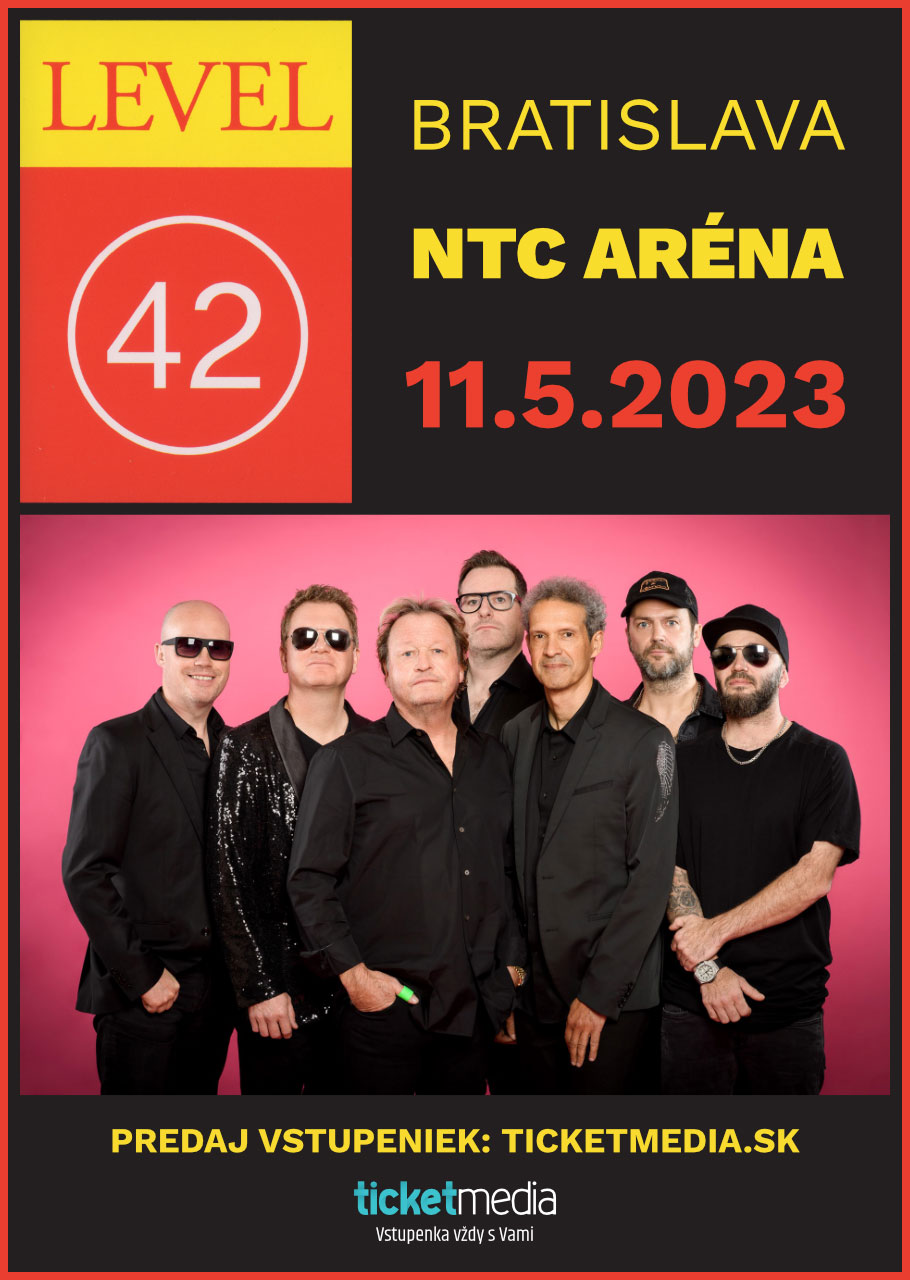 Zdroj: TS