Pandemická situácia sa zlepšuje, monzúny a studená jar ustupujú, a tak sa zdá, že pomaly svitá na lepšie časy. Jazzové dianie na Liptove sa takisto prebúdza k životu a 17. ročník Mikulášskeho Jazzového Festivalu odštartuje už túto sobotu premiérovým koncertom kapely Talent Transport s hosťom Oskarom Törökom.
Za normálnych okolností sa pod Tatrami jazzuje po celý rok, od januára až do decembra. Minulý rok sa počas obdobia s uvoľnenými opatreniami na Liptove konalo niekoľko klubových koncertov a tiež letný festival s medzinárodnou účasťou Wojteka Mazolewského, Nikolu Bankova, Dana Bártu s triom Roberta Balzara a mnohými ďalšími.
Po viac ako polročnej prestávke sa do koncertnej sály v Evanjelickom dome (tiež známom ako KaSS) na Tranovského ulici v Liptovskom Mikuláši vracia živá hudba. Talent Transport sa na Mikulášskom Jazzovom Festivale po prvý krát predstavila v roku 2012 a odvtedy sa na jeho pódium vracia pravidelne. "Tentokrát sa bude jednať o výnimočné spojenie a zároveň premiéru koncertného programu skupiny Talent Transport s hosťom, priateľom Oskarom Törökom. Jeho vplyv na kompozície je jedinečný, nenechajte si ujsť našu premiéru v milovanom Liptovskom Mikuláši. Na koncerte chystáme jednak skladby z oboch albumov kapely, no nechceme sa vyhnúť silnej improvizačnej schopnosti, tvorenia hudby priamo na pódiu s jedným z najlepších trúbkarov v Európe," hovorí Marián Slávka, bubeník Talent Transportu. Koncert sa uskutoční v sobotu 29. mája o 19:00, lístky si môžete kúpiť v predpredaji na Tickpo.sk, alebo priamo na mieste.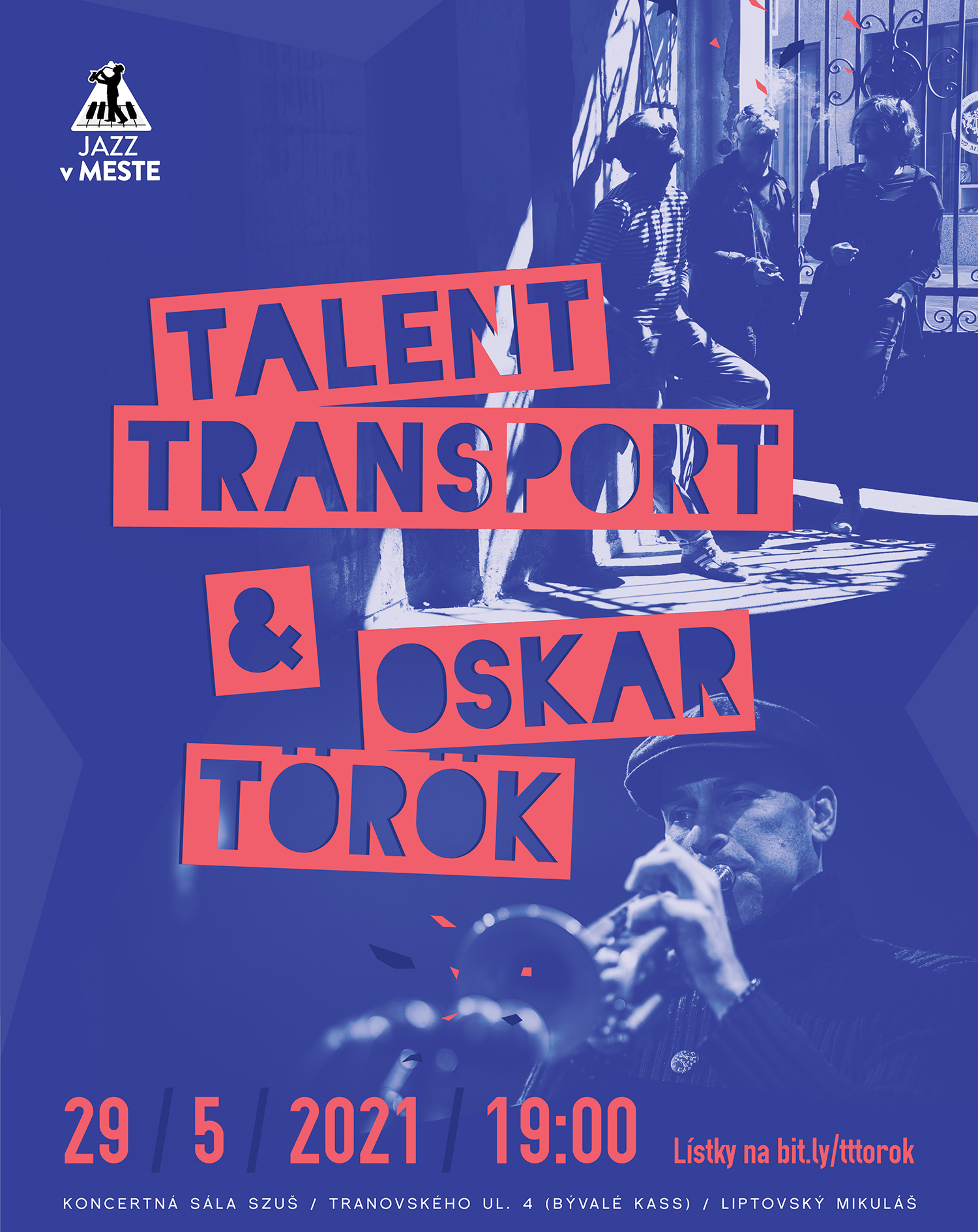 Na koniec júna je naplánovaný dvojkoncert slovenských formácií TAMARA Live Band a Ľudové Mladistvá. Pre 21-ročnú Tamaru Kramárovú, ktorá popri štúdiu neurovedy v anglickom Brightone rozbieha svoju hudobnú kariéru, to bude premiérové vystúpenie na Slovensku. Ako uviedla, "tento koncert bude prvý vo veľa veciach. Prvýkrát budem hrať s kapelou, prvýkrát predstavím originálne piesne z pripravovaného EP a prvýkrát zahrám skladby, ktoré som už dlho hrať chcela, ale nikdy som sa neodvážila." Spolu s ňou sa na pódiu predstavia Martin Šenc na klávesy, Michal Šelep na basgitaru a Adam Noška na bicie. "Zahráme šesť mojich originálnych piesní, ktoré nikto v tejto podobe ešte nikdy nepočul. K tomu zahráme aj zopár prevzatých piesní od mojich najväčších inšpirácii ako napríklad Amy Winehouse, Erykah Badu, Glass Animals či Olivia Dean," dopĺňa Tamara.
V druhej polovici večera zaznie známy projekt Martina Majla Štefánika kombinujúci ľudovú tvorbu s prvkami jazzu, klasiky a modernej hudby, a to v plnej 9-člennej zostave. "Už dlhšie sme chceli priniesť Ľudové Mladistvá na náš festival. Viem, že Majlo už pracuje na novom projekte, tak som rád, že sa to teraz konečne podarilo," hovorí Martin Budaj, spoluorganizátor festivalu a zároveň dopĺňa: "verím, že to bude krásny večer a zároveň warm-up na náš letný festival." Dvojkoncert sa uskutoční 26. júna od 18:00 na rovnakom mieste, lístky sú už v predpredaji na Tickpo.sk.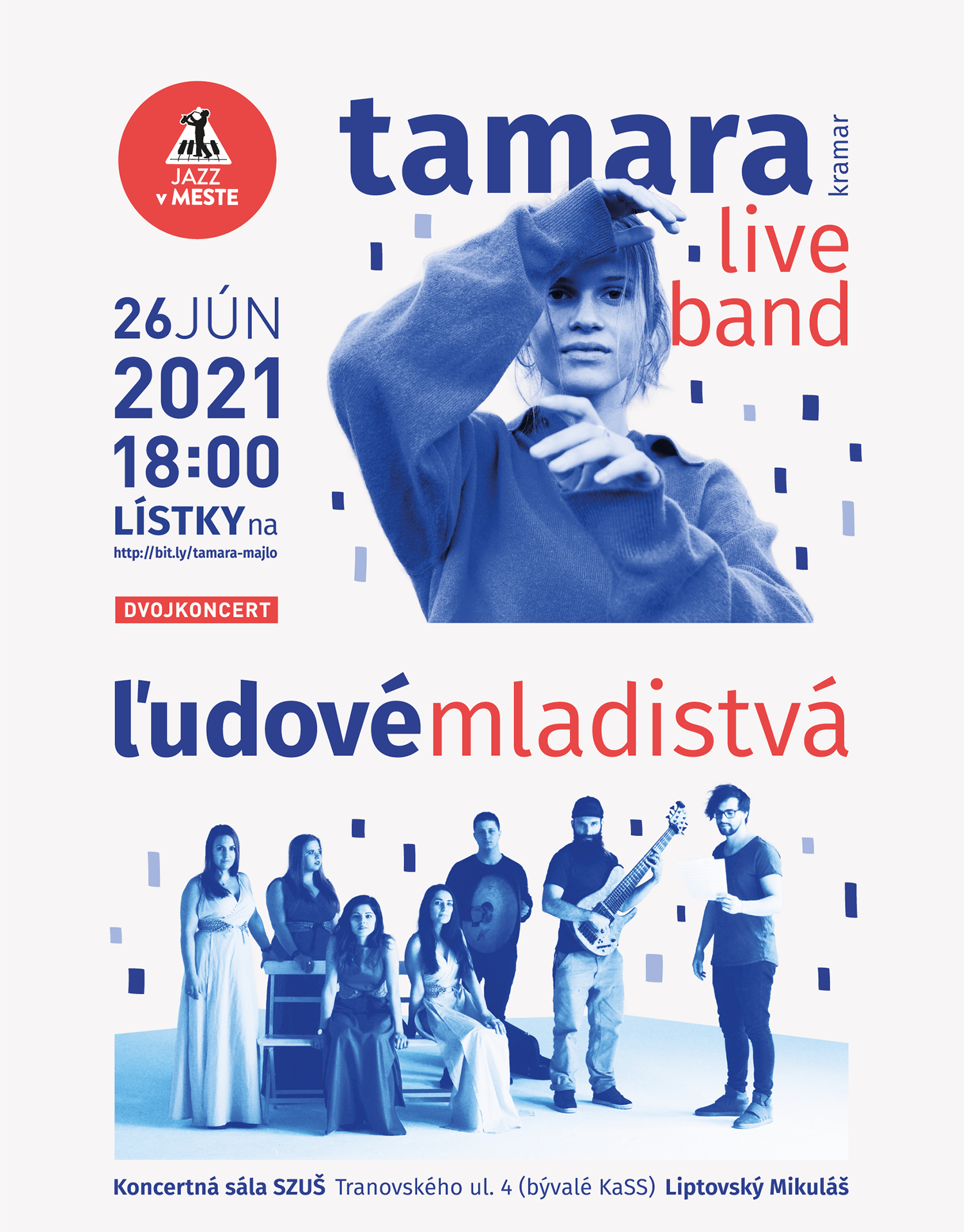 Treťou dobrou správou dňa je, že v Liptovskom Mikuláši sa bude aj tento rok konať letný jazzový festival. Do kalendára si môžete poznačiť dátumy 30. júl – 1. august a rovno si kúpiť EARLY BIRD permanentku za 20 € v sieti Predpredaj.sk. Podrobnému programu 17. ročníka MJF sa ešte budeme venovať, no už prvé mená line-upu dávajú prísľub silného, žánrovo pestrého zážitku. Martin Budaj približuje: "V súčasnej komplikovanej situácii to nie je jednoduché, musíme zohľadňovať množstvo obmedzení v cestovaní, je v tom veľa neistoty. No dalo by sa povedať, že dramaturgia nadchádzajúceho festivalu kombinuje to najlepšie, čo sme u nás ešte nemali a vždy chceli predstaviť s objavovaním nového." Na festivale vystúpi svetoznáma poľská speváčka Anna Maria Jopek, ktorá spolupracovala s hviezdami ako Pat Metheny, Sting, Branford Marsalis, Gonzalo Rubalcaba, Richard Bona, Leszek Mozdzer a mnohými ďalšími. Súčasťou špičkového Anniného kvarteta je klavirista Dominik Wania, ktorému v roku 2020 vyšiel album v prestížnom vydavateľstve ECM. Z česko-slovenských vôd sa na festivale odprezentujú aj držitelia Zlatého Anděla za svoj najnovší album Daleko, kapela Vertigo. Návštevníci festivalu sa môžu tešiť aj na multiinštrumentalistku a speváčku Ivu Bittovú a jej projekt Čikori. Predstavia sa s programom At Home, ktorý je krásnou zmesou moravsko-českého folku a jazzu. "V programe tohtoročného festivalu je toho, samozrejme, omnoho viac, podrobnosti predstavíme už čoskoro. Návštevníci sa môžu tešiť aj na tradičné workshopy a jam sessions," uzatvára Martin Budaj.
Festival z verejných zdrojov podporil Fond na podporu umenia.
Zdroj: TS