Dlho očakávaný film Petra Jákla Jan Žižka príde do kín začiatkom septembra. Film zo začiatku 15. storočia teraz predstavuje trailer. "Snažil som sa do traileru vložiť trochu viac z príbehu filmu, čo je pre mňa dôležité. Pre mňa je film vlastne celý o Žižkovom osobnom príbehu," zveril sa režisér.
Dvojhodinový veľkofilm sa odohráva v roku 1402. "Vybral som si tento rok, pretože politická situácia bola vtedy veľmi podobná tej súčasnej. Politici sa hádali, chceli pre seba uchmatnúť čo najviac moci a peňazí," opísal Jákl historický kontext, do ktorého zasadil príbeh zrodu vojvodcu. "V tom čase začal Jan Hus kázať v Betlehemskej kaplnke a odohrali sa udalosti, ktoré nakoniec viedli k jeho upáleniu," povedal a dodal, že každý by si mal urobiť názor na Žižku a celé obdobie, ktoré viedlo k husitským vojnám, sám.
Samozrejme, ako väčšina producentov, aj on si kládol otázku, koľko toho má v traileri prezradiť. "Čo by sa malo a nemalo zobrazovať v upútavke, je vždy veľkou otázkou. Vo všeobecnosti dávam prednosť tomu, aby som sa z traileru nedozvedel príliš veľa, pretože potom je vo filme všetko inak. V súčasnosti však trailery zvyčajne ukazujú veľkú časť príbehu. Okrem toho treba diváka nalákať na to najatraktívnejšie vo filme, pretože konkurencia je obrovská a diváci si dnes starostlivo vyberajú, za čo zaplatia," opísal svoj myšlienkový postup producent a režisér.
Napriek tomu dal prednosť tomu, aby sa upútavka najprv ukázala "kontrolnej skupine". "Mali sme niekoľko upútaviek a všetky sme testovali s divákmi. Testovanie potvrdilo môjho favorita, takže ho môžeme bez problémov použiť," vysvetlil Jákl a dodal, že zvyčajne sa trailer strihá inak pre Českú republiku a inak pre USA. "Pri traileri je dôležité vedieť, na akého diváka sa zameriavate. Inak je to v Amerike a u nás je to inak. Ale máme len jeden trailer, a je takou kombináciou, ktorá, dúfam, bude fungovať pre všetkých," dodal.
Od 8. septembra sa tak diváci môžu tešiť na príbeh, ktorý sa začal pred dvanástimi rokmi. Prvá klapka Jana Žižku padla 17. septembra 2018 a posledná po 56 dňoch natáčania 8. decembra 2018. Na pľaci sa vystriedali mená ako Ben Foster, Michael Caine, Matthew Goode, Til Schweiger, Vinzenz Kiefer, Werner Daehn, William Moseley, Sophie Lowe a českí herci ako Karel Roden, Ondřej Vetchý, Marek Vašut, Jan Budař a Ben Christovao. Petr Jákl pozval do svojej zbroje aj športovcov Lukáša Krpálka, Davida Svobodu, Romana Šebrleho, Rudolfa Kraja, Mareka Šveca, Petra Vágnera, Viktora Peštu a ďalších.
Film Jan Žižka sa bude premietať aj v zahraničí, preto boli vytvorené dve jazykové verzie filmu aj trailerov. K dispozícii budú v pôvodnom znení s titulkami ale aj s českým dabingom. Okrem hercov na plátne sa na filme podieľali Petr Lněnička, Nina Horáková, Martin Stránský, Michal Dlouhý, Václav Rašilov, Jaromír Meduna, Jan Šťastný, Ondřej Kavan, Jitka Čvančarová, Tomáš Juřička, Petr Neskusil, Vasil Fridrich, Ernesto Čekan, Pavel Nečas, David Matásek, Filip Antonio, Josef Pejchal a ďalší.
Film Jan Žižka, ktorý rozpráva príbeh o zrode najslávnejšieho vojvodcu českých krajín a jedného zo siedmich nikdy neporazených bojovníkov v histórii, príde do slovenských kín 8. septembra 2022. Do kín ho uvedie distribučná spoločnosť Magic Box Slovakia.
Film Jan Žižka rozpráva príbeh o zrode najslávnejšieho vojvodcu českých zemí a jedného zo siedmich nikdy neporazených bojovníkov v histórii.
Na konci 14. storočia sužuje Krajiny českej koruny tyrania a násilie. Jan Žižka a skupina jeho žoldnierov sú najatí na ochranu kráľovho zástupcu. Jan preukáže skvelé strategické a bojové schopnosti. Následne je poverený službou samotnému kráľovi Václavovi IV.
V skutočnosti však krajine vládne Jindřich z Rožmberka, najbohatší veľmož kráľovstva. Jan dostane delikátnu úlohu: uniesť Rožmberkovu snúbenicu Kateřinu. Tým sa však zaplieta do vysokej politiky. Od tej chvíle nemá na výber. Musí bojovať. Janove žoldnierske hodnoty sa otriasajú v základoch. Vášeň, vina, túžba a pomsta sa stávajú hnacou silou jeho boja za spravodlivosť a rovnosť pre obyčajných ľudí.
V tomto čase sa žoldnier stáva legendou. Zrodí sa bojovník, ktorý bude bojovať za všetko, v čo verí.
Premiéra: 08.09. 2022
Anglický názov: MEDIEVAL
Výroba: Česká republika, 2022
Formát: 2,39 :1 Cinemascope, Dolby Digital 5.1, 7.1, Atmos,
Jazyková úprava: Originálne znenie s českými titulkami, Dabing
Žáner: Životopisný/ Historický / Dráma / Akčný
Prístupnosť: nevhodné pre deti do 12 rokov – dabovaná verzia
nevhodné pre deti do 15 rokov – české titulky, dabing
Minutáž: 125 minút
Režia: Petr Jákl
Producent: Petr Jákl, Cassian Elwes – J.B.J. Film, Double Tree Entertainment
Studio: R. U. Robot Studios
Výkonný producent: Martin J. Barab, Petr Jákl st., Kevin Bernhardt
Námet: Petr Bok, Petr Jákl st
scenár: Petr Jákl
Spolupráca: na základě scénáře Marka Dobeše a Michala Petruše
Dramaturgia: Ivo Trojakov
Historik: Prof. PhDr. Jaroslav Čechura, DrSc.
Strih: Steven Rosenblum, Dirk Westervelt
Kamera: Jesper Tøffner
Hudba: Philip Klein
Hrajú: Ben Foster, Michael Caine, Matthew Goode Til Schweiger, Vinzenz Kiefer, Werner Daehn, William Moseley Sophie Lowe, Karel Roden, Ondřej Vetchý, Marek Vašut, Jan Budař, Ben Christovao a další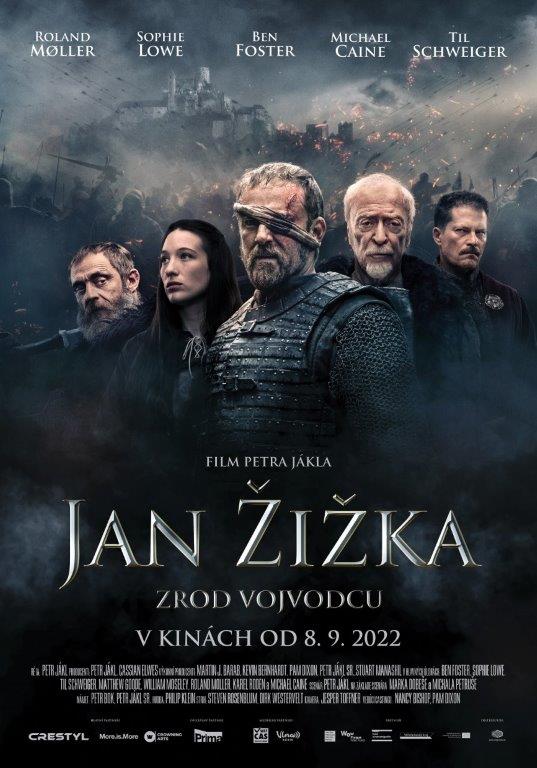 Zdroj: TS