9.ročník Ruka Hore Awards už 24.mája spozná svojich víťazov! Každým rokom Ruka Hore ako garant súťaže pripravuje v spolupráci s Krea Production k vyhláseniu výsledkov kreatívny event, ktorý nepatrí medzi typické akcie, práve naopak. Samotné vyhlásenie sa nesie v umeleckom a kreatívnom duchu, ktorý u nás nerobí zatiaľ nikto. Tentokrát organizátori prekvapili a výsledky 9.ročníka Ruka Hore Awards prebehne v špeciálnej umeleckej inštalácii od uznávaného fotografa, režiséra a umelca Lousy Aubera.
Minulý rok pri vyhlásení výsledkov si organizátori pripravili prvý GalaStream, na ktorom sa však kvôli pandemickým opatreniam nemohla zúčastniť verejnosť. 9.ročník však prinesie umenie nielen cez online stream, ale priamo medzi ľudí, a to na strechu multifunkčnej budovy Nivy. O kreatívu eventu sa postaral Lousy Auber, ktorý vyštudoval mediálne štúdia v Kodani a do povedomia širšej verejnosti sa dostal najmä vďaka intervencii na fasáde bývalého hotela Kyjev v Bratislave. V jeho pestrom portfóliu nájdeme okrem iného, performance Červená armáda (Grape festival), zvukovo-svetelné inštalácie pre Bielu noc či umelecké inštalácie v rámci komerčnej spolupráce so svetovou športovou značkou. K jeho dlhodobým projektom patrí aj @lousyselfies, v rámci ktorého vytvára zbierku 1000 portrétov (analógových "selfies") ľudí zo svojho okolia. "Sme nesmierne radi, že tento ročník si vzal pod taktovku kreatívec akým Lous rozhodne je. Jeho špeciálna inštalácia, ktorá v rámci akcie Biela noc zožala obrovský úspech bude refreshnutá exkluzívne pre 9.ročník Ruka Hore Awards a priamo v nej prebehne koncert, ktorý bude pozostávať zo skladieb od víťazov ankety. Každá kategória bude mať svoj remake od kapely, ktorú by nikto nečakal", objasňuje umelecký event Jana Frankovič Szabová z Krea Production. Okrem umeleckého zážitku z netradičného vyhlásenia si tím Ruka Hore Awards pripravil opäť osobité ocenenie, ktorý každý rok navrhuje renomovaný umelec. "Keďže sme v roku 2016 s manželkou založili ateliér MEB architects, pracujeme na neustálom prepojení architektúry a modernej doby, veľmi si vážime túto príležitosť vytvoriť niečo jedinečné pre tento unikátny hudobný projekt. Naša tvorba odzrkadľuje spoluprácu našich dvoch myslí, symbiózu nášho tvorivého ducha a nášho pohľadu na svet, veríme preto, že ako fanúšikovia ocenili v tejto ankete svojich obľúbených interpretov, tak samotní umelci ocenia aj na mieru pripravenú cenu pre nich", hovorí Ing.arch. Matej Babuliak. Oficiálne vyhlásenie výsledkov 9.ročníka Ruka Hore Awards odštartuje už tento utorok, 24.mája hudobným setom DJ Piggo o 17:00, následne oficiálne večerný program v špeciálnej Lausyho inštalácii otvorí moderátor projektov Ruky Hore, Martin "Bandurko" Husár.
https://awards.rukahore.sk/
https://www.instagram.com/rukahore/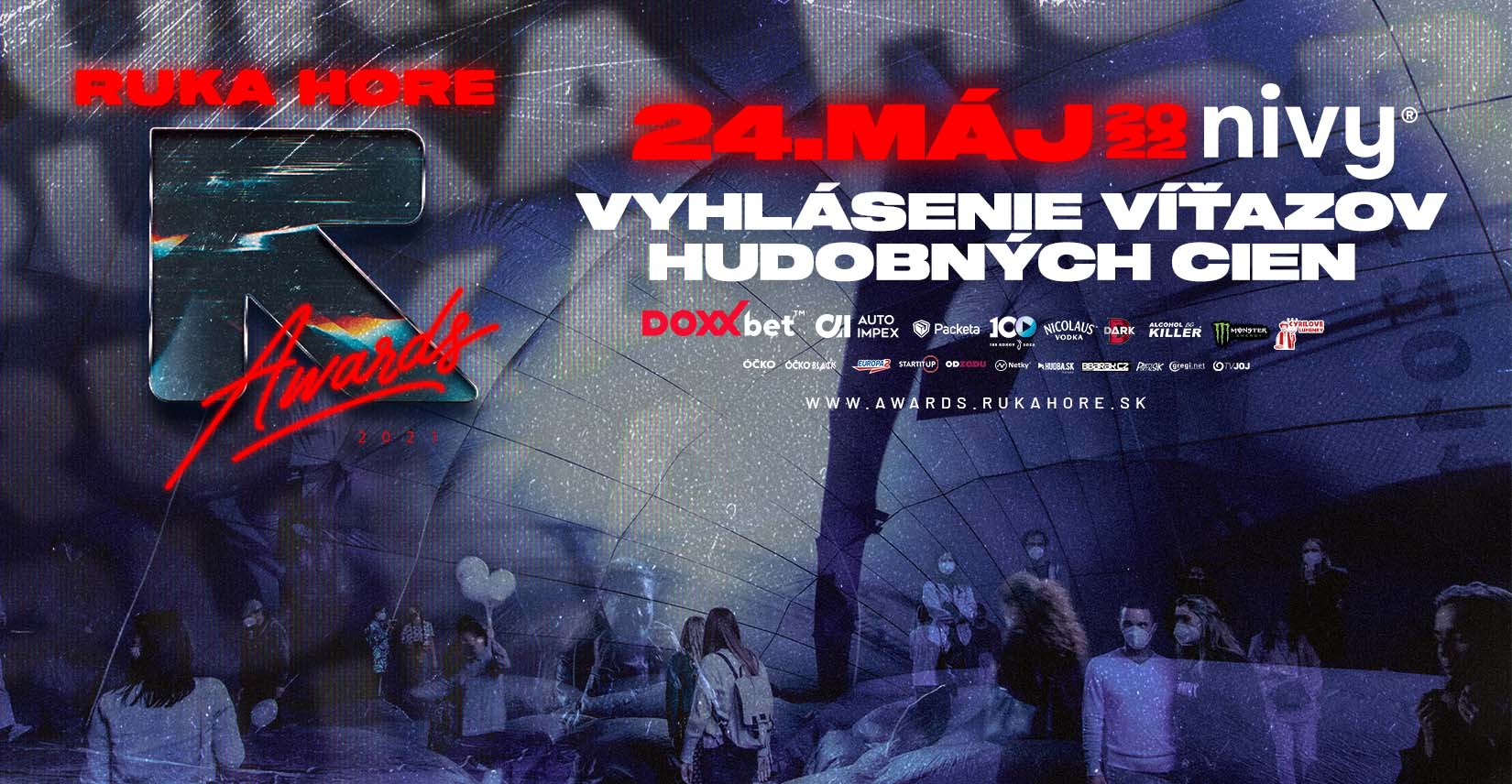 O RUKA HORE AWARDS
Meranie popularity slovenských spevákov, speváčok či skupín vyhlasovali rôzne hudobné anktey už od roku 1998, vtedy najúspešnejšia anketa Slávik vyhlásila víťazov až v 15.ročníkoch, kde posledné roky číslo klesalo až na alarmujúcich 5 000hlasov, a preto na základe neustáleho poklesu sa nakoniec rozhodli usporiadatelia anketu úplne zrušiť. Nato nadviazalal v roku 2013 hudobná multižánrová platforma Ruka Hore, ktorá začala podporovať umelcov aj po tej hodnotiacej stránke, čím bolo meranie ich tvorby za isté obdobie. Ruka Hore koncom roka 2020 spustila celkový rebrand značky, ktorú pokrstila špeciálnym krátkym, hudobným filmom, v ktorom mashopovo odznelo vyše 27 interpretov. Následne 10.januára spustili 8.ročník Ruka Hore Awards s výsledkom, ktorý prekonal nielen svoju hlasovaciu hranicu, ale aj hranicu jedinej hudobnej ankety, ktorá sa venovala umelcom a to bol Slávik. Ruka Hore tak odštartovala 9.ročník jedinej multižánrovej ankety na Slovensku, do ktorej sa môže zapojiť každý, stačí len vyplniť svoj mail a zahlasovať v jednotlivých kategóriách. Po zahlasovaní vo všetkých kategóriách sa tak fanúšikovia kvalitnej hudby môžu odmeniť hodnotnými cenami, ktoré darovali partneri 9.ročníka Ruka Hore Awards ako napríklad Fiat 500e na mesiac, mobilné telefóny SAMSUNG, reproduktory JBL, kolobežka XIAOMI a iné.
Ruka Hore Awards minulý rok odvysielala svoj prvý GalaStream, ktorý je stále aktívny na kanáli Ruka Hore: https://youtu.be/qV7HYLgGqOs .
Zdroj: PR/BRAND MANAŽÉR JANA TRELLOVÁ/RUKA HORE AWARDS