Už oddnes môžu fanúšikovia hudby hlasovať za svojho favorita v 10.ročníku Ruka Hore Awards. Tento je však obzvlášť špeciálny, keďže výber umelcov a ich diel prebehol na základe nominácii a je striktne založený len na hudbe, ktorá bola uverejnená v danom roku. Zahlasovať za svojho favorita tak verejnosť môže až do 15.marca na https://awards.rukahore.sk/ a víťazov v daných kategóriách spoznáme 22.marca v éteri rádia Europa 2.
Každý rok sa spúšťa prestížna anketa Ruka Hore Awards začiatkom roka, no tento ročník okrem okrúhleho čísla priniesol značné zmeny. Po minulé roky mohla verejnosť hlasovať za komplet všetkých umelcov, no tohto roku nastala výrazná zmena.
"Sme nesmierne radi, že sa táto anketa posúva vyššie z roka na rok. Ruka Hore Awards je nielen prestížnou anketou, ale najmä veľmi obľúbenou, o čom svedčia stúpajúce čísla každým ročníkom. Tento je zase o niečo špeciálnejší. Keďže chceme posúvať level tejto ankety, rozhodli sme sa zahrnúť do hlasovania len tých umelcov a diela, ktoré prešli cez nominačnú porotu a zverejnili svoj hudobný počin v rámci roka 2022. Ruka Hore Awards sa tak stala anketou, ktorá relevantne prinesie výsledky na základe nominácii samotných autorov hudby z roku 2022", objasňuje zmeny projektová manažérka Jana Frankovičová, Krea Production.
Okrem toho, že ľudia budú hlasovať len za umelcov, ktorí svoju tvorbu nominovali sami a museli spadať pod stanovené pravidlá, anketa prináša rovno aj ďalšie zmeny v dizajne.
Minulý ročník sa niesol v tmavých farbách, pôsobil dramaticky a ponuro. Asi sa to aj hodilo k obdobiu, keďže boli ešte dozvuky lockdownu a pandémie. Teraz sme sa po bleskoch a tme, rozhodli vyjsť vyššie, nad oblaky s pomyselným pod headlinom "Sky is not the limit". A uvidíme, možno ďalší ročník pôjdeme ešte vyššie", vysvetľuje Juraj Antoňák, Creative Director We Are Fxctory.
Jediné, čo ostáva nezmenené je tipovanie v ankete, v kategórii "DOXXbet skupina roka", tá zažila obrovský úspech, keďže historicky prvýkrát sa stalo, že sa mohlo tipovať v umeleckej oblasti a fanúšikovia tak mohli spojiť hlasovanie so zábavou.
"Hudba určite patrí k zábave. Preto sme radi, že prinášame kurzovú ponuku práve na hudobnú anketu Ruka Hore Awards. Na minulý ročník ankety sme mali neskutočne pozitívne ohlasy. Fanúšikovia slovenskej hudobnej scény sú aj naši fanúšikovia. Všetci si môžu podať na obľúbeného interpreta či svoj idol. Kurzy sú pripravené a tipovanie je už dnes spustené na kategórie: DOXXBET SKUPINA ROKA, INTERPRET ROKA, INTERPRETKA ROKA. Sme, samozrejme, zvedaví ako dopadne hlasovanie v tomto ročníku a kto bude kraľovať hudobnej scéne", Milan Kačiak, vedúci kurzového oddelenia DOXXbet.
Čo sa týka ďalších zmien, nastane aj v oznámení víťazov v jednotlivých kategóriách. Minulý rok prebehlo vyhlasovanie víťazov 9.ročníka Ruka Hore Awards na kreatívnom evente, ktorý u nás neurobilzatiaľ nikto. Výsledky sa prítomní hostia dozvedeli prostredníctvom koncertu swingovej kapely Funny Fellows v špeciálnej umeleckej inštalácii od uznávaného fotografa, režiséra a umelca Lousy Aubera. A rok predtým si zasa organizátori počas lockdownu pripravili prvý GalaStream / https://www.youtube.com/watch?v=qV7HYLgGqOs&t=842s , na ktorom sa však pochopiteľne kvôli pandemickým opatreniam nemohla zúčastniť verejnosť. Tento 10.ročník však slávnostne vyhlásenie prebehne v éteri rádia Europa 2 a to už 22.marca. Okrem iného si jedno z najpočúvanejších rádií na Slovensku pripravilo vlastnú kategóriu "HIT ROKA RÁDIA EUROPA 2" , za ktorú sa nebude hlasovať, ale je v špeciálnej sekcii medzi kategóriami "Merch roka" a "Cover roka", kde o víťazovi rozhodne odborná porota.
"Europa 2 je brand love mladých ľudí a preto nám spojenie s RUKA HORE AWARDS dáva zmysel. Máme rovnako ako naši poslucháči radi hudbu, jedinečné a fresh projekty. Tešíme sa, že tento rok sme spojili svoje sily a pripravili nomináciu v kategórii Hit Roka rádia Europa 2. Nominovali sme 5 slovenských hitov, ktoré v našom playliste dominovali v roku 2023. Víťaza vyhlásime počas špeciálneho vysielania 22.marca. Teším sa na to", hovorí Andrej Kratochvíl, šéf hudby v najpočúvanejších slovenských rádiách – Rádio Expres, Europa 2 a Melody.
NOMINÁCIE HIT ROKA EUROPA 2:
Adonxs – Game
Kali & Peter Pann & Pista Lakatos – Hop Cip
Yael – My
Para – To okolo nas
Majself & Sorty, Dlugosh & Milan Lieskovsky – Za jeden tím
Viac info:
https://awards.rukahore.sk/
https://www.instagram.com/rukahore/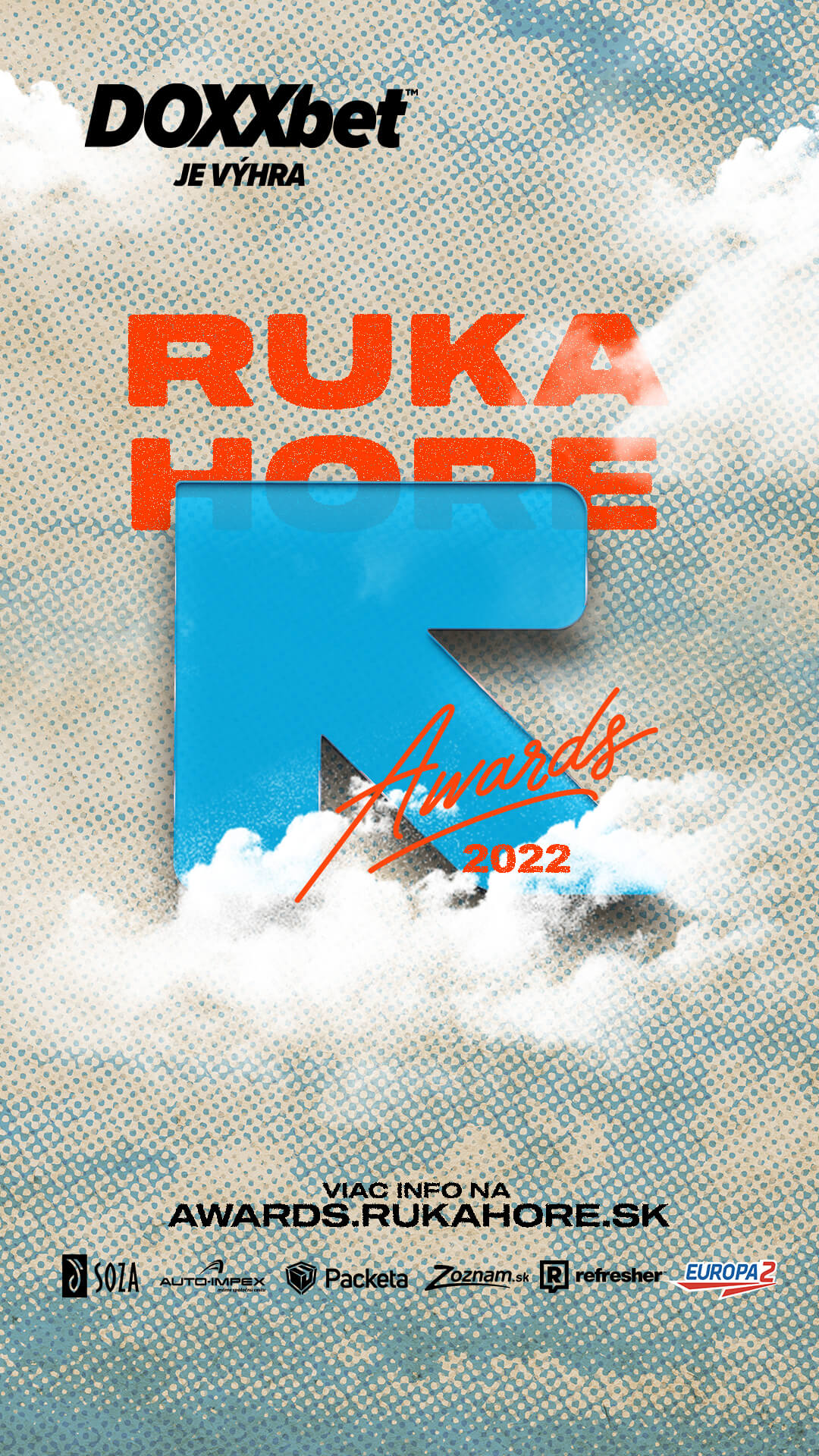 Zdroj: PR/BRAND MANAŽÉR JANA TRELLOVÁ/RUKA HORE AWARDS