Ruka Hore Awards každý rok prekvapuje svojim progresom medzi hudobnými anketami. Minulý rok priniesla kreatívne vyhlasovanie víťazov a rekordný počet hlasujúcich, tohto roku si pripravili hlasovanie o niečo špeciálnejšie. Ako prvá hudobná anketa má vlastný kurz na tipnutie víťaza v najhlavnejších kategóriách – skupina roka 2021, interpret roka 2021 a interpretka roka 2021. Tipovanie sa oficiálne spustilo dnešným dňom: https://bit.ly/RukaHoreTipovanie
Historický prvýkrát si môžu fanúšikovia hudby tipnúť na víťaza v hlavných kategóriách 9.ročníka Ruka Hore Awards. Anketa totiž spojila sily s jednou z najväčších tipovacích platforiem a pripravili špeciálne kurzy na jednotlivé mená skupín, interpretiek a interpretov roka. A ako bude prebiehať tipovanie? "Tipovanie na Ruka Hore Awards bude prebiehať až do vyhlásenia víťazov, či už na počítači, v mobile alebo v našej apke. Priebeh samotných stávok je veľmi ťažko predpovedať, predsa len máme väčšie skúsenosti s tradičnými športami. Sami sme zvedaví, či sa bude tipovať za obľúbenú kapelu alebo najväčších favoritov v danej kategórii. V tipovaní bežne ponúkame aj nešportové stávky, kde cítime priestor a potenciál osloviť ľudí aj mimo športového priestoru, preto sme chceli podporiť aj hudobný segment a veľmi nás teší spolupráca s Ruka Hore. Veríme, že spoznáme víťazov, ktorí si to zaslúžia za svoj umelecký prínos v uplynulom roku a držíme palce aj tipujúcim", hovorí Milan Kačiak, vedúci kurzového oddelenia DOXXbet. Už viac ako 20 rokov prináša DOXXbet tipérom služby v oblasti športového tipovania a zábavy, patrí medzi popredné spoločnosti v oblasti športového tipovania a zábavy na Slovensku. Zameriava sa na novinky, kvalitu, šírku ponuky, na moderné technológie a aplikácie. Od dnešného dňa sa prepojila aj s hudbou. "Sme nesmierne radi tejto spolupráci hlavne preto, že obaja sme nastavení na inovácie a toto online tipovanie v hudobnej ankete je ďalší posun aj v kultúrnej spoločnosti. Myslíme, že je to aj pre mladých alebo skalných fanúšikov väčšia motivácia zahlasovať a prejaviť tak suport danému umelcovi, umelkyni či skupine a pritom vyhrať aj sám pre seba. Čiže ide o historický prvý
kurz v oblasti kultúry, z ktorého sa nesmierne tešíme a je to pre 9.ročník Ruka Hore Awards nesmierna pocta", uzatvára Jana Trellová, PR/Brand manažér Ruka Hore & Ruka Hore Awards.
Viac info:
https://bit.ly/RukaHoreTipovanie
https://awards.rukahore.sk/

O RUKA HORE AWARDS
Meranie popularity slovenských spevákov, speváčok či skupín vyhlasovali rôzne hudobné anktey už od roku 1998, vtedy najúspešnejšia anketa Slávik vyhlásila víťazov až v 15.ročníkoch, kde posledné roky číslo klesalo až na alarmujúcich 5 000hlasov, a preto na základe neustáleho poklesu sa nakoniec rozhodli usporiadatelia anketu úplne zrušiť. Nato nadviazalal v roku 2013 hudobná multižánrová platforma Ruka Hore, ktorá začala podporovať umelcov aj po tej hodnotiacej stránke, čím bolo meranie ich tvorby za isté obdobie. Ruka Hore koncom roka 2020 spustila celkový rebrand značky, ktorú pokrstila špeciálnym krátkym, hudobným filmom, v ktorom mashopovo odznelo vyše 27 interpretov. Následne 10.januára spustili 8.ročník Ruka Hore Awards s výsledkom, ktorý prekonal nielen svoju hlasovaciu hranicu, ale aj hranicu jedinej hudobnej ankety, ktorá sa venovala umelcom a to bol Slávik. Ruka Hore tak odštartovala 9.ročník jedinej multižánrovej ankety na Slovensku, do ktorej sa môže zapojiť každý, stačí len vyplniť svoj mail a zahlasovať v jednotlivých kategóriách. Po zahlasovaní vo všetkých kategóriách sa tak fanúšikovia kvalitnej hudby môžu odmeniť hodnotnými cenami, ktoré darovali partneri 9.ročníka Ruka Hore Awards ako napríklad Fiat 500e na mesiac, mobilné telefóny SAMSUNG, reproduktory JBL, kolobežka XIAOMI a iné.
Ruka Hore Awards minulý rok odvysielala svoj prvý GalaStream, ktorý je stále aktívny na kanáli Ruka Hore: https://youtu.be/qV7HYLgGqOs .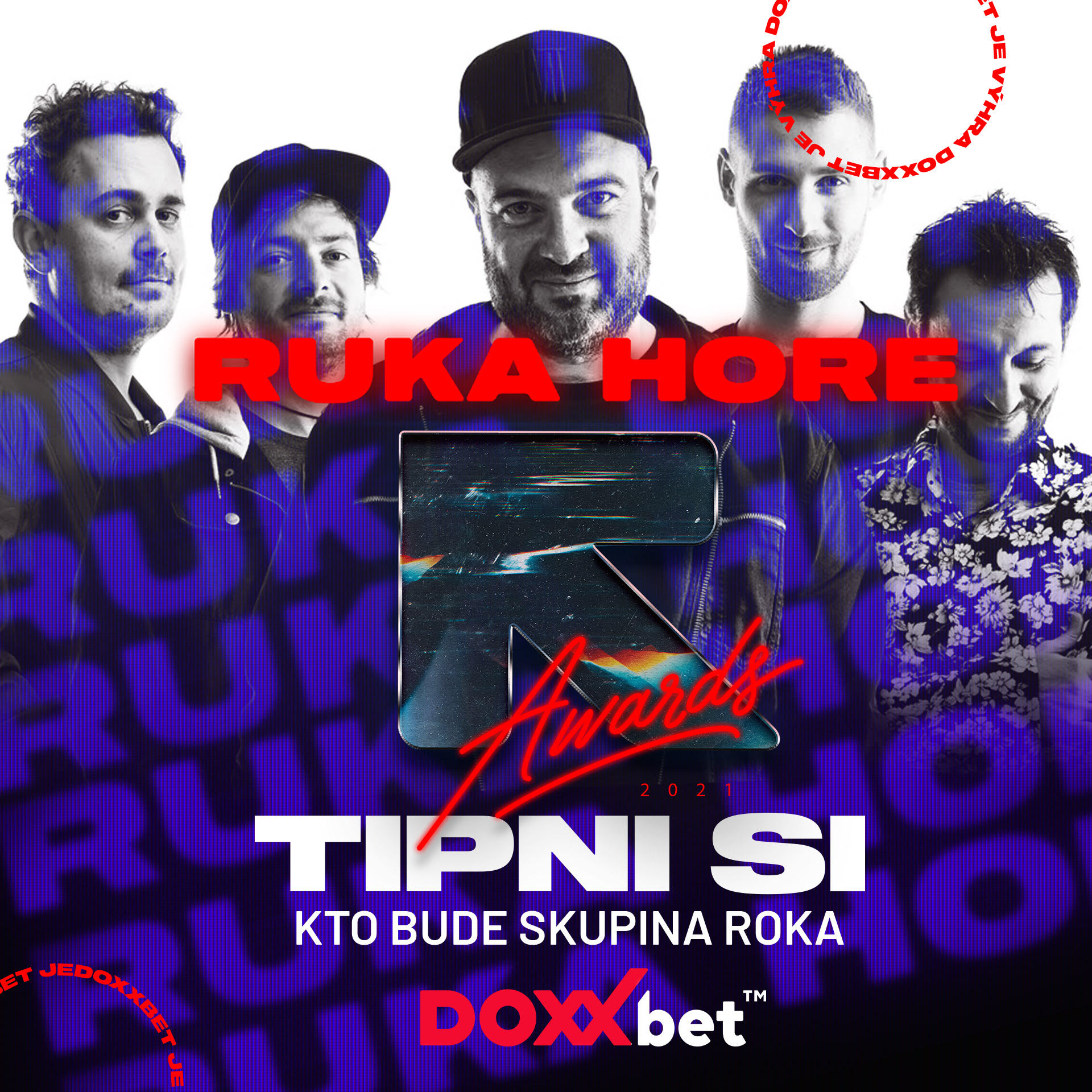 Zdroj: PR/BRAND MANAŽÉR JANA TRELLOVÁ/RUKA HORE &RUKA HORE AWARDS