Hradby Samoty otevírají letos druhou dekádu své existence, přičemž v té první si prošly divokou a poutavou historií. Od nadšeneckého setkání doslova pár desítek lidí na zřícenině hradu Cimburk přes slušně etablovanou událost evropského formátu v Rosicích u Brna až po výtvarně-hudební festival s celostátním významem v Moravanech nad Váhom. Přes počáteční problémy s financováním až po logistické veletoče způsobené covidem, je dnes patrné, že si Hradby dokázaly najít svou pevnou formu a návštěvníci již tak dopředu tuší, co mohou očekávat. Jak tedy s tímto ideálně naložit? Vše překopat a začít znovu, proto se jedenácté Hradby Samoty nekonají na předměstí Brna s veškerou vybaveností, ani pár desítek minut od komfortního lázeňského střediska, ale vrací se na jedno z nejobskurnějších míst své historie, na opuštěný zámek v Jelšavě.
Když svého času cestoval tímto krajem Bram Stoker hledaje inspiraci pro svůj nejslavnější román Drákula, zalíbily se mu právě končiny Gemeru a Košic, a to dokonce více než tolik legendami opředené Karpatsko a Moldávie, a tak většinu prvků které vytváří sugestivní atmosféru ponurého úkrytu věčného upíra nasbíral právě na rozhraní středního a východního Slovenska, přičemž není vyloučené, že tu a tam nějaký ten motiv pocházel přímo z okolí Jelšavy. Dohromady s původním posláním Hradeb Samoty, tedy oživením zapomenutých památek a hlavně s cílem přinést do dávno mrtvých míst život a kulturu, se tak Jelšava stává perfektním místem, kde se mohou zrodit Hradby Samoty druhé dekády.
Již od minulého roku, kdy bylo rozhodnuto, že se festival do Moravan už nevrátí a mezi organizátory padlo jméno Jelšava, bylo všem jasné, že se Hradby nemohou jen tak objevit, uspořádat pár koncertů a zase na rok zmizet. S Jelšavou je nutné pracovat jinak, a to jak z hlediska návštěvníků, tak i celého programu, který by bylo možné letos shrnout jako jedno velké site-specific, tedy přizpůsobení celé situace posluchače/interpreta/organizátora (neboť tyto role se na Hradbách často propojují a prolínají) s velmi specifickým regionem Gemeru.
V okolí Jelšavy se totiž nachází velké množství historických i technických památek, z nichž některé budou otevřeny exkluzivně právě jen v době konání festivalu, ať už se jedná o staré kostely v čele s rotundou Sv. Margity, či technické památky v podobě vysoké pece v Sirku, ostatně s první a nejbližší památkou je propojen i jeden z hlavních koncertů celého festivalu, a sice varhanní interpretace díla Philipa Glasse z rukou Fera Királya v jelšavském evanglickém kostele. Tento koncert bude také jednou z prvních veřejných proklamací snahy o záchranu místních varhan, jejichž cílem bude upozornit na špatný technický stav a zároveň kulturní a historický význam tohoto nástroje.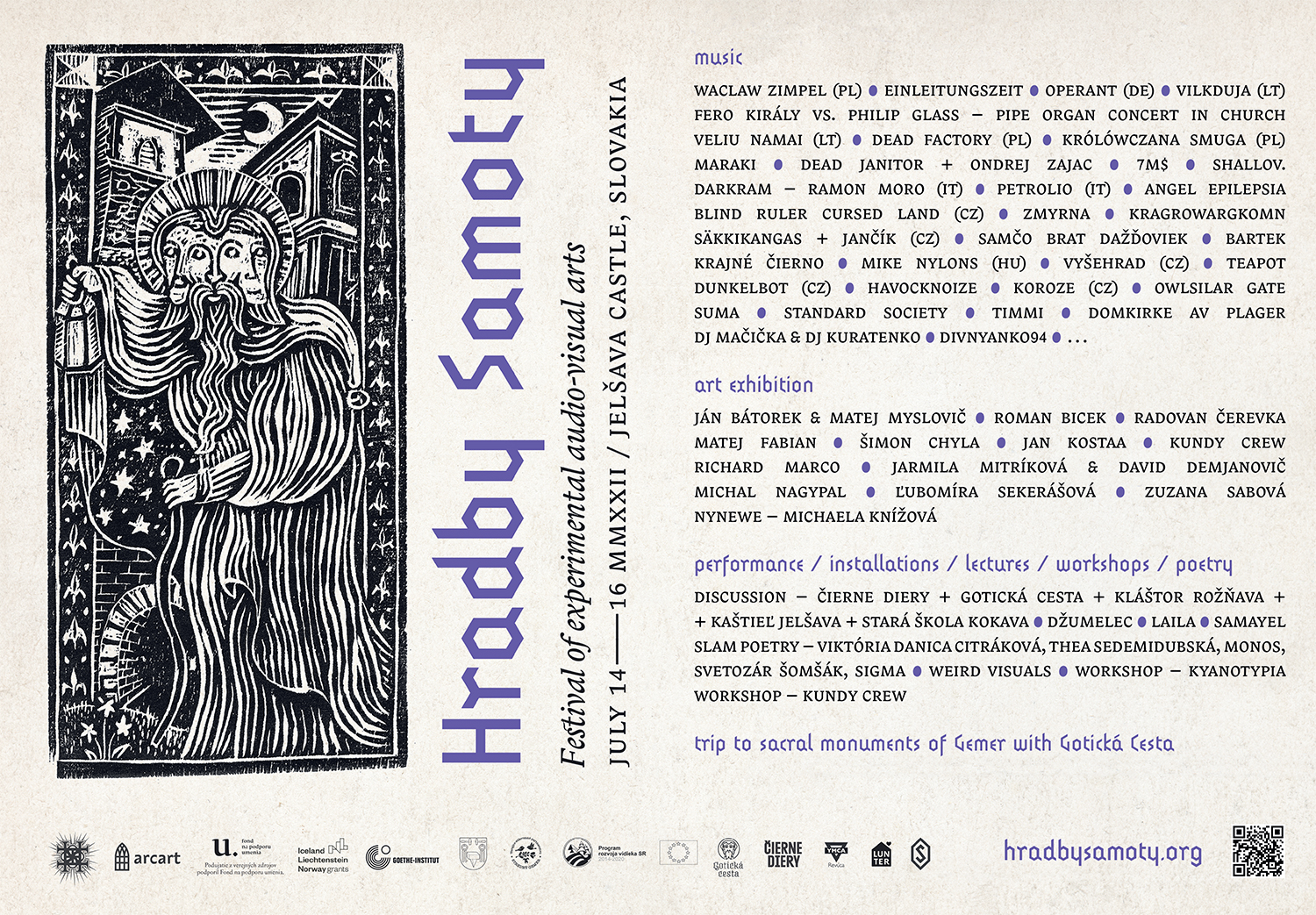 Tradiční součástí programu jsou samozřejmě vystoupení elektronických i elektroakustických úderek z celého širšího regionu střední Evropy. Ať už vás zaujme spíše polský experimentální jazzový klarinetista Waclaw Zimpel, rytmická industriální úderka Operant, první black metal na Hradbách v podání československé Zmyrny či litevští experimentátoři Vilkduja a Veliu Namai, určitě si z žánrově možná nejpestřejších Hradeb za dlouhou dobu do sytosti vyberete. Krom ortodoxně industriálních projektů jako Dead Factory či Einleitungszeit si můžete dostatečně užít i čím dál oblíbenější "rychty" v podání zkušených matadorů jako Maraki a Havocknoize, k Jelšavě velmi dobře padnoucí dungeonsynth žánr v podání českého Vyšehradu, Dunkelbot a slovenských Owlsilar Gate nebo abstraktnějších experimentů Angel Epilepsia, Krajné Čierno, pochodových Blind Ruler Cursed Land, či dronové destrukce Kragrowargkomn anebo pro odvážné performance provokativního nomáda Samča Brata dažďoviek.
Nebude chybět ani výtvarná sekce v podání více jak desítky vystavujících umělců pod kuratelou Omara Mirzu – jejich společné snažení ponese název Pliaga. Pandemie, vojna, klimatická krize – nežijeme právě v krásných časech. Ani umění nemusí být jenom o kráse. Může to být i pořádná facka. A po katarzi možná zjistíme, že dokážeme něco změnit – pokud ne svět, alespoň sebe. Výstava představuje díla slovenských výtvarnic a výtvarníků tvořících v různých médiích jako malba, fotografie, objekt, či instalace. Ján Bátorek, Roman Bicek, Radovan Čerevka, Matej Fabian, Šimon Chyla, Michaela Knížová, Jan Kostaa, Richard Marco, Jarmila Mitríková & Dávid Demjanovič, Michal Nagypál, Zuzana Sabová a Ľubomíra Sekerášová ponoukají v zákoutích coburgovského zámku v Jelšavě svůj pohled na současnost. Pliaga – to je katastrofa, neštěstí, choroba, havěť, zberba. Samota, temnota, vojna, smrt, (post)apokalyptický punk a (post)konceptuálny folklór, popkultúrna "realita", metamorfózy člověka, přírody a jejich komplikovaných vztahů – to jsou některé z tem, které vystavující umělci zpracovávají. Často se v jich dílech objevuje lebka, která však není jen symbolem pominutelnosti, ale aj znovuzrození. A to nám dává naděj, že snad ještě není všechno ztracené…
Krom klasické výstavy proběhne i několik interaktivních workshopů – vyšívání, či modrotisk, a samozřejmě tradiční videomapping/videoart, tentokrát ovšem analogovou cestou pomocí meotarů, kdy se plátnem stane, jak jinak, samotný jelšavský zámek.
Jako vždy jsou výše zmíněné body programu jen částí bohatého spektra aktivit, které je možné v Jelšavě podniknout, přičemž bezpochyby nejzajímavější možností jsou připravené výlety do okolí s festivalovou dopravou a průvodci, kdy poznáte skutečně unikátní památky Gemeru, regionu s bohatou minulostí a ohromným potenciálem, který dosud čeká na své objevení. Ač Jelšava nenabízí pohodlí městské civilizace moravské metropole, ani luxusní odpočinek lázeňského města, přesto se vám nabízí množství zážitků, které byste na minulých Hradbách hledali jen těžko. Hradby zkrátka letos nabízí radikální opozici reklamním stánkům, nákladného občerstvení a všudypřítomným product placementům v podobě festivalu, který, jako ročníky 2010 a 2017, jde zkrátka na dřeň pojmu site specific. A co může být více opravdové, než temná hudba nejrůznějších žánrů na místech, kde je za noci možné místo bzukotu měst, slyšet šeptem pronášené příběhy ze starých legend a pověstí?
Vstupenky: goout.net/sk/hradby-samoty-xi/ezghxmg
Web: hradbysamoty.org
FB page: facebook.com/hradbysamoty
FB event: https://www.facebook.com/events/508944997457643
Instagram: instagram.com/hradbysamoty @hradbysamoty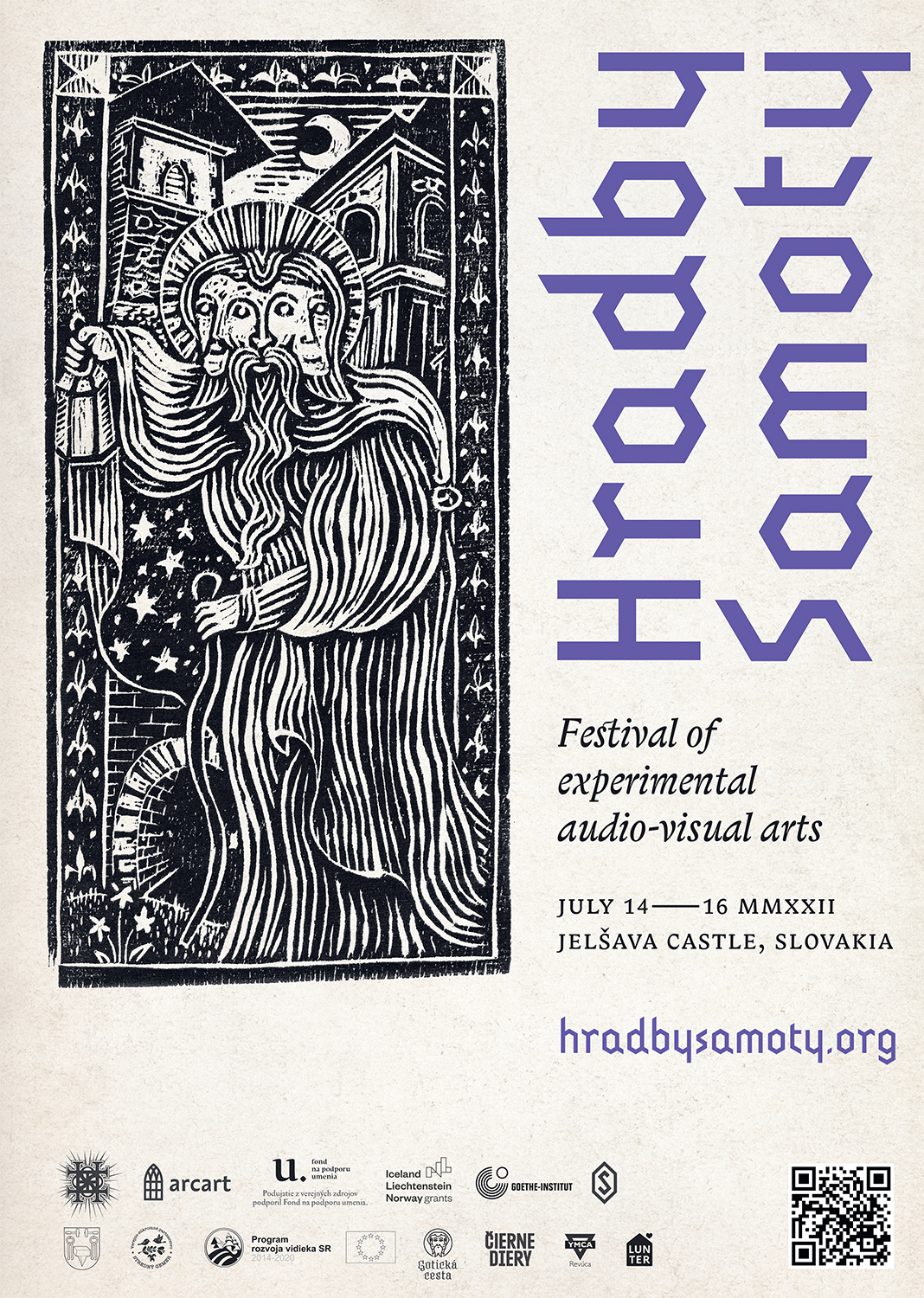 Zdroj: TS