Helsinští gothic-rockoví upíři THE 69 EYES vyraží na evropské turné a přijedou i do pražské krypty Rock Café. Kromě klasických skladeb se můžete těšit i na krvavou hostinu z nových písní z jejich očekávaného nového alba, které vychází teď na jaře.
THE 69 EYES jsou gothic rock/metalová kapela z Finska, která vznikla v roce 1989. Jejich přístupem je to sice punk stylu Billyho Idola, ale zvuk má několik rovin. Je nablýskaný, ale má sílu. Písně jsou hitovky, ale nepostrádají atmosféru. I když mezi vlivy můžeme zařadit Motörhead nebo The Stooges, zásadní je v jejich gotickém rocku čerpajícím ze Sisters of Mercy, Mission nebo Cult (všechny tři kapely s předponou The) vliv glam metalu, tedy kapel jako Mötley Crüe nebo Hanoi Rocks, electro-industriální scény, kde se potkávají s kapelami jako Wednesday 13, a stylistika filmů jako Vrána, Ztracení chlapci či Matrix.
Jejich temný gothic rock'n'roll tak obléká nejen vše černé, ale rovněž veškeré odstíny šedi, kterých v Helsinkách znají více než šedesátdevět, neb od komerčního průlomu THE 69 EYES jedenáct let od jejich vzniku se všechna jejich alba dostala ke zlatému ocenění a vedení v domácích hitparádách.
V roli předkapely se ukáží hororoví MISTER MISERY – úspěšný moderně metalový kvartet ze Stockholmu, jehož energie, hymnické refrény, heavy melodie a teatrální vystupování k 'Helsinki Vampires' padne jak mrtvola do rakve.
THE 69 EYES, MISTER MISERY
19. 3. 2023 – Praha, Rock Café
FB event: https://fb.me/e/2w5gFdYAu
e-TICKET: https://obscure.cz/cs/tickets/detail/id/544
19:00 doors | 20:15 – 21:00 MISTER MISERY | 21:30 – 22:45 THE 69 EYES
Předprodej vstupenek končí o půlnoci před koncertem a běží i v sítích Ticketmaster a GoOut, poté budou k zakoupení už pouze na místě.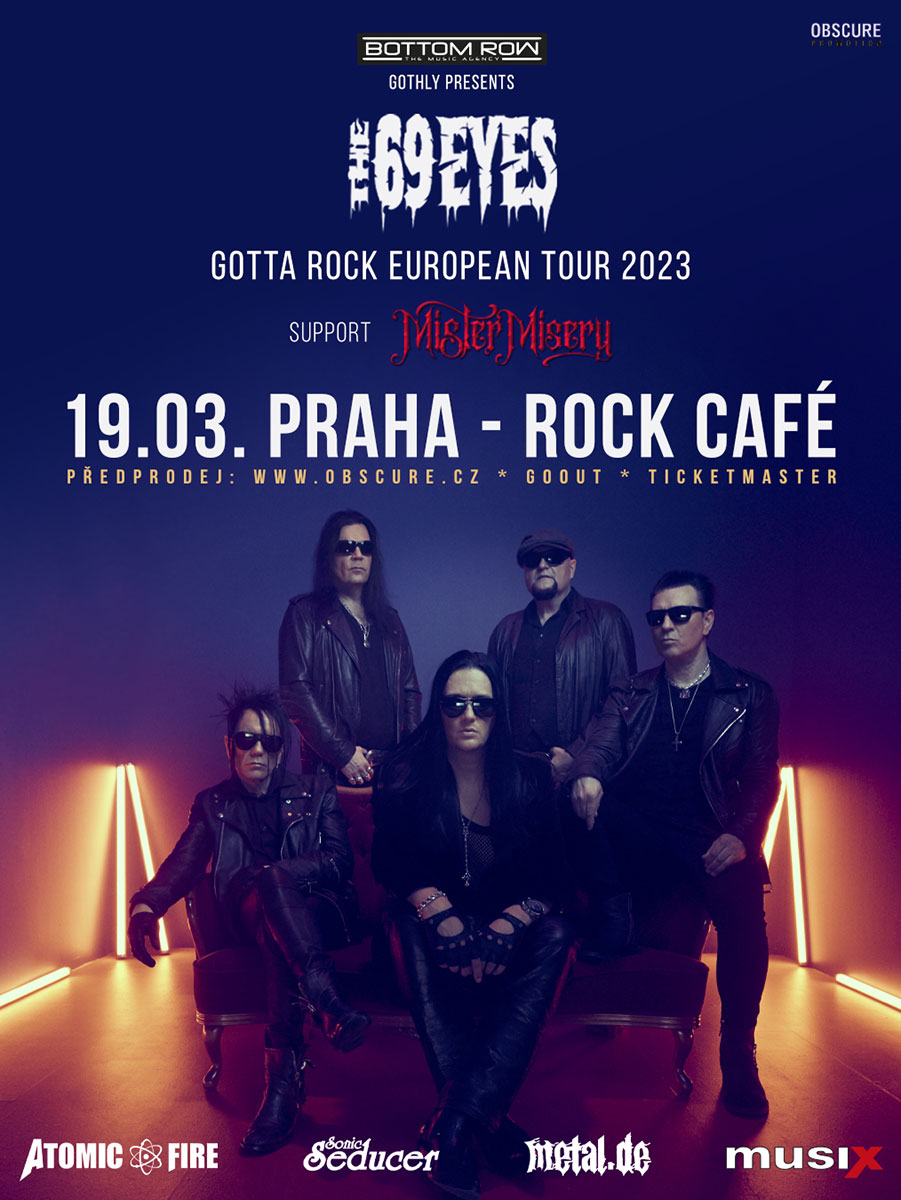 Zdroj: Obscure Promotion