Spravodlivosť musí byť pre všetkých – zaočkovaných aj nezaočkovaných, slobodných aj zatknutých -, preto aj distribúcia filmovej novinky Zuzany Piussi o stave slovenskej justície bude mať dve línie. Jednou sú kiná po celom Slovensku, do ktorých film prináša spoločnosť Filmtopia, druhou je nový projekt spoločnosti VIRUSfilm, ktorý vzniká práve pri tejto príležitosti.
Ide o online kino s názvom, ktorý symbolicky odkazuje na číslo známeho oslobodzujúceho paragrafu, Kino363.sk. Kino ponúka exkluzívny dvojprogram maximálne pre 363 divákov. Prvú časť tvorí projekcia filmu, po ktorej nasleduje diskusia s autorkou a hosťami – sudcami, expertmi aj politikmi. Distribúcia filmu sa spustí 18. novembra 2021.

"Zúri covid, preto vzniklo Kino363. Náš pôvodný nápad sa volá Spoznaj svojho sudcu. Chceli sme s filmom cestovať, debatovať o justícii so sudcami, ktorí žijú aj v menších mestách, aby ľudia spoznali svojich sudcov a debatovali s nimi o súdoch a spravodlivosti. Rátame s tým, že sa k živým debatám a k normálnej distribúcii vrátime na jar. Justícia sa týka všetkých aj zaočkovaných aj nezaočkovaných. Preto vzniklo online kino 363 s debatami o tom, čo paralyzuje spravodlivosť na Slovensku," povedala režisérka Zuzana Piussi. Jej najnovší film mal svetovú premiéru pred pár týždňami na Medzinárodnom festivale dokumentárnych filmov Ji.hlava, kde zaň získala zvláštne uznanie poroty.
"Napriek veľmi nepriaznivej situácie a protipandemickým opatreniam sa nám podarilo film Očista pomerne dobre nasadiť v celoslovenskej distribúcii. Film sa bude hrať v klasických kamenných kinách, kluboch, ale tiež v sieti multikín po celom Slovensku. Niektoré projekcie budú mať pridanú hodnotu v podobe diskusie po premietaní s tvorcami filmu a miestnymi sudcami. Veríme, že väčšina kín ostane otvorených, aj keď s veľkými obmedzeniami, ktoré veľmi limitujú návštevnosť filmov. Kombinácia s online premietaním je v momentálnej situácii nevyhnutnou alternatívou," povedala Silvia Učňová Kapustová, riaditeľa spoločnosti Filmtopia.
Číslo 363 sa jednak symbolicky odvoláva na známy paragraf, zároveň je to maximálna kapacita kina, na online projekcie sú pre 363 ľudí. "Ako je polarizovaná spoločnosť, tak sú rozdelení aj sudcovia. Rozhodli sme sa v diskusiách dávať priestor všetkým stranám a pohľadom na očistu justície. Podľa ankety na Facebooku sme sa rozhodli, že Kino363 bude každú sobotu o 19h, premietne sa film a bude nasledovať diskusia so sudcami, politikmi, odborníkmi. Môžu sa zapojiť aj Slováci zo zahraničia, nebudú blokovaní," spresnila filmárka. "Kedže nechceme vytvárať konkurenciu kinám, ktoré považujeme za najlepšie miesto pre zhliadnutie filmu, cena vstupenky je o niečo vyššia a každá živá diskusia bude jedinečná, nebude sa zaznamenávať ani publikovať," upresňuje za VIRUSfilm Vít Janeček. Cena vstupenky je 6 eur. Viac informácií poskytuje novovzniknutá stránka http://www.kino363.sk/ .
Zuzana Piussi pripomína, že na Slovensku je najnižšia dôvera v justíciu, v Európskej únii. Film by mohol pomôcť naštartovať debaty o tom, čo je spravodlivé súdne rozhodnutie. "Kočnerova Threema ukázala, ako sa manipulujú súdne rozhodnutia. Myslím si, že to bola jedna z hlavných tém volebnej kampane, heslo znelo: Spravodlivosť pre každého!. Po dvoch rokoch sa ukazuje, že heslo sa nenapĺňa. Filmu som sa venovala tri roky a myslím si, že najväčším problémom slovenských súdov sú prieťahy, to že sa súdite desať rokov, stojí vás to kopec peňazí a možnosť spravodlivosti, rozhodnutia súdu vidíte v nedohľadne. V našej krajine sa neviete včas domôcť spravodlivosti, a neskorá alebo zmanipulovaná spravodlivosť nie je žiadna spravodlivosť," vysvetľuje Zuzana Piussi.
Filmárka počas nakrúcania spoznala veľa ľudí, ktorým nespravodlivé súdne rozhodnutie zničilo život. Majú v sebe zlosť. Žili normálny život, ale po skúsenosti so súdnou mocou sa stotožnili s antisystémom. "Nevedela som dať do filmu všetky príbehy ktoré som natočila. Film by musel mať päť hodín," dodala.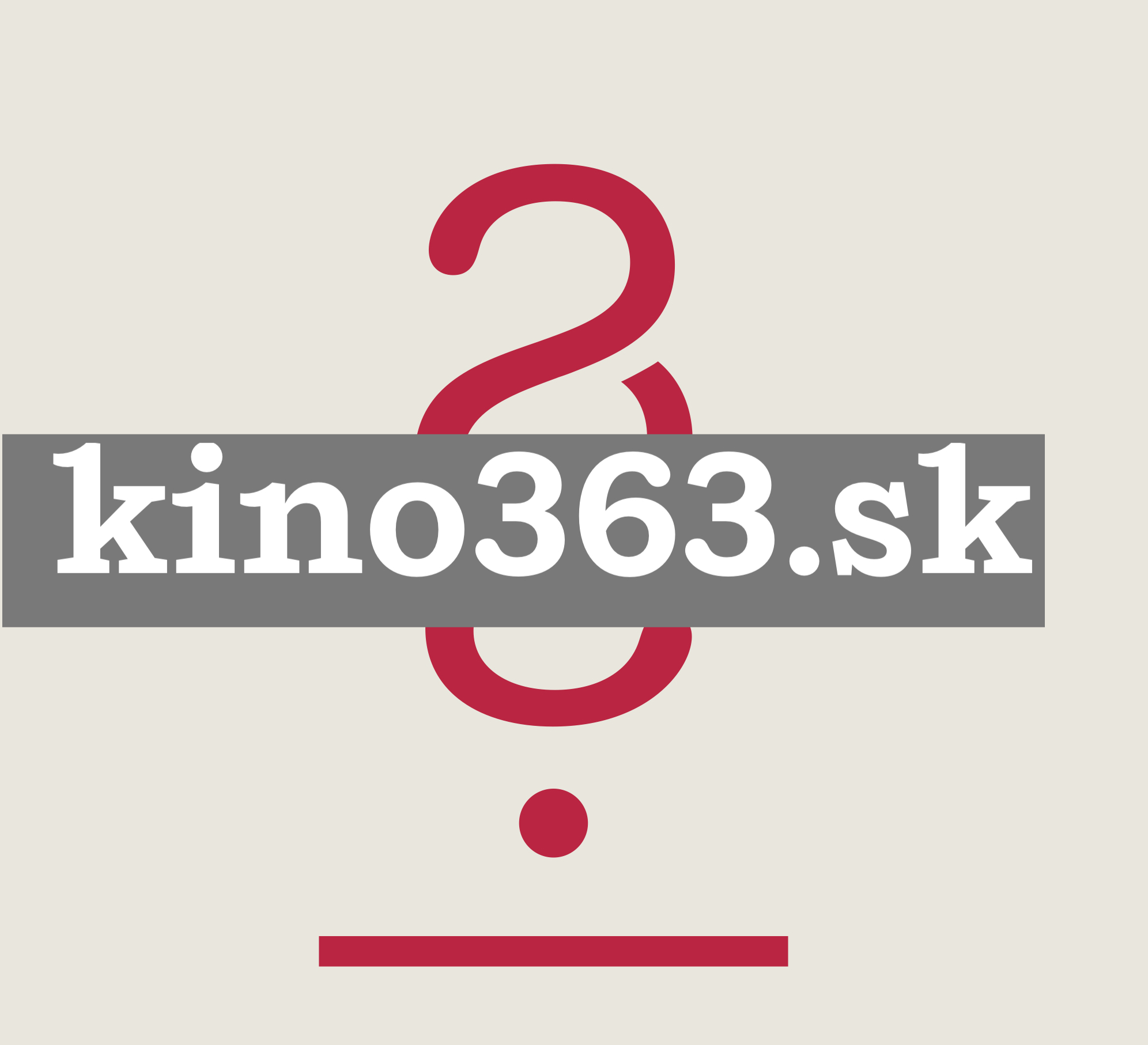 15. 11. 2021 o 17.30 hod., predpremiéra filmu v Ružomberku
diskutujú: sudca Krajského súdu v Žiline Róbert Urban, členka Súdnej rady Katarína Javorčíková a autorka filmu Zuzana Piussi
18. 11. 2021 o 19.00 hod., živá diskusia v Klube pod lampou v Bratislave
moderátor diskusie bude vedúci Katedry ústavného práva Právnickej fakulty Univerzity Komenského Marián Giba,
diskutujú: členka Súdnej rady Katarína Javorčíková a sudca Najvyššieho súdu Peter Paluda a autorka filmu Zuzana Piussi
19. 11. 2021 o 19.00 hod., Online Kino363.sk
diskutujú: členka Súdnej rady Marcela Kosová a poslanec Alojz Baránik a autorka filmu Zuzana Piussi
20. 11. 2021 o 19.00 hod., Online Kino363.sk
diskutujú: sudca Krajského súdu v Bratislave Peter Šamko, členka Súdnej rady a advokátka Eva Mišíková a autorka filmu Zuzana Piussi
23. 11. 2021, Kino Hviezda o 19.00 hod., Trnava /filmový klub Naoko/
diskutujú: sudkyňa a členka hodnotiacej komisie sudcov Dáša Valocká, členka Súdnej rady Katarína Javorčíková a autorka filmu Zuzana Piussi
24. 11. 2021 o 19.00 hod., Kino Úsmev, Košice
diskutujú: František Mozner, prezident Združenia sudcov Slovenska a sudca Najvyššieho súdu SR, autorka filmu Zuzana Piussi a členka Súdnej rady Katarína Javorčíková
25. 11. 2021 o 18.00 hod., Artkino Metro, Trenčín
diskutujú: predsedníčka Krajského súdu v Trenčíne Iveta Záleská, autorka filmu Zuzana Piussi a členka Súdnej rady Katarína Javorčíková
xxx
Novinka Zuzany Piussi sa bližšie venuje aj dvom šokujúcim prípadom, pri ktorých sa ukazuje, že korupcia v justícii nie je len abstraktný pojem, tretia moc môže spôsobiť aj ničenie ľudských životov, šikanu alebo krytie obrovských majetkových transferov. Jednou z hlavných postáv a iniciátorkou prvého aj druhého dokumentu o súdnictve je sudkyňa Katarína Javorčíková, ktorá odišla ešte pred zverejnením Kočnerovej Threemy z justície. Pred svojím odchodom napísala text "Dôvody prečo nebyť sudcom", v ktorom opísala stav slovenskej justície, najmä nevymožiteľnosť práva a odoslala ho ako vysvetlenie svojho odchodu Súdnej rade SR a všetkým sudcom. A ako hovorí Zuzana Piussi, to bol dôvod, prečo som sa začala venovať opäť tejto téme.
Filmárka sa problémami bezprávia v právnom štáte zaoberala už v roku 2011 v dokumente Nemoc tretej moci, ale vníma, že ani po uplynutí desiatich rokov nedošlo vo vnútri justície k zásadným zmenám a to sa týka aj vnímania jej dôveryhodnosti a nezávislosti verejnosťou.
Film Očista vznikol v koprodukcii s RTVS a s finančnou podporou Audiovizuálneho fondu (SK) a Státního fondu kinematografie (CZ), film podporil aj Rudolf Lukačka. Do slovenských kín ho prinesie spoločnosť Filmtopia.
Zuzana Piussi svojou tvorbou prináša odvážny a originálny pohľad na javy a dianie v spoločnosti; okrem iných sú to filmy: Nemoc tretej moci (2011), Krehká identita (2012) a filmy z ostatného obdobia: Obliehanie mesta (2019), ktorý na kremnickom prípade tematizuje všeobecné aspekty zápasu komunít s veľkými ťažobnými zámery a Univerzity a sloboda (2019) o patológiách v priestore univerzít v čase masifikácie a komercionalizácie vzdelania (dokument uvádza tohtoročný bratislavský festival Jeden svet), posledné dva vytvorila spolu s Vítom Janečkom. Predvlani odpremiérovala aj film Ukradnutý štát, ktorý sa snaží odkývať mechanizmy, ktoré vytvárajú kauzy a posuny informácií.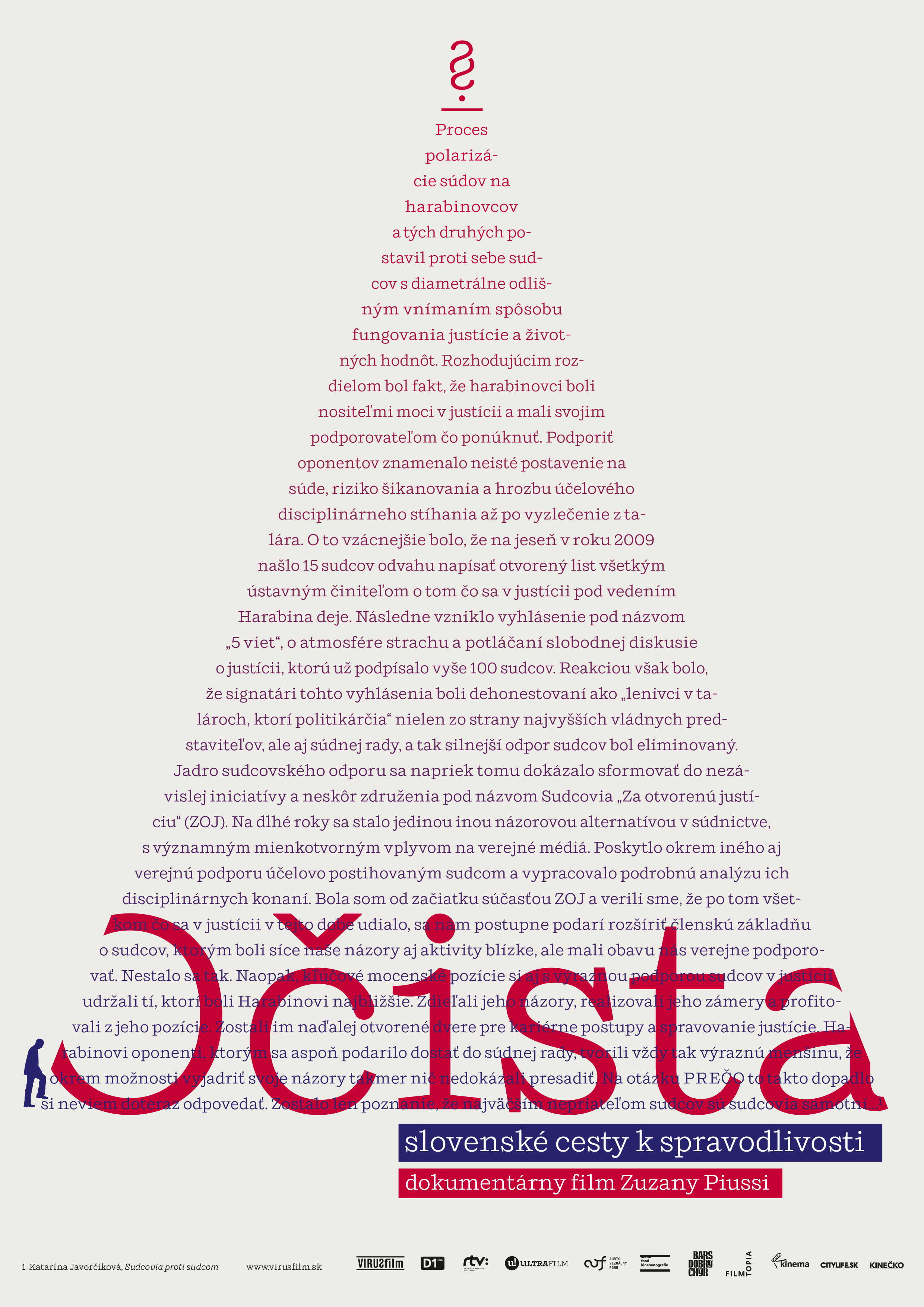 Zdroj: TS