Film DOBRÁ SMRŤ získal na Festivale dokumentárnych filmov o ľudských právach Jeden svět Cenu Poroty v Českej súťaži a zároveň ho diváci ohodnotili ako tretí najlepší film festivalu. V Prahe v rámci festivalu uviedli film za prítomnosti tvorcov trikrát. Odborná porota zložená z osobností svetovej kinematografie ocenila "nevtieravú prácu s kamerou, snahu nesúdiť a filmársku schopnosť vystavať prenikavý portrét o práve človeka na dôstojnú smrť".
Skutočný príbeh nevyliečiteľne chorej Angličanky Janette, ktorý so svojím štábom spracoval režisér a producent Tomáš Krupa, sa k slovenským divákom dostane už tento štvrtok 21. marca 2019, a to vďaka distribučnej spoločnosti Continental film.
"Z doterajšej skúsenosti môžem povedať, že sa ukázalo ako veľmi ťažké umiestniť film na tému eutanázie na medzinárodných filmových festivaloch a predstava získania ocenenia ako skoro nemožná. Ďakujem v tomto zmysle festivalu Jeden svět za zaradenie filmu do svojho programu a medzinárodnej porote za odvážne rozhodnutie udeliť nám cenu. Moje poďakovanie patrí ale najmä Janette Butlin, film je predovšetkým o nej. So slovensko-českým filmovým štábom sme mali veľké privilégium prijať jej pozvanie a byť svedkami a dokumentaristami jej silného životného príbehu a osudu," povedal režisér a producent filmu Tomáš Krupa, ktorý si bol cez víkend previať cenu v Prahe osobne.
O výsledkoch v Českej súťaži rozhodovala na festivale Jeden svět trojčlenná odborná porota v zložení: Harry Vaughn – dramaturg prestížneho amerického festivalu Sundance, Juste Zavisaite – výkonná riaditeľka ľudskoprávneho festivalu Inconvenient Films a projektová manažérka Litovského centra pre ľudské práva, Alia Damaihati – riaditeľka indonézskeho festivalu v Jakarte s fórom Festival Film Dokumenter. V sekcii figurovalo 12 filmov, osem z nich malo na festivale svoju premiéru. Zároveň diváci ohodnotili snímku ako tretí najlepší film festivalu.
"Téma eutanázie je veľmi citlivá problematika. Pri spracovaní si vyžaduje maximálny jemnocit a ten sa tvorcom podarilo docieliť. Tému smrti, umierania či samovraždy sme v tohtoročnom výbere Jedného sveta zaznamenali citeľne viac než v predchádzajúcich ročníkoch. Film Tomáša Krupu patril k tým najpozoruhodnejším na danú tému – a to práve vďaka veľmi intímnej kamere a blízkosti hlavnej hrdinky," povedal programový riaditeľ festivalu Jeden svět Onděj Moravec.
Dlho očakávaný film sprevádza podporná kampaň, do ktorej sa zapojilo 15 osobností z kultúry, spoločenského života, medicíny aj cirkvi. Zhodujú sa na tom, že smrť patrí medzi najdôležitejšie témy v živote a pripomínajú fakt, že všetci starneme a časom prídu aj obavy o kvalitu života i zo straty dôstojnosti. Videá a fotografie s citátmi zverejňujú tvorcovia na sociálnych sieťach. Vyjadrili sa aj: evanjelický farár Ondrej Prostredník, publicista Samuel Marec, reportér Andrej Bán, zakladateľka paliatívnej starostlivosti na Slovensku Kristína Križanová, aktivistka Zuzana Wienk, režiséri Marko Škop, Miro Remo, herec a hudobník Kamil Mikulčík a ďalší.
Film DOBRÁ SMRŤ je koprodukciou Slovenska – Česka – Francúzska – Nemecka – Rakúska. V slovenskej predpremiére uviedol snímku Zimný filmový festival 4 živly v Banskej Štiavnici, Medzinárodný festival filmových klubov Febiofest má film na programe vo štvrtok 21. marca 2019. Prví diváci v Bratislave mohli vidieť film vo štvrtok 7. marca v Novej Cvernovke, kde špeciálnu projekciu obohatila výnimočná diskusia s hosťami, ktorí sa zapojili aj do spomínanej kampane. Vďaka online záznamu Denníka N ju do dnešného dňa videlo vyše 18,500 ľudí. Filmovú novinku budú môcť vidieť diváci po celom Slovensku.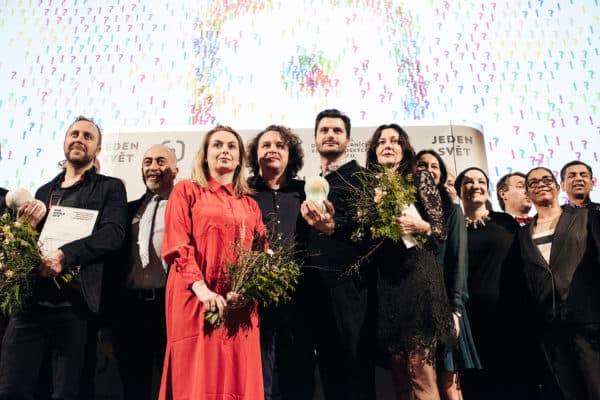 Film prináša slutočný príbeh nevyliečiteľne chorej Janette, ktorá by rada ukončila svoj život dôstojne, preto sa rozhodne pre dobrovoľnú, lekárom asistovanú smrť. Keďže tú vo Veľkej Británii, kde žije, neumožňujú, rozhodne sa odcestovať do Švajčiarska. Cestu musí naplánovať skôr než jej to rýchlo postupujúca choroba znemožní. Syn Simon, ktorý po nej zdedil svalovú dystrofiu, má pre matkino rozhodnutie viac pochopenia než dcéra Bridget
Filmový štáb pracoval v zložení: kamera: Ondřej Szollos, strih: Peter Kudlička, zvukový dizajn: Miloš Hanzély, dramaturgia: Arash T. Riahi, Stephan Krumbiegel, Olga Sommerová, námet a scenár: Tomáš Krupa, Lukáš Hanulák, výkonná producentka: Henrieta Cvangová.
Dlhometrážny film DOBRÁ SMRŤ vznikol v slovensko-česko-francúzsko-nemecko-rakúskej koprodukcii. O realizáciu projektu sa postarala slovenská filmová produkčná spoločnosť HAILSTONE. Majoritným producentom a režisérom filmu je Tomáš Krupa, ktorý debutoval dlhometrážnym dokumentom ABSOLVENTI: Sloboda nie je zadarmo (2012). Na vzniku filmu sa ďalej koprodukčne podieľal český koproducent Masterfilm a rakúsky koproducent Golden Girls Film, Rozhlas a televízia Slovenska, televízia ARTE G.E.I.E., Česká Televízia, s finančnou podporou Audiovizuálneho fondu SR a Státního fondu pro podporu kinematografie ČR. Nakrúcanie sa uskutočnilo v rokoch 2016 – 2018 vo Veľkej Británii, USA a vo Švajčiarsku. Film je realizovaný v anglickom jazyku.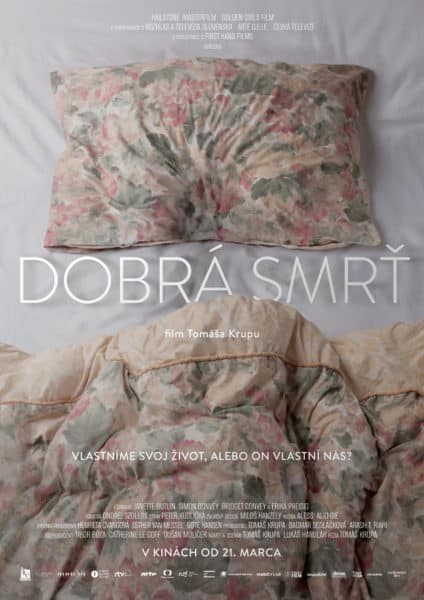 Zdroj: Zuzana Golianová